Shakespeare's plays are more violent than Scarface, said Al Pacino in an interview. The more popular a character is, the lesser known are the facts behind it. One such character is Tony Montana, who became a heroic figure overnight, has nothing but his only superpower; his confidence. The movie will be completing 35 years in few months yet fans aren't over their favorite dialogues as it is said to be one of the most relevant movies about the mob world; depicting the existence of gangsters and how a unique culture started in those times.
Other than what is generally known, there's so much about Scarface that you probably didn't know and now as you'll go through each slide you'll get more indulged with everything about this cult classic.
Ironically Shy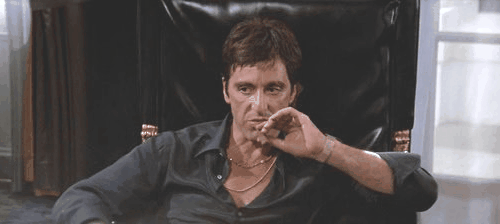 I'm so shy now I wear sunglasses everywhere I go. Who would believe that these words are from one of the most iconic actors in the worldwide history of cinema and is among the 23 actors who have received The Triple Crown of Acting; Oscar, Emmy, and Tony.
Al Pacino has spoken of his shy nature from time to time, however, the irony is that his universally adored movies are like Godfather and Scarface, where he played bold gangster roles. My first language was shy. It's only by having been thrust into the limelight that I have learned to cope with my shyness, the actor tells and we are so overwhelmed that he brings out this opposite side of him through his characters. 
Mixed Critics
You'll find it hilarious that almost every classic movie that possibly could be on your favorite list has received equally bad reviews as good, just for example, Fight Club, Psycho, Godzilla, Titanic, Pulp Fiction, The Hunger Games, The Mask and the list can continue with many more movies that received mixed reviews and same is the case with Scarface, the only difference is, initially, the movie received majority of bad reviews, however, fans considered it to be an epic.
Drugs On Set?
Scarface is full of scenes where either Tony or his beautiful wife are snorting drugs. Some have even claimed that actual drug was used on the sets, no one can be certain about it being cocaine or powdered milk. If we talk to the crew about it everyone completely sidesteps this question so we aren't sure if there was a real blow on the set and in some scenes as well or not.
Getting Into Character
Al Pacino worked for Scarface not just on camera but behind the camera he worked at a higher level where he not only learned Spanish, he even asked John Alonzo, the photography director who knew the language, to be his Spanish tutor as Pacino asked him to never use English and speak with him in the same language to get more and more fluent onscreen. 
Script Rejected Or Accepted?
The dialogues that we can never forget, weren't admired at first, however, this script was very close to Oliver Stone's heart, the screenwriter was addicted to cocaine and was inspired by his own experiences, in spite of that, he completed the script steadily for which he even moved to Paris, got over his addiction and used to sit in a dark room to work on this script. 
Sister In Luck
Scarface was a lucky movie for most of its actors. Mary Elizabeth Mastrantonio played the role of Gina, Tony's younger sister in the movie. Although she did work in the past, Scarface proved to be her first significant role which made ways for her Oscar-nominated performance in The Color Of Money where she got an opportunity to work with Paul Newman and Tom Cruise.