It is no secret that NFL players are some of the richest athletes in the world. They earn a hefty paycheck which amounts to millions of dollars each year in salaries, and this is excluding all the endorsement deals they get! So have you ever wondered how some of the richest athletes spend their hard-earned money? Indulging in the activities of the rich of course! From lavish mansions to luxury cars, these men leave no stone unturned in their quest for utter luxury. Not bad considering how most of these NFL stars got their break on the football scene due to a well-timed scholarship!
So go ahead and take a peek at our compilation of some of the luxury expenditures of these NFL stars.
Troy Polamalu – La Jolla, Estimated $4.7 Million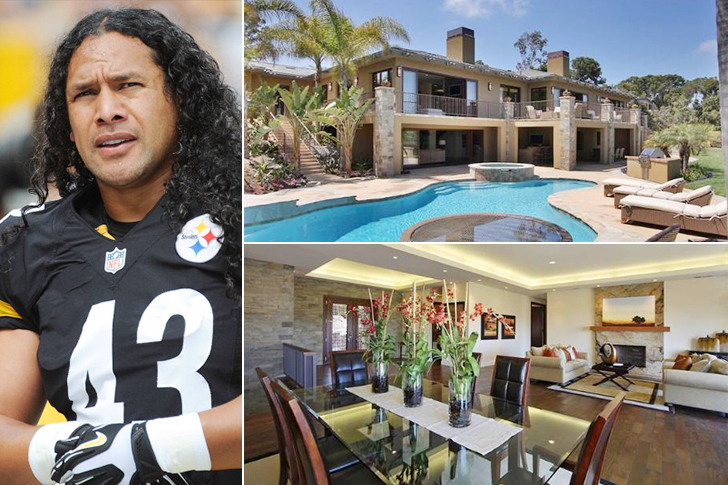 Former strong safety for the Pittsburgh Steelers, Troy Polamalu is one of the most accomplished safeties in the history of NFL. Although now retired, his feats on the field have earned him many distinguished titles in his 12-year career. These include – 8 Pro Bowl nods, 5 All-Pro awards, and 2 Super Bowl titles in 12 seasons. An illustrious career has earned him enough money for a lavish lifestyle. Polamalu and his wife bought their 1.75 acres property in La Jolla, California in 2009. The lavish estate includes 6 bedrooms, 8 baths, swimming pool and jacuzzi, outdoor loggia, 3 stone fireplaces and a pair of 2-car garages. They bought the property for $4.75 million.
Vernon Davis – Bentley Continental GT Convertible, Estimated $200K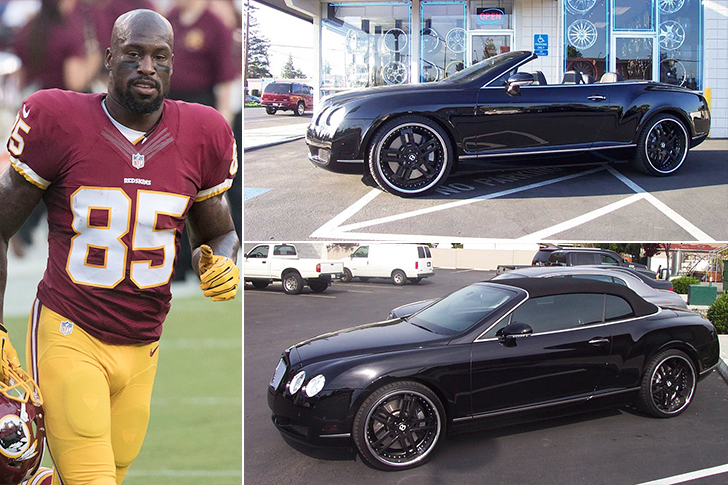 Vernon Davis is the current Washington Redskins tight end playing in the NFL. He used to also play for the Denver Broncos & San Francisco 49ers earlier on. Davis openly talks about his love for automobiles, and usually refers to himself as a "car guy." As a successful performer, he has no trouble landing deals and high paychecks, which helps him indulge in his passion. HIs current collection of cars boast of a custom jet-black Ford F150 truck, Mercedes Benz S63, Porsche Panamera, a custom red Dodge Challenger SRT8, 2 white Escalades and a $200,000 Bentley Continental GT Convertible. And of course, he wants his babies to be unscathed, so he has installed top tier state-of-art anti-theft mechanisms in all his rides. Talk about a passionate man!
Tony Romo – Dallas, Estimated $9 Million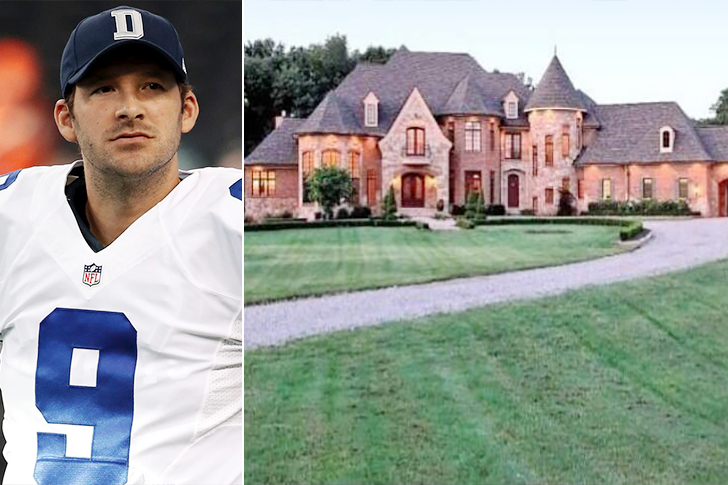 Tony Romo has only recently retired from the sport as the quarterback for the Dallas Cowboys, and he left with a hefty paycheck at that. He has invested his culminating salary into his California-style mansion located in Irving, Texas. The property was originally bought for $3 million by Romo, but with added renovations and other sundry construction work, the gorgeous piece of property now stands at a staggering $9 million. The property boasts of a 32,515 square feet mansion which has 6 bedrooms, 4 full baths and 2 half baths, a luxurious swimming pool, a special spa, 3 fireplaces and an outdoor entertainment area for guests and family members alike.  
Colin Kaepernick – Jaguar F Type, Estimated $100K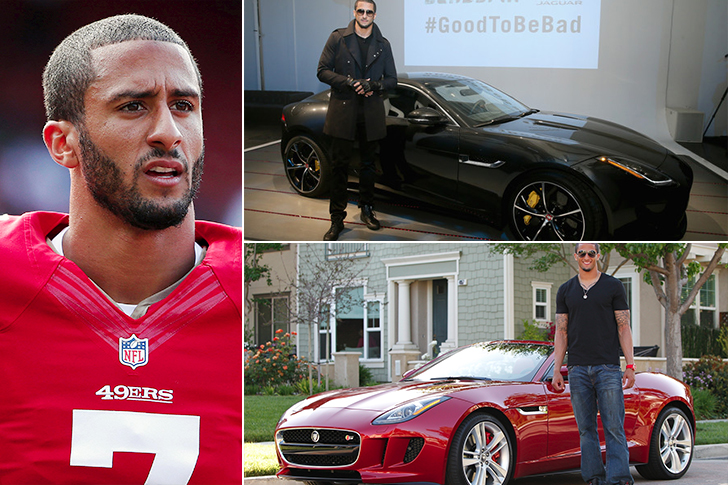 Colin Kaepernick is the former quarterback for the San Francisco 49ers but currently is up for grabs by willing teams. Another luxury car lover, he sports not one, but two Jaguar F Type! He has one which is in a fiery red color, and the other in sports a sleek black exterior. Both are luxurious interiors with top-notch mechanics – inside and out. One may be asking, why have two cars of the same model? Well, it is apparently stated that Kaepernick could not decide on the color for the car, and was in two minds about it. While a shiny black looked classic, the fiery red screamed for attention. And let's face it, if you got it, flaunt it, right? Well, with the bagfuls of money that Kaepernick apparently totes around with him, he decided to buy both the colors! 
DeMarcus Ware – Denver, Estimated $1.3 Million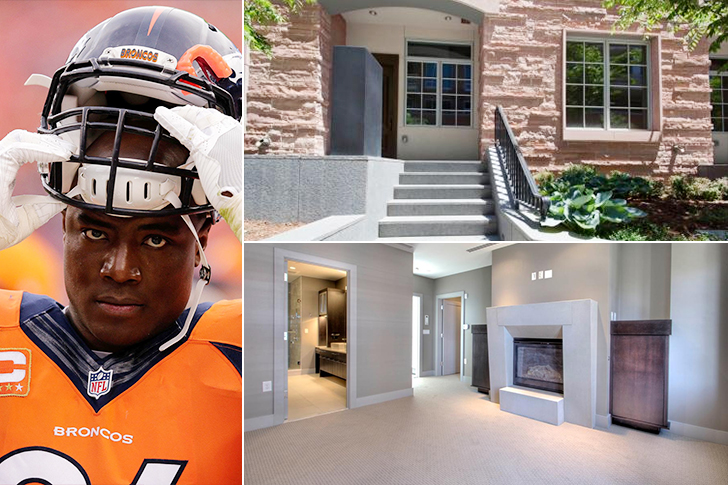 Seems like the recently retired linebacker is spending his hard-earned money well! The former Dallas Cowboys and Denver Broncos linebacker & defensive end decided to spend his retirement in peace and luxury it seems. He shifted out of his previous mansion in Dallas and went with a chicer three-level townhouse located in the ultra-exclusive Cherry Creek North neighborhood in Denver. Word is that the $1.37 million home was paid for in cash! We can't even boast of having $100 bill so having $1.37 million in cash is unimaginable. The townhouse includes three bedrooms and an equal number of baths spread out over 2,695 square feet space. Ware sure is spending his retirement in utmost luxury and peace…
Joe Haden – Lamborghini Aventador, Estimated $1.1 Million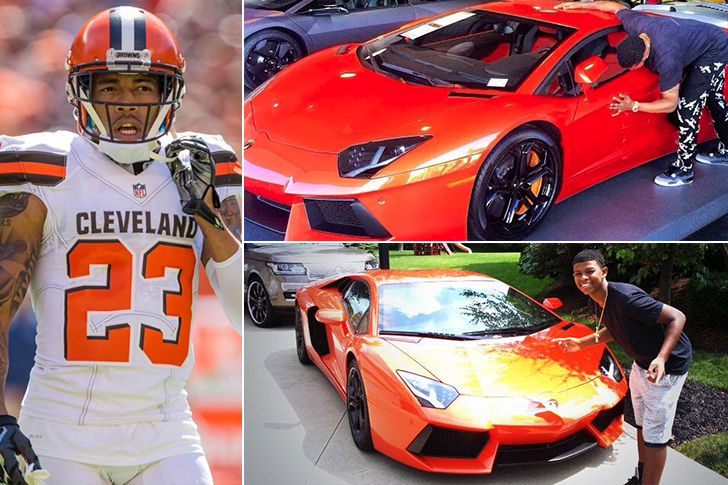 What is it with NFL players and cars? Everyone sure seems to have a penchant for the luxury rides!
The Cleveland Browns' cornerback, Joe Haden owns a pair of customized Lamborghinis which is really telling of his taste for the car (and honestly, who doesn't?). His first Lambo purchase was pristine white Lamborghini Murciélago with a cherry red pure leather interior to contrast. His next purchase was the 2014 Lamborghini Aventador that he got customized to a mix of orange and brown – his team's colors. Talk about a homage! The opulent rides are worth over a million dollars; quite telling of his love for Lamborghinis. now we can only hope that he has excellent car insurance to keep up with the hefty price tags!