Do you like wit, sarcasm, and creativity? If yes then you have come to the perfect place! We all know sports are fun but what we all don't know is sports signs are even funnier. Some of them are so funny that will literally make your funny bone tickle like never before and some are so creative that will make you simply awe. And if in any case, you underestimate these signs then here we have compiled the best sports signs ever to come upon any playground. Just take a look at them.
Somebody, Please Hire Him!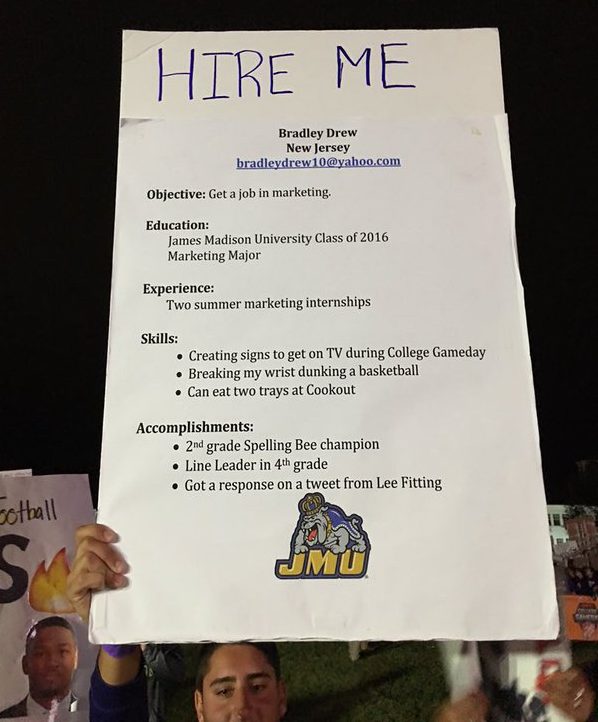 There is millions of resume posted in different job websites but how many do you see in a match? None, right? Nor do we expect any. But during a match, a sports sign popped up with details of a job seeker scribbled on it.  This James Madison University student who is looking for a job came up with an innovative idea of letting every marketing firm know that he is looking for a job. Even the resume is quite hilarious. We are sure he must have got flooded with many job offers by now. 
Balls Required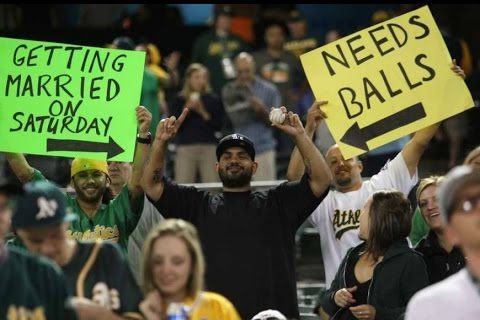 So, this man is getting married on Saturday and hence is in need of balls. Just like any true friends, his two true friends are accompanying him in the venture of getting a couple of balls. The good thing is that he has finally got one and is waiting for another. We really hope he gets his second one too because, with one ball, it is going to be a bit difficult for him. What do you think!
Ticket Over Love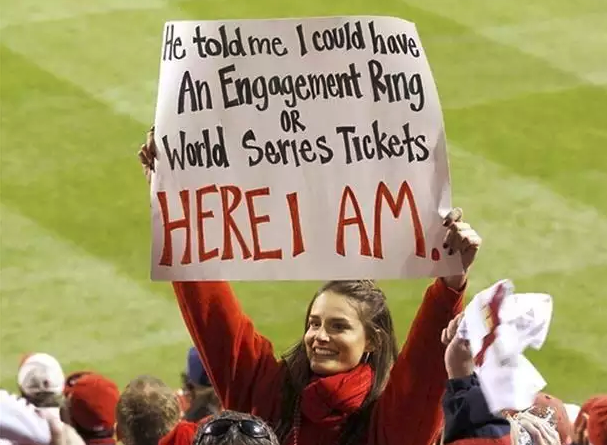 No doubt her boyfriend could not understand her a bit throughout the time they spent together. That is why he dared to propose her giving a choice between the engagement ring and World Series ticket. And the girl chose to go with World Series ticket! Can you believe this? Poor boy!  As if the break up was not enough, she went on to let the whole world know the cause of their break up which is in itself weird.   
Referring The Ref!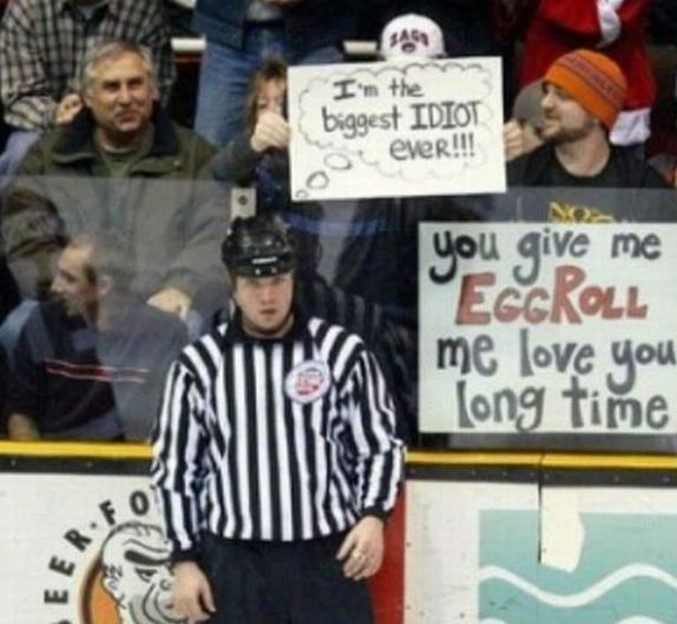 There have been countless incidents of referees making wrong decisions during a game. For obvious reasons, the decisions do not annoy players as much as it annoys their fans. How dare he declare my favorite player out! The best thing is that the smart fans come up with amazing ideas to express their anger. Here whereas the one above ref's head is quite clear and anyone can understand, the second left to the ref is extremely funny with the spice of sarcasm. You got it, right?
The Proposal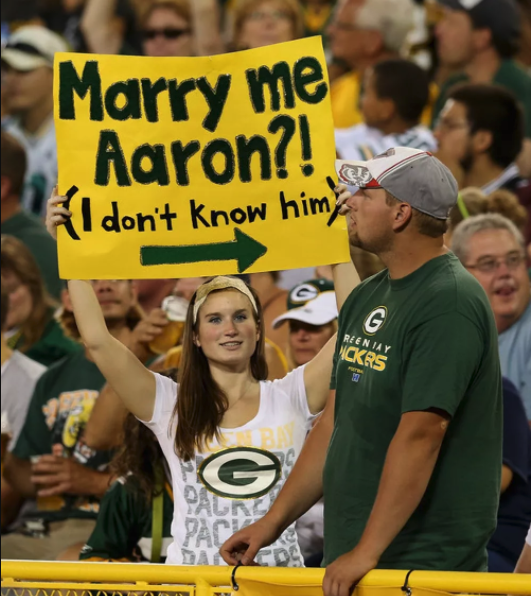 We have seen different marriage proposals but this one takes the cake. The woman here is professing her love to the starting quarterback Aaron and now comes the mystery part, standing beside her better half. Not only that the fan refuses to recognize the man who brought her to this Green Bay Packers game. We don't know how Aaron felt when he saw the message but we found it really hilarious and that is why it is on our list.
Texxxting…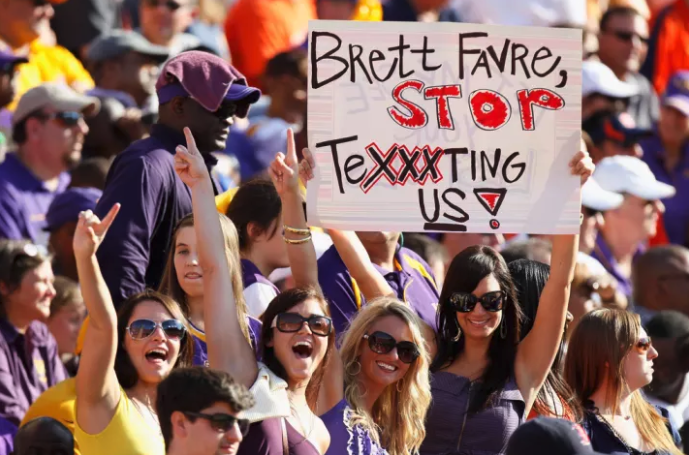 The second best thing about matches are the sports signs. Some of them make us laugh hard and some make a great point. This one belongs to the latter category. The sign is a potshot on Brett Favre who once was involved in a cringe-worthy scandal back in 2010 while being associated with New York Jets. The girls in the audience took up the opportunity and flaunted their creatively made placard.