There is a famous dialogue in the movie When Harry Met Sally that goes like this "It's so nice when you can sit with someone and not have to talk." Very few people have that special friend in their lives with whom they can spend hours without communicating in words and still feels the same comfort. This story is just about that friendship that includes big dogs and small kids. Despite their glaring differences, they make a beautiful vision to capture. Along with their stories, we are also sharing some of their cutest picture that will surely make your day and you wouldn't help but poke your friend who is sitting beside you to see them or perhaps you will have your long subsided memory of friendship come back to your memory store.
Newborn babies are cute and the dogs too are very adorable. What if we put them both in the same frame? We present some of the best pictures that have captured the cuteness in its best form. Go through the slides and chose which one of them is your favorite.
Kiss Me Quick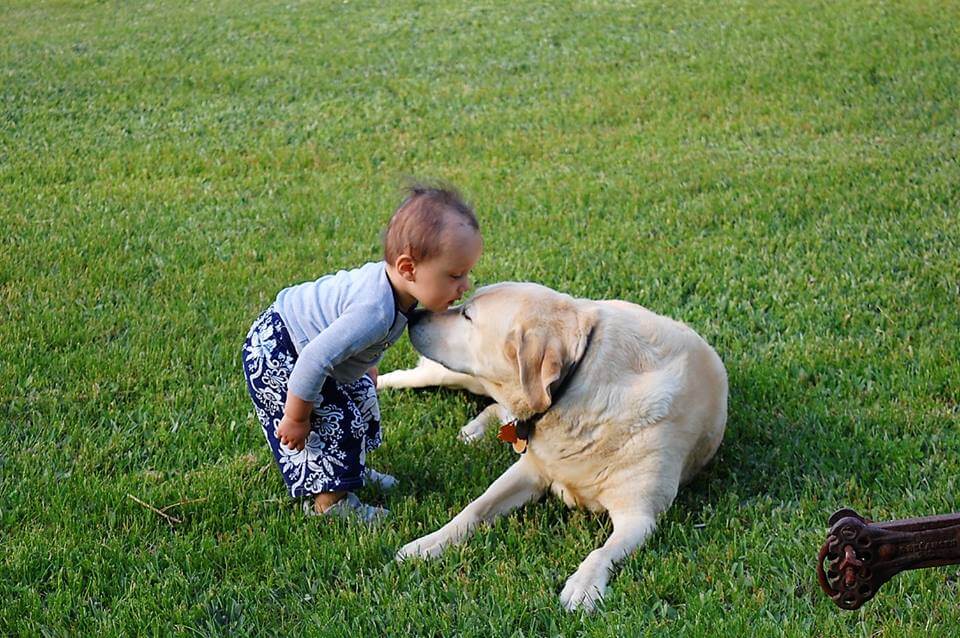 Awww, this is so cute. Who would not fall for the cute little boy Dimitri? But the boy gave his heart to, Fred, a yellow Lab. Fred and Dimitri made friends when the kiddo went over to his grandmother's house. Fred used to visit him every day and they played together. Whereas the dog showed his affection to him by licking him, Dimitri loved kissing him. The picture captures one of those precious moments when four-year-old Dimitri showers his pal with lots of kisses. It is their love for each other that made this picture so beautiful. Sadly, the pair had to split as Fred's family moved to some other place, taking him away with them. Though Dimitri can't play with his chubby and fluffy friend anymore, he always can remember him by looking at these cute pictures.
I'll Walk You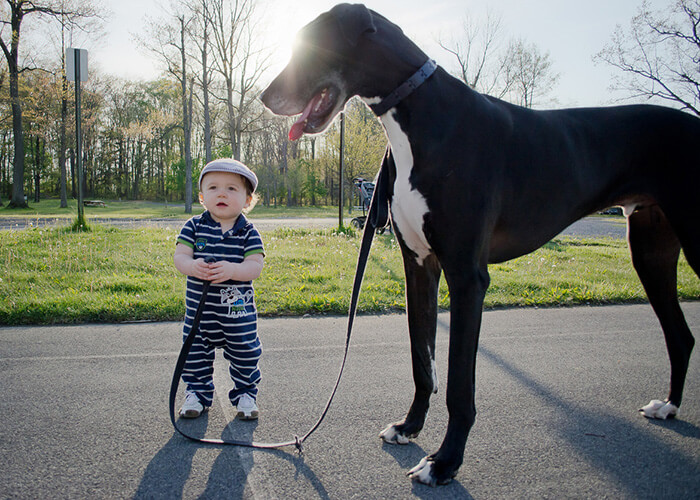 Simply wow. When you see this picture you get confused whether you should laugh or just keep looking at it. This toddler who just have learned walking is leading this giant dog. The sizes of the both look striking but is the perfect picture to make people wonder. Thanks to the photographer Brett Manippo who captured such a beautiful pic and shared with us. The dog perhaps would have been having problems while walking with this baby as he would have to look down before taking steps and no need to say its speed would have gone down considerably. Or it could be that the kiddo was put before the dog just for this picture but whatever the reason is this pic is surely going to make him laugh when he will grow up.
Cozying Up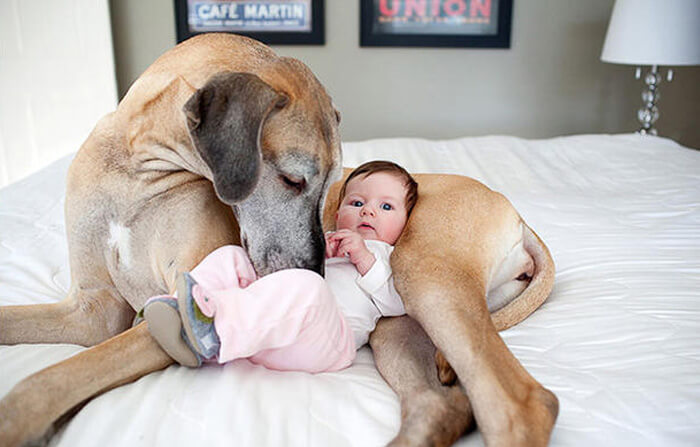 I bet you would have never seen a scenario like this. The dog here is tending to a baby which is apparently not hers, as her own. It is natural that the dog owner parents who are about to welcome a new member to their family get a bit tensed about how their pet is going to react. In order to get their pooch familiarized to the presence of the small member, they bring the blankets home from the hospital to have the dog sniff it and even play the records of crying baby and many more things. Just like any other family with dogs the family of this baby would too have gone worried a little about their dog reactions but they would have never expected this. Perhaps, the dog is seeing this baby as her own pup. The next picture is more like a painting of a beautiful bond. Click next to find out why is it so?          
Laugh Out Loud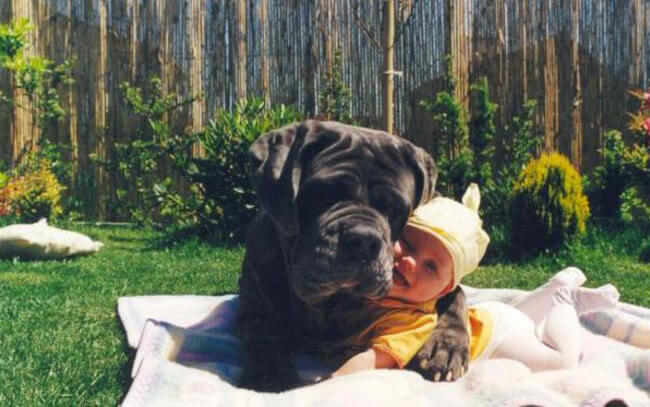 Me, my pal and lots of fun. The baby looks so happy in the company of his big BFF. It seems that they just don't need anyone else. We in the picture also can perceive the caring nature of the giant wrinkling dog towards the laughing baby. The amazing pose of the duo coupled with the scenic background makes it look more like a painting rather than a picture. Even the huge size of the dog doesn't seem to intimidate the teeny tiny baby. Both are hugging each other with the dog's leg on the baby. But the pressure put on him is gentle enough to let him know that he is being loved by the dog much more than anything else. Their friendship is just not cute but inspiring. The next picture in the line is equally cute and opens up a new dimension of dog-human friendship. 
You & Me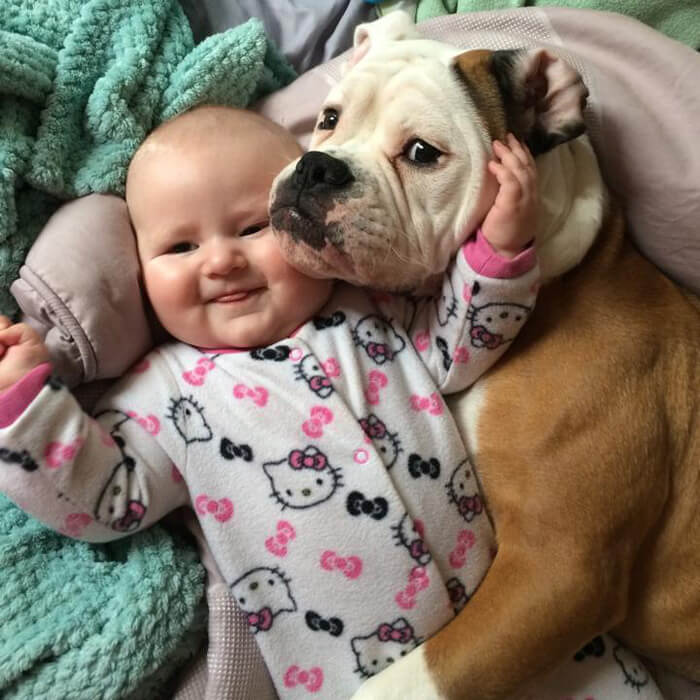 This overwhelming photo came to surface when a man shared it on Reddit. He along with sharing the picture also stated "The dog gets upset when she's away from the baby for too long". You just can't help but love this picture as both the character in this picture are extremely cute. You can also easily notice the overprotective nature of the dog. Just look at the dog who has wrapped the newborn baby with his arms as he is trying to convey that he will not share his newborn human sis with anyone even with their dad and mom. And why would he not be? Obviously, it would be her who will play with him and would take care of him when she will grow up. The family must be enjoying this amazing equation of cuteness and friendship.
Let's Have Some Fun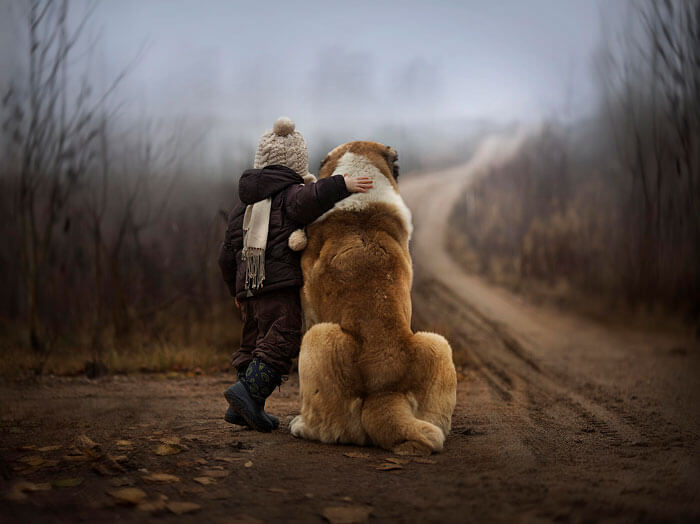 You'll agree that when you have a company around while on a path you just don't realize how much distance have you covered. Especially, if the company is of your best buddy. Our little super stylish adventurer here is having one in the form of a big fury St. Bernard. Seems like the two are waiting for something. What could it be? Perhaps, a transport that would take them on a new adventure. Nobody can touch even a hair strand of this toddler as long as his best bud is with him. Just like the young humans the St. Bernards also likes to have the company of humans. If kept alone for a longer time, they easily can slip into depression turning this usually affectionate dog into a violent beast. However, this gentle giant is very calm, sweet and patient that makes them perfect company while undertaking trips.