For a celebrity, an award show is THE time to shine as a style star. A good dress at an important award show can make or break your career. We all know that everyone waits for these stars to make their way down the red carpet in the hopes that they deliver the most enchanting dresses. It is up to these celebs to make use of their fame and stir some change in how fashion works. Here are some of the most memorable dresses that were worn at the Oscars by famous actresses and artists throughout the years 2000 to 2018. The daring looks that these celebs have worn on the red carpet have indeed made us cringe, palpitate and smile for multiple reasons. Do you remember these looks that your favorite stars decided on arriving with at the red carpet event for the Oscars throughout these years? In case you forgot, allow us to remind you.
Charlize Theron at the 2010 Oscars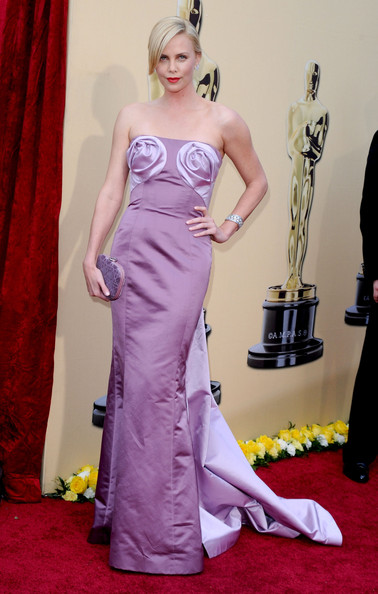 We all know that the statuesque beauty Charlize Theron is one of the most actresses that designers flock to. Her physiques truly are a designer's dream as she is literally sculpted like a mannequin. She has had a lot of stand-out looks on the red carpet. However, Charlize's lavender Dior dress with bustier roses received created a little buzz when she wore it at the 2010 Oscars.
Halle Berry at the 2002 Oscars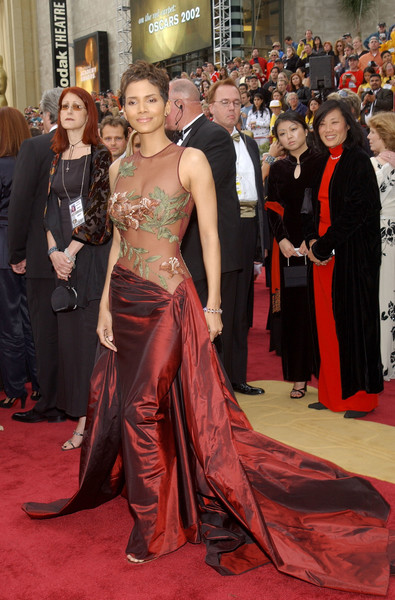 If you have not seen Halle's sheer Elie Saab that she donned on when she won the Best Actress Oscar, then you are certainly living under a rock. We do not need to start with how beautiful the actress is because it is a well-known fact. Her dress certainly embodies her sexy yet sophisticated persona. It is definitely one of the most iconic looks ever to be seen at the Oscars in history.
Gwyneth Paltrow at the 2012 Oscars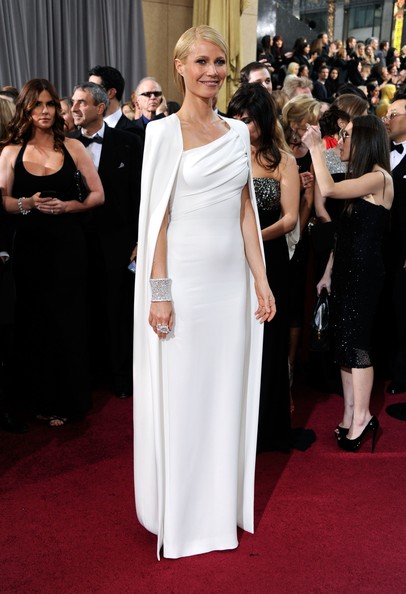 Ever since her big break in the 90s, Gwyneth has never stopped amazing us with her red carpet looks. She has remained a trendsetter throughout these years. So it is not a surprise to see her on this list. We all know that Gwyneth never wears a forgetful gown at any of the events she attends. So this avant-garde Tom Ford's caped white gown she chose become yet another iconic look of hers.
Heidi Klum at the 2008 Oscars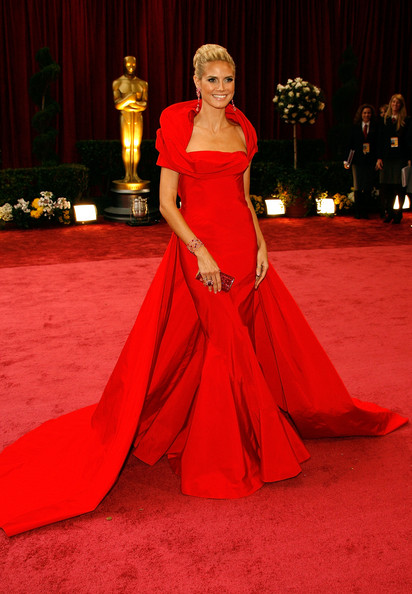 Heidi Klum is one of the most successful models to ever step foot on this earth. With a face like that and a body like hers, she can do no wrong. So this overly dramatic red dress she wore at the 2008 Oscar red carpet was left everyone speechless. She certainly knows how to wear an otherwise overbearing dress that would consume any other person who attempts to pull it off.
Jennifer Lopez at the 2010 Oscars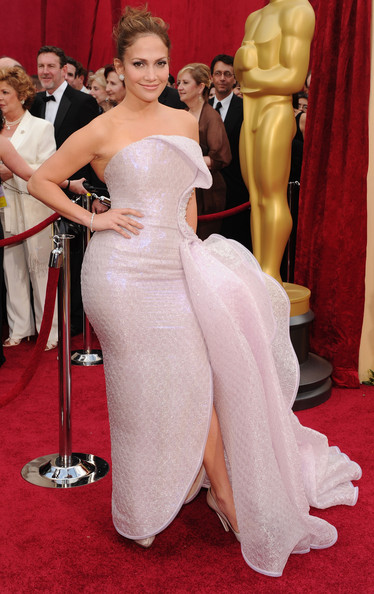 Jennifer Lopez is still considered to be one of the most beautiful women on earth, even after all these years. Her music and booty made her a household name and Jenny from the block has never slowed down. So when she attended the 2010 Academy Awards, JLo decided to wear this incredible Armani Privé number. With curves like hers, this dress was THE choice to go and boy did she look good!
Zoe Saldana at the 2010 Oscars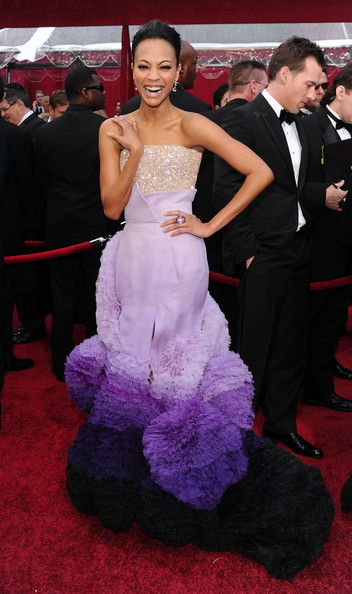 Zoe Saldana has always been an eye candy. Her big break came after starring in the megahit 'Avatar' after which Zoe became one of the most sought after actresses ever. Her red carpet style has also evolved a lot after climbing the ladder of more and more success. This fluffy purple Givenchy gown that she put on is certainly a piece of art that differentiates Zoe from the rest.
Stacy Keibler at the 2012 Oscars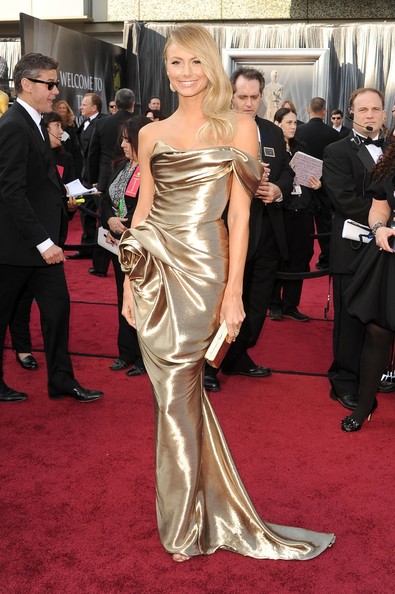 This leggy WWE diva is undoubtedly very charming and beautiful. She dated George Clooney for a while, so it is clear that Stacy is not just another pretty blond. One of the most satisfying looks in Oscar history would have to be this gold Marchesa gown that she wore at the 2012 Oscar red carpet. It was the perfect fit and she glided down the red carpet looking like pure gold.
Lady Gaga at the 2016 Oscars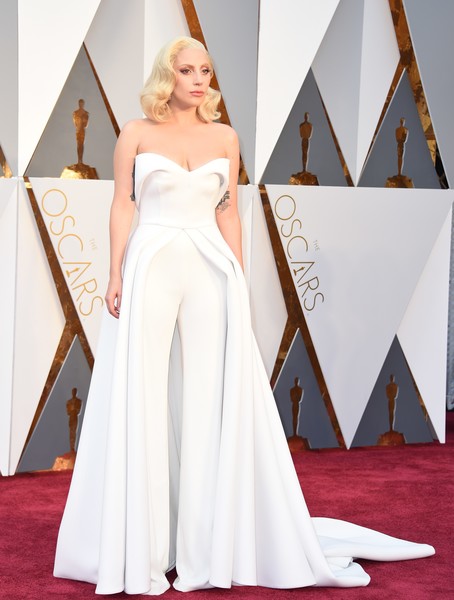 Leave it to the one and only Lady Gaga to make heads turn at red carpets. She decided to wear a white strapless gown embodying her inner goddess. This 2016 Oscar dress that Gaga wore was a complete standout not just for the event but for the artist's whole career. She is mostly seen doing the most so it was very shocking to see her dial it down. However, her dialed down look was still very majestic.

Vera Farmiga at the 2010 Oscars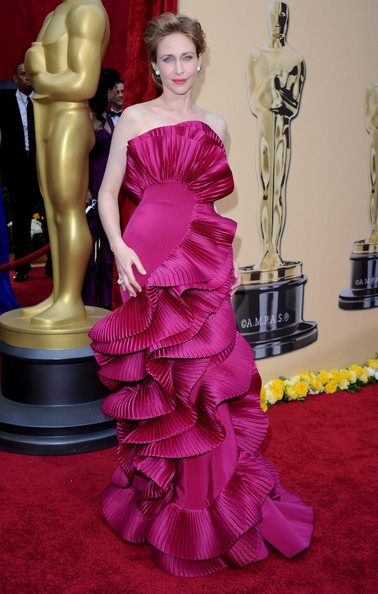 Vera Farmiga is always on screen but we never actually notice her on red carpets. However, it was not long before Vera would change this notion about her, becoming a stand-out at the 2010 Oscars. Just look at that dress. She stunned everyone when she arrived in this fuchsia Marchesa design that puts other style stars to shame. She definitely owned the carpet this time.
Charlize Theron at the 2006 Oscars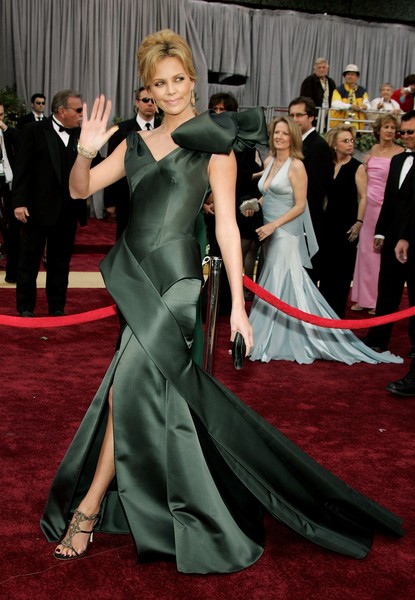 We all know that black is thought of to be the most flattering color. We often wear black colored clothes because it hides whatever physical flaws we may have. So it was refreshing to see Charlize Theron switch things up a bit when she wore this dress at the 2006 Oscars. It is indeed a new take on black dresses that left everyone in awe when she walked through the red carpet.
Kate Hudson at the 2014 Oscars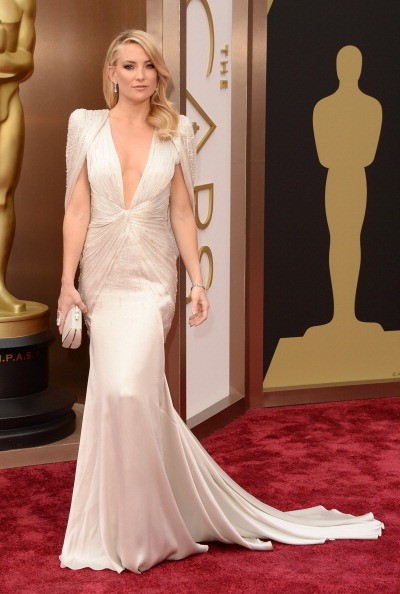 If anyone says that Kate Hudson is not attractive, they are definitely lying or joking. She has never disappointed every time she attends a red carpet event. At the Oscars in 2014, she did it again. Kate looked breathtaking in this Atelier Versace dress. Donatella definitely did a good job in dressing the actress in this dress as she stole the spotlight for sure.
Michelle Williams at the 2006 Oscars
Michelle Williams has always charmed us since the beginning of her acting career in the 90s. She is now one of the most sought-after actresses that producers want to work with. At the 2006 Oscars, Michelle was the center of attraction. She wore a rich yellow Vera Wang ruffled gown that was all sorts of pretty. She decided to wear bright red lipstick that gave the whole look an even more powerful effect.
Cate Blanchett at the 2011 Oscars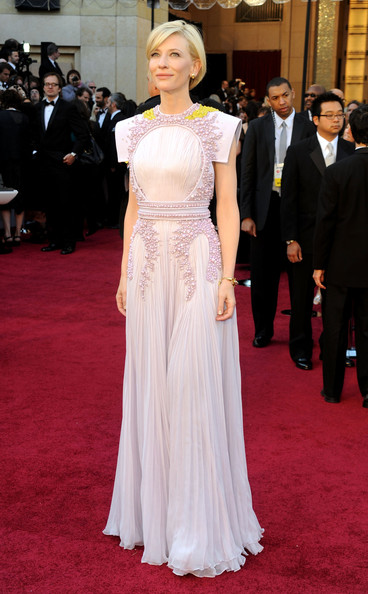 Cate Blanchett could be called the most talented actress of our time, stealing our hearts in countless movies. Her red carpet looks have always been the most elegant yet unique dresses that suit the Australian actress perfectly. The pastel Givenchy dress that she put on for the red carpet at the 2011 Academy Awards was indeed a hot topic of conversation.
Hilary Swank at the 2005 Oscars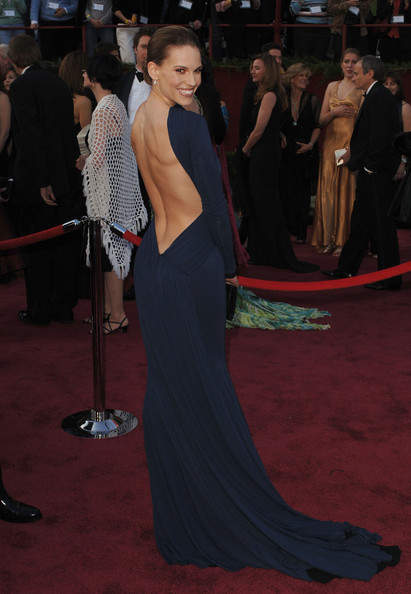 Hilary Swank has had her fair share of gorgeous red carpet gowns that could make any other celeb jealous. She has a slamming body that always fits these designer gowns. One of her most iconic looks would have to be the plunging backless gown she arrived in for her Best Actress win in 2005. You would be lying if you said this look is not memorable.
Marisa Tomei at the 2009 Oscars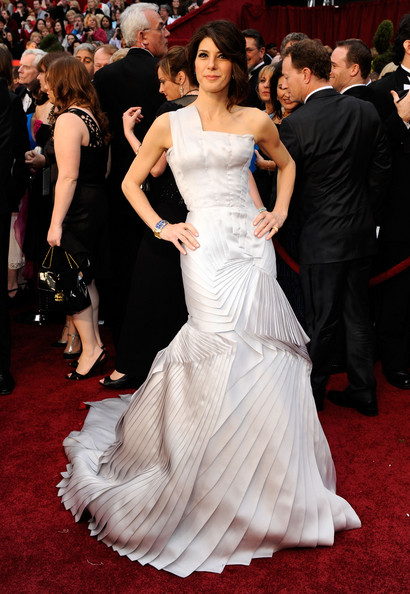 When we watch the Oscar red carpet, we want to be wowed and we hope to see these famous faces wearing the most fabulous dresses us regular people have never dreamed of wearing. So when Marisa arrived at the red carpet wearing this layered Atelier Versace pleats, it was so worth the while. It truly is a masterpiece that the famed designer should indeed be very proud of.
Nicole Kidman at the 2011 Oscars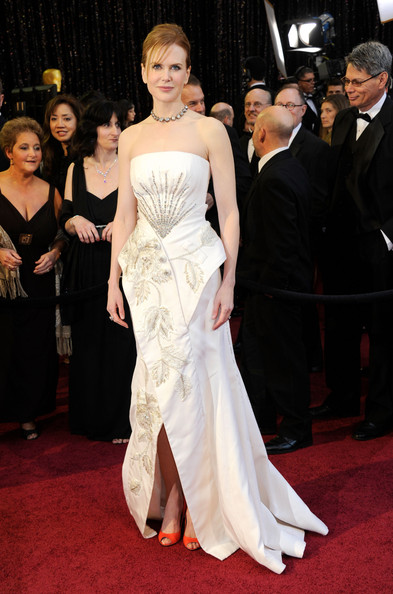 Nicole Kidman is not one to shy away when it comes to red carpet styles. She can be credited for wearing some of the most legendary red carpet dresses of all time. One of these dresses would have to be this dress that Nicole chose for the 2011 Oscars. Christian Dior's structural white design and these orange heels definitely made Nicole look like a fashionable angel.
Angelina Jolie at the 2012 Oscars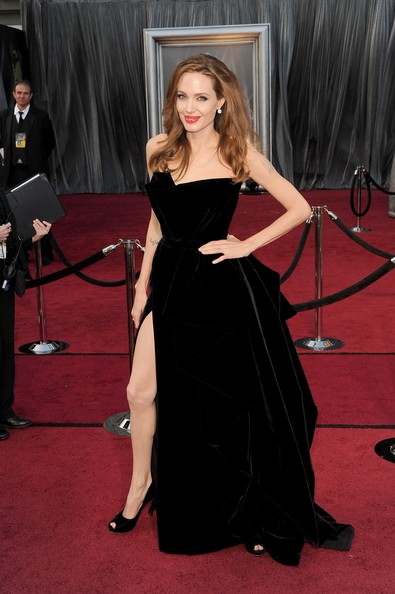 Often called the most beautiful woman in the world, Angelina Jolie is no stranger to turning heads on the red carpet. It is clear from her choice of dresses that black is her favorite color. However, this particular dress stands out among other black dresses that she has worn in the past. The pose she struck spawned many memes and has become an iconic pose.
Maria Menounos at the 2013 Oscars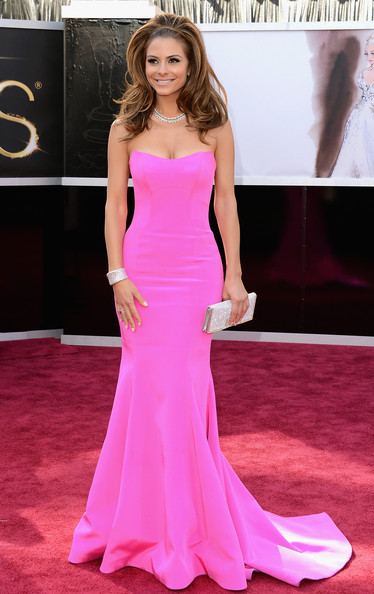 Maria Menounos mostly stays behind the scenes at red carpet events interviewing celebs. But all eyes were on her when she wore this pink ensemble when she attended the Academy Awards. The host of 'E!News' looks absolutely scrumptious in this shocking pink dress. Normally, pink is seen as an unflattering color but instead made Maria stand out in the crowd of celebs.
Jennifer Lawrence at the 2013 Oscars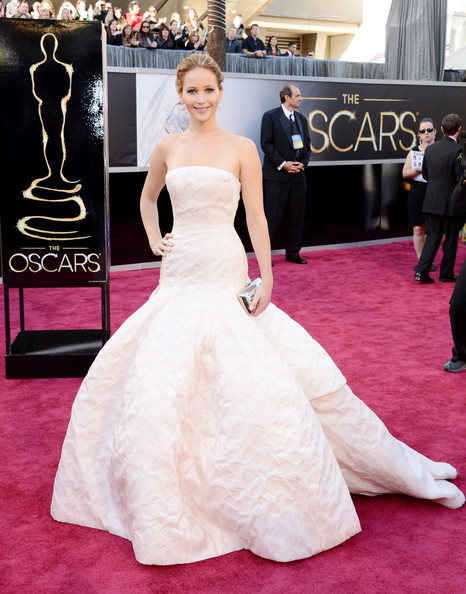 Jennifer Lawrence has made a name for herself in Hollywood. She now has access to the most beautiful gowns and dresses one could only dream of. So it is not surprising to see her wearing all these top designer gowns at red carpets. When JLaw wore this Dior ball gown, everybody was enchanted by her look. Although it made her trip, the gown was indeed memorable.
Scarlett Johansson at the 2015 Oscars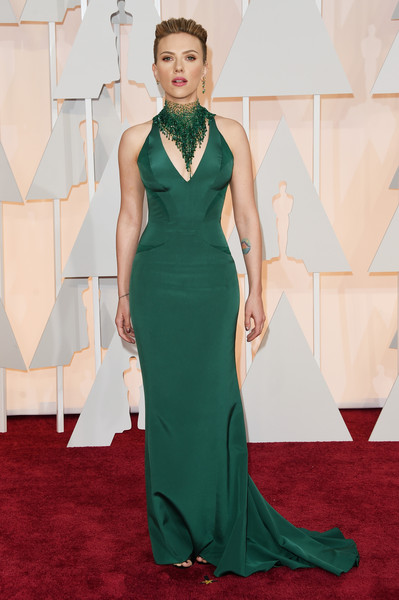 When Scarlett Johansson walks the red carpet, you know it is going to be good. Yes, Scarlett Johansson has made us turn our heads, strutting her stuff on the red carpet for many years now. This particular look she chose for the red carpet at the 2015 Oscars is another showstopper. With the neckpiece and the hairstyle, ScarJo's look is definitely one to remember.
Leslie Mann at the 2017 Oscars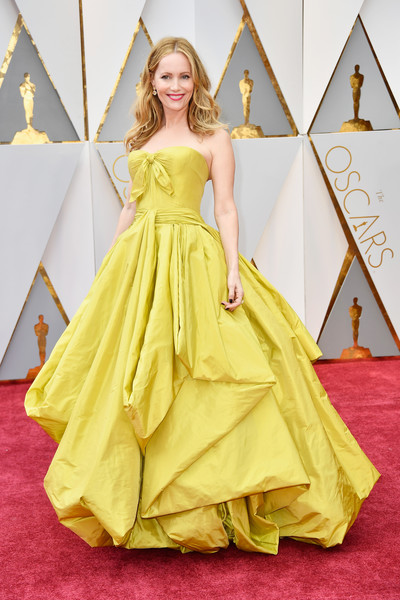 This look that Leslie decided to go with resembles the kind of dresses that we see Disney princesses wear in these fairytale films. It truly is a gown fit for a princess. She wore Zac Posen gown that stands out in a beautiful chartreuse color. The gown has its own flair that however differentiates it from those old age dresses that real princesses would actually wear.
Olivia Wilde at the 2016 Oscars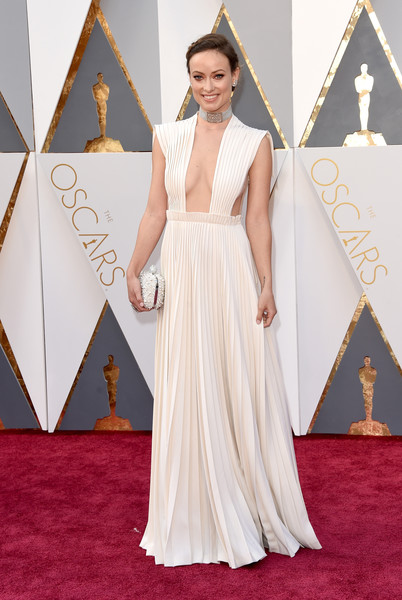 Olivia Wilde's beauty is not something to talk about as everyone knows how gorgeous she is. Even her red carpet looks have been very enjoyable because she always pulls off even the most daring clothes. Olivia's Valentino dress was truly one to talk about as it was very sexy with a futuristic essence. Viewers had a very contrasting opinions on this dress as well.
Mindy Kaling at the 2016 Oscars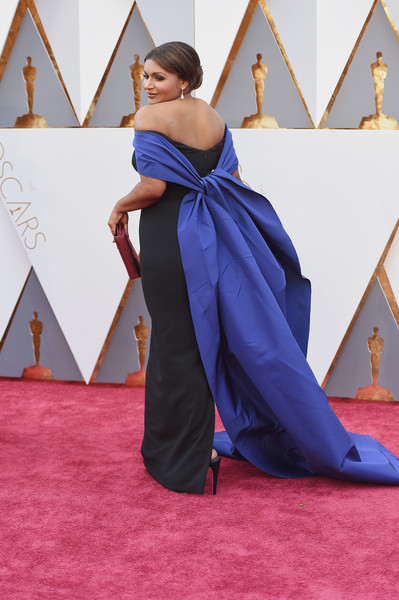 Funny woman Mindy Kaling has a style of her own and has always worked for her. She does not fit the usual size zero beauty standard but Mindy still manages to look beautiful every time she attends a red carpet event. This dress is another great pick that the actress looks smashing in. The black off-the-shoulder dress with the long blue train made this look very glamorous.
Melissa George at the 2009 Oscars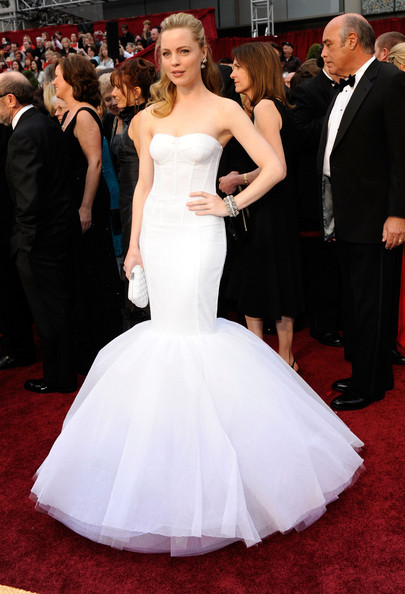 Even if you look at this dress from all angles, you will not find any flaw because this dress is perfect. Melissa George looks like a retro Barbie in this amazing white gown she wore at the 2009 Oscar red carpet. The fit was perfect, the fluff was just right and the person wearing it pulled off the gown perfectly. There was nothing to complain about regarding this particular dress.
Beyonce at the 2009 Oscars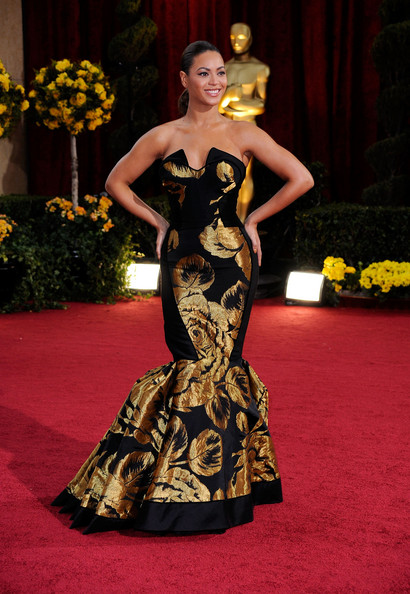 When we see Beyonce attending a red carpet event, she always makes sure she slays. So when she was walking the red carpet at the 2009 Oscars, Beyonce obviously chose a very incredible gown that she helped design. Her mermaid dress that had golden floral prints was truly one of the most beautiful looks Beyonce has ever worn on the red carpet.
Sarah Jessica Parker at the 2009 Oscars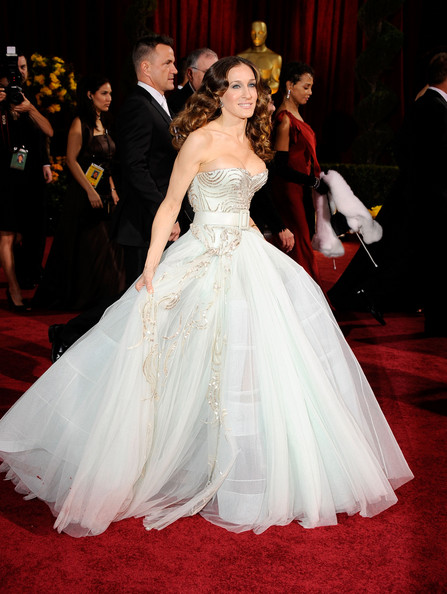 Sarah Jessica Parker is one of the most stylish women of our time. So without a doubt, her red carpet looks would be legendary as well. She has changed the game of fashion and is truly a trendsetter that many celebs draw inspirations from. So when SJP wore this white majestic gown to the 2009 Oscars, everyone raved about how magnificent she looked.
Nicole Kidman at the 2000 Vanity Fair Oscar Party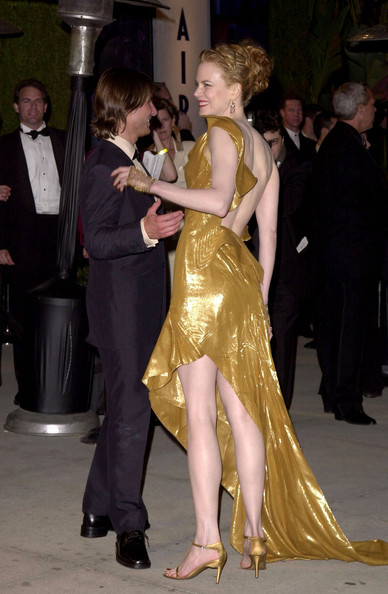 Nicole Kidman has time and again proven that she is a force to be reckoned with when it comes to red carpet style. She often pushes the boundaries and makes headlines because of her wardrobe choices. Here she makes another appearance at the Oscars in a daring dress. The slinky gold lamé dress that Nicole wore when she attended the Oscar party in 2000 was eye-catching, to say the least.
Jennifer Hudson at the 2011 Oscars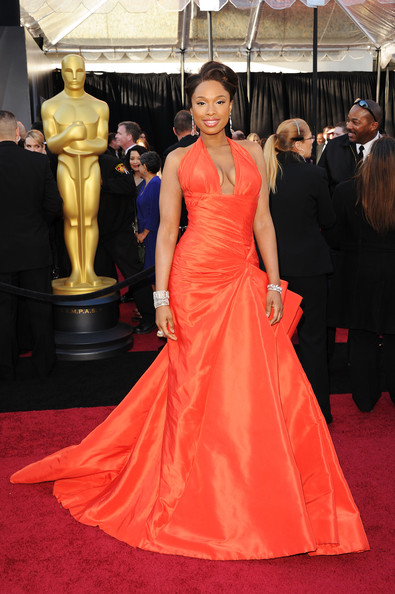 Jennifer Hudson has come a long way since her start as an 'American Idol' contestant. She has undergone massive change in her looks as well. She had lost a lot of weight and has adopted a healthier lifestyle to maintain her impressive physique. So she went to the Oscars wearing an orange dress. It should have been a mess but she looks so good that we have to think otherwise.
Selma Blair at the 2002 Vanity Fair Oscar Party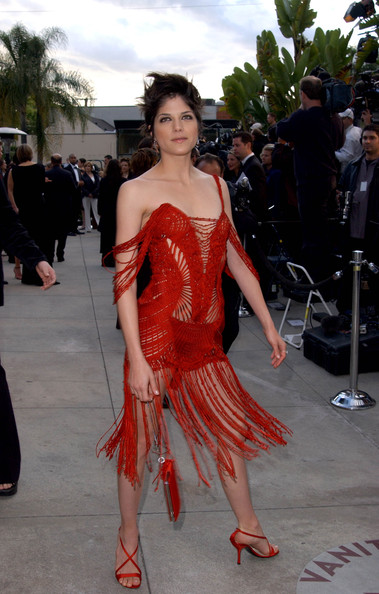 Selma Blair made a very shocking wardrobe choice when she showed up in a barely-there red fringe dress at the Oscar party. One would think that the dress was made for dancers. All in all, Selma did get a lot of attention for her choice of clothing. She looks good bu then for a dress to be worn during daytime, she ma have pushed it a little too much.
Marion Cotillard at the 2008 Oscars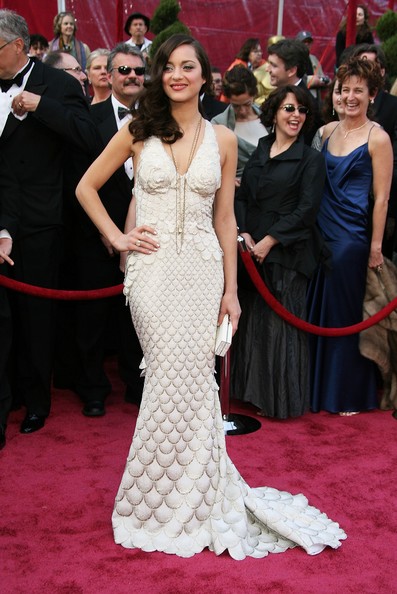 Marion Cottilard is one of the most beautiful actresses right now. She has worked with a lot of top designers that have dressed her for her red carpet events. One of the most iconic dresses she has ever worn would have to be this scaly Jean Paul Gaultier design she sported at the 2008 Oscars. Now we can never say that mermaids do not exist because Marion makes an incredibly gorgeous mermaid.
Anne Hathaway at the 2008 Oscars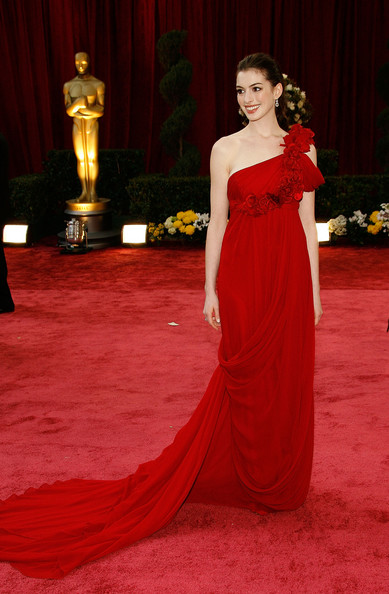 Anne Hathaway has become one of the most anticipated actresses to walk down the red carpet at any major event. We can always rely on her to wear something elegant and feminine. On this Oscar red carpet, Anne channeled her inner Grecian goddess wearing a draped Marchesa number. The color of the dress is deep red and compliments her pale white skin perfectly.
Naomi Watts at the 2013 Oscars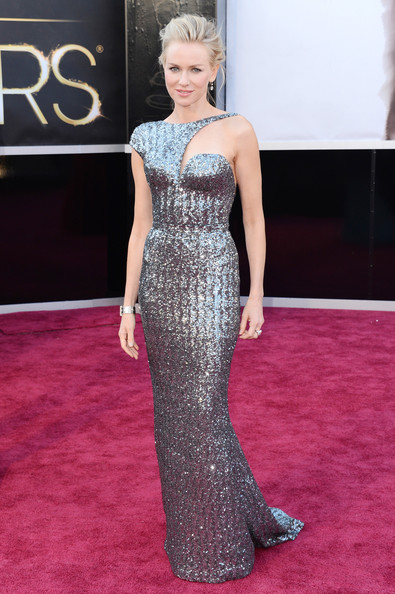 The Australian actress slash Nicole Kidman's best friend has worn some very distinguished looks on the red carpet throughout her career. She often wows everyone looking better than most of her juniors in the business. So Armani Prive dressed Naomi as a space aged glamour queen that everyone loved so much. She pulled off all that shimmer, balancing it with poise.
Marion Cotillard at the 2009 Oscars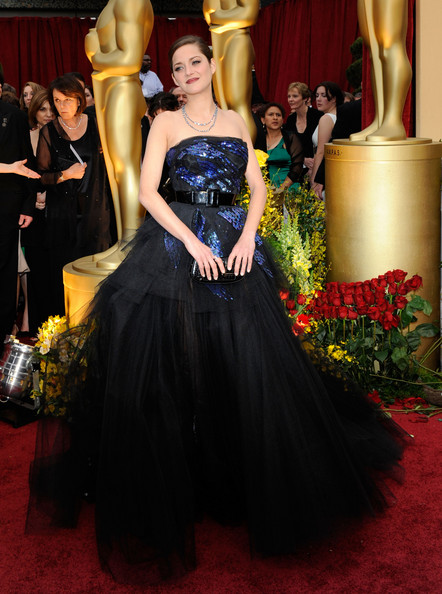 Marion Cotillard is one of the sexiest actresses in the world right now. Since she is French, she automatically has that 'Fashionable card' that other actresses do not. So obviously, even the most daring looks would appear fashionable if Marion were to wear them. Look at this dress she chose for the 2009 Oscars, it is very overwhelming but Marion manages to pull it off impeccably. 
Jessica Biel at the 2017 Oscars
Justin Timberlake's wife has one of the most amazing bodies in Hollywood. She knows this and she makes sure she flaunts it. So when Jessica Biel wore this gold KaufmanFranco dress for the 2017 Oscars, she pleased everyone's eyes. She resembled liquid gold as she streamed through the red carpet. The dress fits perfectly to her perfectly toned body.
Lady Gaga at the 2014 Oscars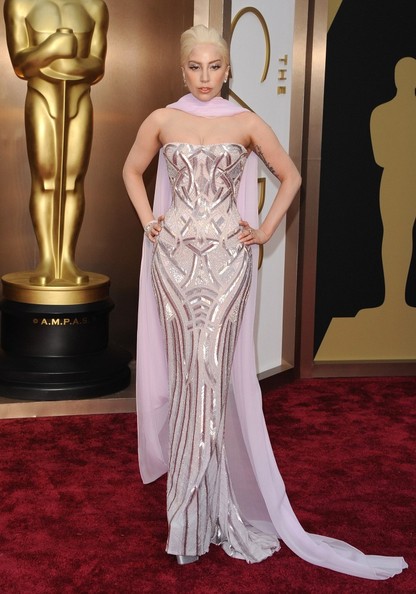 Lady Gaga has made so many iconic looks come to life on the red carpet that it is hard to choose which is her best look. She has experimented with fashion so much and has gone where no one else has gone before. She shocked everyone as she looked absolutely regal at the 2014 Oscars. Lady G wore this lovely Versace dress topped with a silk scarf to give it a classic spin.
Halle Berry at the 2013 Oscars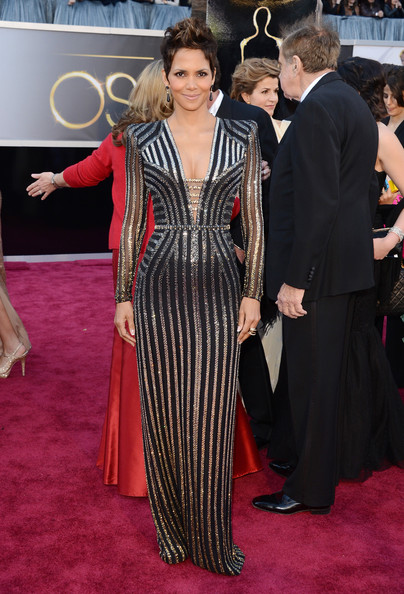 Halle Berry. Oh, Halle Berry. This actress is never going to age, is she? Look at her in this futuristic ensemble. Halle looks absolutely smashing in this dress that she chose to wear for the 2013 Oscars. Somehow Halle still oozed sexy, even though the dress looks stiff and robotic. It goes to show that Halle Berry is not going anywhere and only seems to look better and better even after crossing 50 years.
Jennifer Lopez at the 2012 Oscars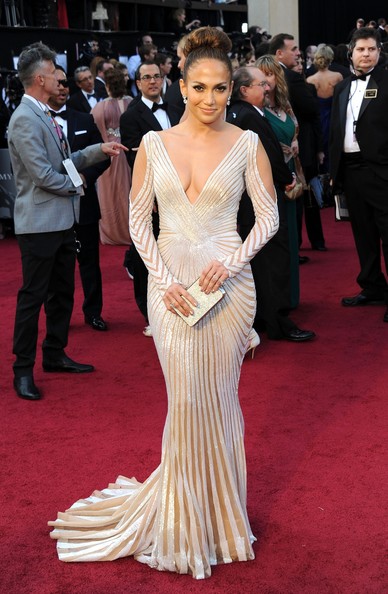 Jennifer Lopez has changed up her fashion game so many times. She is not a follower of a trend but she sets them. She has graced us with her beauty on several red carpet events. This one, in particular, is worth mentioning. Jennifer Lopez decided to wear this cut-out dress that shows off her beautiful figure, showing us that she still has 'it'.
Carey Mulligan at the 2010 Oscars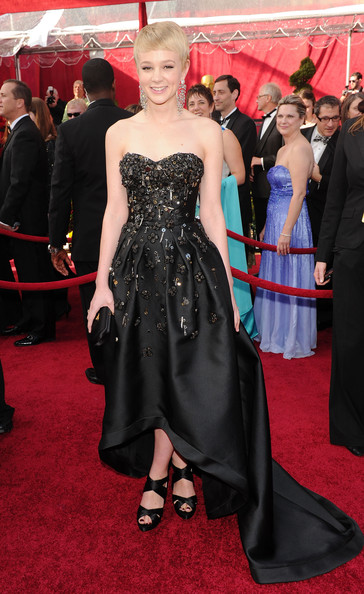 Carey Mulligan is one of the loveliest British actresses today. She has been seen wearing a lot of gorgeous dresses on red carpet events and is indeed a designer favorite.  When Carey chose this black Prada gown, it was not all that special at first glance. However, if we look closely, the bodice is embellished with tiny scissors and forks. A unique black dress indeed.
Marion Cotillard at the 2015 Oscars
Marion Cotillard does it again. this time she decided to wear a white mesh gown at the 2015 Oscars red carpet. She has made a bold choice to wear a completely new silhouette that has not been done by any other actress worth noting. This dress is truly majestic and it shows just how far Marion would go in taking fashion risks at the red carpet. She obviously pulled it off once again.
Jessica Chastain at the 2012 Oscars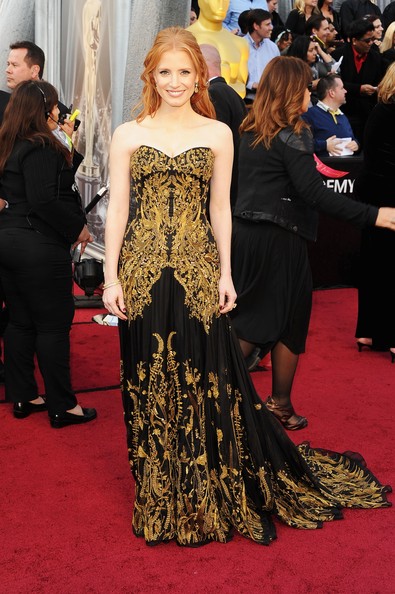 Jessica Chastain is known for her roles in movies like 'The Help' and 'Zero Dark Thirty'. She has been seen wearing amazing gowns on the red carpet but none could compare to this.She glided down the red carpet in this embroidered Alexander McQueen masterpiece. Just by looking at the dress, the craftsmanship is impressive and Jessica looks like an award herself.
Charlize Theron at the 2013 Oscars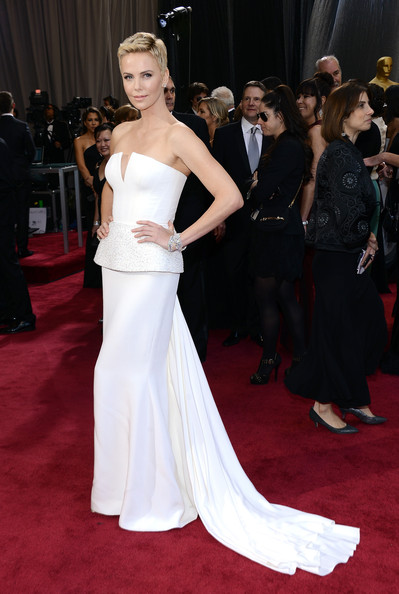 Charlize Theron will always be the star of any red carpet event. That face, that body! the rest can go home. She radiated in this white peplum dress at the 2013 Academy Awards.
Naomi Watts at the 2015 Oscars
Naomi Watts does it yet again. Here she is shimmering in an Armani cutout dress, looking like a silver trophy. She never disappoints.
Jennifer Garner at the 2013 Oscars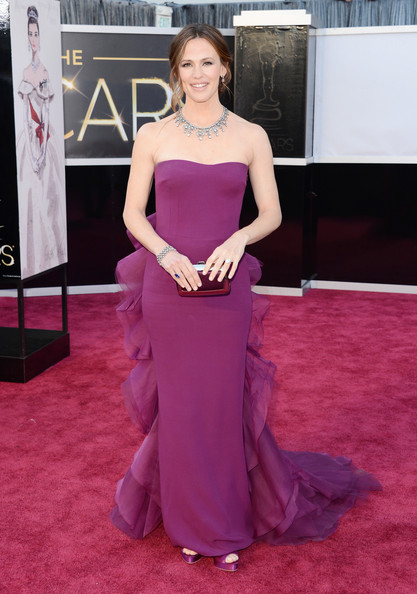 Jennifer Garner is one of the sweetest actresses today. Her dressing sense mirrors her personality perfectly. This berry column dress and ruffles made her a favorite at the 2013 Oscars.
Janelle Monae at the 2017 Oscars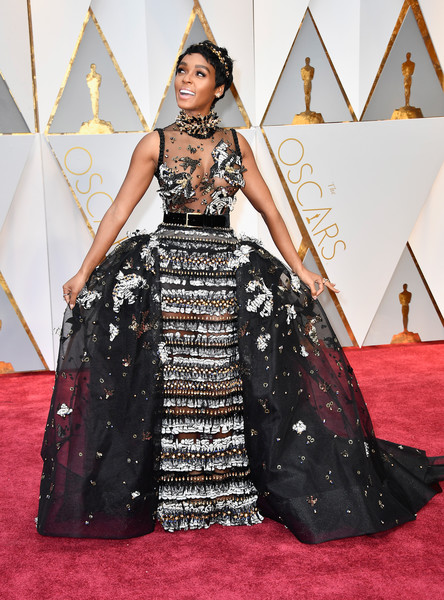 Janelle Monae always stands out wherever she goes because of her bold choice of clothing. This distinct Elie Saab creation made her unique once again at the 2017 Oscars.
Lupita Nyong'o at the 2015 Oscars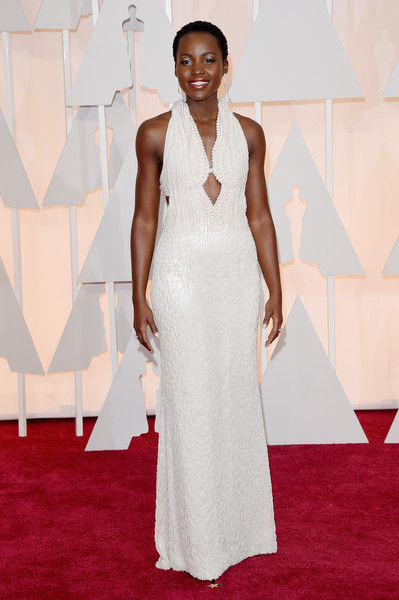 Lupita has one of the gorgeous body and skin that has no speck of flaw whatsoever. She wore this pearl-encrusted gown looking like a goddess. This dress was even stolen from her hotel room!
Michelle Williams at the 2012 Oscars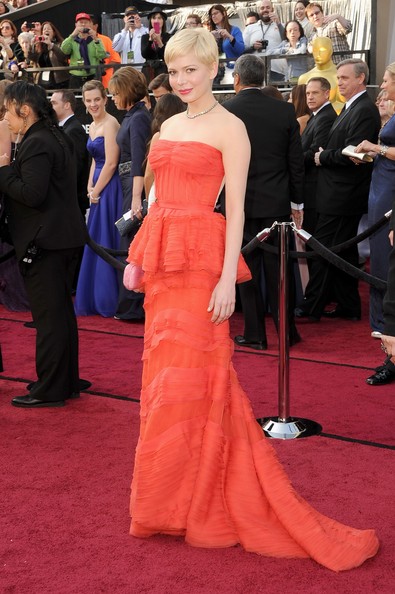 Michelle Williams' gowns keep on going getting better and better. She stunned in this dress, with the perfect hair and makeup. What's there to complain about?
Heidi Klum at the 2016 Oscars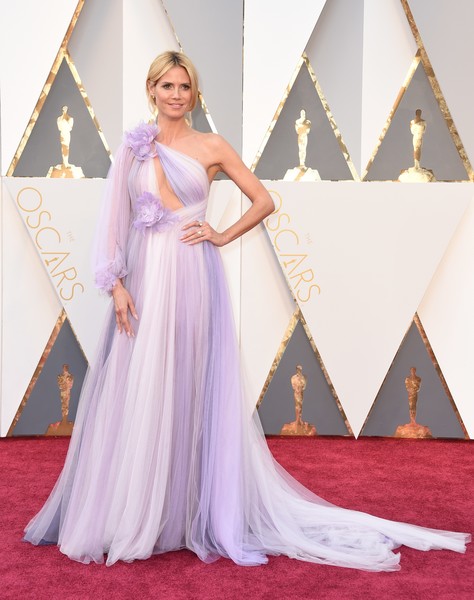 Heidi Klum might not be the most fashionable celeb but she sure knows how to make a statement. Her fairy princess Marchesa number for the 2016 Academy Awards is still talked about till today.
Lady Gaga at the 2015 Oscars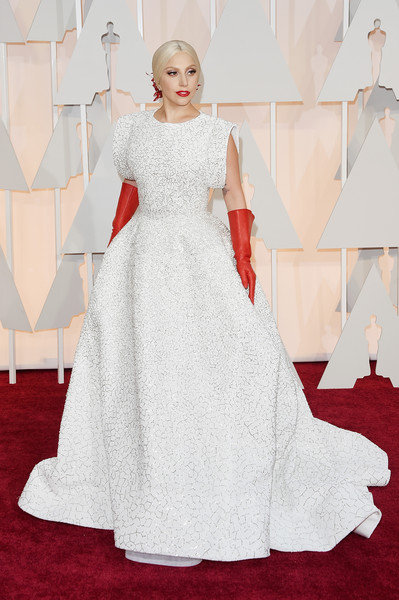 Lady Gaga will always have a trick up her sleeve when it comes to red carpet fashion. The red gloves she wore with this white crisp gown at the Academy Awards was indeed iconic.
Cate Blanchett at the 2016 Oscars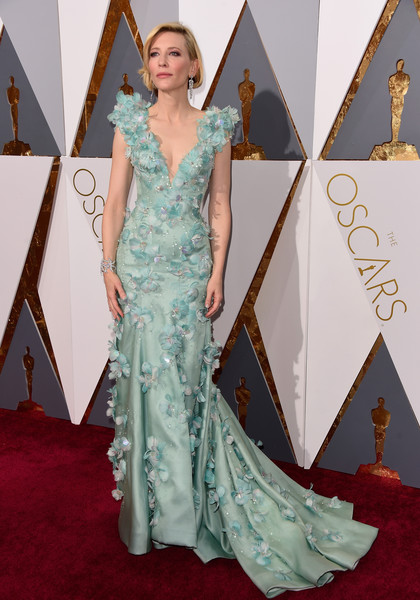 Cate Blanchett is never subtle with her red carpet style. She wore this embellishment laden, candy-colored Armani Prive gown looking like a delicious queen.
Jennifer Garner at the 2004 Vanity Fair Oscar Party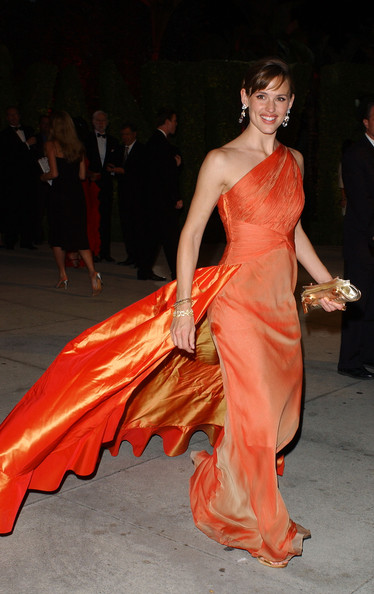 Jennifer Garner wore this fiery orange dress at the 2004 Academy Awards. She was way ahead of her time and this dress caused quite the buzz when she wore it.
Naomie Harris at the 2017 Oscars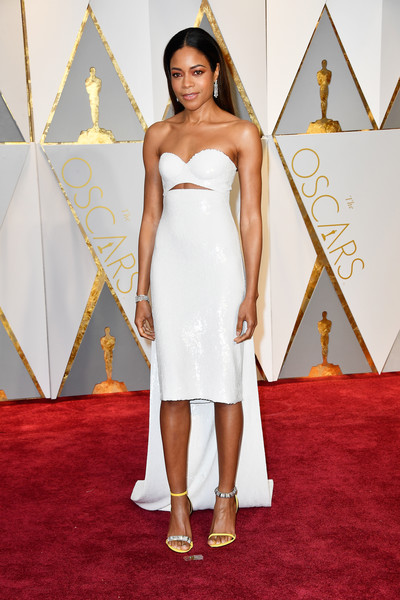 Naomie did not go for a long flowing gown. No. But she wore her Calvin Klein dress that had a high-fashion train. Those yellow heels also give a trendy touch.
Anne Hathaway at the 2009 Vanity Fair Oscars Party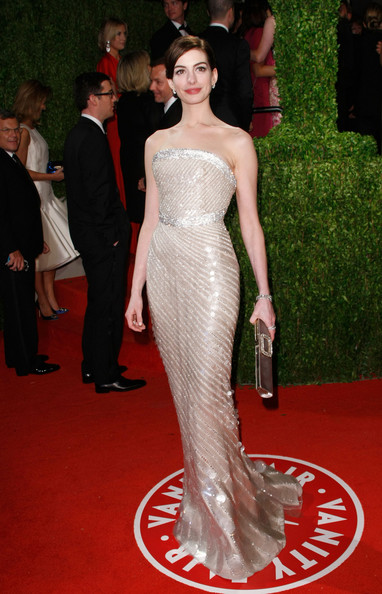 Anne Hathaway is always very on point when she shows up for events. Therefore this paillette gown that she chose to wear for this red carpet was exceptionally marvelous.
Charlize Theron at the 2016 Oscars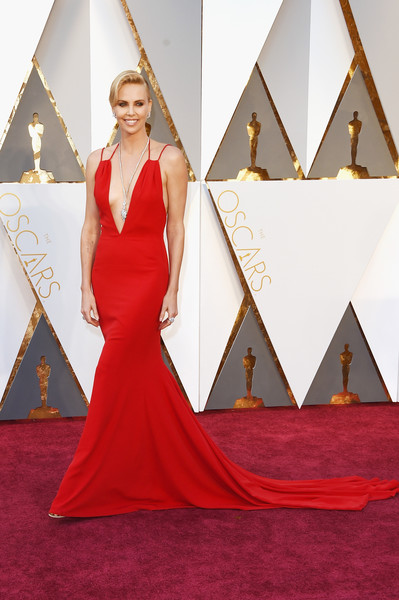 Charlize will never be seen in a boring dress because she always makes the clothes she wears so heavenly. Here she looks like a glamazon queen in this red dress. Just, wow!
Priyanka Chopra at the 2017 Oscars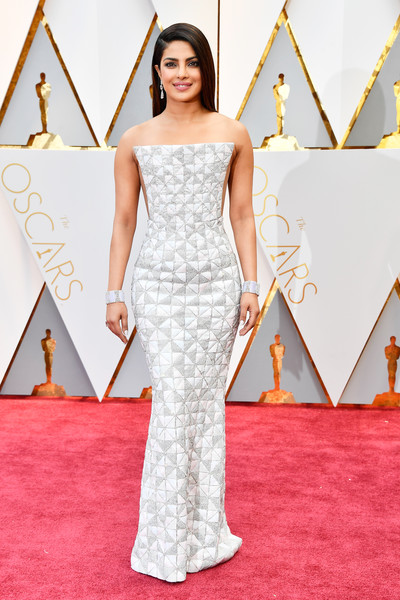 Priyanka Chopra has won the Miss World title so she knows how to rock a gown. Hence this Ralph & Russo column dress with side panels was no biggie. She worked it amazingly.
Olivia Munn at the 2013 Oscars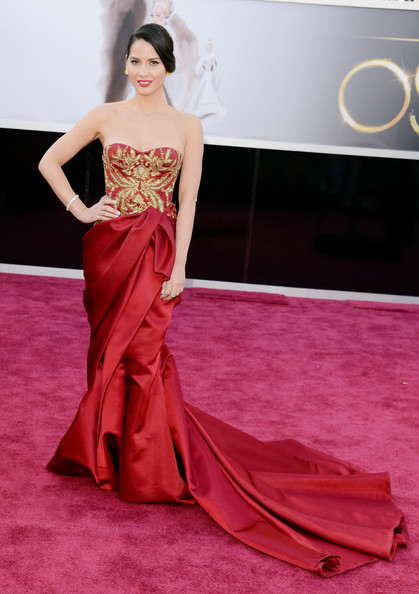 Olivia likes to maintain a clean look every time she appears on the red carpet. So at the 2013 Academy Awards, she wore a crimson gown with a dramatic train. Yes, girl yes!
Lily Cole at the 2016 Oscars
Lily Cole is one of the best top models in fashion. So, of course, she knows how to pull off an odd gown. give this any other celebs, they would look a mess.
Cynthia Erivo at the 2017 Oscars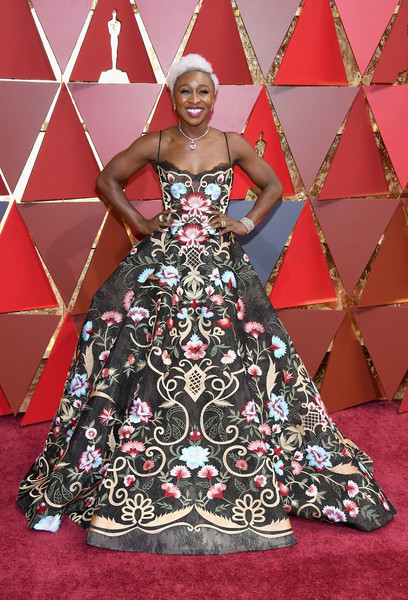 Cynthia Erivo looked like a dream when she walked the red carpet of the 2017 Oscars. Her exuberant embroidered gown was an absolute art piece.
Lupita Nyong'o at the 2018 Oscars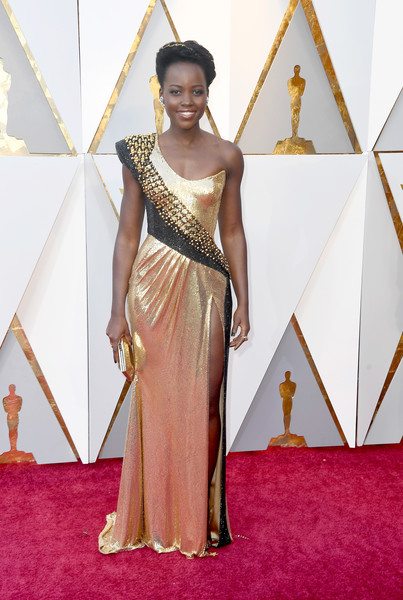 Lupita will never look bad in any dress she wears. She can literally rock any color.! This Atelier Versace dress was once again, a wise choice.
Andra Day at the 2018 Oscars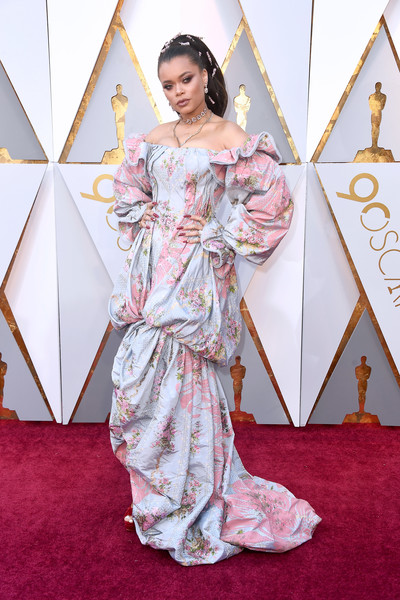 Andra Day is an artist. her choice of clothes reflects just that. She could have been in a Renaissance painting when she showed up in this Zac Posen piece.
Kelly Ripa at the 2018 Oscars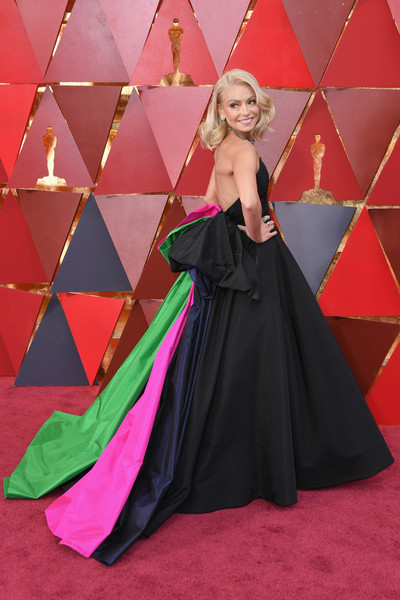 Kelly Ripa is one of the most powerful television hosts out there. She always looks very presentable when she hosts her shows, so this Christian Siriano dress was a good twist to her otherwise preppy clothes.
Allison Janney at the 2018 Oscars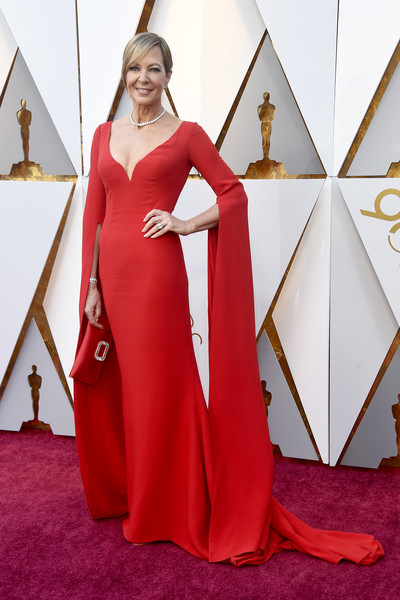 Allison Janney has recently enjoyed a very successful flow in her career, especially in the last 2 years. She wore this Reem Acra design and snatched her Supporting Actress Oscar award.
Viola Davis at the 2018 Oscars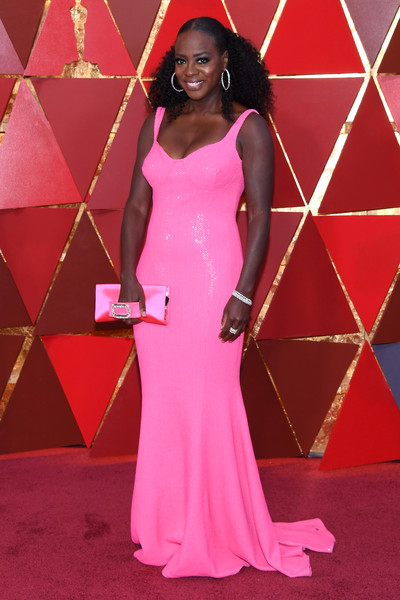 Viola Davis has become THE black actress these days. With multiple television shows and movies, the actress has had an impressive career. This hot pink Michael Kors dress she wore at the 2018 Oscars was an absolute hit.
Nicole Kidman at the 2018 Oscars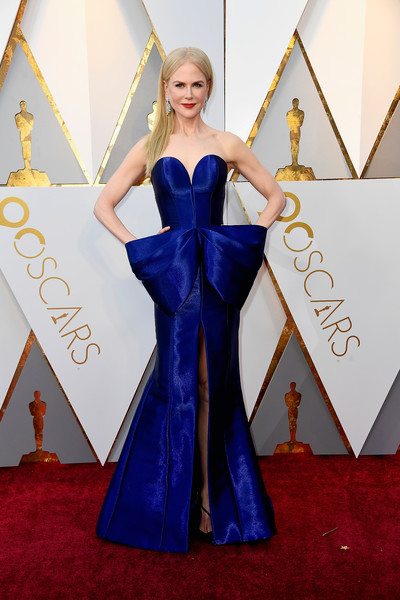 Nicole Kidman is one of the most respected actresses nowadays. This Armani Prive masterpiece is another one of her best dresses to date. But it resembles the design rejected by Miranda Priestly in the movie 'The Devil Wears Prada'.
Saoirse Ronan at the 2018 Oscars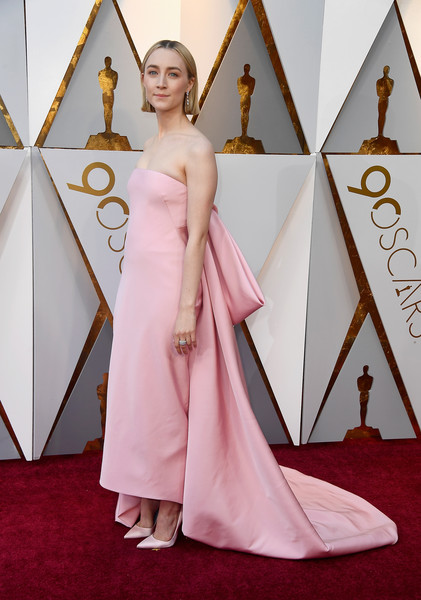 Saoirse is one of the most promising young actresses out there today. She was a vision in pink when she wore this gum Calvin Klein dress. The 60s silhouette also does her really good and she looks tremendously classy. 
Taraji P. Henson at the 2018 Oscars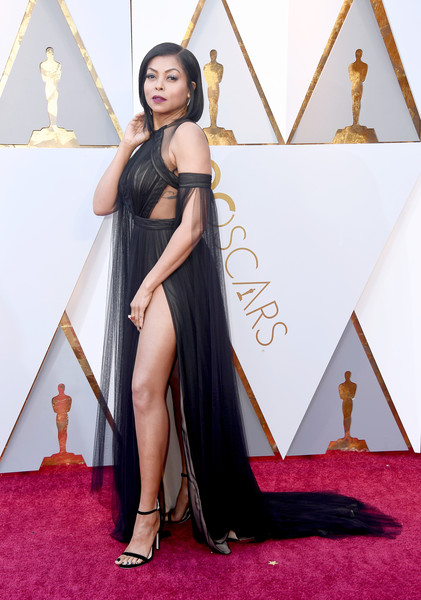 A black dress had been worn over and over and over again on the red carpet. So what can be so special about it anymore? Well, Taraji wore this sultry Vera Wang number and changed everyone minds about black dresses.
Paz Vega at the 2018 Oscars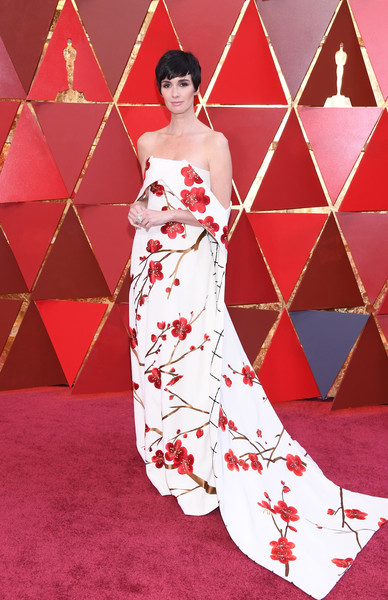 Paz's wore this exquisite dress with Japanese embroidery and cherry blossoms at the 2018 Oscars, It was a Christopher Bu masterpiece that is totally worth reading about.