You Won't Believe These Cats Re-enacting Pin-Up Model Poses
Company of cats is often enjoyable. But, sometimes life with them gets a little challenging too. They tend to get mean and cranky at times. Also, the way they sometimes behave and purr make us want to cuddle them to death. Because of the fact they are supremely cuddly at times, we can easily spend our entire lifetime with them.
Here are some similarities in the postures of some trendy cats and a few stunning pin up muses. the images are therefore complimenting that you just feel they're the most apt pose matches. Sometimes, even the facial expressions are so similar, that make us imagine as if humans were cats anytime in history!
They have the SWAG!

One of the more significant facial expressions for pin-ups were the surprised face, the "oh!" face. Just look at this feisty little feline perfecting this pose giving this model serious competition. It is also such an amazement to see that the hues of the two picture fall on the same shade that is reddish orange.

The world in my arms!

The expression, the body language and the whole vibe of these two photographs are just so impeccably coordinated that you cannot help but smile. However, we do have to admit the cat does look a bit more 'in the zone' right guys?

Doing a somersault?

Again with the surprised expression, the model here looks very shocked and playful. The cat on the other hand, looks like it is playing but just with itself. It seems to be having fun wrapped up in its own world. We sure wish it could show its (we're assuming) adorable face though…

The dancing pose!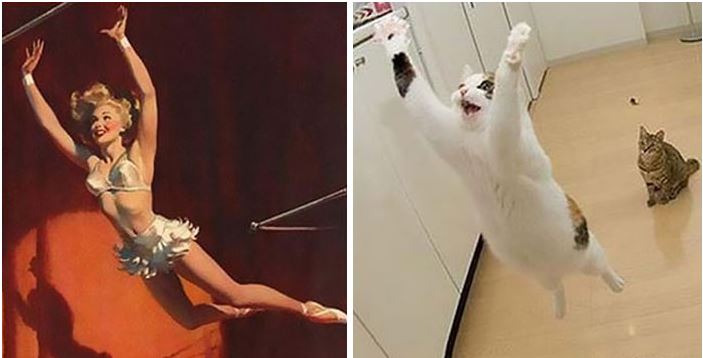 The pin-up model here seems to be performing for a huge crowd, say a circus? The cat however has a relatively lesser fanbase as we can all see that only one viewer is present. Well, two if you count the photographer. Wait, we are all actually looking so that make it… a lot more?

Want to go on a merry-go-round!

Chubby cat steals all of the spotlight in this photo comparison. I mean just look at it ride that imaginary see-saw. Ain't this the cutest, most hilarious thing you have ever seen?

That expression of excitement!

Playing with with never looked so fun. But then again the cat does not seem like it wants to share the ball or even play together.

On a grand jeté!

The girl looks like she is having the time of her life skating about while the cat looks like it just took the leap of a lifetime. However, they are so in sync that you can't help but wonder if they are channel each other…

Dancing like a cat!

The famous jazz hands as demonstrated by this pin-up dancer mimicked by the incredibly cute fluffy kitten. If kitten paws are your weakness, then just surrender now. Too cute!

Cute similarities!

The fascination of cats with fish bowls have been a lifelong tale. I wish we could swap the bowls of them both so that the cat could at least play with the goldfishes evidently absent in its bowl.

On a horse carousel ride!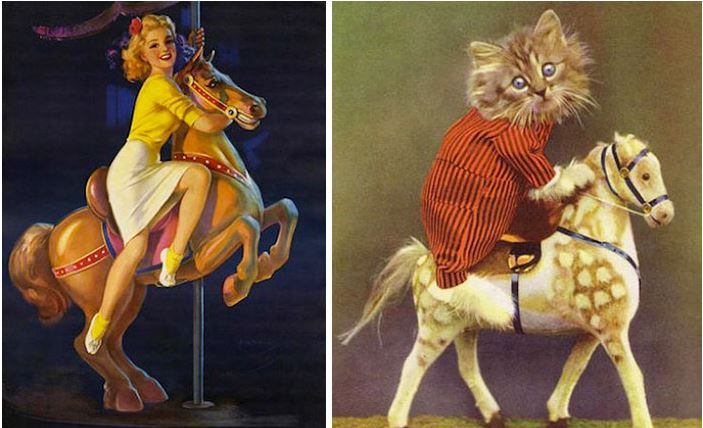 Never in my life have I ever thought fro once, that I would get to see a cat riding a horse (living or artificial). The cat seems to join me in my sense of shock with that expression. All in all, they both look so delightfully precious. Yes, cats can be the most adorable of pets and enjoying with them is so joyful.