The era of the 60s and 70s conceived and gave birth to different ideas and symbols to American pop culture. It had an influence on various events which were happening during that time. Versions of films and music and glamorous stars came up and they added glitter to the entertainment platter people craved for. It was the time when small moments and incidents were mastered and displayed in movies and music in an enchanting way.
Here are the famous stars, hit music and events which had a remarkable presence in the American entertainment history. The pictures will surely remind you of your favorites and make you nostalgic!
Faye Dunaway In A Scene From The Iconic Film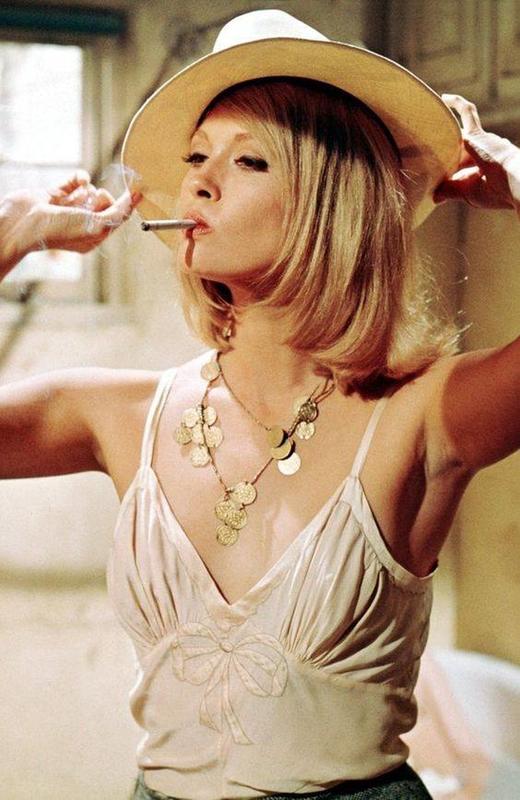 This is an incredibly stunning shot of Dunaway! This classy picture of Faye Dunaway is from the film 'Bonnie and Clyde'. The film is the most iconic one to begin the era of New Hollywood. It is the landmark biographical crime film which broke the taboos related to sex and violence in the cinema.
Faye Dunaway (played by Bonnie Parker) and Stars Warren Beatty (played by Clyde Barrow) became a real-life couple too for a while. Still, after a long time of the end of their relationship, they still continued to bicker with each other and same was seen while they were presenting Oscars 2017.
Lovers In The Film 'Romeo and Juliet'(1968)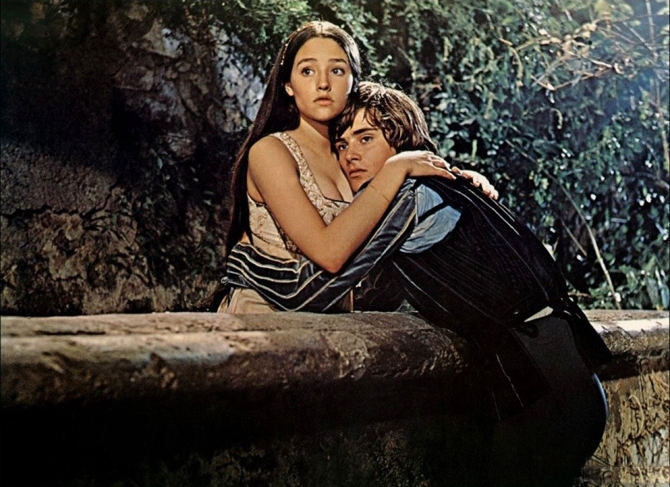 The title 'Romeo and Juliet' might be known to many of us. It is the most popular tragic play written by Shakespeare about two young lovers. There have been several adaptions of the play in opera, ballot, television productions, and movies. The film 'Romeo and Juliet'(1968), directed by Franco Zeffirelli is commended as the best oft-filmed classic of Shakespeare's play and one of the most romantic films ever made. Zeffirelli costarred Leonard Whiting and Olivia Hussey in this British-Italian film who made a beautiful couple together and became a worldwide sensation.
The film won Academy Awards for Best Costume Design and Best Cinematography. It got nominated for the Best Director category and is the only Shakespearean film to be nominated for Best Picture.  It was considered as a financially successful adaptation of the play, Romeo, and Juliet.
 Suzanne Pleshette & Troy Donahue (1964)
This sizzling couple is 'Suzanne Pleshette' and 'Troy Donahue' who ended acrimoniously in only eight months. Suzanne was a famous American actress and a voice actress and Troy Donahue was an actor as well as singer and got popular as a male sex symbol in the 1950s-60s. Donahue was married four times and his first marriage was with Suzanne Pleshette. They both appeared together in two films and tied the knot in Beverly Hills on 5 January 1964.
Troy's second marriage with Valerie Allen also did not last long. He was charged by her for cruelty after failing to respond to divorce. His third marriage was with Alma Sharpe who was an executive secretary and the fourth wife was Vicki Taylor with whom he divorced in 1981. After that, he did not remarry.
The Scream Queen, Adrienne Barbeau (in 1978)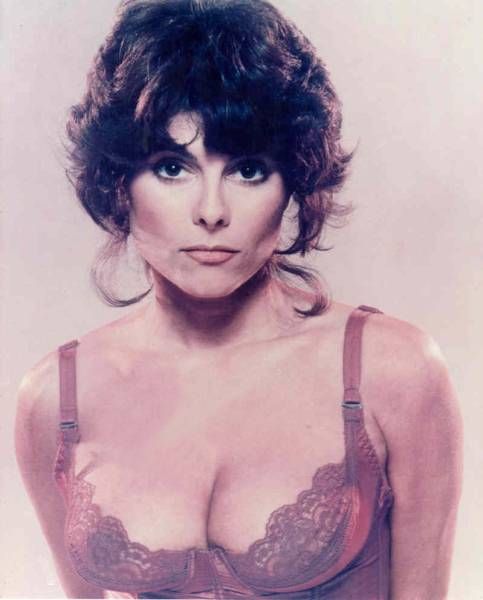 This alluring picture of Adrienne Jo Barbeau from her movie made remarkable popularity of her as a sex symbol in cinema during the 1970s and 1980s. The screaming queen became prominent as Broadway's original Rizzo in the musical 'Grease' in 1970. During the 1980s she played numerous roles in science fiction and horror films such as 'Creepshow', 'Swamp Thing', 'The Fog' and 'Escape' from New York.
Along with a stunning American actress, she is the author of three books and is also a singer. She was once married to John Carpenter who was famous as 'Master of Horror'.
Ann-Margret And Joe Namath In 'C.C. and Company'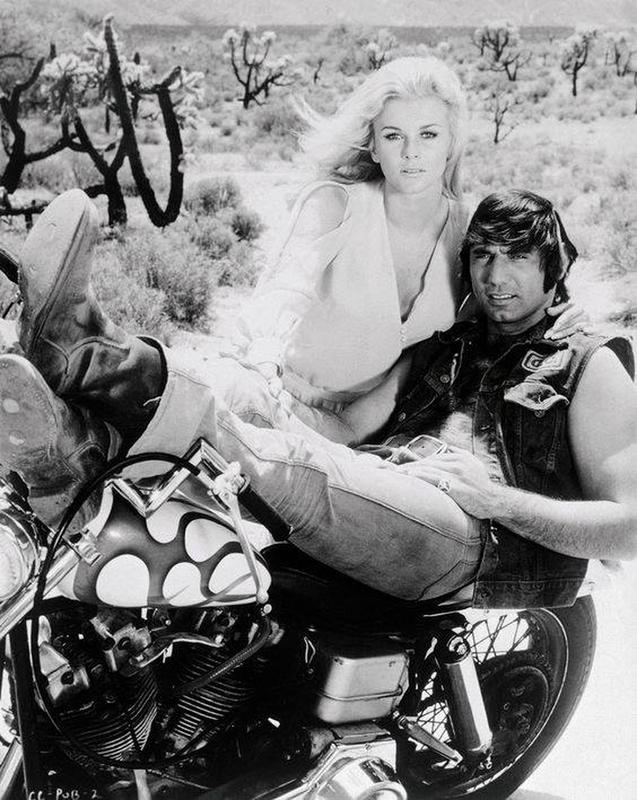 Who can forget 'C.C. and Company'? This is the best Biker Movie ever! Ann Margret and Joe Namath co-starred in this 1970 biker film. They both looked simply outstanding in their outfits. 'C.C. and Company' was the first remarkable movie of Namath's career. Before this, his priority had been football and he also did some theatre and television shows. During the 1960s and 1970s, Broadway Joe was famous as an AFL icon and got elected to Pro Football Hall of Fame in 1985.
A Bit Of Legwork On A 1958 Ford Fairlane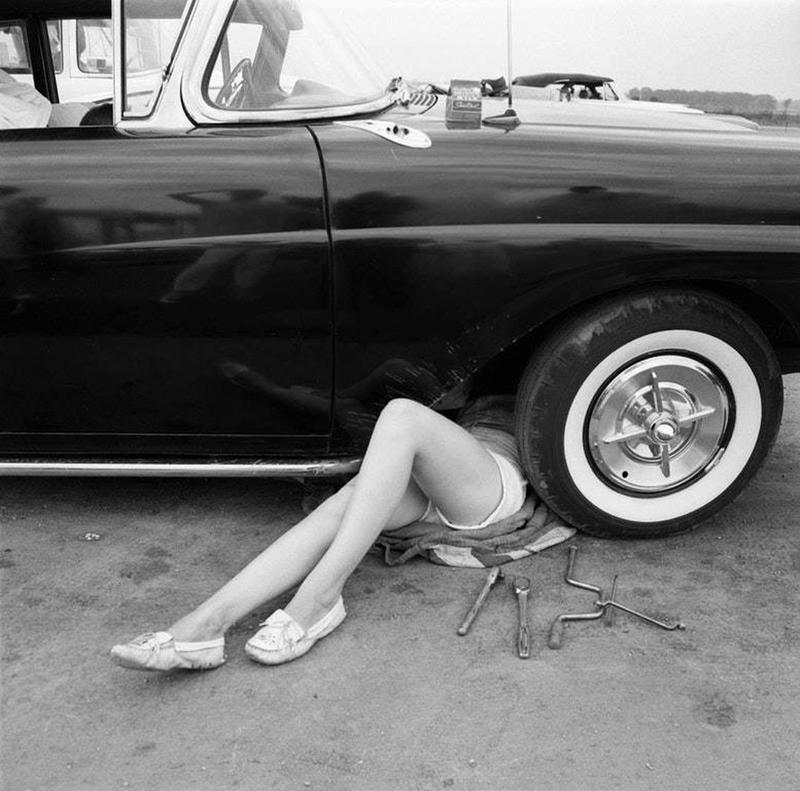 So, it is the astounding model called 'Ford Fairlane'. This was very popularly sold in North America between 1955 and 1970. In all these years, it had different revisions of style and development. In 1955 Fairlane changed the name Crestline to Ford's premier full-sized offering. Different body styles were offered such as the regular Crown Victoria coupe, Crown Victoria Skyliner, a convertible sunliner, traditional sedans and the Victoria hardtop coupe. All were marked stainless steel as Fairlane stripe. Again some changes were made in 1956 model year and new versions were introduced including Victoria hardtop and two new, more powerful V8 options. The two-door station wagon was also launched to compete with Chevrolet Nomad.
Maren Kawehilani Jensen (1978)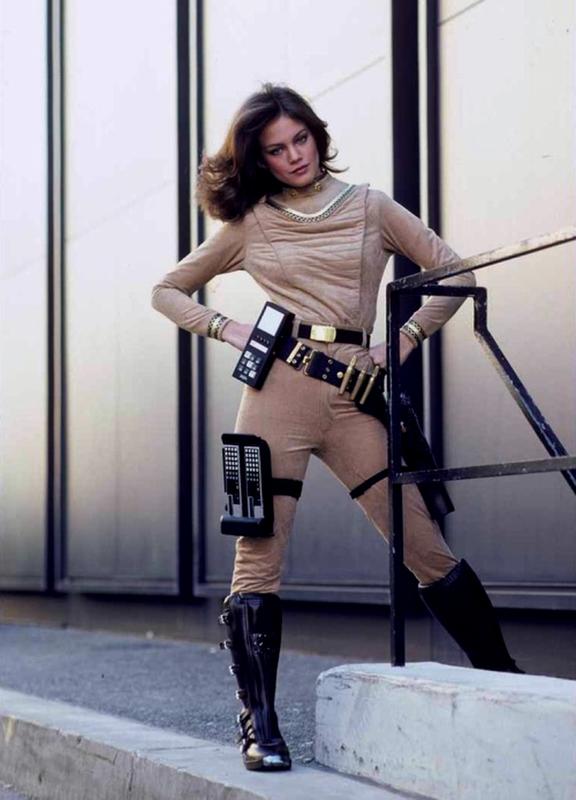 This impressive strong personality is 'Maren Kawehilani Jensen' who starred in military science fiction television series 'Battlestar Galactica' in the late 1970s. The series ran for a year in 1978 and then in 1980 it was revived with 10 episodes. The story of Galactica was continued in books which were then remade into television series. Maren Jensen was extremely popular for her role as Athena in the series. Since then she has made a guest appearance in other series like Love Boat and Fantasy Island.
All My Love – Robert Plant (1970)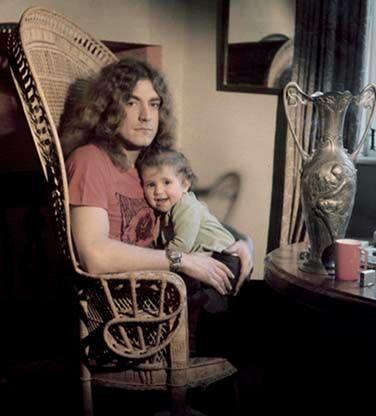 Here is Robert Plant, famous as the lead singer of band 'Led Zeppelin'. Robert has a powerful vocal which had made him popular for almost 50 years. He is a singer, lyricist, and musician as well. He was categorized under top 15 best singers of the time in 2008 by Rolling Stone. In 1968 he tied the knot with Maureen Wilson and share three kids; two sons and a daughter. Sadly he lost his son Karac in 1977 in a tragedy and then the band split. His famous song 'All My Love' is a tribute to his son Karac.
Burt Reynolds And Sally Field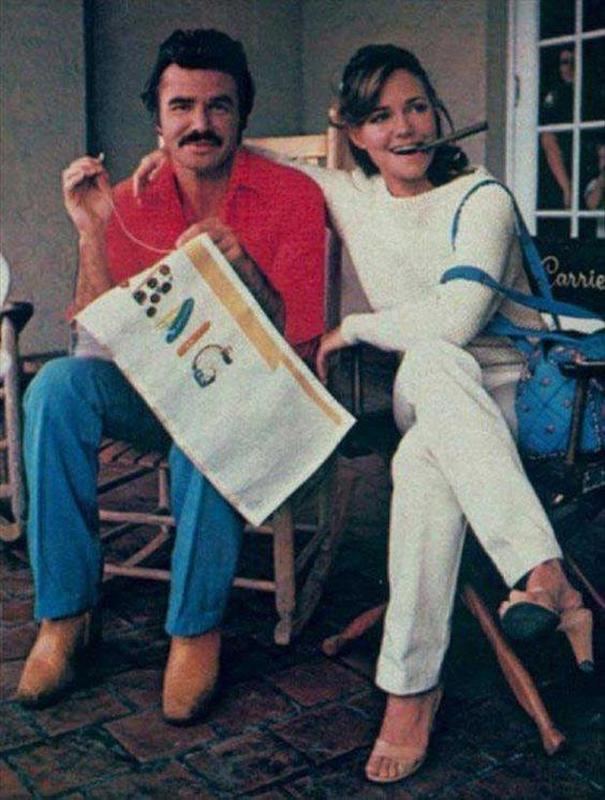 They both made an adorable couple together and gave out heartwarming vibes with their personality. 'Burt Reynolds' and 'Sally Field' started dating on the set of 'Smokey and Bandit' and became more than co-stars. Burt considered Sally as the love of his life. But it was heartbreaking to listen that they broke up after five years. The end was bitter as they did not speak for two decades. Later Burt sounded regretful while discussing it with the press.
1976-78 TV Series Called C.P.O. Sharky
This man is a U.S. Navy Chief Petty Officer from 'C.P.O. Sharkey' sitcom. Don Rickles who starred in this sitcom was popular as he carried insulting attitude towards others but underneath he really cared for his recruits and was very helpful to them. In his real life, Rickles had served in Navy during II World War and is prominently known for insult-driven comedy. The series ran for two seasons and had 37 episodes and episode 'Punk Rock Sharkey' became highly popular one.
Jack Webb (Joe) And Harry Morgan (Bill)
This is a still of Jack Webb and Harry Morgan who became popular as Joe and Harry in Dragnet, TV series (the 1970s). It started as a radio series and in the end, it became the most known and influential dramatic television series. Dragnet was the baton holder for police dramas; later several came up like 'Blue Bloods' and 'Law & Order'. It aroused public's interest in police work and their heroism acts. It improved the public opinion regarding real officers and has a great impact on police dramas today.
Sissy Spacek Since 1970s

This is Sissy Spacek framed in a limelight!  Her first debut film was 'Prime Cut' (1972) and breakthrough in her career came when she did the horror film 'Carrie'. This movie made her an icon girl with telekinetic powers among teenagers. In 1980 she bagged an Oscar for film 'Coal Miner's Daughter'. She was also nominated for an Oscar for her roles in movies like 'The River' (1984), 'Missing' (1982) and 'Crimes of the Heart' (1986). Sissy is continually churning out successful movies and still acting. Currently, she is a playing role in 'Castle Rock' which is a horror television series.
The Mod Squad (1968-1973)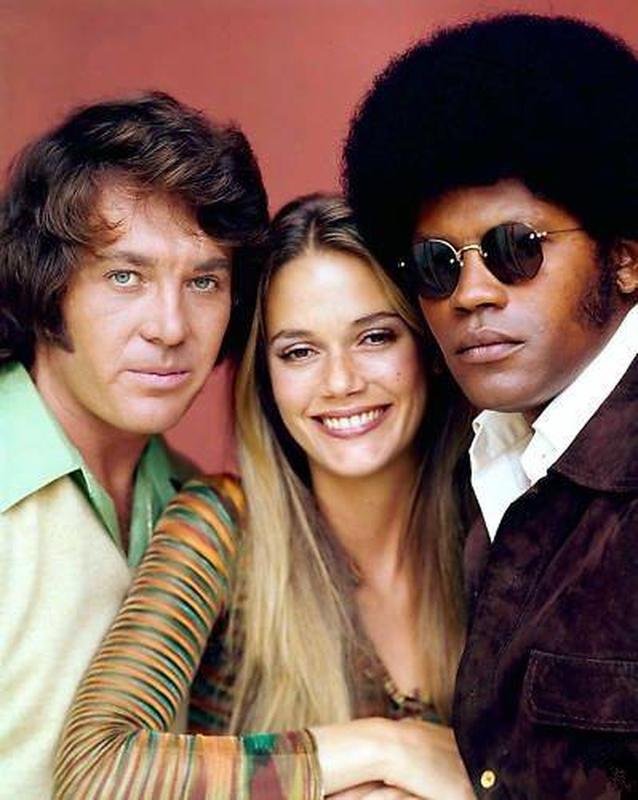 Julie, Pete and Linc made a cool trio in crime drama series, 'The Mod Square'. The series ran for a short period of time in the beginning but earned reputable nominations; four Golden Globe nominations and six Emmy Award nominations. The concept of the series was to turn three social outcasts into detectives despite their being imprisoned. The famous cast was Michael Cole, Clarence Williams III, and Peggy Lipton. These stars reflected cultural fear among youth in that era.
Marilyn Monroe On The Set Of Her Last Movie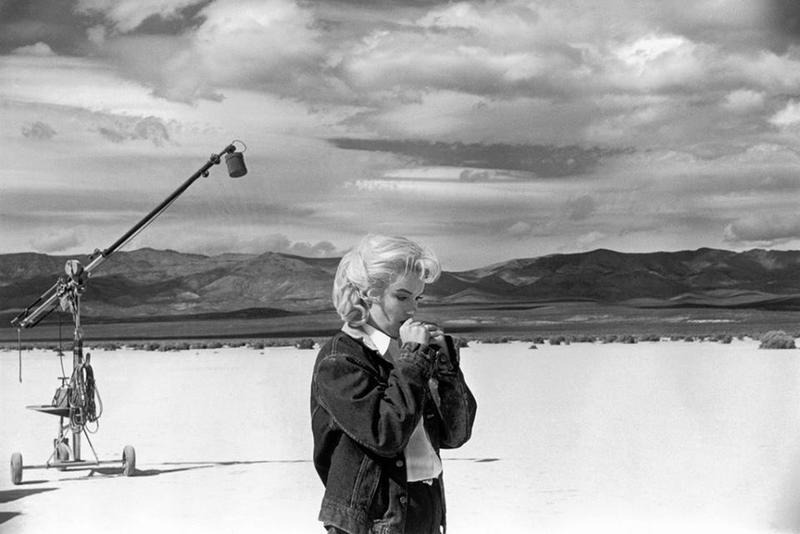 She is Marilyn Monroe on the set of the film 'The Misfits' (1961). It was the last movie she acted in, written by Arthur Miller and directed by John Huston. Arthur and Marilyn got married on 29th June 1956 and it lasted till 1961. In the film, Marilyn costarred along Montgomery Clift, Clark Gable and supporting actors including Kevin McCarthy, Eli Wallach, and Thelma Ritter. Since childhood, Marilyn considered Gable as her idol for a screen. It was the last movie for Marilyn and Gable.
The Byrds Performing On Ready Steady Go!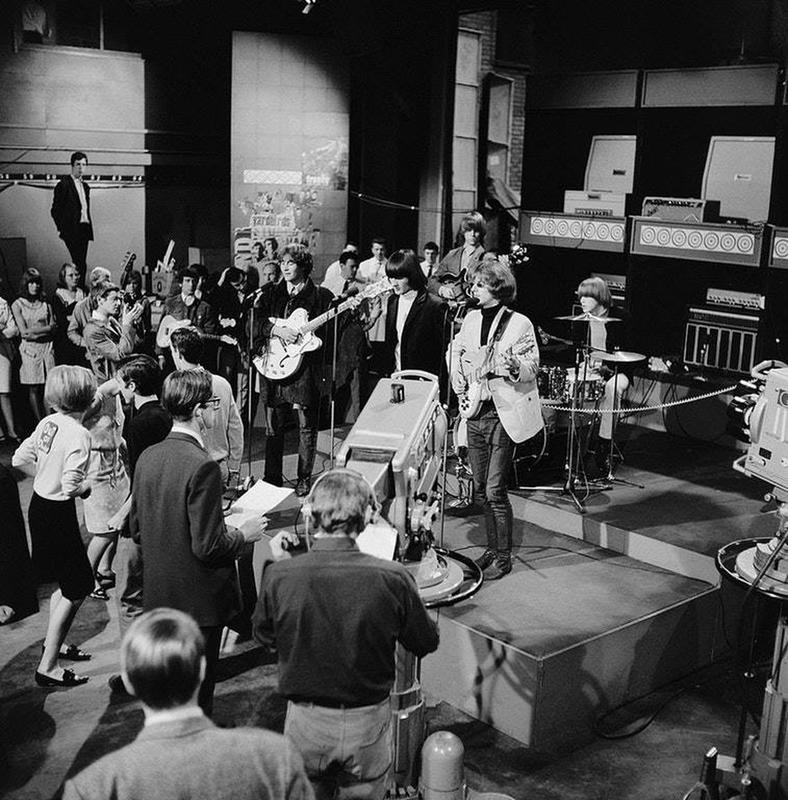 Look at the American band 'The Byrds' on Ready Steady Go! It was formed in California in 1964 and went out in 1973. In a short span of time, it was able to compete with contemporary bands like 'Rolling Stone', 'Beach Boys', and 'Beatles' and was known to be the most famous and influential one in the 1960s. They were also considered dominant in beginning raga rock and psychedelic rock. Their style made its remarkable presence and is relevant in popular music today.
Michelle Pfeiffer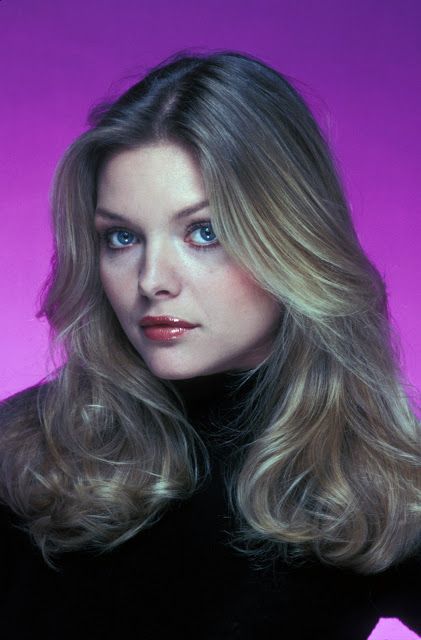 She is the stunning actress, Michelle Pfeiffer! This photo was taken in 1978 when she started her acting career. The early years of her career did not sweep much success but by 1983 when she appeared in film 'Scarface' as cocaine-addicted wife Elvira Hancock, it gave her widespread attention. Since then she performed remarkable roles which gave her numerous Oscar nominations. The timeless beauty is a known producer and an actress today.
Raquel Welch In The Three Musketeers ('73)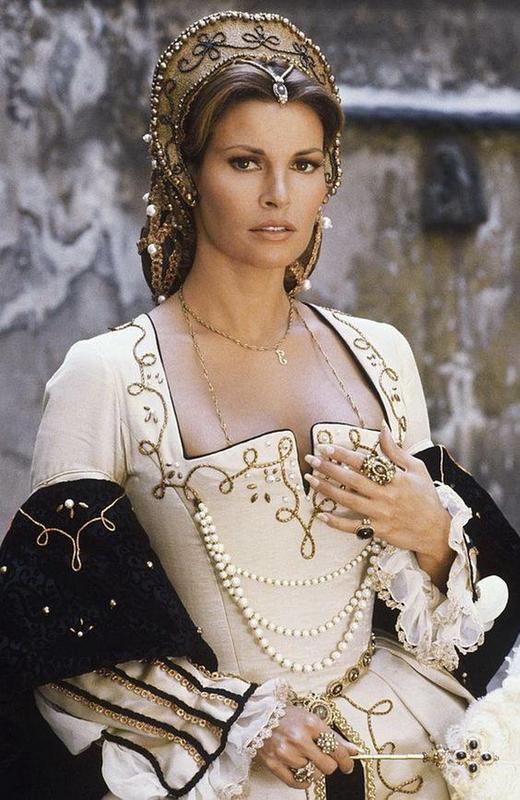 Gorgeous Raquel Welch is recognized by many as Constance Bonacieux. Her role in the film 'The Three Musketeers' famed her as the Best Actress and she won the Motion Picture Musical or Comedy,  Golden Globe Award in 1973. Every detailing in the film was shot by David Watkin. The film was directed by Richard Lester and every fight scenes were beautifully choreographed. It made George MacDonald Fraser achieve the award for Best British Comedy Screenplay by Writers Guild of Great Britain. 
Blue-eyed Beauty Crystal Gayle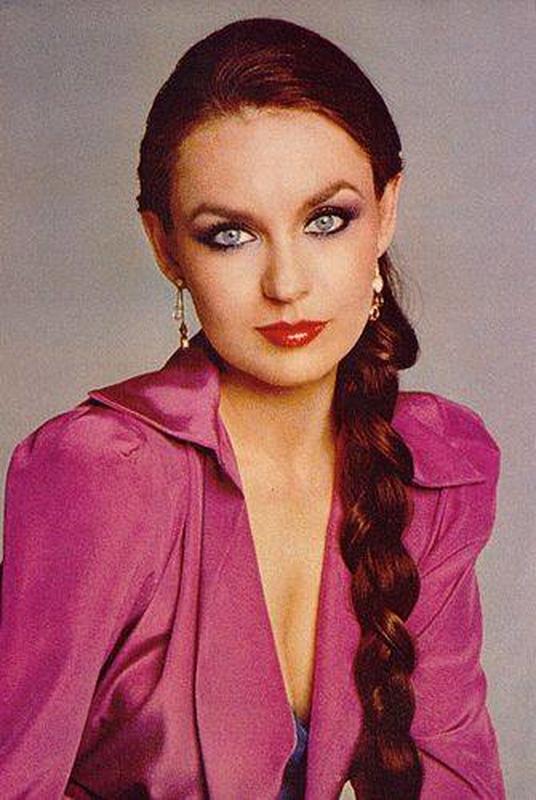 This blue-eyed lady is Crystal Gayle! In 1983 she was considered among the 50 most beautiful women in the world by People magazine. She became famous for her 1977 pop song 'Don't it make my brown eyes blue'. She has grown up with major hits and is known to be the 1st female artist to reach platinum sales in music history. In her family, her cousins are also renowned singers, Loretta Lynn, Peggy Sue and Patty Loveless.
Mary Crosby In The TV Series 'Dallas'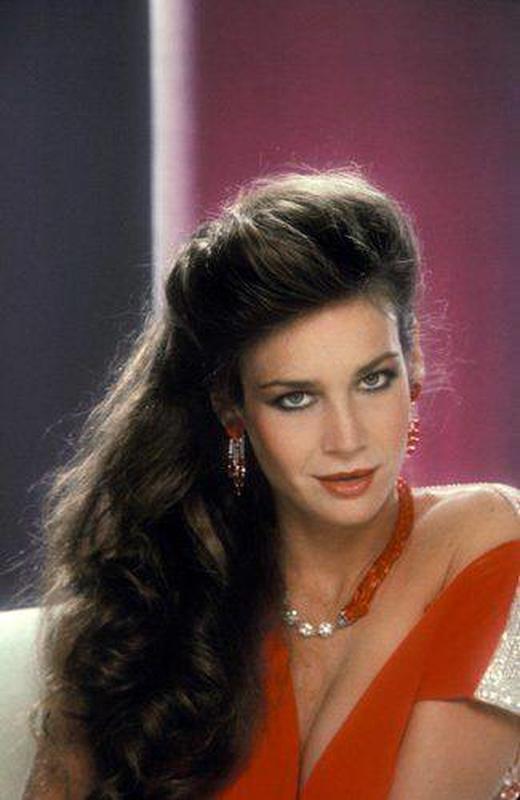 Who does not remember this appealing lady? Mary Frances Crosby is prominently known for her appearance in the television series 'Dallas' as Kristin Shepard from 1979- 1981. Mary's character is loved the most in 1980 season of Dallas, 'A House Divided'. She is the only daughter of Kathryn Grant and Bing Crosby and she became an actress by working in the entertainment industry from her childhood days. Mary got married to Mark Brodka in 1998 and share two children.
The Rat Patrol, 1966–68 TV Series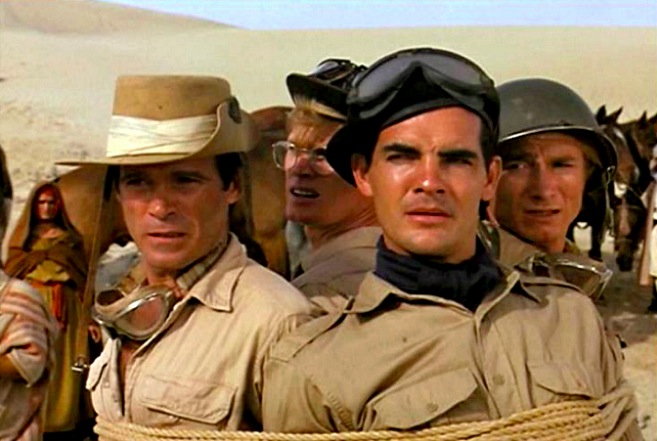 It's a scene of American Tv series 'The Rat Patrol' captured during the 1960s. The most astonishing fact about this series is that it was the first one to show world war II on a colored screen. The show was about the soldiers who were exploited, being part of a desert patrol group under the North African campaign. Three of them were Americans (Lawrence P. Casey, Justin Tarr, Christopher George) and one Briton (Gary Raymond). The first series was a major hit and its second season also had remarkable success.
The Batmobile From The 1966-68 Batman TV Series
This ultra modish black car is the Batmobile from 1966-1968 television series. It is a Ford concept car known as 'Lincoln Futura' which was customized by famous American designer, George Barris. There were other designs as well but to make things possible according to schedule George Barris was brought on board by ABC in 1965. In just three weeks, Barris customized this Lincoln Futura into the famed vehicle of Television's caped crusader.
'Rock and Roll' Legends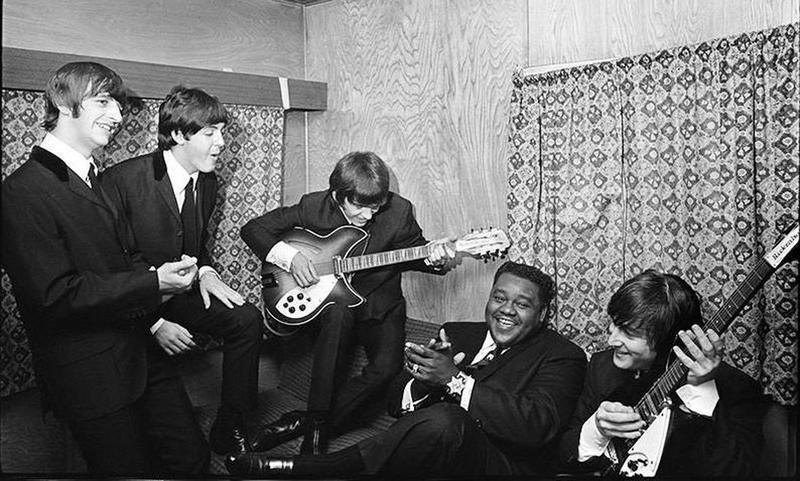 The picture conveys emotions of joy and contentment! It was a nostalgic moment for 'Rock n Roll' legends to share some moments together in New Orleans in 1964. 'The Beatles' had their concert in Big Easy in 1964 and just found the chance to meet their idol Antoine "Fats" Domino Jr., whom they considered as their foremost influence. George Harrison said once that 'I'm in Love Again' song of Domino was the first one they ever heard. According to Lennon, 'Ain't That a Shame' was the first song they learned to play.
'Heart' in the 70's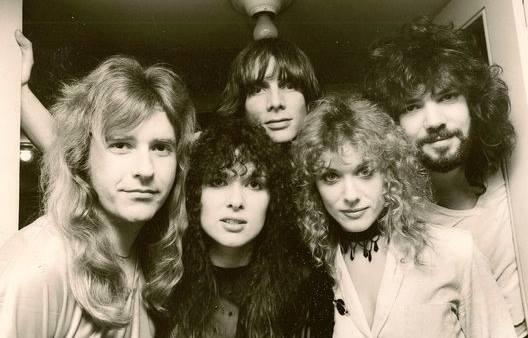 Sisters Nancy Wilson and Ann Wilson are the souls of American rock band 'Heart'. 'Heart' band fame grew first in Canada and United States and then they became a worldwide sensation. The band had a larger influence of hard rock, folk music, and heavy metal. The greatest hit of the band includes 'Magic Man', Crazy on You', and 'Barracuda'. The band had garnered success in the 1970s by selling over 35 million records and around 23 million sales alone in the U.S. It met a setback in early 1980s and had its comeback again in 1985. Since then it is rolling in huge success by giving greatest hit records.
The Cars (Elektra) 1978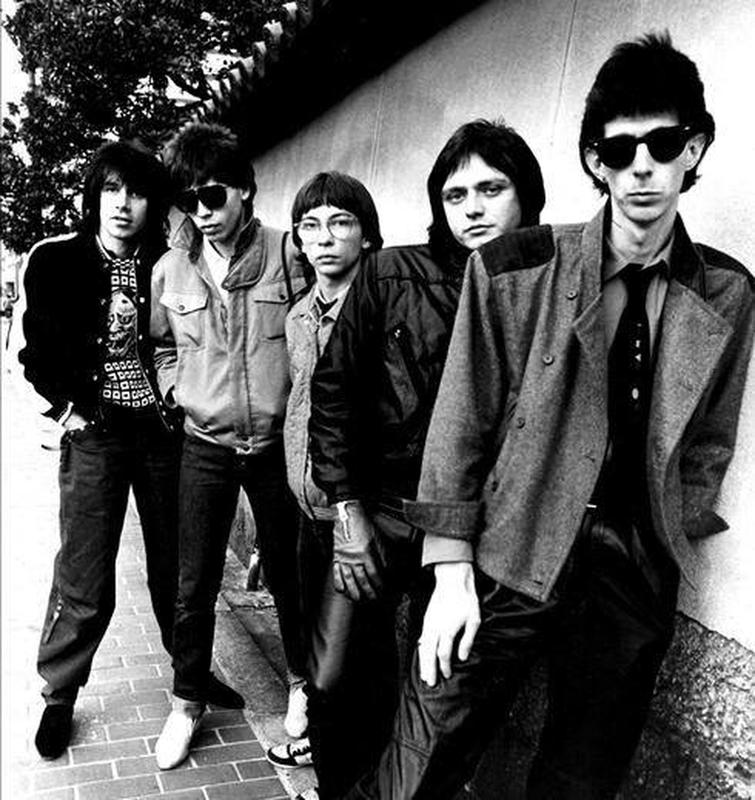 These boys made a stupendous pop group 'The Cars'.  In 1978, Rolling Stone Readers named rock group, 'The Cars' as Best New Artist. The rock group gave hit song 'You Might Think'  which won Video of the Year at MTV Video Music Awards in 1984. Its debut album 'The cars' sold a million copies and was visible on Billboard 200 album chart for several weeks. Unfortunately, the band saw its end in 1988. Each album was restructured by Ted Jensen and was released on Elekta Records in 2016.
Victoria Principal (1970)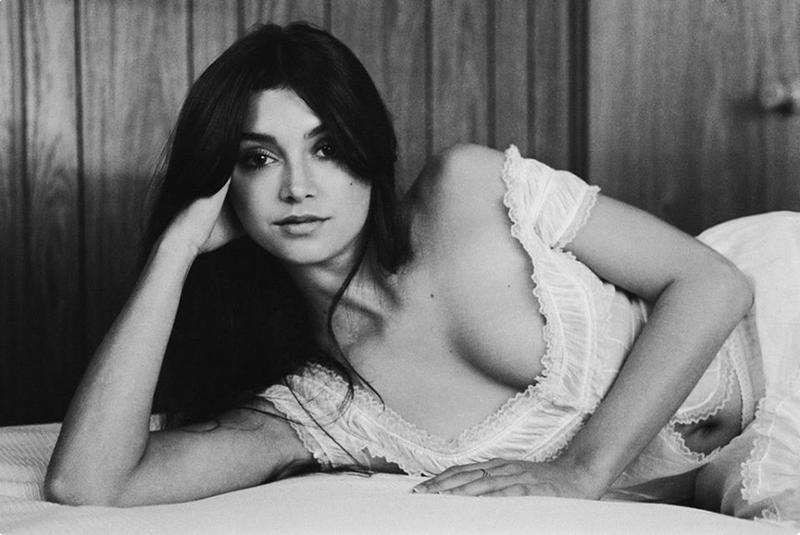 She is a stunning actress, Victoria Principal, who got popular for her role in 'Opera Dallas' as 'Pamela Ewing'. In 1974, she chopped her hair for an audition as she wanted to resemble the character 'Rosa' in 'Earthquake', disaster film and finally she won the role. Further, she appeared in a television series 'Fantasy Island' and then landed up playing a role on 'Dallas'. It earned her a nomination for Golden Globe Award in 1983. Victoria later went on co-producing television movies and launched her own beauty product.
Adam West And Burt Ward In Bathrobes(1966)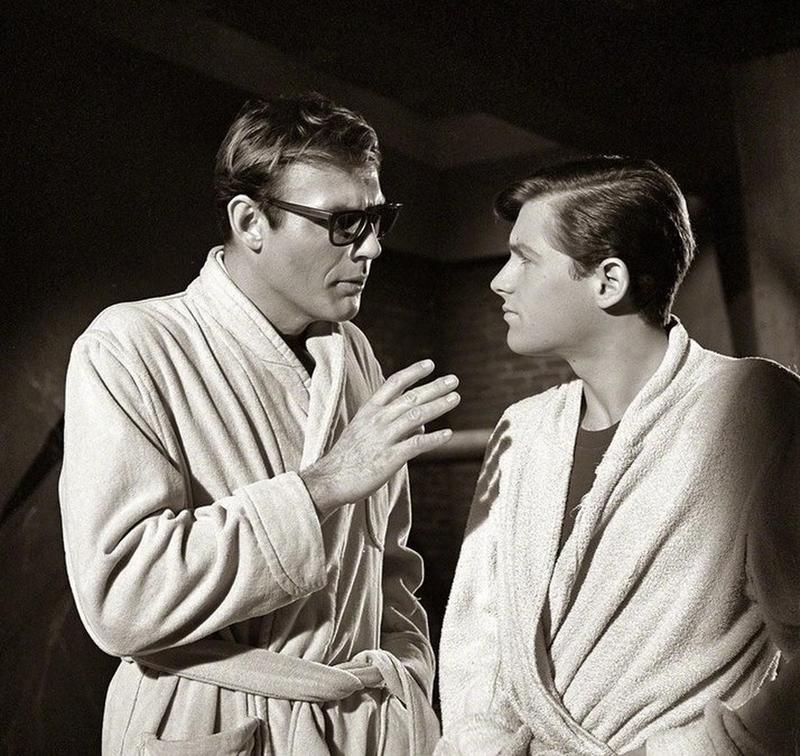 These dashing men are Adam West and Burt War' captured on the set of 'Batman' in 1966. While working on screen, they performed tirelessly and gave their best. In reality, it was observed that there was a little battle of male ego between them on a regular basis. Ward found himself to be underpaid and being treated unequally as compared to West and rest of the cast.
Stevie Nicks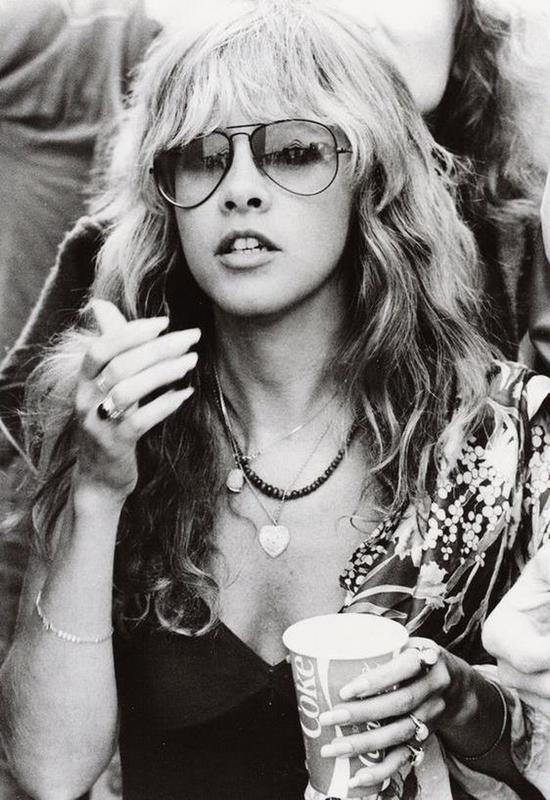 She is Queen of Rock and Roll! Stevie Nicks is a mystical singer and a songwriter. She is well known for her work in 'Fleetwood Mac' and her influence in music is acknowledged worldwide. She started her music career right from high school along with Lindsey Buckingham. Both along with their friends came up with a band called 'Fritz Rabyn Memorial'. Later, the couple made an album known as Buckingham Nicks in 1974. 
'Game of Death '(1973)
This is a shot of Bruce Lee and Kareem Abdul Jabbar from the film 'The Game of Death'. It was the last film of Lee in which he directed, starred and wrote and it is still unfinished. It is considered as his astounding work which has lost some footages in archives. The remaining footage was brought up in a documentary, 'Bruce Lee: A Warrior's Journey'.
1968's Chitty Chitty Bang Bang
Chitty Chitty Bang Bang is a famous British adventure fantasy film of 1968. It is based on Ian Fleming's novel 'Chitty Chitty Bang Bang'. Dick Van Dyke, Lionel Jeffries, Robert Helpmann, Sally Ann Howes and Gert Frobe starred in it. An inventor makes a fancy vehicle out of broken Grand Prix car in which they move to save their grandfather in a far-off land. 
Brian's Song, A True Story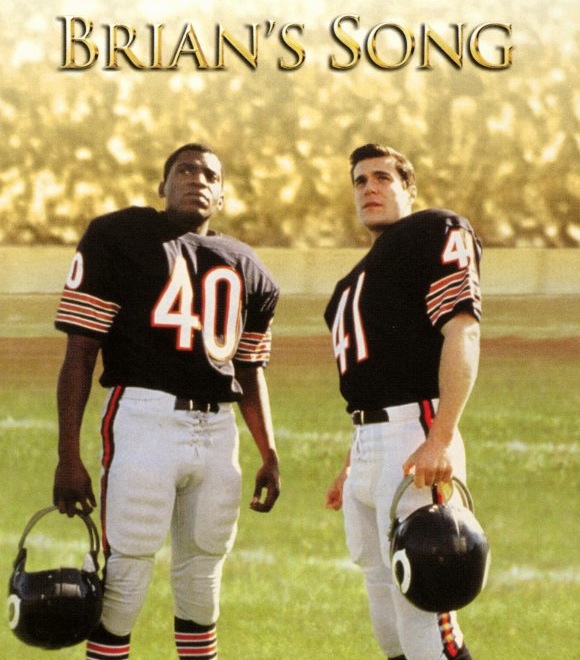 It's the poster of movie 'Brian's song'. It details about the life of a football player Piccolo and his friend Gale Sayers. In the movie, Brian is diagnosed with terminal cancer and he is seen coping illness with Sayers. Both came from different backgrounds and made history in National Football League for being the first interracial roommates. According to polls, it was counted as seventh on the list of guy-cry films.
Dino, Desi & Billy Made A Pop Group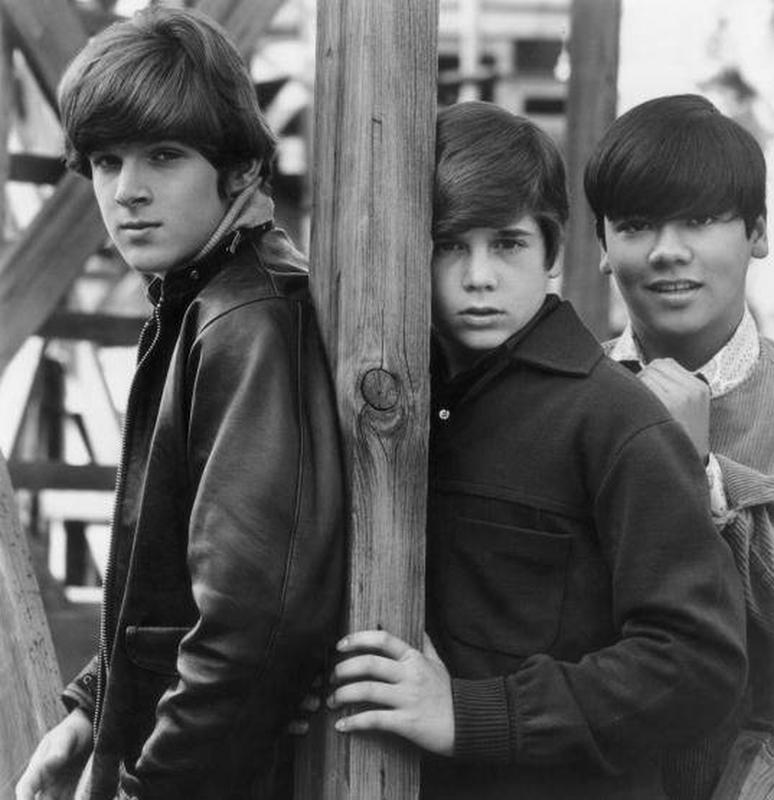 These charming boys Dino, Desi, and Billy made a pop group who were active in the 1960s.  This adorable crew met in school and had family connections. The first band audition was in front of Frank Sinatra who owned Reprise Records. At age of 15, they had their two greatest hit. The most famous songs by them were 'I'm a Fool' and 'Not the Lovin' Kind'.
The Red 1973 Corvette (1978)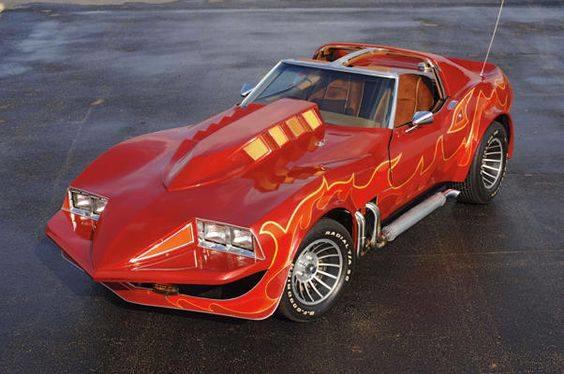 This shiny red car is a sizzling beauty that appeared in a comedy film,'Corvette Summer'. It was adored and used by Kenny for his journey from the safety of high school to streets of Las Vegas in 1978 film. This movie screened Mark Hamill for the first time and was an adventure comedy film rereleased by Metro Goldwyn Mayer.
Sidney, Tony, Sammy, And Jack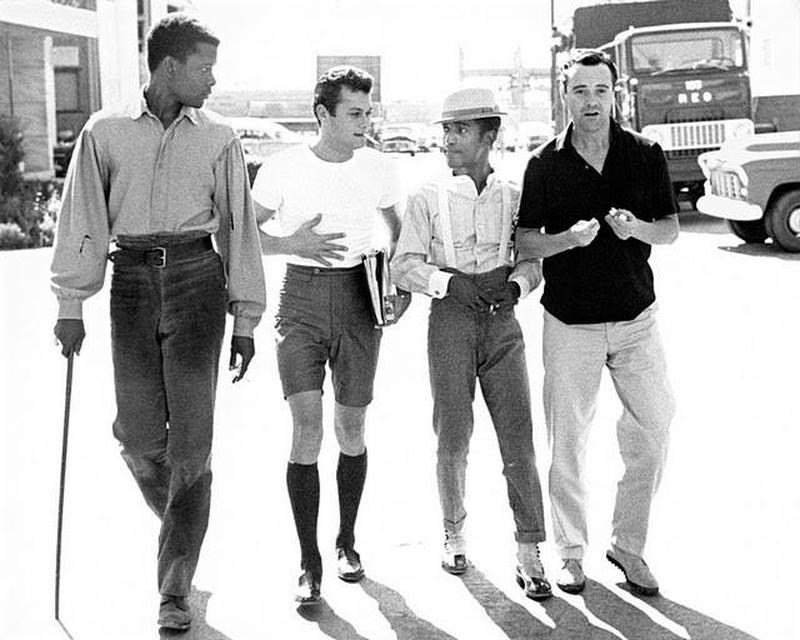 These are the four legends; Sidney Poitier, Tony Curtis, Sammy Davis Jr., and Jack Lemmon-dancer, actor, the iconic singer, and comedian. This picture was shot in Goldwyn Studios in 1959 by Phil Stern. In the same year, Jack and Tony co-starred in the film 'Some Like It Hot' along with Marilyn Monroe.
 Cyndi Lauper And Paul Reubens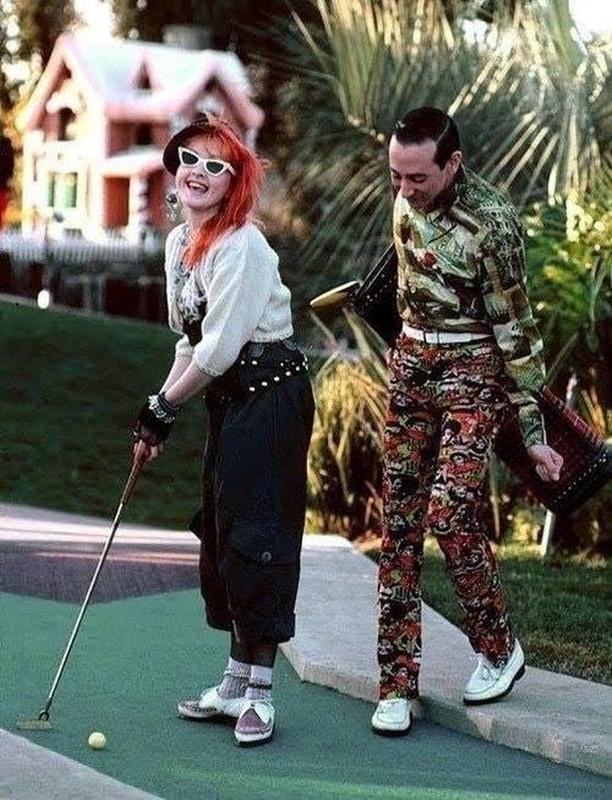 This bubbly couple Paul Reubens and Cyndi Lauper can always make you smile especially when they are dressed in these pants. The theme song of 'Pee-Wee's Playhouse' was performed by Lauper which is not generally realized. Reubens also contributed her work on album track '911'.
Jimi Hendrix And Mick Jagger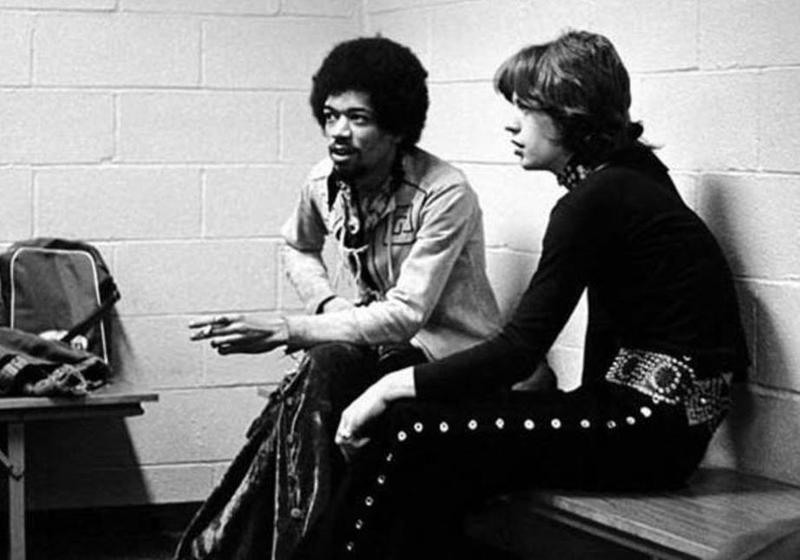 These are famed stars, Mick Jagger and Jimi Hendrix hanging out at Madison Square Garden on a concert of the Stones. This picture was captured by photographer Eddie Kramer on 27 November 1969 which was also Jimi's birthday.
 Happy Days In 1978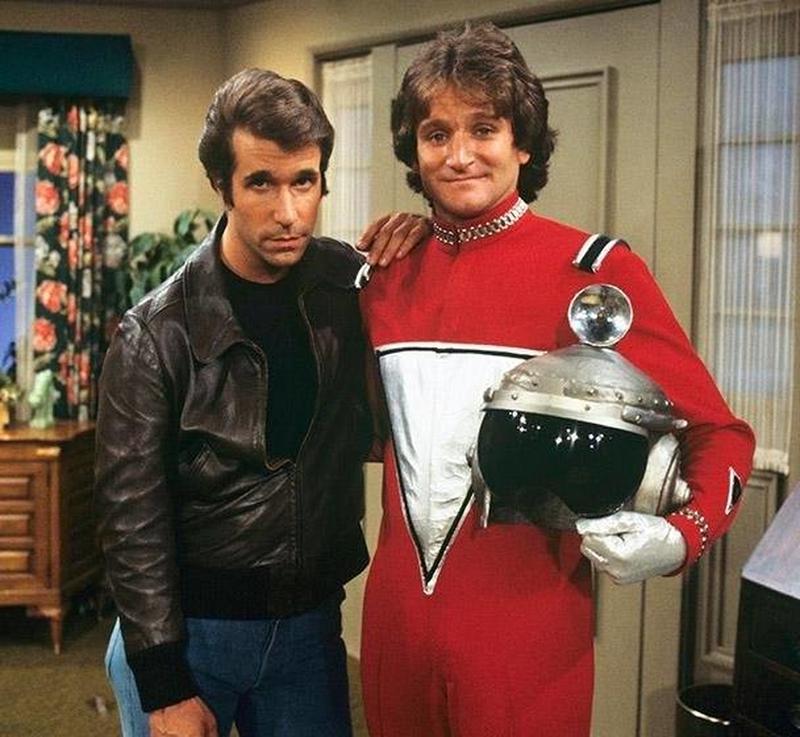 The picture is of Robin Williams and Henry Winkler from one of the episodes of sitcom 'Happy Days'. The sitcom had a great influence on the television series of that time and is counted among the biggest hits on television. Robin played the character of Mork the Ork which was loved by the viewers and the same year he got to appear in the series 'Mork & Mindy'.
Erin Gray In TV Series
This is a still of Erin Gray who starred in 'Buck Rogers' as Colonel Wilma Deering. This science fiction adventure series of the 25th century had two seasons from 1979 to 1981. It was the part of American popular culture and it ran parallel to the development in the field of space in America.
Gunsmoke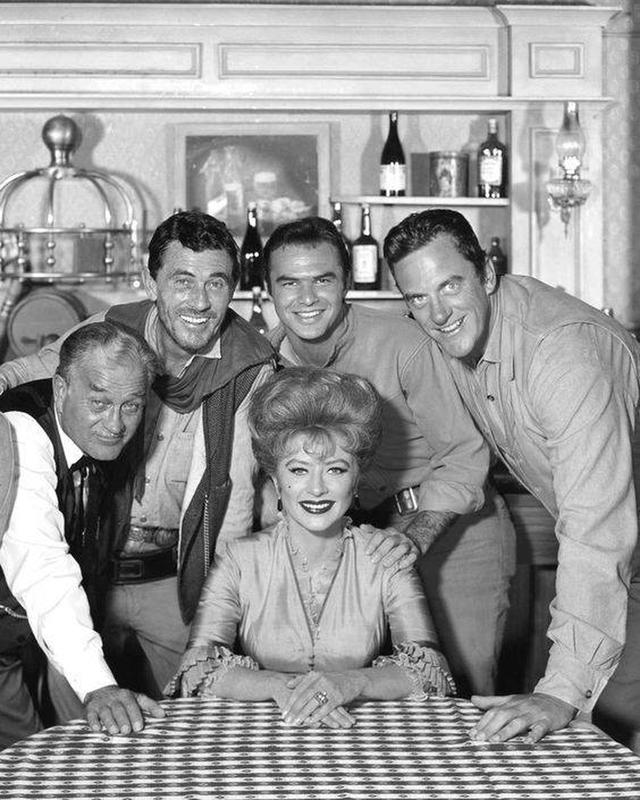 These are the shining stars of classic series of America 'Gunsmoke'; Amanda Blake, Milburn Stone, Ken Curtis, Burt Reynolds and James Arness. It is a radio and television drama series directed by Norman Macdonnell. It ran 20 seasons for twenty years and was ranked number one among popular shows of the time.
 Laverne & Shirley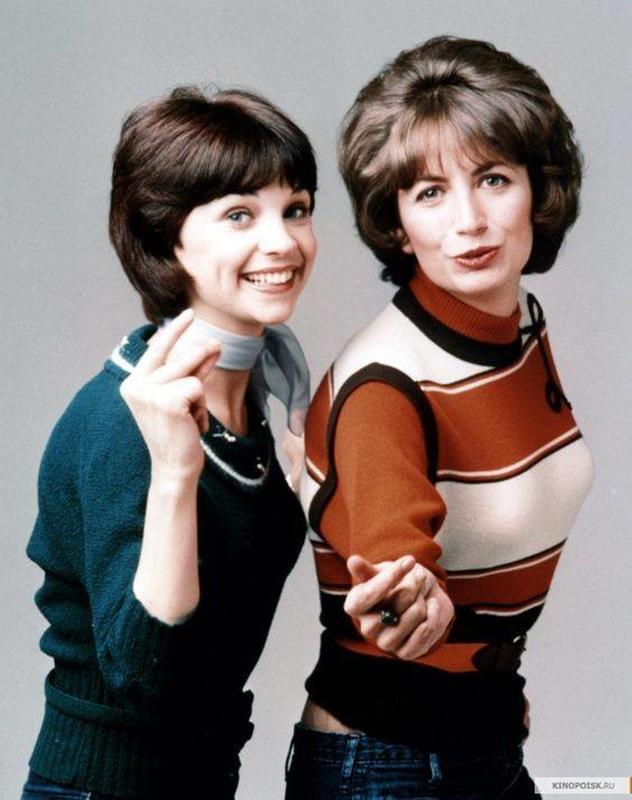 These beauties Penny Marshall and Cindy Williams starred in popular American sitcom 'Laverne & Shirley'. It was highly popular for the initial five seasons when girls lived in Knapp Street and worked as bottle cappers. Later the popularity was not the same when both moved to Burbank California after the fifth season.
 Carrie Fisher With Debbie Reynolds In 1973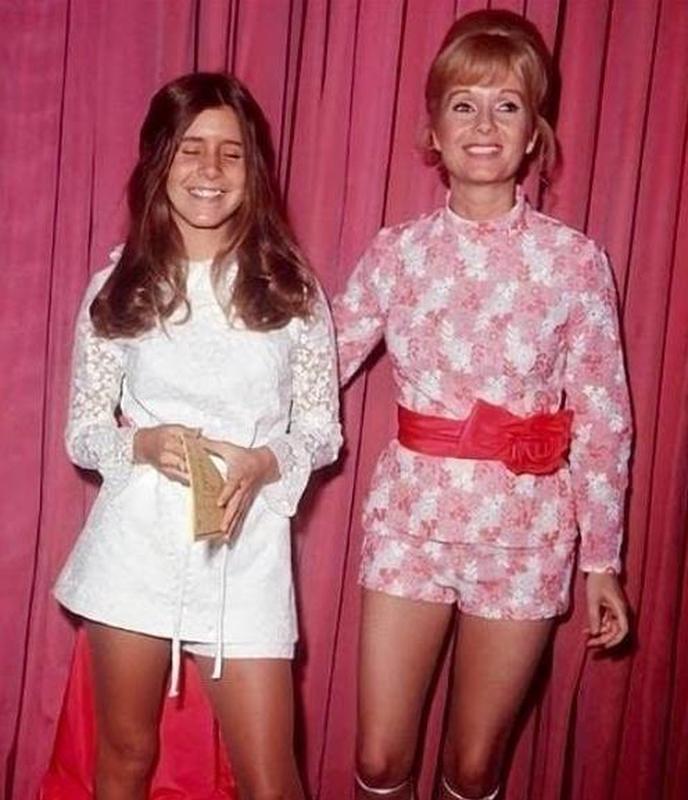 This is a still of Carrie Fisher and Debbie Reynolds, a well-known mother-daughter duo who died in 2016 within the time lapse of few hours. Debbie Reynolds was extremely popular for her role in the 'Rain' as Kathy Selden. Carrie was a fresh-faced actress of just 17 years old.
'Nanny and the Professor'
These are the stars of American sitcom 'Nanny and the Professor'. The series became famous because of the popularity of Mary Poppins. The production title for the show was 'Nanny Will Do' and the first episode was named the same. The character of Nanny in the sitcom was played by Phoebe Figalilly and Professor by Harold Everett.
James Douglas Morrison (1961)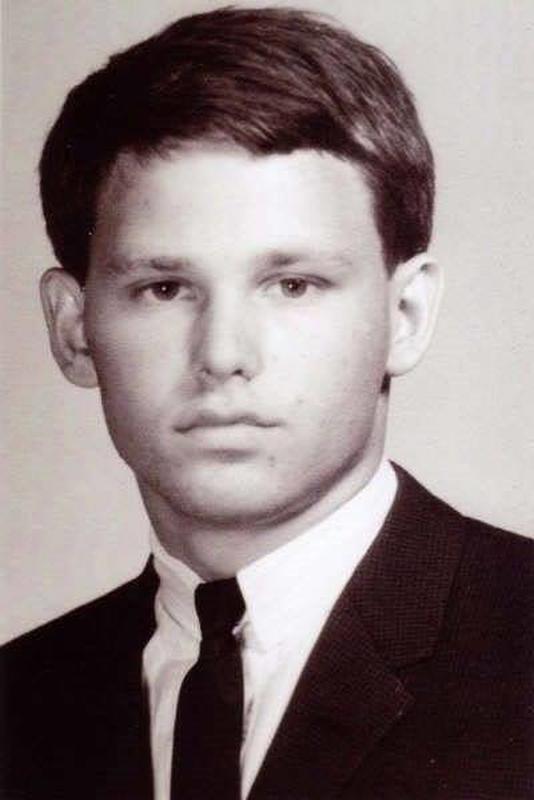 James Douglas Morrison was phenomenally known for his wild and antique lifestyle. Professionally he was a singer, songwriter, director, and an actor well known for his lead song 'the Doors'. He was the first rock star to get arrested on his concert.
The Cast Of 'The Waltons' (1975)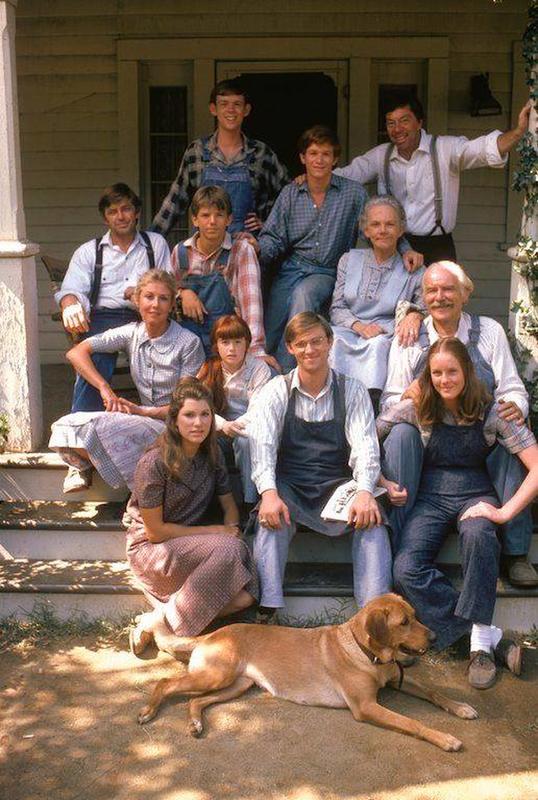 This is the large cast of series 'The Waltons'(1975). The series was directed by Earl Hamner Jr. which was based on his book and a 1963 film. It is about the life of a family in Virginia during World War II and the Great Depression. The series ran for 10 years and was received quite well by the audience.
Marry And Ginger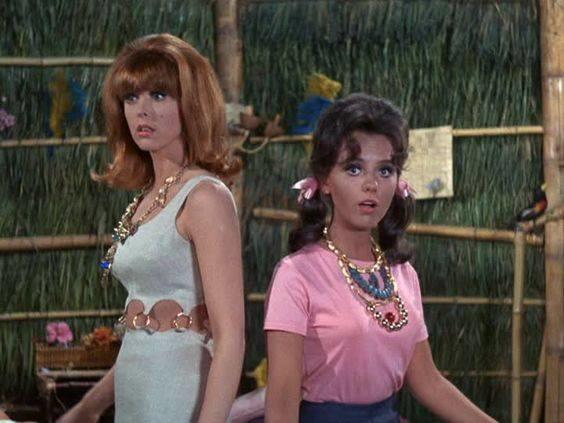 These two charming ladies Tina Lousie and Dawn Wells featured in American sitcom 'Gilligan's Island'. Both women were different sides of a coin in the series which ran for total 98 episodes. The characters can be understood by their dialogue-
Mary Ann – "I used to be a Girl Scout, and they teach you a lot." Ginger- "I used to go with a Boy Scout, and they teach you a lot, too".
Annie Potts And Mark Hamill In 1978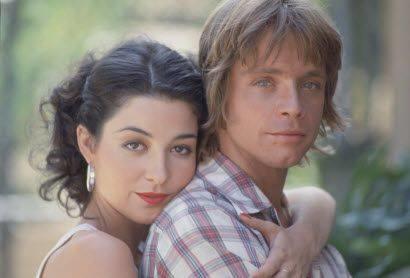 The stars Mark Hamill and Annie Potts played a stupendous role in 'Corvette Summer'(1978), an adventure comedy movie. It was the first appearance of Mark Hamill after Start Wars which was unexpectedly successful and also was the first role for Annie Potts in a movie. Annie was nominated for best performance in Golden Globe Awards.
Marilyn Munster In 1964
This pretty lady, Beverley Owen played the character of Marilyn Munster in 'The Munsters' and left the show in mid-season. Then she got married and had two adorable daughters Polly and Kate. There is a rumor that there will be a  new series of  'The Munsters' which will be based on modern age.
AC-DC's 'Powerage' (1978)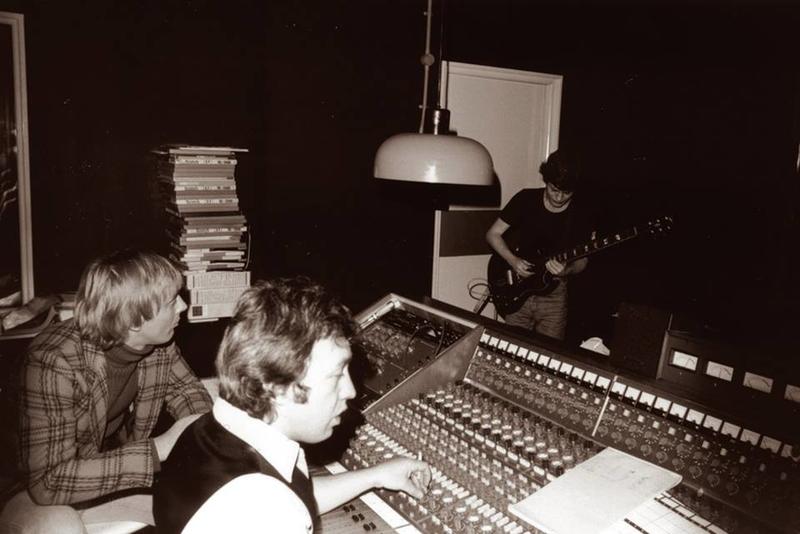 Picturised here is Angus Young who formed the Australian rock band 'AC-DC' along with his brother Malcolm. The music produced by the band is also known as heavy metal. It was formed in Sydney in 1973. It is a huge popularity and has sold over 200 million records worldwide.
The Wild Wild West (1965)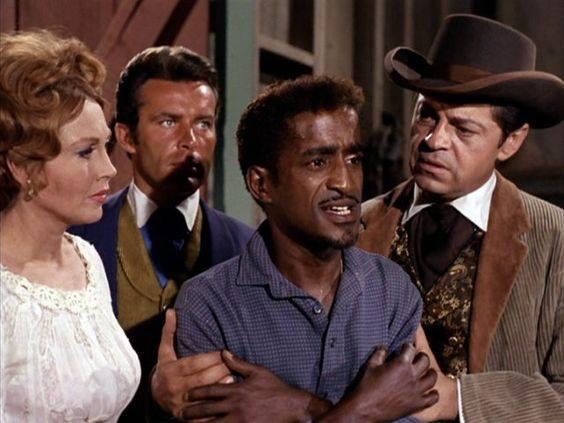 This is a scene from the episode of American series 'Wild Wild West'. Its adaptations include two television movies in 1979 and 1980 and a motion picture in 1999. The series witnessed its downfall as some episodes were considered violent. Later it was canceled during its fourth season.
Willie Nelson, Robert Redford And Waylon Jennings 1977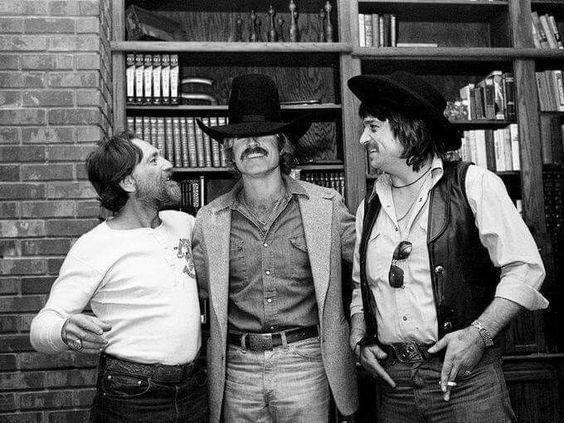 This handsome actor (center) is Robert Redford, captured while hanging out with legends Waylon Jennings and Willie Nelson. It was the time when all three were the guests at producer Billy Cheryl's house in 1977. Before the photo was clicked, Nelson surprised Robert by plopping his hat on Robert's head.
Bosley With Jaclyn Smith, David Doyle, Kate Jackson & Cheryl Ladd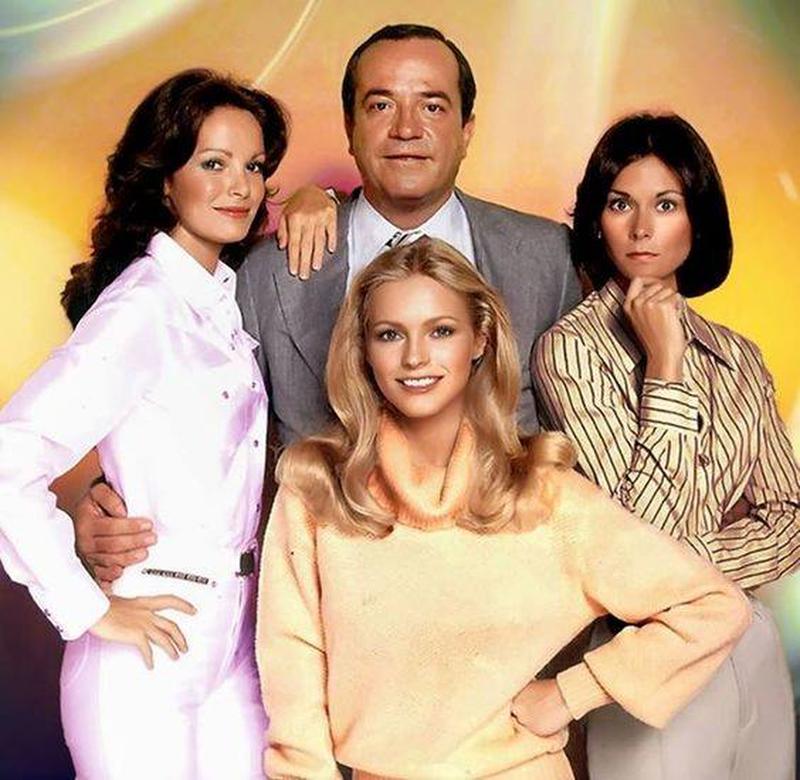 Here is the American actor David Doyle posing along with beauties Cheryl Ladd, Kate Jackson and Jaclyn Smith in 1976. He is famously known for his character of Bosley in the television series 'Charlie's Angels'. It ran for five seasons and had 110 episodes from 1976 to 1981.