If you are a cat lover you know damn well how much entertainment they can bring. Even if they have committed a crime, they always end up looking so adorable that our anger vanishes. They can be needy and annoying sometimes but all in all, they are always there for us when we feel a little down or lonely. Cats are known to commit mischievous acts like stealing our food when we look away, leaving some poop inside the house among other things. But at the end of the day, they really do make for the best company. However, it does not mean that cats do not deserve to get punished when they do something wrong. So here is a list of cats that have done some damage at home, resulting in their owners punishing them with what we can call internet cat shaming. Check out these funny punishments right now…
Cat Nip Fiend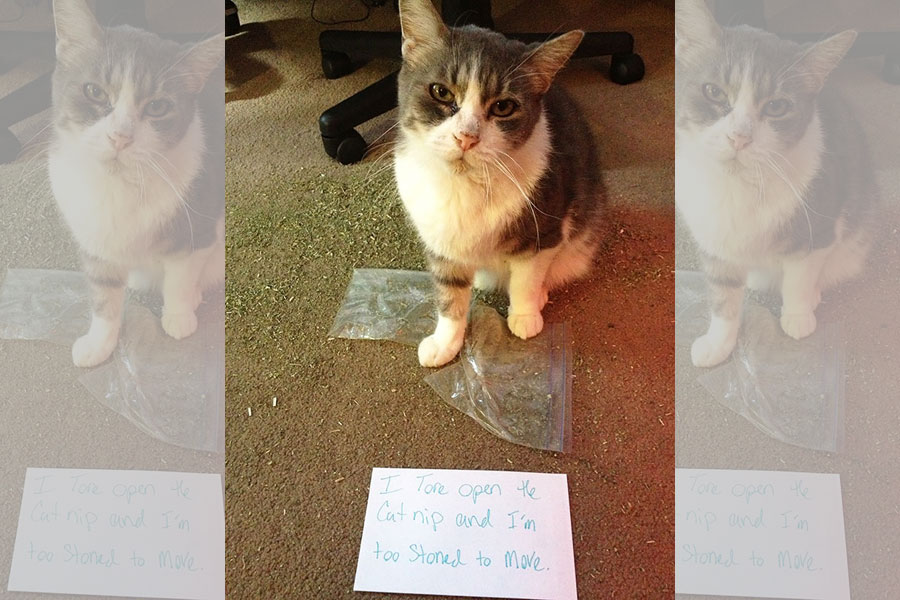 In this photo, you may not be able to tell straightaway but something had gone terribly wrong. This cat here got a whiff of the catnip in the plastic bag here and became so curious that he tore open the bag. What happened next? Well, obviously the cat slowly began to lose his sense and was unable to move. This crime he had committed involving the "greens" has made him a victim of internet cat shaming. But since the car is too stoned from the catnip, he does not even hold the capability to express how he feels. Just look at all the greenery spilled on the carpet of the house and combine that with the cat's blank expression. This really makes a hilarious photo. But then again, if the catnip was kept within his reach, then any cat would have done the same right? So who can blame him.
One Paw In Front Of The Other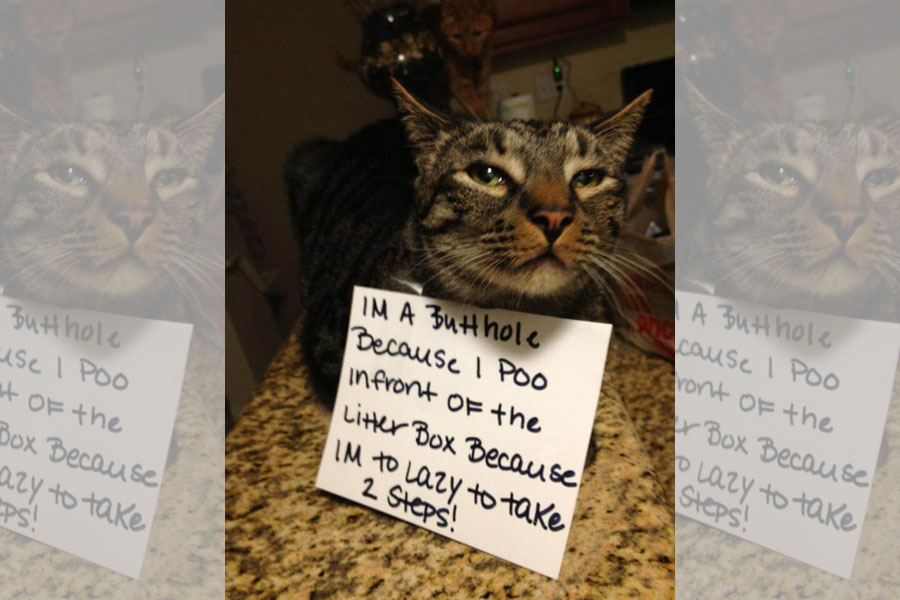 Every cat owner has experienced this annoying reality. Most cats are too lazy to take those few extra steps to reach the litter box. They end up doing their business right in front of the litter box. If this was a rare occasion then it would not mean all that much but this cat here makes a habit of it, pissing his owner off every day. They say you can train your darling pet to act accordingly but then same cats are born to annoy their owners. They will never learn. So here we have one of those cats, the most annoying kind when it comes to pooping. The owner must be pretty mad every other day when he discovers that his lovely cat does not want to cooperate. Some experts claim that cats who refuse to use their litter box sometimes feel the box is too dirty. Therefore it is the owner's duty in the end to prepare an acceptable litter box.
The Cheese-Aholic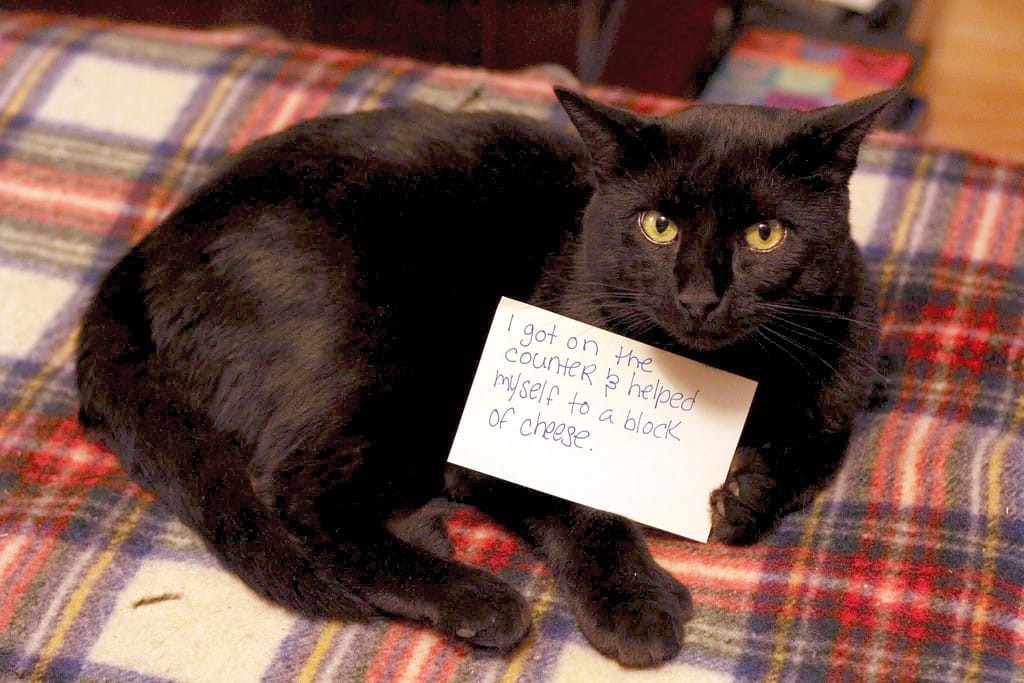 Have you ever heard of the notion about cats not liking cheese? Well, allow us to introduce you to an exceptional cat that in fact adores cheese. This poor guy was caught when his owner realized he had helped himself with a big bulk of cheddar cheese. So then he got the punishment of being one of the victims of internet cat shaming. But then this photo make you feel sorry for the cat because of how his ears are shaped and how his curved seem to actually grab hold of the owner's writing. Is he not the most lovable thing you have ever laid your eyes on? But then he ended up trying to eat up the whole card after just a few seconds of staying very still. Hopefully, he learned his lesson and will never repeat his mistake again because he does not want to experience internet shaming again, right?
Neighborhood Bully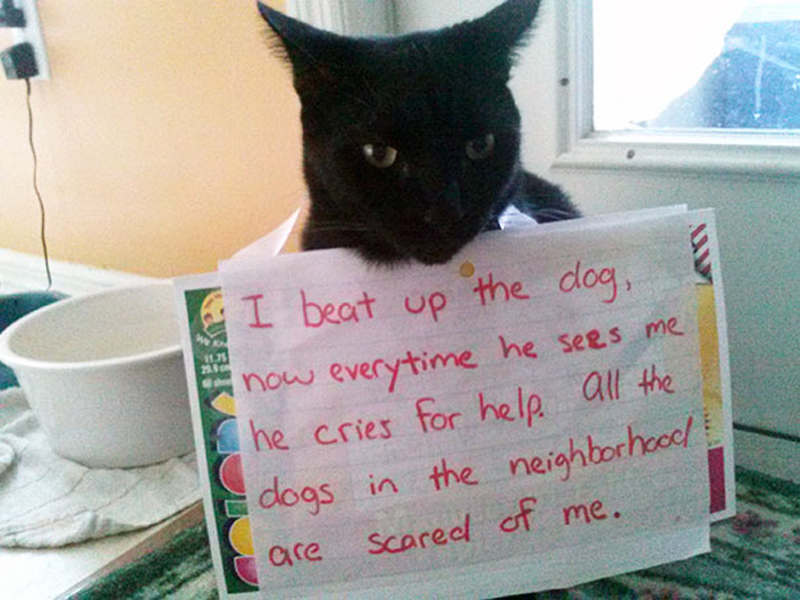 Everyone in the whole wide world knows that cats and dogs do not get along. It is a tale as old as time. We all know that cats tend to be a little feisty and fierce when they meet dogs. It is clear that they are mortal enemies. This little guy here has proven just that and has made a name for himself. He is now known as the "neighborhood bully" because he has beaten up quite a few dogs in his neighbor. Most of the dogs in this neighborhood now fear this particular cat, and maybe some of their owners too. The hissing, the screeching, and their sharp claws would definitely be enough to frighten a few canines for sure. We know that almost every cat loves to show their mean sides to dogs whenever they can. This cat here has been terrorizing his neighbor dogs for far too long and was punished.
Butt Licker, Popcorn Tricker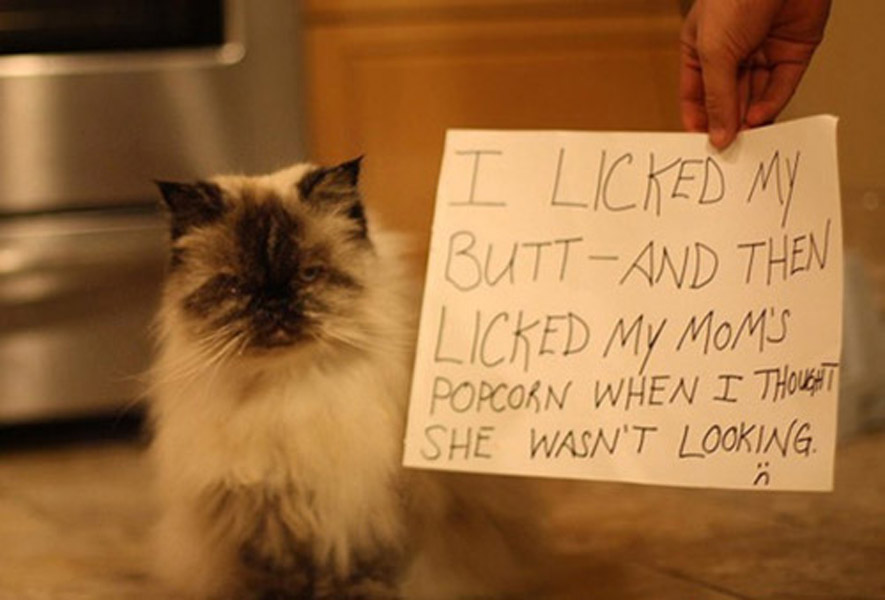 Cats can be very secretive and sly if they want to. We have all met a cat who can enter a room without making any sound or alarm anyone in the room. They just pop up out of nowhere. This cat here tried to make use of that kind of nature by secretly doing something behind her owner's back. Or so she thought. She was caught by her owner as she was unapologetically licking her own asshole when she thought her owner was not looking her way. Then she went on further by licking her owner's popcorn right after she licked her bum. If the owner had not caught her, she would have gotten away with doing such a disgusting thing. So let this be a warning to everyone who owns a cat, that they are very sly and sometimes a little foul. So keep and eye on your cat to avoid this kind of incident.
Sibling Rivalry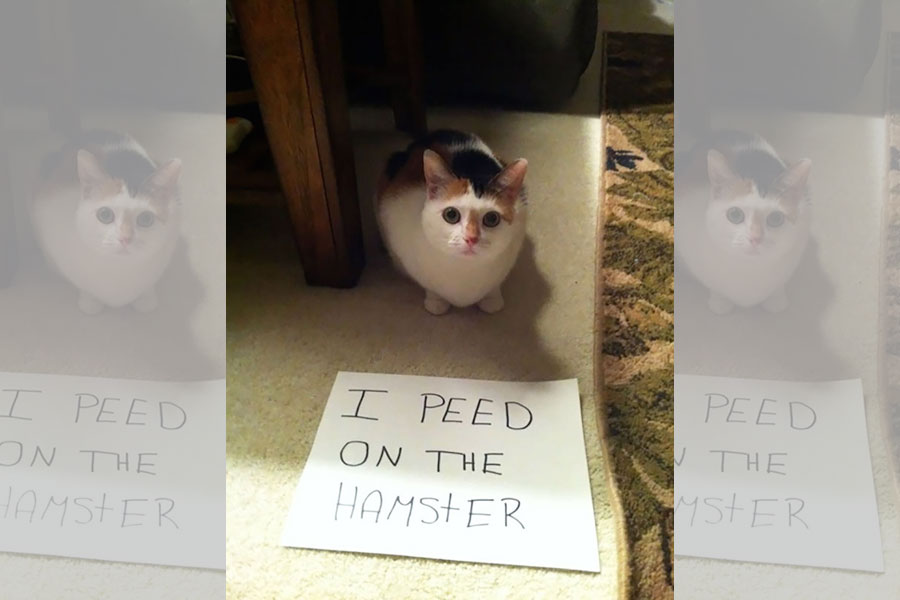 When cats feel they have power over someone, they always make sure they abuse this power. Even in the case of their owners, cats always seem to take control if ever they feel a sense of power over them. We all know that cats love to pee everywhere they go right? Well, this cat right here picked a very odd place to pee on. It decided that the hamster would be a good place to pee on. Yes, you heard that right, a living, breathing hamster. The pitiful little hamster must have felt distraught after experiencing the golden shower. What would he have told his hamster friends? Maybe the cat did this heinous crime because he was jealous of all the love the poor hamster was getting from their owner. So the owner decided that the cat needs to be punished for being too dramatic in the way he was handling his business.
Hairy Hussy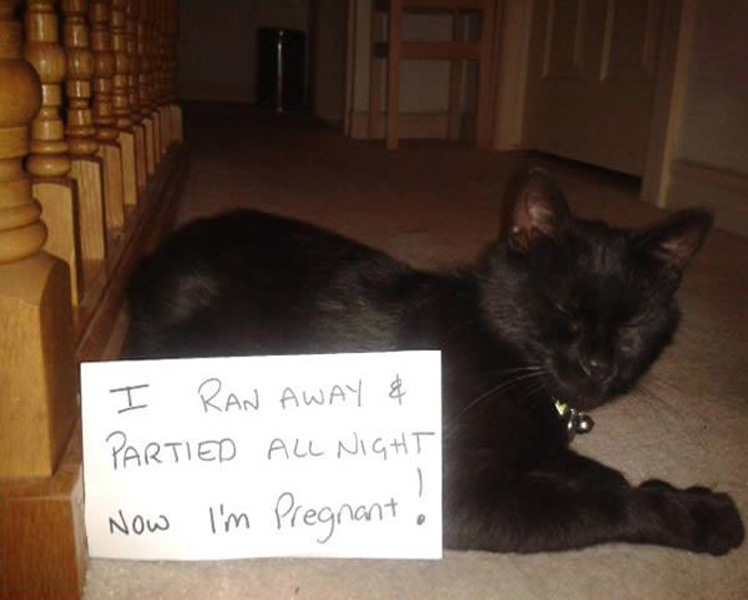 We all know how upsetting it is to experience a home where a daughter gets pregnant because of irresponsibility. It always makes the parents feel like they have done a bad job in protecting the well being of the daughter, spoiling her future. This cat here gave the same feeling of disappointment when she came home pregnant. This cat had run away for a long time and was nowhere to be seen. The owners had been looking everywhere for her and spoken to anyone who they felt could help locate her. But suddenly she decided to come home with a big surprise. She must have gone and had the time of her life because she reached home a pregnant cat. Now she will be stuck with her babies that she would need to raise herself as their father is nowhere to be seen.
No Fear, No Remorse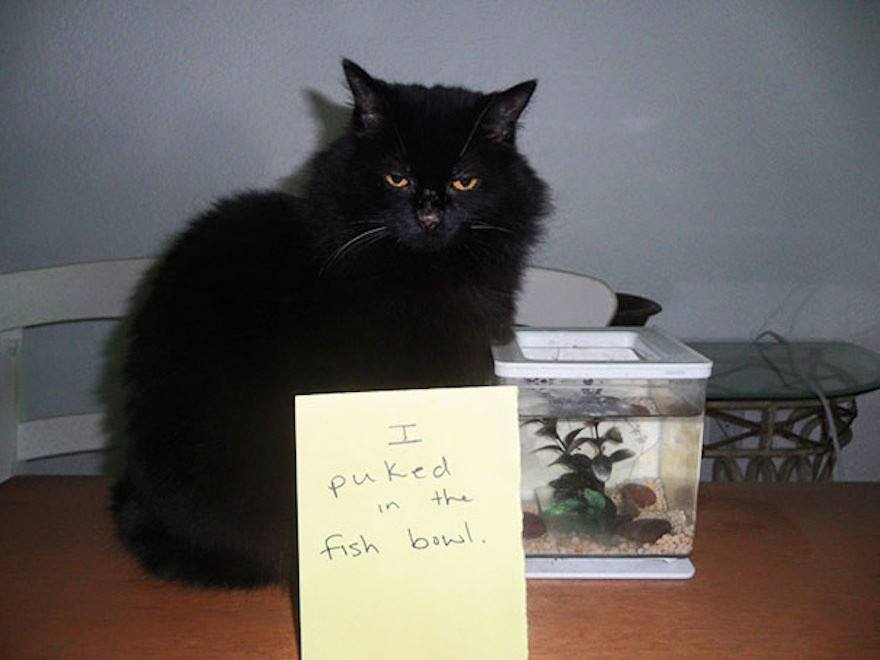 As we all know, cats are known to be very troublesome with fish. They either kill them, eat them or star at them to an alarming extent. Here is a cat that showed how little he cared for the fish that the owners kept in the house. Look at the expression of the cat even after he had been called out. Even after the owner found out that he had puked inside the fishbowl this cat does not show any signs of regret whatsoever. The look on his face is what makes him so adorable but so annoying at the same time. We often hear about cats trying to eat the fish in the bowl but this cat went the extra mile and puke in the bowl itself. What is in your opinion much worse, the owner having to clean up the puke or the fish who had to experience being puked on. They both seem like a terrible experience to bear.
Ashes Or Litter?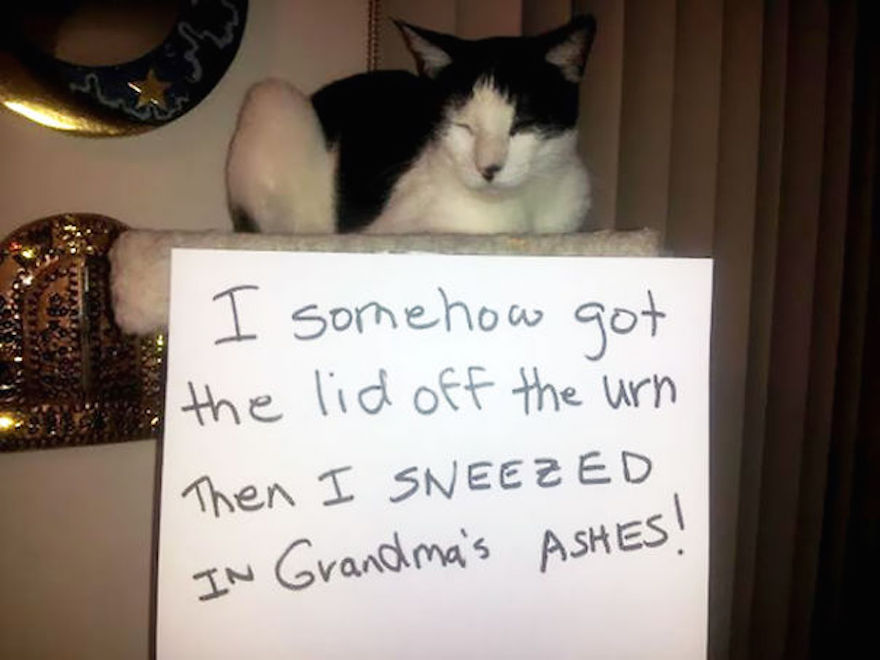 Some cats will always find a way to annoy you or keep you on your toes. This cat here had not been watched for just a little while and fell into trouble soon enough. Somebody did not keep an eye on him for just a while so something unfortunate happened. The owner's grandmother's ashes were kept in such a place where the car could easily gain access to it. So you can guess what happened next right? The cat could sniff the ashes of the grandmother's ashes and developed a huge sneeze. Does this not remind you of the iconic scene in Meet the Parents when Jinxy made a choice to pee on DeNiro's mother's ashes? We have a feeling that the owners were watching this movie and the cat got some pointer. Or maybe it looked like and so the cat went there to pee but ended up blowing a huge sneeze.
Always Occupied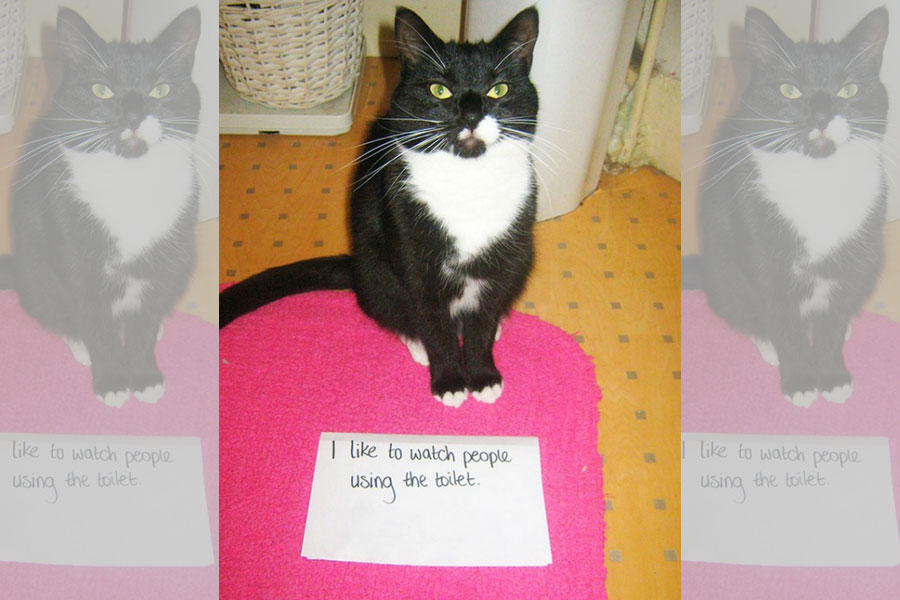 One of the most annoying things that many pets do is follow their owners into the toilet or bathroom. This cat was doing this and the owner soon grew tired of it. Because of their cat's constant need to stay together, some owners lose their freedom and privacy after they become owners of a cat. How would you feel if your cat friend kept following you on all the bathroom business and other things you do in the toilet? Experts have said that cats are so keen on following people because they cannot grasp the concept of using the porcelain system instead of their simple litter box system. It could be the strange sound and mechanism of flushing that keeps cats so intrigued. But some other times it could just be that your cat just wants to make sure you do your business in the toilet just fine.
Lazy Boy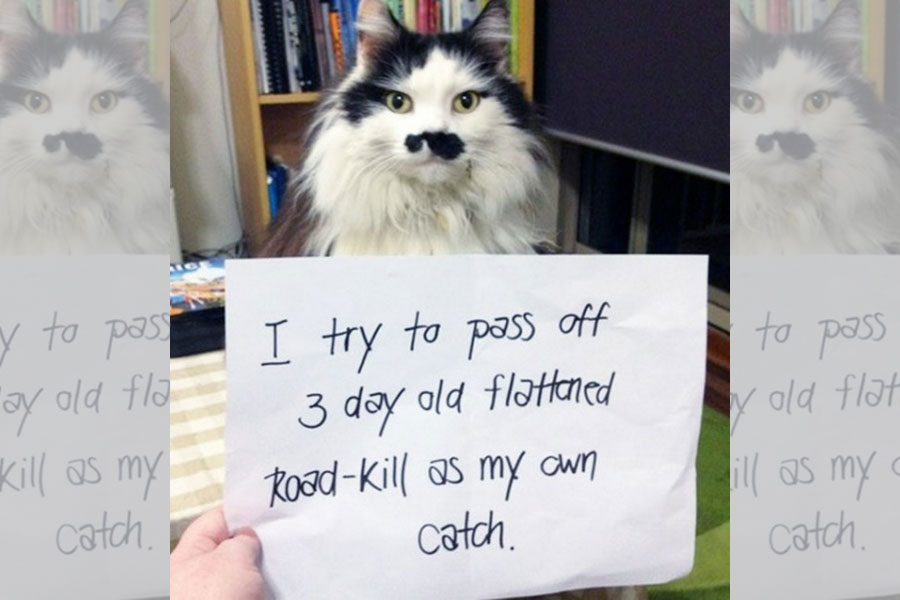 Cats are known to be quite skillful and quick to kill prey like rats and mice. They are mostly rewarded when they accomplish such a feat. If ever a cat catches a prey and brings the body to the owner, it marks pride and joy where the owner must show some kind of reward. But then have you ever heard of a cat catching a 3 day-old road kill into the house? This cat right here is trying to get away with a mouse that had already been killed a few days back. The cat tried to pass off this dead mouse as if to show that it had struggled so much to catch this dead animal and harnessing his hunting skills. Imagine how lazy this cat must be to think up this huge lie that had been called out by the owner. He does not even know that the animal he brought was already dead so it makes him so hilariously adorable, to say the least.
Furry Protection
What would you do if your cat had been through your personal belongings and no just playing with them but devouring them? This cat here is doing something that would gross out most people because well, it is kind of gross. This poor kitty could have chocked on the condoms and experienced more trouble. But the smell and allure of the condoms were too hard to resist, so the cat went for it. We hope and pray that the condoms that he had eaten were not used ones. It is even more saddening to think that this cute cat with beautiful lush green eyes could do such a terrible thing. Just look at how lovable and huggable he is. Could you resist those cute paws and soft black fur? We really do hope that this weird habit does not stay with the cute baby as he grows older because it would affect his health.
You Know That's Not A Toy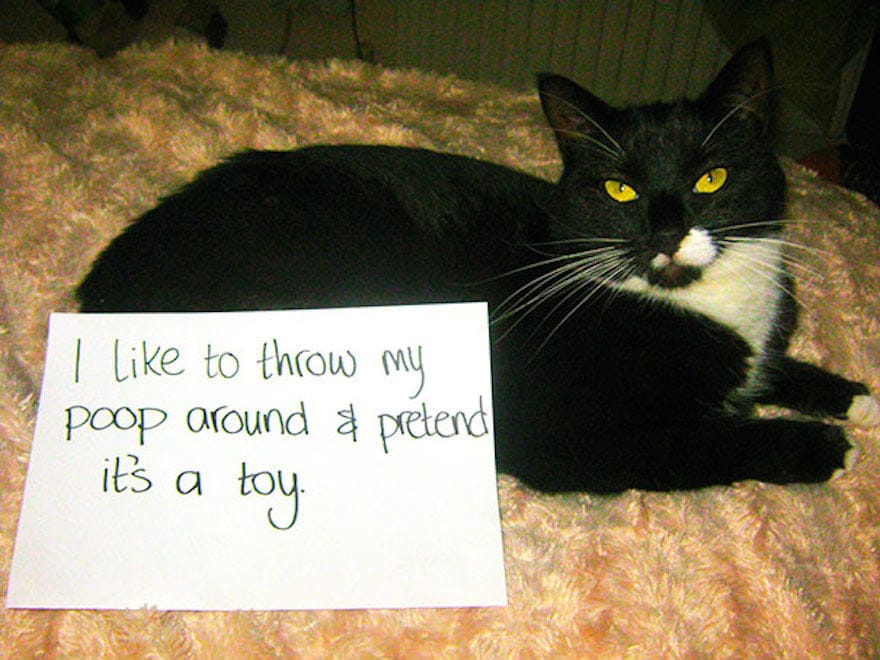 Cats can be very innovative and can be found to self-entertain themselves in times of boredom and leisure. This cat has done something way too extreme when boredom strikes. Can you guess what he does when he feels bored and lonely? He plays with his own poop. Yep, you heard that right, he plays around and fools around with his 'business'. Does this cat have some monkey genes in him? This is awfully strange for a cat to be doing. It is definitely one cat behavior that must not be tolerated especially by his owner. The thought of your own cat playing around with its own poop would be too repulsive for anyone. We certainly hope that the owners get to buy the cat some tops that he can play with because playing with your own dropping is not acceptable. We hope he stops…we really do.
Surprise! 
This cat here sure is a neat freak, but the way he deals with it is something incomprehensible. It again involves something about pooping and poops. This cat is a neat freak but does not expect to be cleaned up, bathed or taken a walk outside. It has a problem when his litter box is not cleaned up properly. The way the cat goes about it would surely piss off anyone who owns him. He leaves his poop on his owner's bed if they have forgotten to clean up the box. For a lazy owner, it would be a good reminder that the box needs to be cleaned immediately. But then we have to say we do feel really sorry for the owners who are always left with a poop that tells them they have not done their job. Hence the only solution is to be very active with cleaning the box and not procrastinating.
One Gassy Guy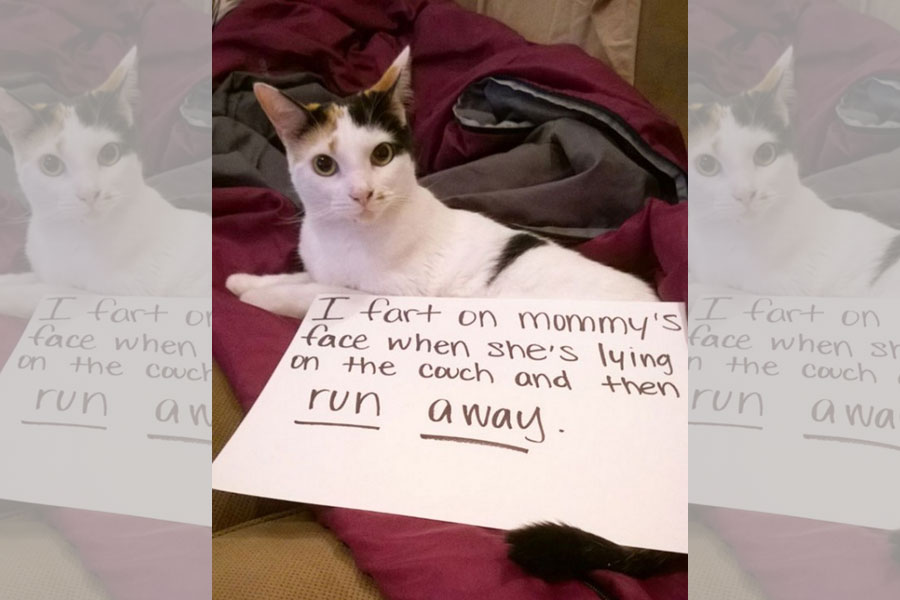 We have mentioned before that cats can be very mischievous and sly when they feel like it. This is one very good example of how cats anger their owners. This cat here is one bad kitty who had a very bad habit of farting on the face of his owner then quickly running away before getting caught. Doctors have said that cats do not necessarily pass gas as they are not naturally gassy, but when they have really poor diet, are known to let out a few gases. In this particular case, we cannot confirm if the owner is not providing enough food for the cat but we can definitely say that the cat's antics are infuriating. We can all agree that this experience of the cat always farting on your face should lead to a punishment of some sort. Who in the world would ever want to be farted on every time, even if its a cat that is doing the farting?
Showered In Shame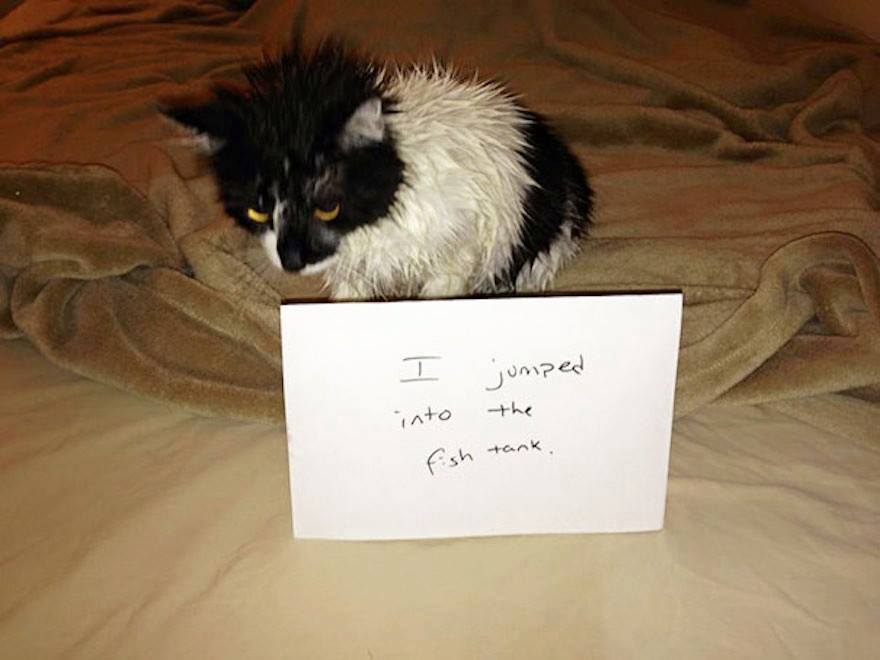 Ahh, the old tale of a cat trying to get into a fish bowl. This little furball had to learn the hard way when it comes to the experience of jumping into a fish bowl. Even though cats are hydrophobic, they always seem to want to risk everything as soon as a fish is included in the equation. Their hatred for water is always overcome by their love for the fish that lives inside the bowl. However, we are certain that this cat right here has indeed learned his lesson that he should never jump into the fishbowl, that the cold water is not his friend not will it ever be. His expressions show that he does not have any sense of remorse and would probably do it all over again for the sake of the fish. We will be sure to be on the lookout for any updates about his second attempt as we are sure there will be one.
Disgusting Diva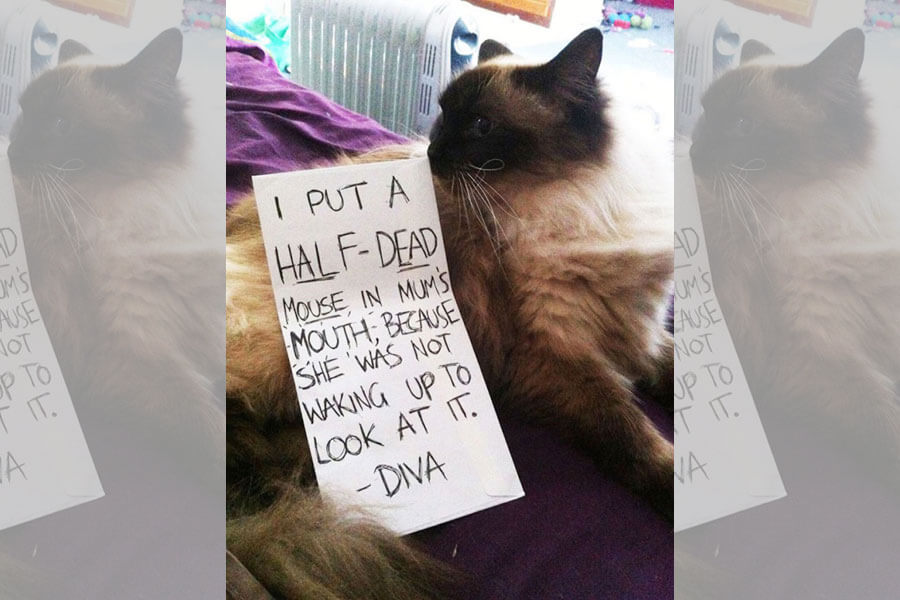 This incident sits above all the other cats when it comes to how disgusting they behave on this list. You would not want to own this cat after you hear about what it has done. How would you feel if you woke up to a dead mouse in your mouth as soon as you wake up in the morning? Yes, that is exactly what happened to this poor owner after her cat lost her patience. Maybe in the head of the cat, this was a proud moment that she wanted to share with her owner, but for the owner, it is too disgusting. When the cat killed a mouse, she felt that her owner needed to celebrate with her. It was during the night so her owner was obviously in deep sleep. The cat felt impatient and decided to shove the dead mouse in the owner's mouth to show how proud she was. mile The cat's name is Diva and it fits her character perfectly, don't you agree?
All Tied Up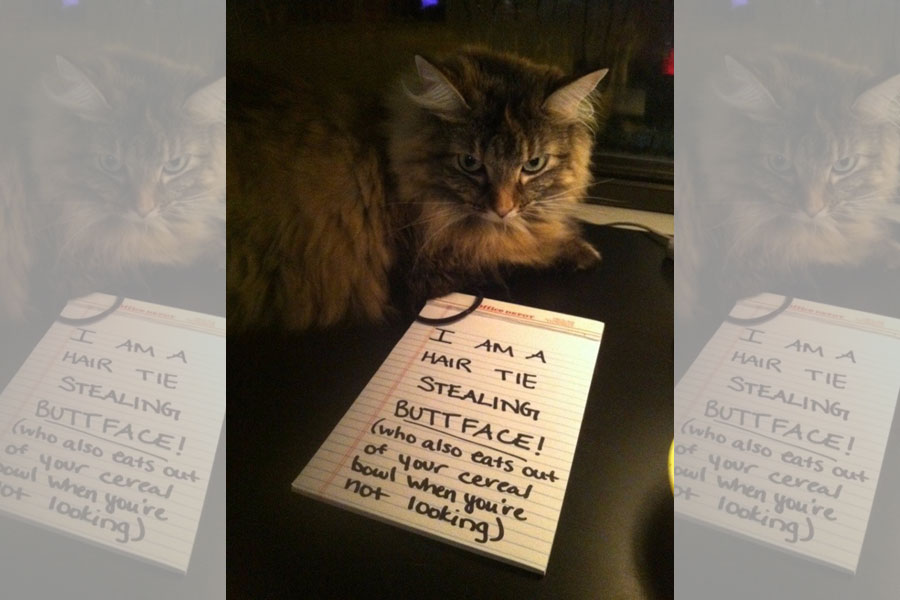 It is a known fact that cats love to plat with strings and balls. We also know that they love to play with hair ties for reasons that will forever remain unanswered. What joy do they find so satisfying when it comes to playing with these hair ties? Could it be because of the fact that they are stretchable, or because of their texture, or even because the owners of cats always look for these hair ties? Most cats love to chew on these and also love the sensation of being able to pull and stretch them however they want. This cat here is clearly aware of how much her owner needs these hair ties. So what does it do? It would hie them or steal them from her owner. This cat also steals a lick or two from her owner's cereal bowls every chance she gets. We just hope she does not end up choking on them as they are prone to do so.
The Pig Bully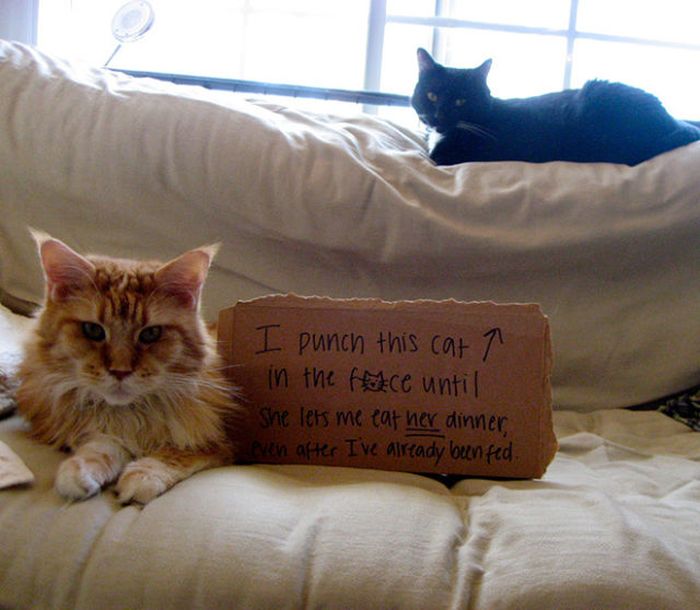 This note reads "I punch this cat in the face until she lets me eat her dinner, even after I've already been fed". After reading through it we can already guess how this cat and cat relationship goes without having t ask any questions. Cats are known to be bullies every chance they get. This cat here shows his power over this female cat when it comes to how they eat. The female feline ends up involuntarily sharing her food with this cat as she is always forced t do so. We can make a wild guess that the orange cat is stronger or at least older than her so he gets to order her around. Do you think this is fair? We know that it is every man for himself but as pets, does the owner not help the weaker cat? The orange cat must feel so powerful and mighty as he can always step on the female cat's activities, stealing her food and what not. 
Goldfish Obsession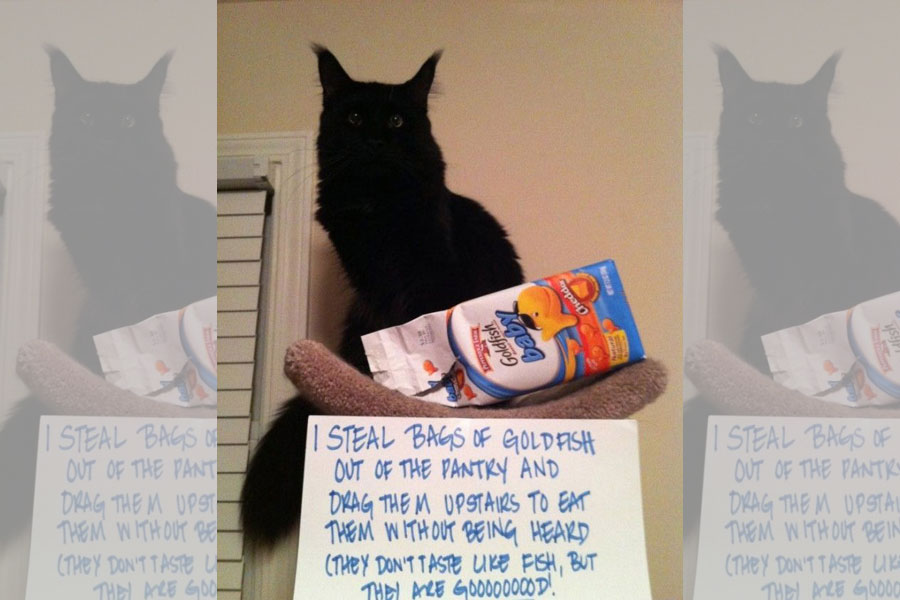 What does a cat do when it is caught red-handed by the owner when it is doing something illegal? Their ears go up, eyes start to bulge with an expression that shows guilt and shame. This cat right here keeps stealing the Goldfish from the cabinet and keep them at the top of the cat tree to feed on everything he wants to. We all know that cats love fish, especially goldfish but have you ever heard of a cat that is obsessed with Goldfish? It really is something new, isn't it? He must have gotten his mouthful of fish and did not like the taste. So when he came across some Goldfish, he found that cheese is much better than real fish. So when the cat was found stealing all this packet of Goldfish upstairs without being caught, he was given some punishment. DO you feel sorry for him at all?
The Hair Affair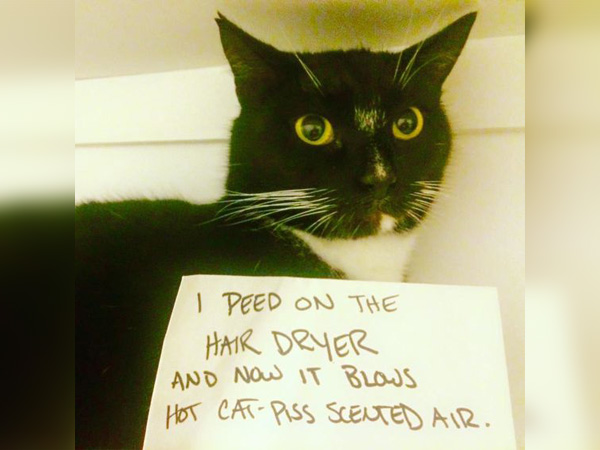 When cats play with appliances, there is always a big chance that something bad will happen. Cats are known to stir up some trouble that comes spontaneously and with immediate effect. Take this cat for example. he pissed on his owner's dryer and now the dryer smells of cat pee. Even the air blown by the dryer smells of cat pee so he had to be internet shamed.

Daddy's Cat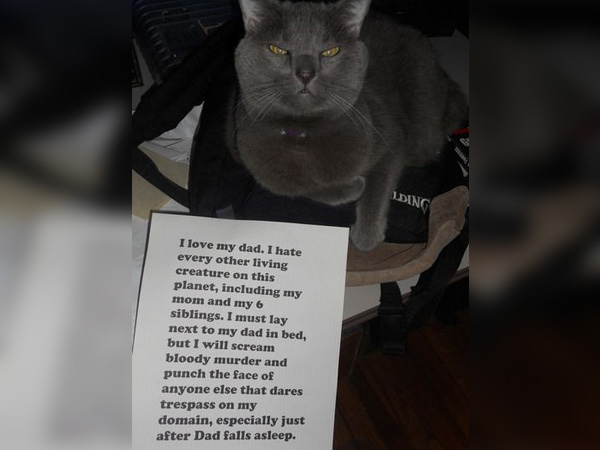 This cat right here is obsessed with her Daddy. She has made sure everyone else knows just how precious her relationship with her Daddy is. Other people who also live in the house have to be very careful when they spend time with Daddy. This cat gets extremely pissed off and does not hide it at all if anyone gets too close to Daddy. The cat has too special a bond with her owner and intends to keep it that way.
A Free Show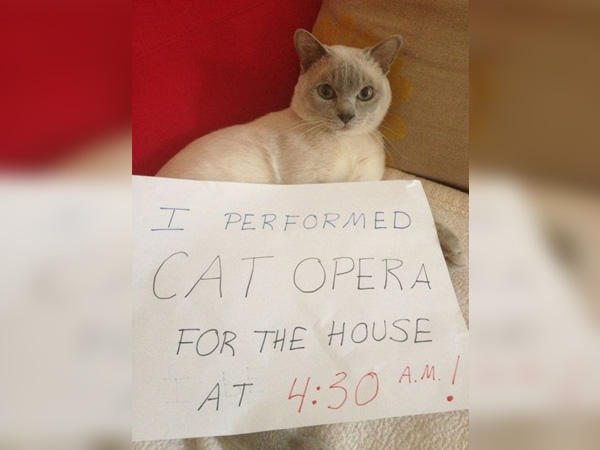 If you have ever stayed in a place where cats existed, then you would for sure know that they love to make sounds deep in the night/ early morning. It usually makes owners and neighbors unable to sleep soundly. This cat has also done the same for her owner and is now punished. This type of 'singing' that cats do, if you have ever experienced it is unbearable.
The Taste Of Toilet Paper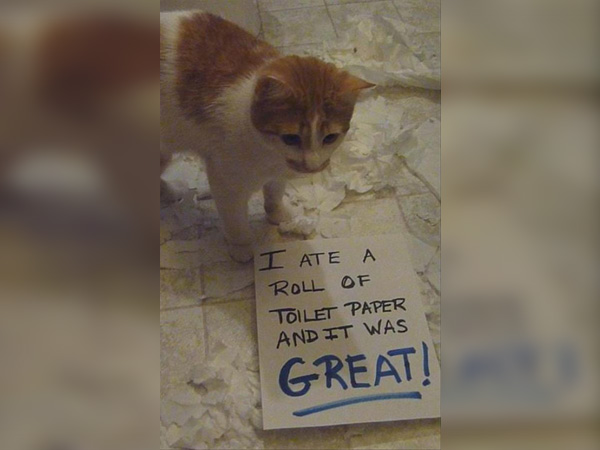 Some cats will eat anything. This cat here for example just ate a roll of toilet paper and does not seem to hate it at all. He looks to still be searching for some more rolls to feed on. He needs to think of his owner's needs and necessities before doing such a weird thing. He was internet shamed because a cat should never eat toilet paper, let alone a whole roll. It is unnatural.

A Cain And Abel Situation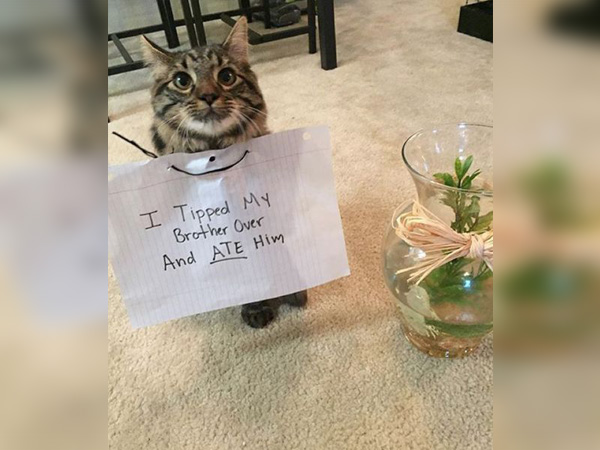 When you decided to get two types of pets, always make sure that they get along well. Otherwise, this kind of incident will always follow. Here we have a cat who has devoured his only brother who was a fish that lived in this fishbowl. The at decided one day, it was hungry so he ate the fish. The owners needed to punish this cat as you should never eat/kill your brother.

Hilarious, But Gross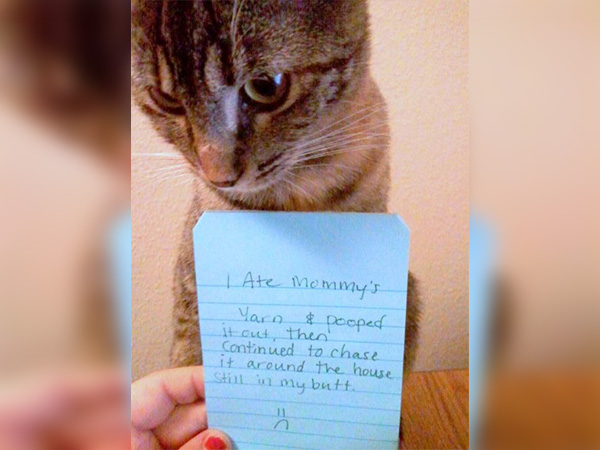 This cat here did something really gross but oh so adorable at the same time. He ate his owner's yarn, but that was not all. He pooped it out and played with the yarn. After the owner noticed this, she became a little angry so she ended up punishing her cat. This is quite a hilarious incident that would be disgusting for most but to a loving pet owner, a cute experience.

Hide And Seek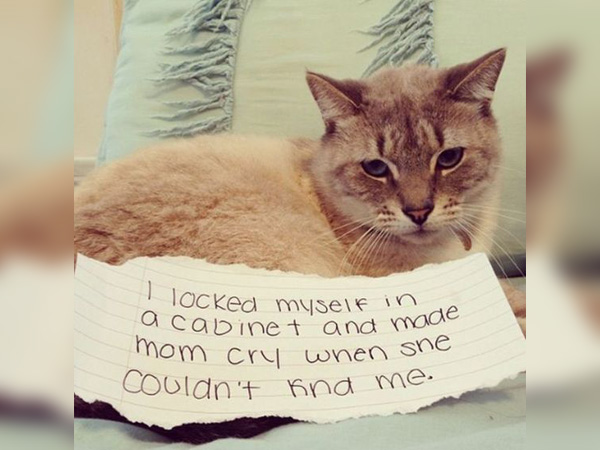 Some cats are experts at hiding. With their flexible and agile abilities, they are not a match for us mere humans in the game of hiding and seek. So one should never initiate this game with their cats. Take the example of this cat who decided to hide away in a cabinet with the owner unsuccessful in locating him for a long time. When the owner finally found him, she was punished for hiding so well.

Their Not-So-Hidden Agenda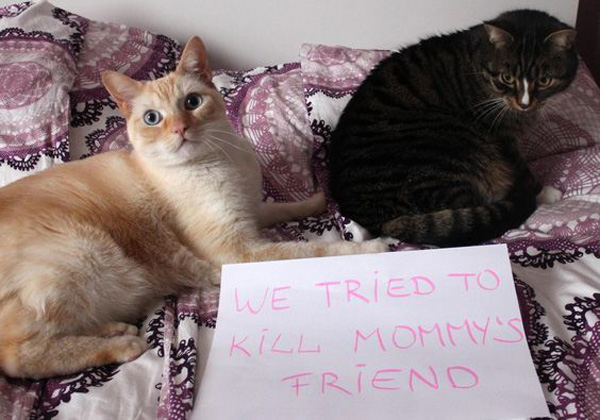 These two kitties tried to kill their owner's friend. This goes to show that some cats can be very evil and deadly too. Cats are often seen as cute and cuddly but sometimes they can also be very dangerous. They get extra scary when they feel jealous or threatened. So this woman had to find out the hard way when her cats found a dislike in a friend that visited them
The Fake Sincerity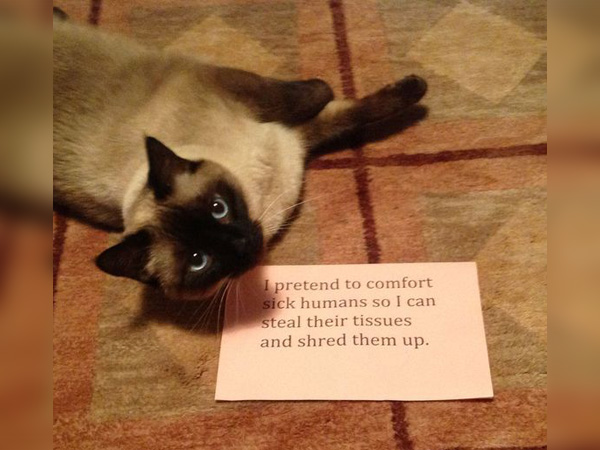 Cats can show affection and can be very sweet sometimes. But then you never know if it is genuine or not as they are very good at hiding it. This cat here loves tissues so she cuddles up to sick humans that keep tissues with them. When she thought she was fooling these humans with her friendliness, she was caught red-handed as some shreds of tissues were found by her bed.
The Pyromaniac-Cat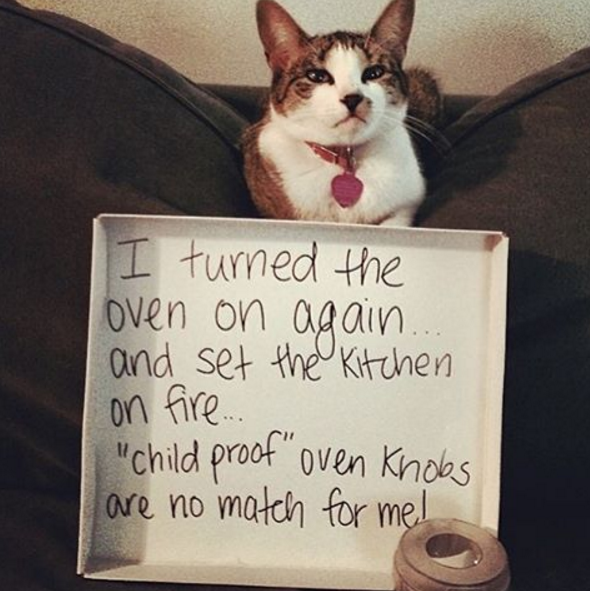 This is surely one of the most troublesome cats out there. She even made it past the "childproof" oven knobs, setting the whole kitchen on fire! We can see that this is not the first time this has happened but the cat looks like she does not regret it a single bit. Imagine if your cat could access the kitchen stove like this, your house would need to be on a 24/7 surveillance mode to avoid it.
Computer Kitty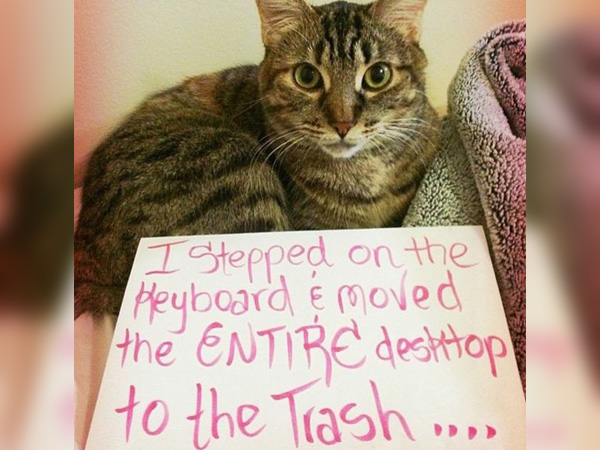 You should never keep your cat with you when you are operating on your computer. Just ask this owner whose cat has done something most people would definitely freak out over. He walked in the keyboard and manage to move all of the item in the desktop to the trash. If you are a hard worker who keeps all of his important stuff on his computer, then you should avoid keeping pets like this cat.

He Was Probably Curious About The Taste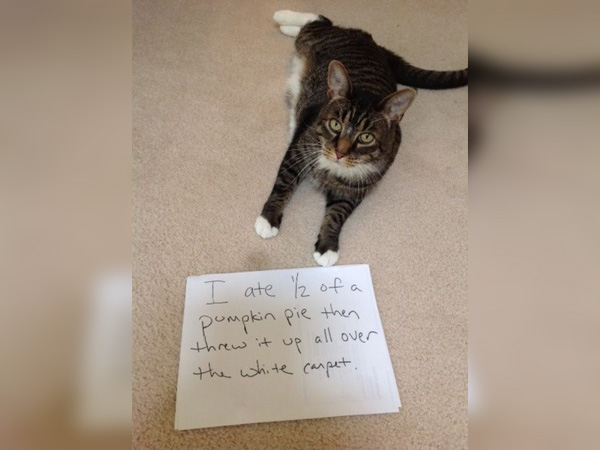 So a Thanksgiving morning could definitely be ruined if your cat decides to throw up on your white carpet. This cat here ate half the portions of pumpkin pie and so in the nighttime when everyone else was asleep, her stomach started acting up. She threw up on the white carpet of the living room to the owner's shock in the early morning. What an unfortunate event to happen to such a generous owner.

The Cat Who Stole Christmas
When the time comes for Christmas decorations to be hung up all over the house, owning cats might cause some issues. Freya the cat here ate up all the villagers in her owner's Christmas decoration set. So what can her owner do now? There is a possibility that beyond those sweet eyes of hers, Freya cannot stand the holiday spirit at all. Do you agree?

Just One Of The Dogs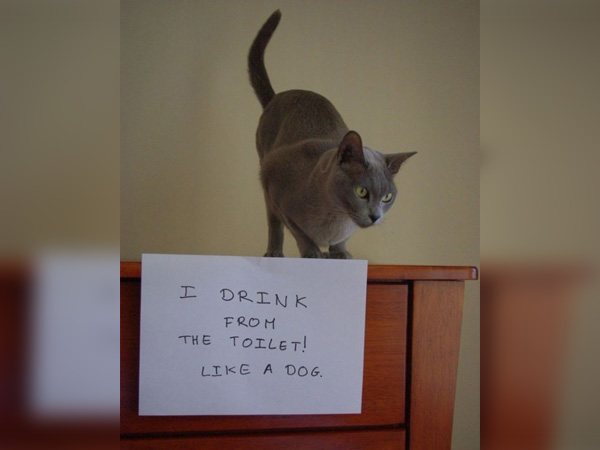 Dogs and cats do not get along. This is a commonly agreed notion. But sometimes cats do act like dogs in a lot of ways that often shock and surprise their owners. This grey here has taken some traits of a dog and likes to lick toilet bowls. The owner does find this amusing and has decided to punish the cat because of its very strange habit. Do you feel sorry for the cat though?

The Reason For No "Pet Policie"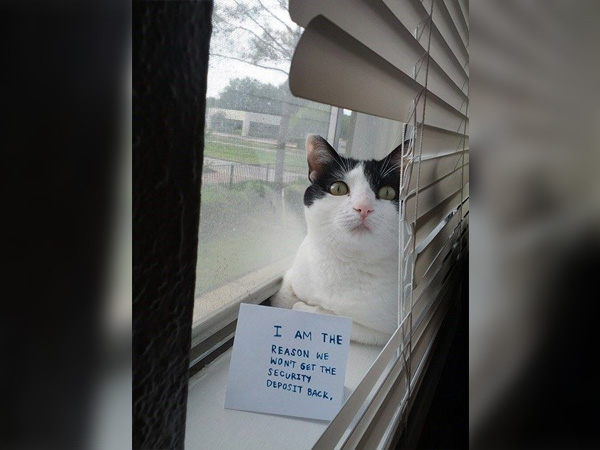 Pets are known to destroy a few items in the house. Cats are notorious for biting a few stuff here and there, and this particular cat may have done a little too much biting or scratching. The owners could not get their security deposit back because their cat had spoiled a lot the stuff in their rented house. So they decided to do some cat shaming on the internet.

Cat Apple Pie, Anyone?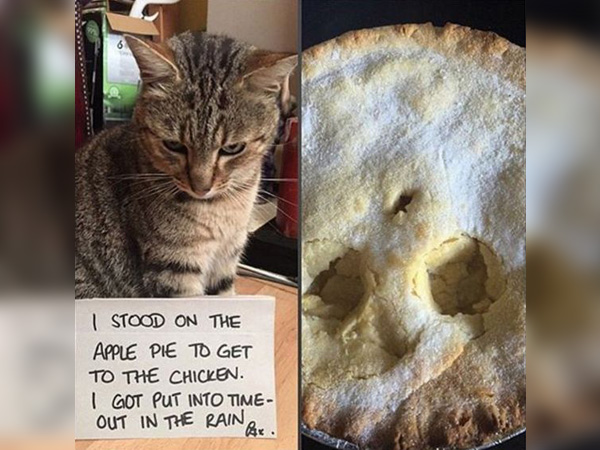 When you cook some a nice meal, it is weird but you often end up finding trouble because your pets have done some mischief. This cat here wanted to get closer to the chicken so she stood on top of the apple pie made by her owner. The owner got very angry and kept her outside in the rain for a few minutes. Would you still eat the pie though?

Pond Has No Regrets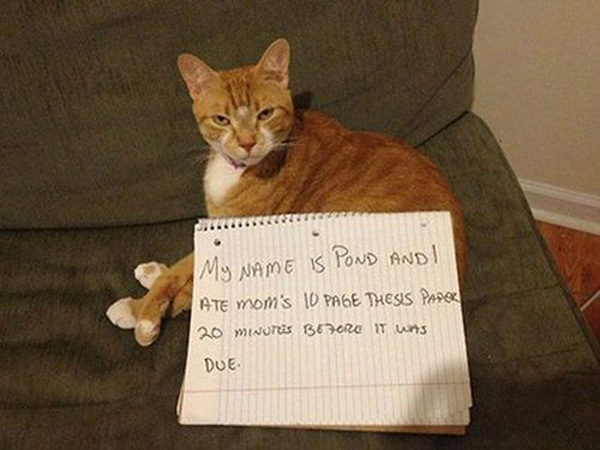 How would Pond's owner explain this mess to her professors? We often read about stories where dogs eat up kid's homework but to actually see a cat do it is incredible. This cat named Pond ate up the thesis just before it was 20 minutes due. Such a perfect timing to spoil the mood of your owner don't you think Pond? This cat might be a little too much to handle for a frustrated owner.

The Hat Of Shame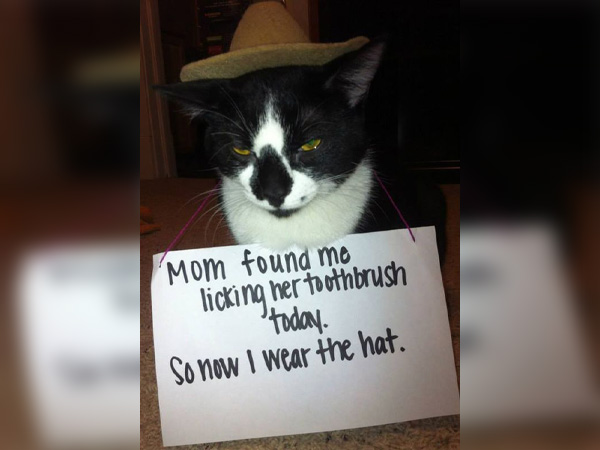 This curious cat ended up so intrigued by her owner's toothbrush and was eventually caught licking it. As owners, we never know just where and what our pets have licked with their tongues so seeing this clearly made the owner very upset. He was then made to wear a hat called the 'Hat If Shame'. We advise the owner to quickly change her toothbrush for obvious reasons.

The Fakest Cat Around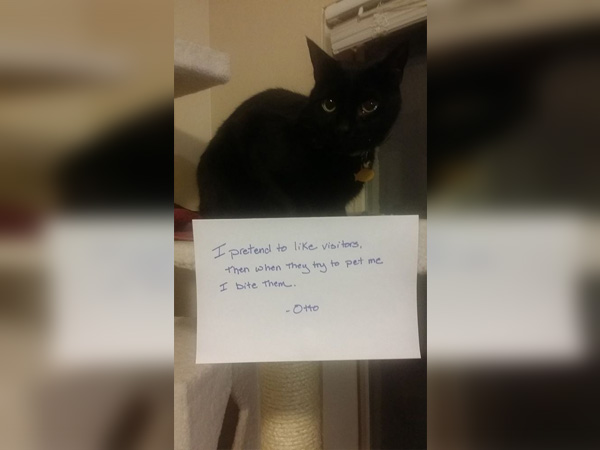 Otto here is a very deceptive cat. He would play all nice and kind when his owner's friends come over. Then when the visitors feel as though they have earned his trust, they decide to pet him. That's when Otto suddenly acts out and bites these people. The owner clearly does not agree with Otto's weird ways. hence he got a punishment and was internet cat shamed.

When Curiosity Almost Killed The Cat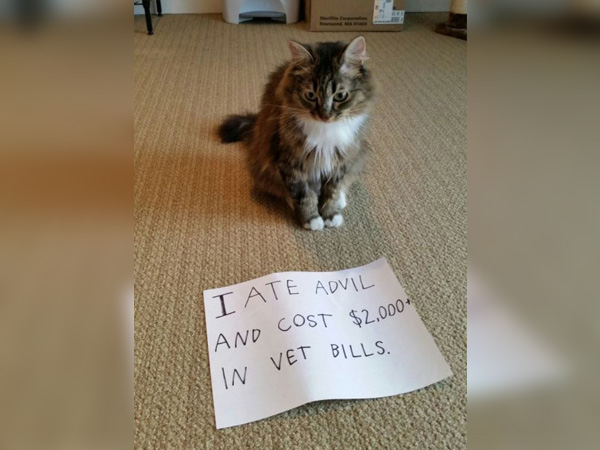 This cat's dumb moves cause the owner quite a lot to save his life. The cat you see here ate Advil and needed to be rushed to the vet. There the owner had to pay a sum of $2000 to recover the health of his dear cat. It is truly a hefty price to pay for such a petty mistake. But then the owner had to save his cat's life so he ended up spending the money anyway.

The Kitty Who Had No Control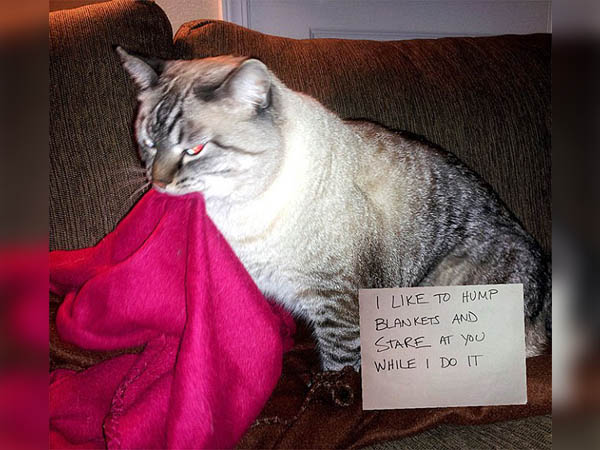 This is one strange cat with very peculiar habits. He likes to hump blankets and look directly at other while he doe sit. Too creepy right? It makes you wonder how his owners deal with him.
This Kitten Prefers PC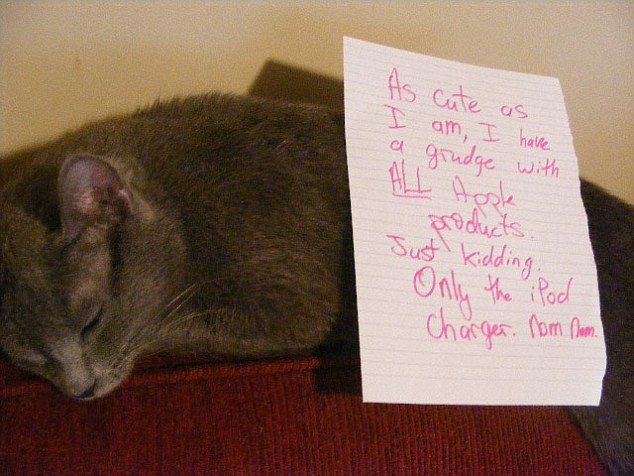 Cats love to nibble on random stuff. This specific cat likes to nibble and chew on cords. Apple cords to be exact. So the owner would need to be very rich in order to cope with this habit.

The Sausage Thief
Benny the cat here had a habit of stealing his owner's stored sausages. He is an expert at stealing sausages from the food but was caught in the act and now has to endure punishment.
The Scavenger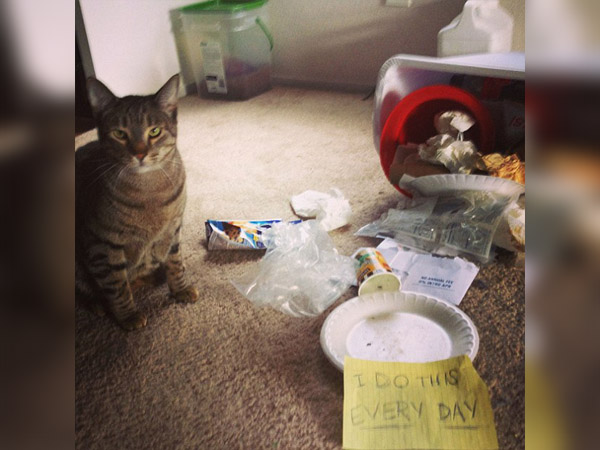 This cat here holds a very weird grudge on trash cans. He likes to tip them over and play with the garbage that is in the garbage bins. The owner must find it annoying to have to clean all the mess every time.

The Surprise Attack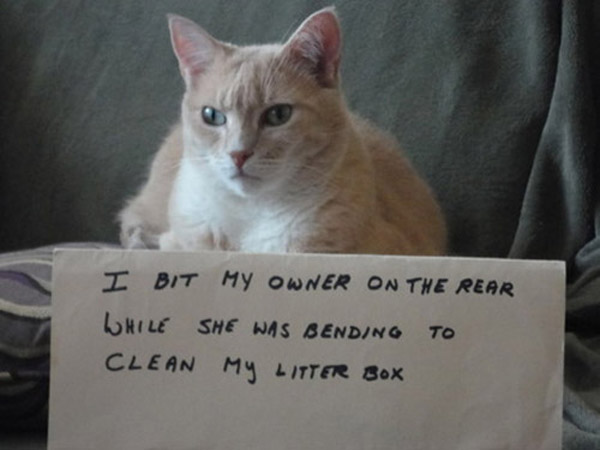 Some cats even attack their owners. Take this cat, for example, she managed to take a bite off her owner's buttocks while her litter box was being cleaned. Some cats can never be grateful.

A Minor Inconvenience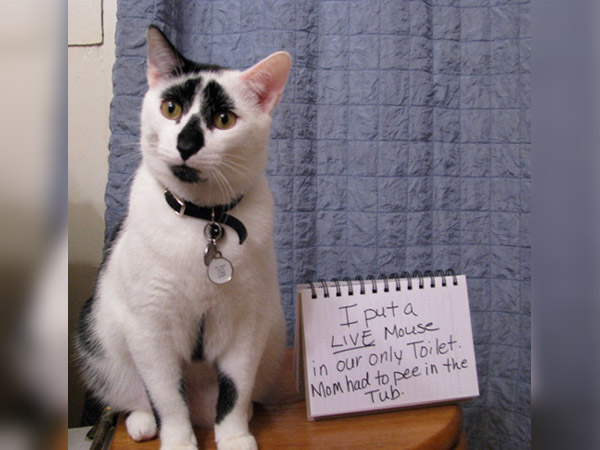 The kind of trouble that this cat caused is too extreme. He had kept a live mouse inside the toilet of his owner. Since the owner cannot use the toilet she had to use the tub. 'How did the issue end?'is one good question.
The Relapse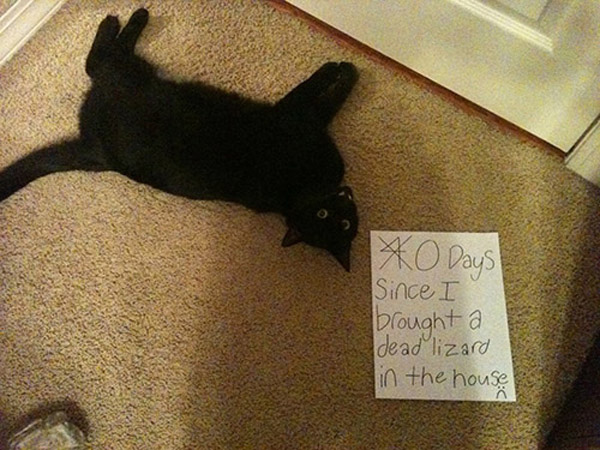 This cat here loves to brag about his hunting skills. He had recently brought in a dead lizard that he killed to show off to his owners. The owners were so frightened and hoped it never happens again.

A Taste Like No Other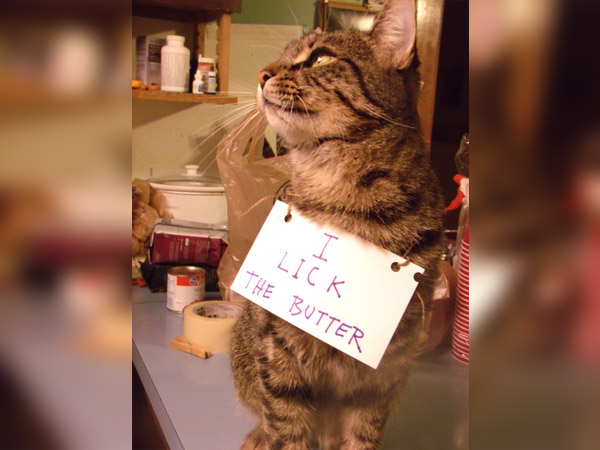 This cat here loves to do one thing-lick butter. It is indeed a very strange habit for a cat to possess. So when the owner found out, he decided to ridicule his cat online.
Unwelcome To Change
Spider here did not like it when his owner's boyfriend moved in with them. He showed his rebellion and peed on not just the boyfriend's laptop but also his shoes. A very warm welcome indeed.
Food So Good, You'll Want To Eat It Twice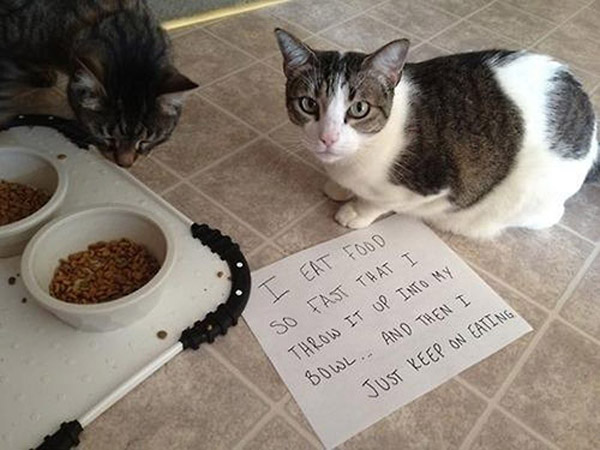 This is one cute cat with a weird eating habit. She is very quick to chomp up all her food which ultimately gets out of her system as she throws up immediately. Such a sad thing to see your cat do.
Basketball Kitty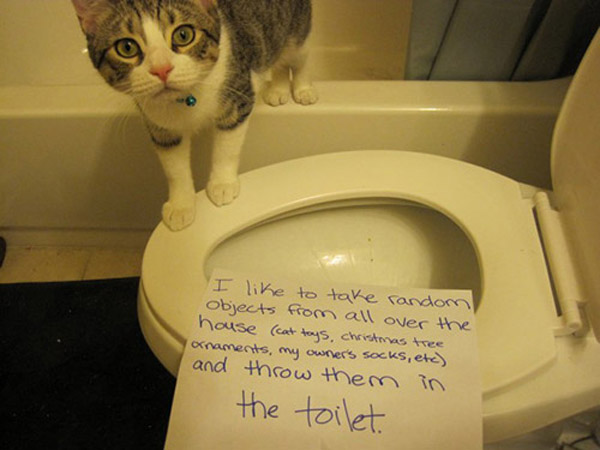 When you have a cat that loves to throw in many random items inside the toilet bowl, how is an owner supposed to react? It would obviously be so frustrating.

Money Hungry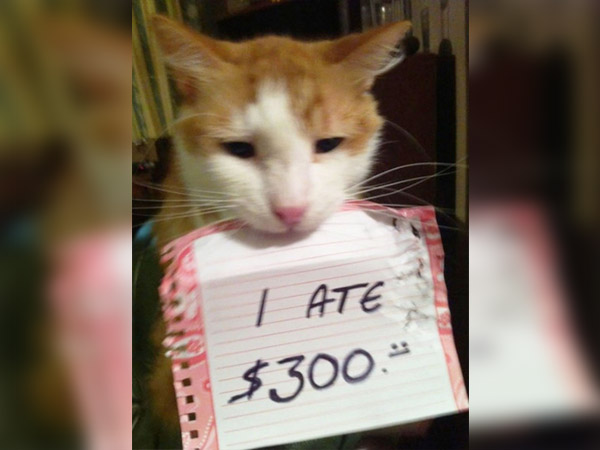 A sweet little cat ate up $300 that she found lying on the table of her owner. The owner was so mad at her but at the same time felt very bad that she had to punish her.

The Botched Cover Up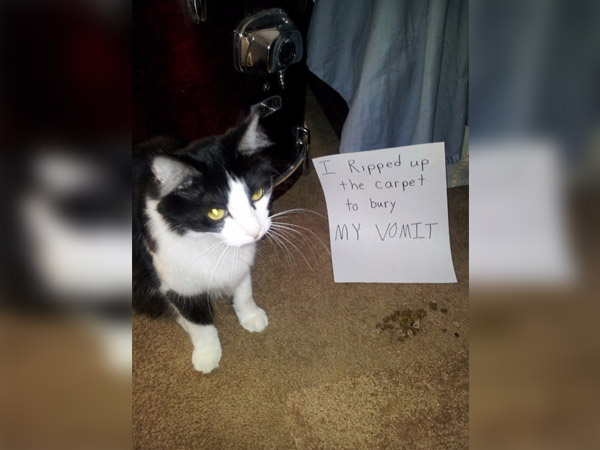 Some cats love to hide their poop or their vomit. here we have one such cat that loves to hide his vomit inside his owner's carpet. Cleaning it would definitely be a problem.
Double Trouble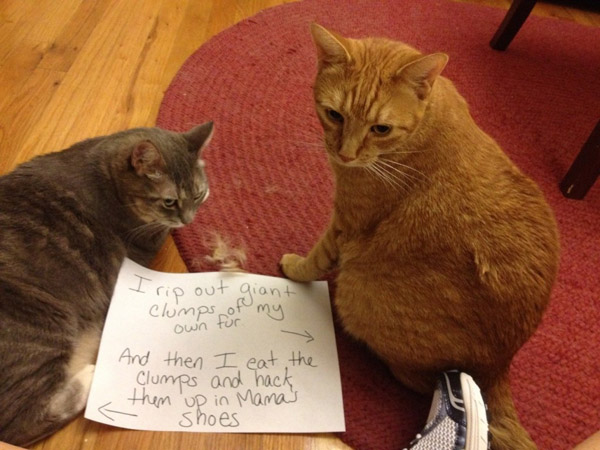 What's worse than having one cat that stirs up trouble? Yes, two troublesome cats.As you can read from the note, these two cats have formed a tag team causing some real trouble for the owner to solve.
The Cat Who Cried Wolf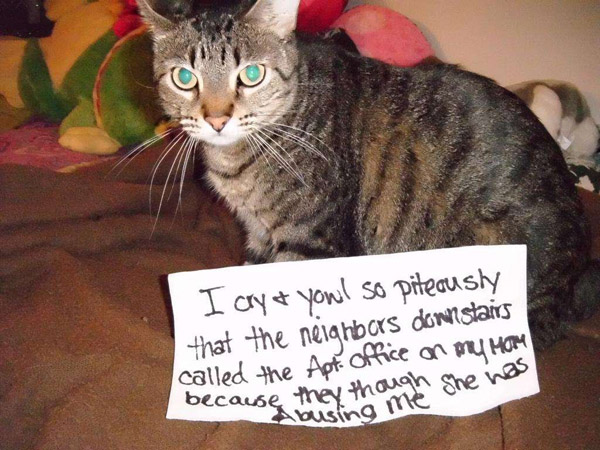 When a cat keeps screaming and yowling so loudly, obviously it would get the attention of the neighbors. This cat created a huge problem for her owner when her neighbors suspected her of abuse.

The Peeping Tom-Cat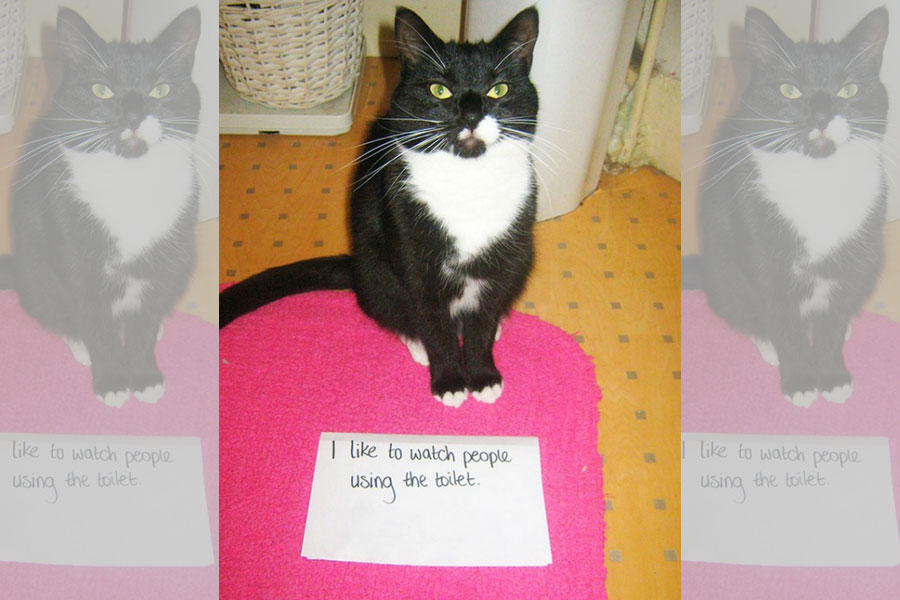 A cat can have so many troublesome practices. This cat keeps following anyone in the toilet to see what they do. It had done it so many times and has become a big issue.
Cookie Stealing Cat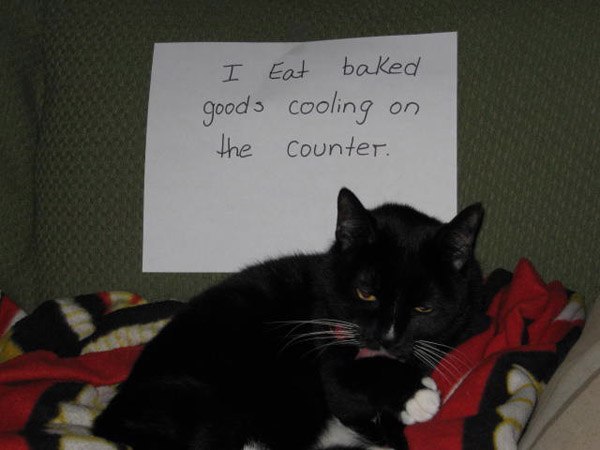 Some cats love to steal food from the fridge but this cat right here loves to eat at the counter. She loves to feast on freshly baked cookies and cakes that the owner tirelessly bakes.
Caught In The Act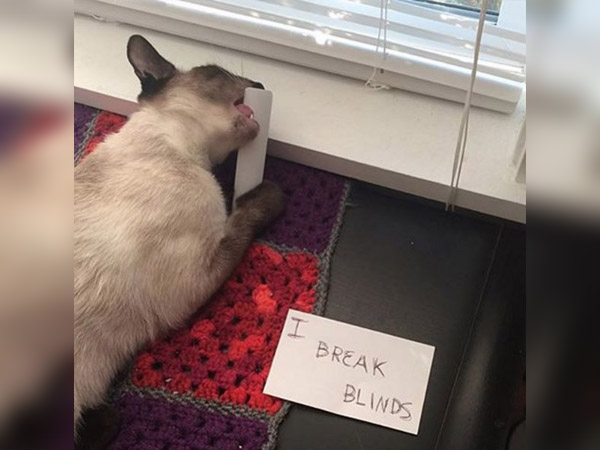 Some cats will never learn. Yes, some cats never want to take responsibilities for their foul actions, just like this particular cat. As the note reads and what he is doing, he always breaks the blinds.
Catty Shack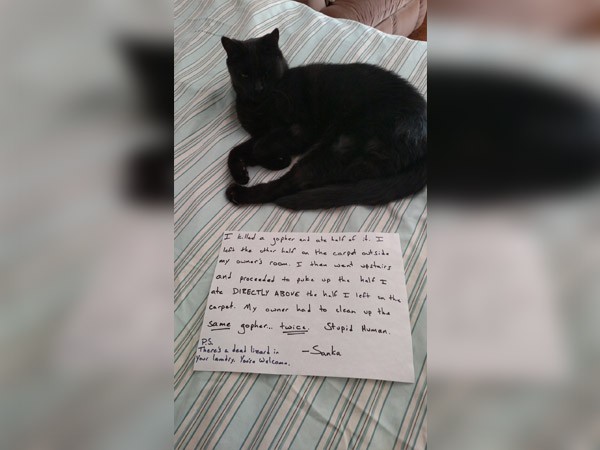 Sanka right here loves to kill gophers and has occasionally left dead lizards in her owner's laundry. If you are scared of lizards, this cat's actions would surely creep you out.
A Cat-Tastrophic Calendar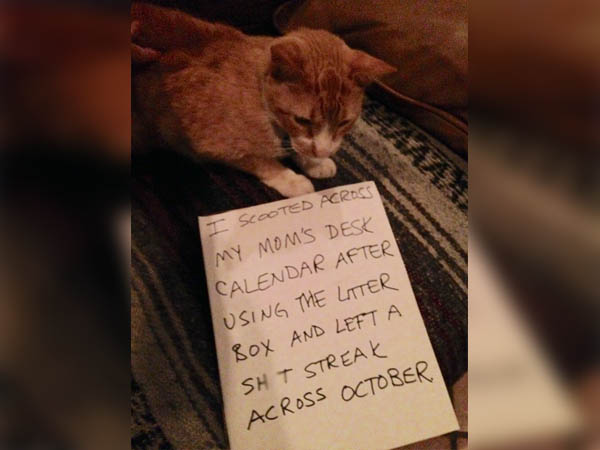 Cats are known to be very playful with their poops. This feline here made a sudden dash after pooping and swiped some of her poop on her owner's desk calendar. The owner was obviously not so pleased.