Man Reunites With The Men Who Rescued Him From The Trash As An Infant
Whhen he first saw his birth certificate Marcus Wallace was 20 years of age. He saw that a woman whom he had never met was marked as "mother."  He became increasingly curious, so he approached the New York Public Library to look for clues — and then found shock of his life. A library worker found a 1985 newspaper story on Dorothea Ballas, a 21-year-old student at Fairleigh Dickinson University in Teaneck, NJ.
Ballas gave birth in herdorm room, put the newborn in a trash bag, knotted the top and dropped it in a dumpster behind a gas station. She had left the boy to suffocate or freeze in 20-degree temperatures. "I broke down. I got on the subway and cried all the way from 42nd Street to Flatbush Avenue," said Wallace, now 31 and ­living in Brooklyn.
"I had a lot of whys. What was wrong with me? Why me?" The discovery spurred years of roller-coaster emotions. After two debilitating strokes in one year, he struggled to regain his health and his self-esteem. "My mother threw me in a dumpster. It took me a very long time to deal with that, but I've gotten past it," Wallace said. Still, he never stopped searching for ­answers.
Wallace's journey led him to find this reporter, formerly with The ­Record of Hackensack newspaper, who covered the baby's abandonment and miraculous survival. "Nobody told me anything until I found your story," he said.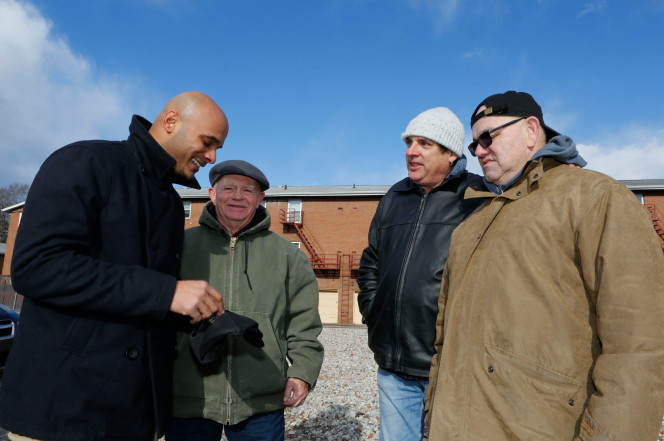 The Post arranged a reunion, three ­decades later, between Wallace and the three people who rescued him. On a December day just as frigid as Wallace's birthday on Jan. 19, 1985, they gathered on a now-empty lot next to FDU dorms where the dumpster stood, exchanging bear hugs and weeping with joy. "You're my hero," Wallace told Michael Randelman, a musician and painting contractor who came from Florida for the occasion. On that morning in 1985, Randelman, then 25, was driving home from a girlfriend's house at about 3 a.m. He stopped to inflate his tires at a gas station near his Hackensack home, but the air pump was broken. So he headed a few miles to a Teaneck Shell station. The restroom was "filthy," so he went behind the dumpster to urinate. "I heard a crying noise. I kept hearing it," Randelman said. "I lifted the lid, but all I saw was garbage." He called over station attendant Lo Kuo-Raya. They agreed a baby was inside, but they couldn't see it. Randelman used a pay phone to call the Teaneck police. Officers Phillip Lavigne and Sheridan Ogden pulled up a minute later. "We figured it was a cat," Ogden recalled. Lavigne climbed in, careful not to step on a black bag that differed from the other trash. He ripped it open and found the ­naked newborn, along with the umbilical cord and placenta. "I was in a state of disbelief — to have someone just discard a living being like that," said Lavigne, whose wife was pregnant at the time with their first child.
Lavigne held the baby close to his chest, while Ogden raced at 80 mph with lights and sirens toward Holy Name Hospital. "I think I had wings on the car," Ogden said. Doctors whisked the infant inside. "You got here just in time," one told the cops. The baby, dubbed "Johnny Doe," would have died of exposure had he not been found quickly, they said. During their meeting, Lavigne presented Wallace with a Teaneck police cap and his shield — No. 187 — as mementos. For Lavigne, the gift was knowing he made a difference. "It's the best Christmas gift you could ever give a cop," Lavigne sobbed. Randelman, who has no kids, is thrilled he helped give Wallace life. They plan to meet again so Randelman can teach him to play the drums. "I love you, Marcus," Randelman told him. "You are special, and you were meant to be here. Don't let that incident tell you otherwise." As the reporter kept digging and the two ex-cops searched their memories, Wallace learned more of his origins. Investigators had quickly identified his mother as Ballas because her name was on papers and other debris in the trash bag. The bag also had a handwritten note or poem in Greek, with words to the effect: "I love you. I don't want to do this," the cops recalled. A Greek woman who translated the note for police at the time described it last week as "enigmatic" and "confused."
Wallace never knew about the note. "I've never seen my mother," he said. One yellowed news clipping gave a first glimpse — a photo taken in court of a beautiful brunette in a high-necked white blouse. Wallace bears a striking resemblance to her. At the time, Ballas told police she hid her pregnancy from family, friends and her former boyfriend, the baby's father. Alone when she went into labor, she delivered the baby herself. She then discarded the boy in "sheer panic," authorities said. Ballas and the father, Ruthven Prithwie, then a 22-year-old student from Trinidad, had recently split up, he told the reporter in an interview two months after the birth. He had asked if Ballas was pregnant, but she said, "I'm just gaining weight." He believed Ballas feared the disapproval of her strict Greek Orthodox parents. "I am the bad guy," Prithwie said. "Number one, I am foreign. Number two, I am black." But he felt no ill will. "I don't hold it against her for doing what she did," he said. "Somehow or other, I understand." Ballas pleaded guilty to attempted murder. "I gave birth to a child. I placed the child in a bag," she told the court in a near-whisper. She said the baby lay in the bin about 90 minutes before he was found. She was sentenced to probation and did no jail time.
While Ballas' parents wanted to put the baby up for adoption, Prithwie fought to keep him. "I want to make a good home for my son," he said, naming him Marcus. ­Finally, the child was placed in his custody and sent to live with Prithwie's family in Trinidad while he finished his studies. His father vowed to keep his abandonment a secret. "I don't want my son to know," he said in the 1985 interview. "If he ever does find out, I guess I'll have to ­explain it to him, but I don't know how." Wallace grew up in Trinidad with his father's sister and a grandma. "I called her Mommy," he said of his aunt. "I still love her as a mother. She took care of me as if I were her own." The sister's own son was "my brother," he said. Wallace's dad visited him in Trinidad several times a year. At age 7 or so, the family began referring to the woman who raised him as his aunt. He was confused but too young to understand. "I knew something was wrong, but I didn't know what it was." Wallace returned to the United States at age 16 to live with his dad, who owns a concierge service, and his dad's wife, another FDU classmate, in Uniondale, LI. He calls her Mom. He has two younger sisters. Like his dad, who attended FDU on a track scholarship, Wallace excelled on the Uniondale High School track team. But despite a life full of love and laughter, he said, "I always felt a void."
After Wallace graduated from high school, he began seeking the truth about his roots and found the headline that jolted his soul. Over the years, Wallace has tried to reach Ballas, now 53. He phoned a florist business run by her parents and asked politely, "Please tell her that Marcus called." The next time he tried, he was told, "Don't call back." He also messaged Ballas' two brothers on Facebook. They never replied. Ballas' parents have since died. Wallace has learned only that Ballas married a fellow Greek, had two other kids and moved to Rhode Island. The Post reached Ballas on her cell phone and started to explain. "Oh, I'm sorry," she blurted, and hung up. She did not respond to a letter. "I honestly believe she doesn't want anything to do with me," Wallace said. "She doesn't want any part of her past." After attending Kingsborough Community College, Wallace left to follow a girlfriend to Atlanta. They married. He landed jobs managing a Walmart and a Roadrunner trucking company. He was in the delivery room at the birth of his daughter, Addison, now age 3. "I watched her come out," he said. At that moment, he couldn't help wondering what Ballas went through at his own birth. But after reading the news articles, Wallace feels less resentment than concern. "She's still my mother. She carried me full term," he said. "I have nothing but love for the woman. I'm very grateful that I'm able to be a loving father to my own little girl. Thank you for allowing me the opportunity to be alive." Wallace said he still hopes to meet his birth mom someday. He is determined to deliver one message: "I forgive you."