It is no secret that NFL players are some of the richest athletes in the world. They earn a hefty paycheck which amounts to millions of dollars each year in salaries, and this is excluding all the endorsement deals they get! So have you ever wondered how some of the richest athletes spend their hard-earned money? Indulging in the activities of the rich of course! From lavish mansions to luxury cars, these men leave no stone unturned in their quest for utter luxury. Not bad considering how most of these NFL stars got their break on the football scene due to a well-timed scholarship!
So go ahead and take a peek at our compilation of some of the luxury expenditures of these NFL stars.
Troy Polamalu – La Jolla, Estimated $4.7 Million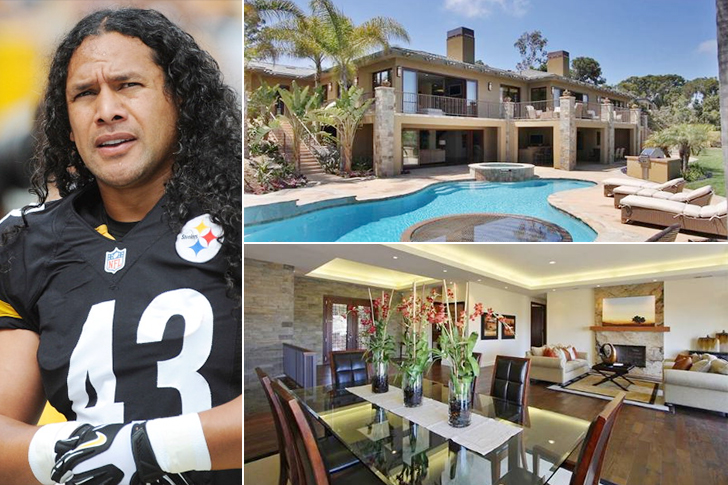 Former strong safety for the Pittsburgh Steelers, Troy Polamalu is one of the most accomplished safeties in the history of NFL. Although now retired, his feats on the field have earned him many distinguished titles in his 12-year career. These include – 8 Pro Bowl nods, 5 All-Pro awards, and 2 Super Bowl titles in 12 seasons. An illustrious career has earned him enough money for a lavish lifestyle. Polamalu and his wife bought their 1.75 acres property in La Jolla, California in 2009. The lavish estate includes 6 bedrooms, 8 baths, swimming pool and jacuzzi, outdoor loggia, 3 stone fireplaces and a pair of 2-car garages. They bought the property for $4.75 million.
Vernon Davis – Bentley Continental GT Convertible, Estimated $200K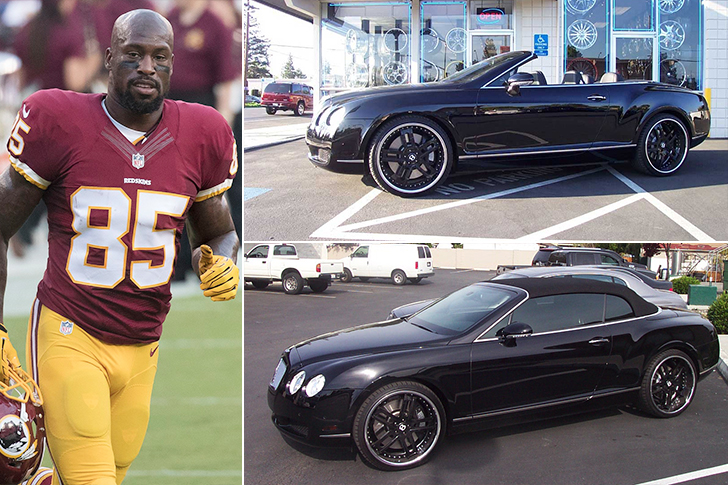 Vernon Davis is the current Washington Redskins tight end playing in the NFL. He used to also play for the Denver Broncos & San Francisco 49ers earlier on. Davis openly talks about his love for automobiles, and usually refers to himself as a "car guy." As a successful performer, he has no trouble landing deals and high paychecks, which helps him indulge in his passion. HIs current collection of cars boast of a custom jet-black Ford F150 truck, Mercedes Benz S63, Porsche Panamera, a custom red Dodge Challenger SRT8, 2 white Escalades and a $200,000 Bentley Continental GT Convertible. And of course, he wants his babies to be unscathed, so he has installed top tier state-of-art anti-theft mechanisms in all his rides. Talk about a passionate man!
Tony Romo – Dallas, Estimated $9 Million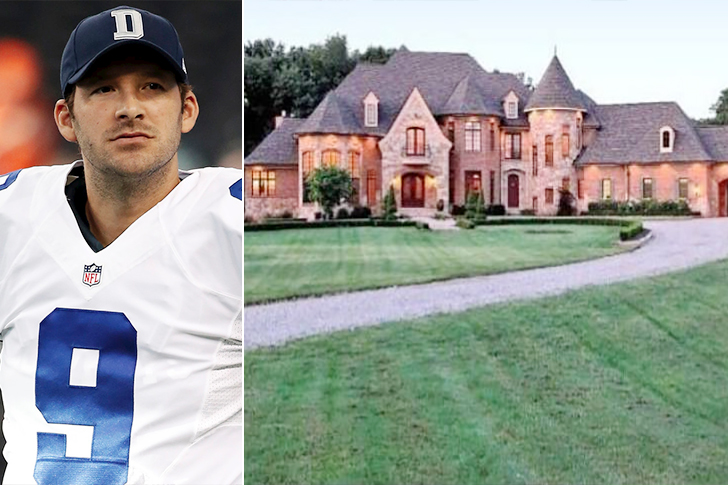 Tony Romo has only recently retired from the sport as the quarterback for the Dallas Cowboys, and he left with a hefty paycheck at that. He has invested his culminating salary into his California-style mansion located in Irving, Texas. The property was originally bought for $3 million by Romo, but with added renovations and other sundry construction work, the gorgeous piece of property now stands at a staggering $9 million. The property boasts of a 32,515 square feet mansion which has 6 bedrooms, 4 full baths and 2 half baths, a luxurious swimming pool, a special spa, 3 fireplaces and an outdoor entertainment area for guests and family members alike.  
Colin Kaepernick – Jaguar F Type, Estimated $100K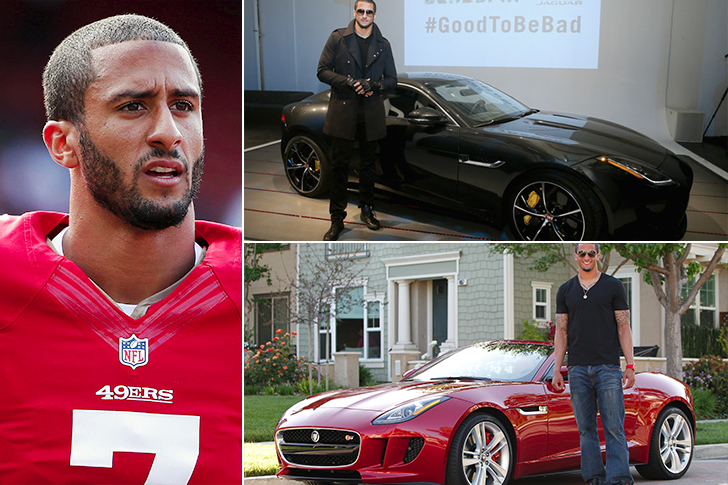 Colin Kaepernick is the former quarterback for the San Francisco 49ers but currently is up for grabs by willing teams. Another luxury car lover, he sports not one, but two Jaguar F Type! He has one which is in a fiery red color, and the other in sports a sleek black exterior. Both are luxurious interiors with top-notch mechanics – inside and out. One may be asking, why have two cars of the same model? Well, it is apparently stated that Kaepernick could not decide on the color for the car, and was in two minds about it. While a shiny black looked classic, the fiery red screamed for attention. And let's face it, if you got it, flaunt it, right? Well, with the bagfuls of money that Kaepernick apparently totes around with him, he decided to buy both the colors! 
DeMarcus Ware – Denver, Estimated $1.3 Million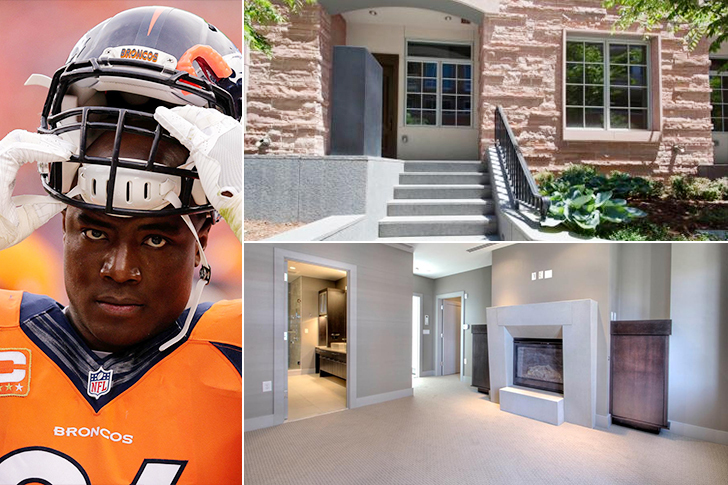 Seems like the recently retired linebacker is spending his hard-earned money well! The former Dallas Cowboys and Denver Broncos linebacker & defensive end decided to spend his retirement in peace and luxury it seems. He shifted out of his previous mansion in Dallas and went with a chicer three-level townhouse located in the ultra-exclusive Cherry Creek North neighborhood in Denver. Word is that the $1.37 million home was paid for in cash! We can't even boast of having $100 bill so having $1.37 million in cash is unimaginable. The townhouse includes three bedrooms and an equal number of baths spread out over 2,695 square feet space. Ware sure is spending his retirement in utmost luxury and peace…
Joe Haden – Lamborghini Aventador, Estimated $1.1 Million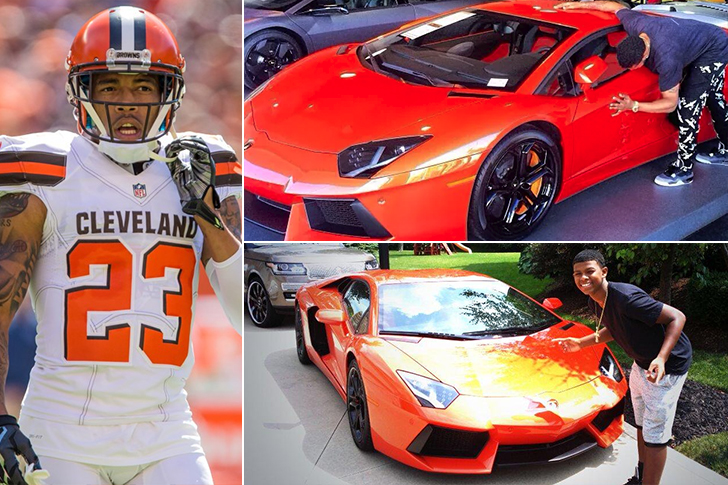 What is it with NFL players and cars? Everyone sure seems to have a penchant for the luxury rides!
The Cleveland Browns' cornerback, Joe Haden owns a pair of customized Lamborghinis which is really telling of his taste for the car (and honestly, who doesn't?). His first Lambo purchase was pristine white Lamborghini Murciélago with a cherry red pure leather interior to contrast. His next purchase was the 2014 Lamborghini Aventador that he got customized to a mix of orange and brown – his team's colors. Talk about a homage! The opulent rides are worth over a million dollars; quite telling of his love for Lamborghinis. now we can only hope that he has excellent car insurance to keep up with the hefty price tags!
Patrick Peterson – Scottsdale, Estimated $2.6 Million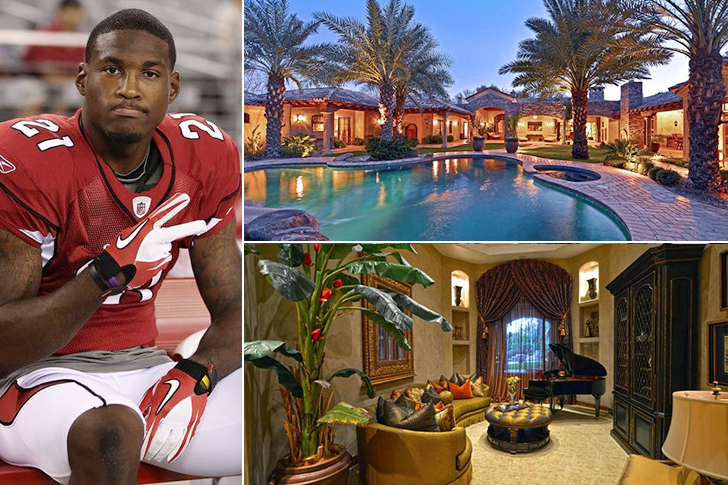 It is only fitting for an NFL player to spend their multi-million dollar on opulent purchases. So this is why Patrick Peterson of the Arizona Cardinals recently purchased a $2.692 million house in the heavily guarded Paradise Manor Estates community in Scottsdale. The community boasts of a gated entrance which can only be accessed by the residents and their guests – a top-notch security measure for their high-profile residents. The property sits on almost an acre of land in which the main house covers an area of 7,807 square feet which includes – 6 bedrooms, 8 baths, a well-stocked library with varying titles, a chef's kitchen, full gymming facilities for the player, a steam room to relax off, a private office and a wine cellar complete with tasting room. The outdoors include a guest house with a game room and a kitchen, a basketball court and a lagoon-like swimming pool and spa.
Brandon Marshall – Southwest Ranches, Estimated $5 Million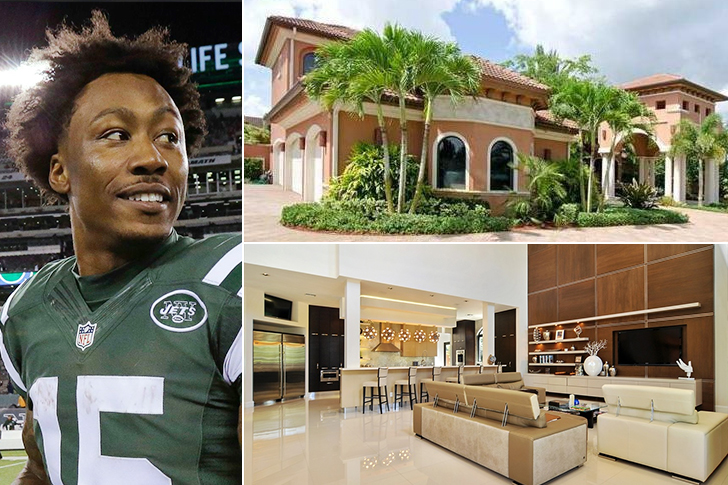 When wide receiver Brandon Marshall recently signed a two-year $12 million contract with the New York Giants, the man decided to upgrade from his Florida mansion. He put up his off-season Southwest Ranches for sale at an asking price of staggering $5 million! Even though he's currently living on a rented property, he hopes to find another property with similar facilities as his former home which had 6 bedrooms, 7 baths home that included a gym, a spa, home movie theater,full-sized basketball court, game room, an office and of course a swimming pool. The man might have to scale down his expectations to find a home at this rate…
Larry Fitzgerald – Mercedes Benz SL550, Estimated $100K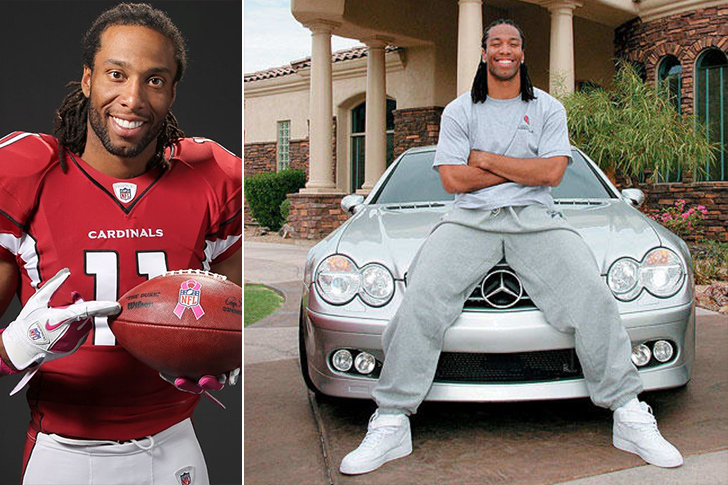 Car enthusiast Larry Fitzgerald of the Arizona Cardinals has been with the team since 2004. Which is why he can afford to support his luxurious hobby of collecting magnificent cars! Fitzgerald owns restored classic Mustang Shelby and a turbo-charged 1970 Dodge Charger along with a red BMW 745i, a blue Lexus, black Rolls Royce and a tricked out orange S class Range Rover. And although all the aforementioned cars are nice and all, his favorite happens to be the silver Mercedes Benz SL550. The sweet ride cot him a pretty penny at cost of over $100,000. To ensure that his cars remain safe, he stores them in his gated parking garage. 
Frank Gore – Rolls-Royce Phantom Drophead Coupé, Estimated $350K
A luxury car fanatic, there isn't a model that this Indianapolis Colts' running back Frank Gore doesn't love! The former San Francisco 49ers' player has built up a collection of cars over the years, with his most recent addition is the 2010 Rolls Royce Phantom Drophead Coupé. The car has an all-black exterior instead of the typical two-tone original paint job as is customary. As is with customized goods, the paint job cost him quite a few dollar bills. But even without the color change, the original price of the car alone costs around a whopping $350,000! 
Carson Palmer – Del Mar, Estimated $25 Million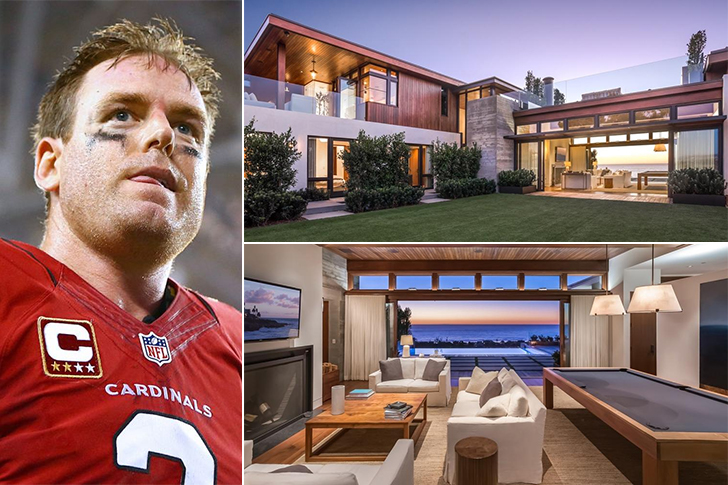 This Arizona Cardinal Quarterback is known for his lavish lifestyle and frivolous spending habits. This former Oakland Raider is the proud owner of half an acre land which is located in the city of del. On this land, he has erected an 8000 sq feet mansion where he currently resides. Palmer had originally bought this property for about $4.4 million and further invested about $20 million into the renovation and redesigning of the place. This mansion consists of a 3-story estate estates which are all 6 bedroom huge and consists of 8 bathrooms, an open living room, a kitchen that is a center island, a media room and several offices, a formal dining room and almost 5 fireplaces. The master suite takes up the entirety of the 3rd floor and even features an indoor-outdoor shower, Numerous soaking tub, and a private deck. He has Repurposed the lower sections to function as his gym which has a sliding door that connects it to the tennis court where there is an oversized parking space for his 10 cars. He has constructed an infinity-edge swimming pool on the outdoors of his mansion along with a bocce ball court an outdoor kitchen, a sports court and a wet bar.
Philip Rivers – San Diego, Estimated $3.5 Million
When we think of this San Diego/Los Angeles Chargers starting quarterback, we usually think about a hulking mass of muscle and testosterone, but little do people know that Philip Rivers is also the owner of a $3.5 million mansion which is present in the most exclusive Santaluz developmental zone which to the north of San Diego. The Estate has over 6 bedrooms each of them come with their own bathrooms and a full bar, he also invested in a wine cellar and a media room his love for the book also found a place in this place in form of a library. This was just the insides of his place though, on the outside he has constructed a courtyard with a fountain, he also has an outdoor fireplace which comes with a built-in BBQ, Swimming pool with a fancy waterfall & spa. Quite recently this quarterback also purchased an 8-acre plot in Rancho Santa Fe, California, this piece of land is worth a mind-boggling $4.7 million. While it is still not clear if he intends to make it into a new home or maybe his very own football stadium.

Reggie Bush – Lamborghini Aventador, Estimated $450K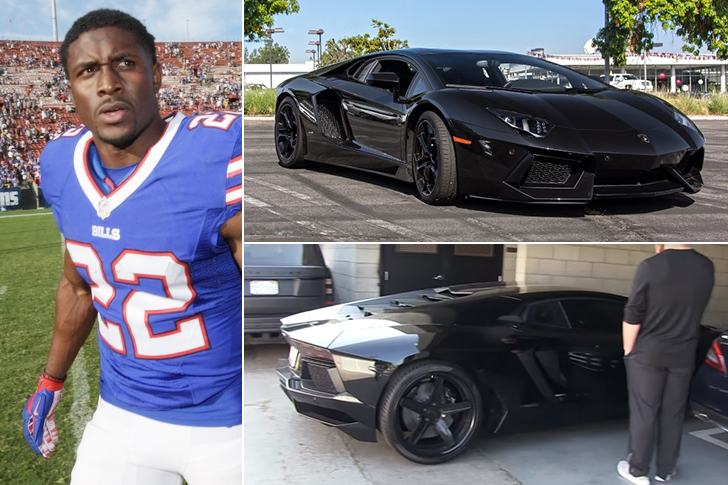 Once a player for the esteemed team of the Miami Dolphins, The San Francisco 49ers, The Detroit Lions, New Orleans Saints and Buffalo Bills, Running back Reggie Bush now earning a living as a free agent. Even though his career has seen quite a lot of shift from the time he was first seen on the field, thanks to his loving fans he has been doing quite alright for himself. His love for cars is one of the most expensive things in his life, He spent almost $3.5 million on it and so he currently own 5 cars in total. This includes a $300,000 1967 Mustang GT 500 fastback and a $450,000 2011 Lamborghini Aventador.
Matt Forte – Chicago, Estimated $4.1 Million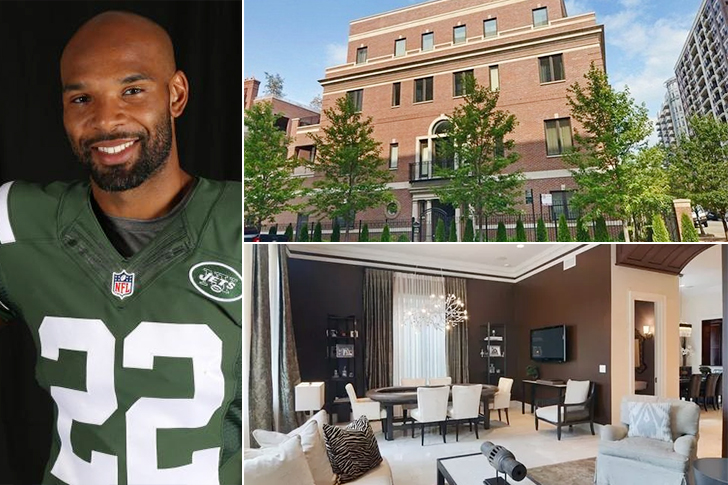 This runner back who once used to play for the New-York jets currently lives a comfortable life in $4.1 million dollar mansion. Matt Forte has built this mansion on the North River Neighbourhood in downtown Chicago. This 9000 sq. ft. behemoth houses an impressive 5 bedrooms and 6 bathrooms. And if you plan on exploring this property you will need to take help from an elevator as this place has about 4 levels to it which is connected with a 60-foot spiraling staircase. This place also has its very own home theater which is capable of housing about 20 people at once. Along with all these amenities it also has a 3 door garage and as if all this was not enough for him his lawyer even applied for a zoning change that would further add 1137 sq feet to this mammoth house.
Cam Newton – 1970 Oldsmobile 442 Cutlass, Estimated $255K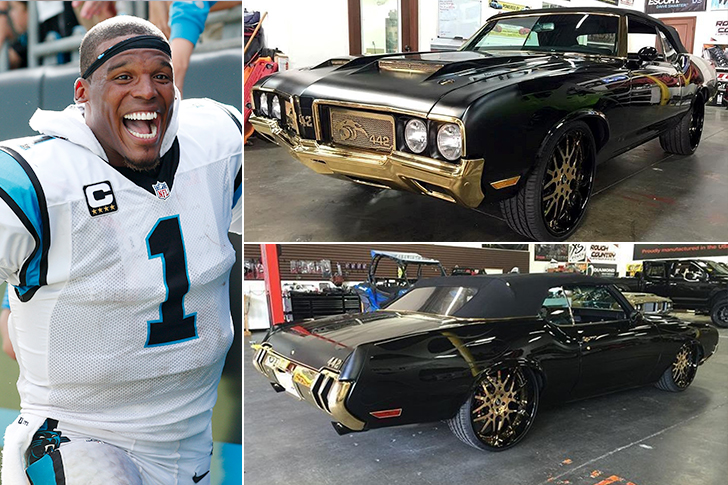 One thing that this Carolina Panthers quarterback loves more than anything else is to customize cars, shining example of this obsession of his is the matte black makeover he had done on his flatback 1969 Chevelle and on top of this even more customizations to his 1972 Chevelle and Rolls-Royce. But the most amazing transformation that this legend has managed to do is to his 1970 Oldsmobile 442 Cutlass that he has ordered to be customized with 24 karats of gold plating and also a new interior which came with diamond stitching on the seats. He even changed the front grills of his cars including Newton's signature C1N Logo and also a head of a panther all made of gold. The much wider front tires also got themselves a golden treatment on their rims. The shop also pimped up the ride with custom carpeting along with new steering wheel and a powerful stereo system. While all this is amazing his car itself had a glossy black paint complimented by satin black flames.
Ndamukong Suh – Fort Lauderdale, Estimated $6.5 Million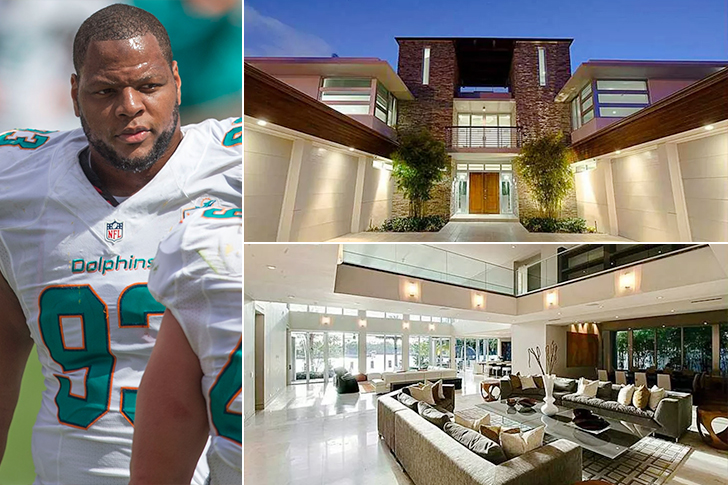 This Dolphins defensive tackle is currently the owners of a stunning contemporary-styled house which is situated in Fort Lauderdale, Florida. Ndamukong Suh's house is a stunning 11142 sq feet house which as you would imagine is all about space and more than that about volume. With Floor-to-ceiling glass and glass encased catwalks that are responsible for connecting the most upper levels of his lavish home. This 3-story mansion houses an impressive 8 bedrooms and 6 baths. Even the master suite comes equipped with an area solely dedicated to sitting. It has a large soaking tub and a wide balcony. Outdoors, the palm trees are all around the swimming pool, it also consists of a waterfall, a spa, and even a pool house.
Troy Aikman – Texas, Estimated $5.5 Million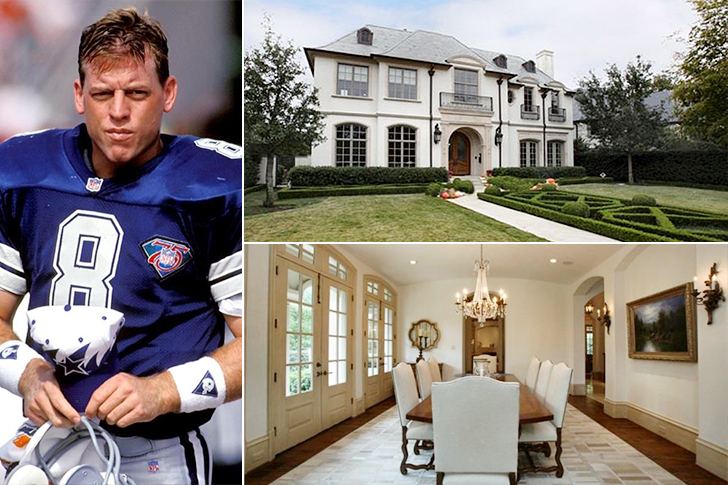 This one time Dallas Cowboy quarterback Troy Aikman is spending the later years of his life while moving from one place to another all thanks to the fortune he managed to amass during his glory years on the field. Thanks to all of that he has bought property all over the country. Though once he was busy buying properties now he spends his time selling them. He now plans to move out of his hometown of Dallas and all the way to Europe! But before he can finally move there he needs to sell off his 10,000 sq feet. Which consists of a pool and a special home theater along with snack bar and a wine room which is filled with all sorts of expensive wines and a matching bar, a soaking tub 6 bedrooms, and 4 baths.

Adrian Peterson – Texas, Estimated $6.7 Million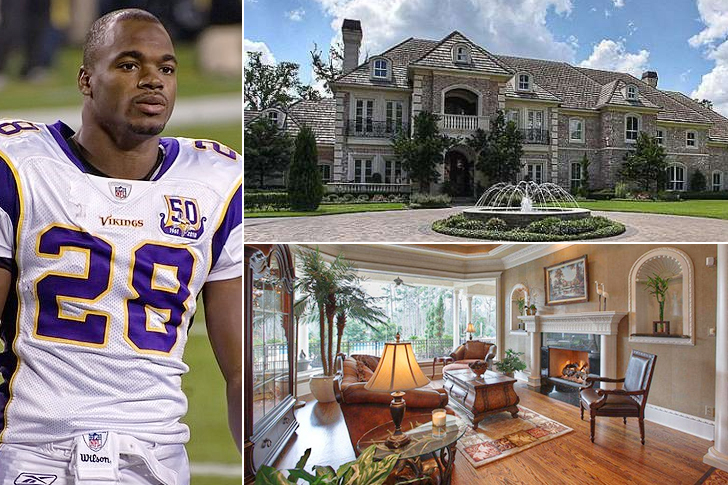 Now, this is one inspirational story, this one time New Orleans Saints running back Adrian Peterson grew up from his $650,000 home in the city of Minnesota all the way to a $6.7 million mansion in Texas. This house is a baffling 10,582 sq feet which comes with 6 bedrooms and 10 baths along with walk-in-wine cellar, a two-story library and a game room which is also equipped with a full bar. His has his very own bar and a pool along with a cabana and 2 outdoor kitchens. It's safe to say that this former Minnesota Viking has made quite a life for himself now.
Jason Taylor – Rancho Sante Fe, Estimated $4.5 Million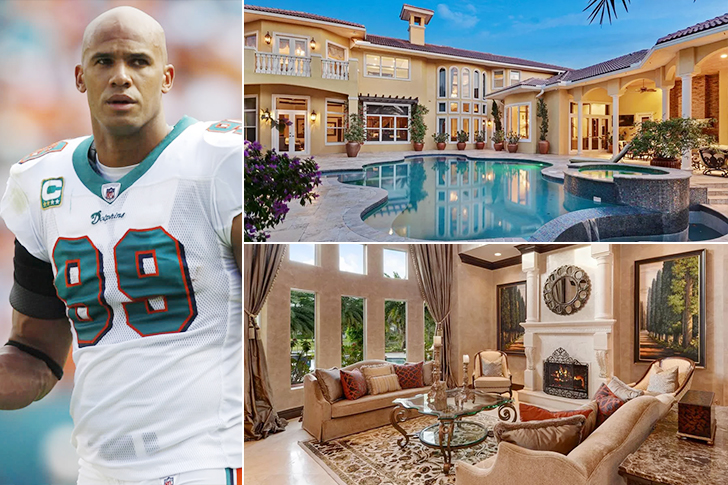 Here we have a former Miami Dolphins, Washington Redskins' & New York Jets defensive end and outside linebacker Jason Tyler who is one of those few people who has managed to retire with a fortune behind them, he is currently enjoying his retirement in a gorgeous 11,000 sq feet mansion in Rancho Santa Fe, California. This home which is estimated to be worth anywhere between 4.5 Million dollars and comes with 7 bathroom, 8 baths, and a home theatre system, his place is also equipped with a wine cellar along with library all built into a curved glass staircase (talk about fancy). He also likes to splurge on cigar and poker which is why he has a room solely dedicated to that along with a billiards and game room and an inbuilt fish tank where he keeps his saltwater fishes. Okay. Top of all of these things he has his very own cabana built alongside a waterfall.
Josh Freeman – Tampa, Estimated $2 Million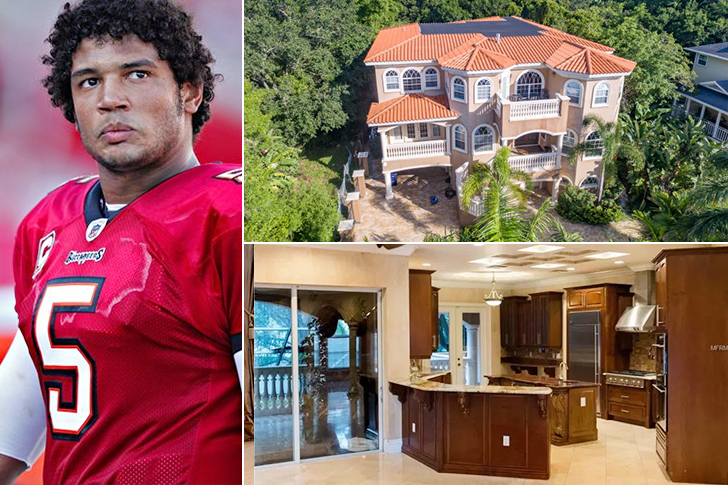 This sports superstar can currently be seen working as a free agent though at one point in time he worked as a quarterback for the Tampa Bay Buccaneers he further went on to work at the same position for the Brooklyn Bolts, Minnesota Vikings, and even Indianapolis Colts. In his glory years, it was a very well known fact that Josh Freeman likes to switch things like his team very often, which might be a possible explanation why he also wants to get rid of his 5,837 square Feet home situated in the city of Tampa, Florida. While his future is in the shadow of uncertainty, Freeman seems quite happy saying goodbye to his 3-story mansion which comes with 6 bathrooms, 5 baths a spa and a gym along with a home theatre and a humongous pool which can quite easily hold up to 50 people at any given moment ( perfect for pool parties in our humble opinion).

Antonio Gates – Poway, Estimated $2.5 Million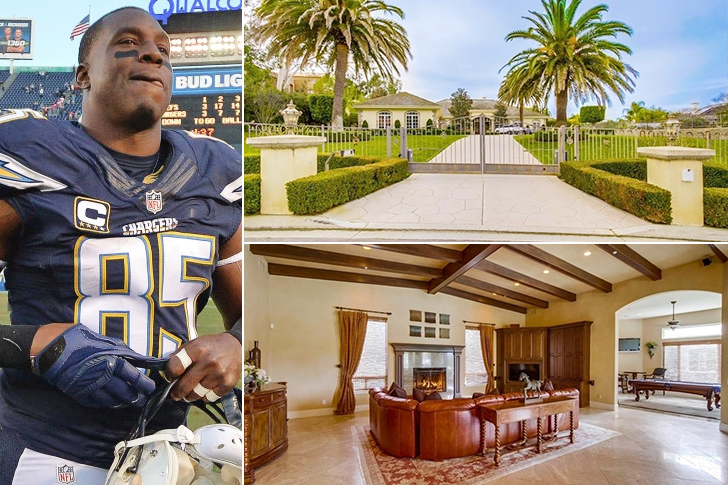 This epic sportsman has filled the position of a Tight end for estimated teams such as San Diego/ Los Angeles Chargers. While this talent house is currently looking to expand his horizon and to accommodate that wish he has planned on selling his 2.5 million dollar mansion situated all the way in the Poway, California. Until Gates manages to find his next dream destination to live in his current crib is a 6,800 sq feet where one can live a comfortable life. To enhance this feeling of luxury, this place offers an over-sized kitchen, 5 bedrooms, and a library. It also has 7 baths and a separate wing dedicated to guests which comes with its own kitchen. And if one so desires they can work from home as well as this house offers 2 offices and  a game room to slack off in. His house also comes with an outdoor kitchen adjacent to a very lit basketball court, a waterfall running into a saltwater swimming pool and a fireplace next to an outdoor shower.

Joe Montana – San Francisco's Marina District, Estimated $2.7 Million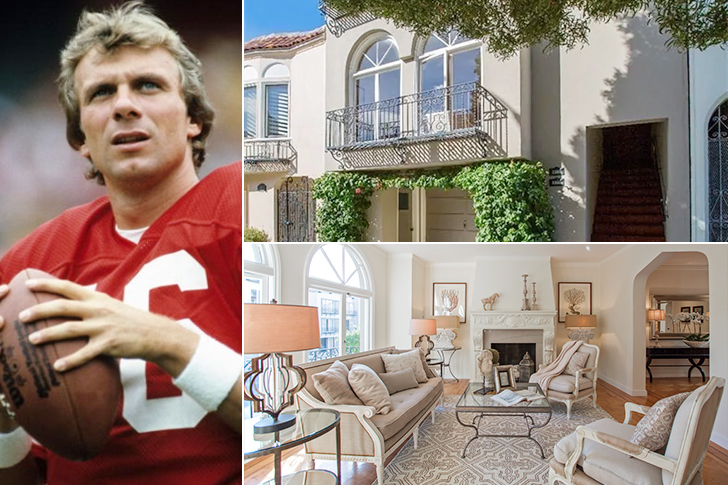 Now we are getting to the big guns. Here we have an NFL legend, he's a hall of Famer and a god amongst his fan. Joe Montana along with all the fame enjoyed real-estate investment too. His property drama began when he sold off his beloved mansion located in Napa which let go for a whopping $35 million, even though at that point in time it was worth no less than 50 million dollars while he is struggling to sell off his $4 million mansion Millennium Tower condo. The struggle is there because of its infamous tilt. But let's just hope he can finally be at peace at his new full floored apartment which is worth about $2.7 million and I'd located in the sunny city of San Francisco Marina district. This place comes with over 1900 sq feet of real estate and has 2 bedrooms and an equal number of bathrooms, a walk-in closet and a formal dining room for his guests and hosting fancy dinner parties. A sunroom is also included in the place along with an amazing kitchen.
Chad Pennington – Southwest Ranches, Estimated $3.3 Million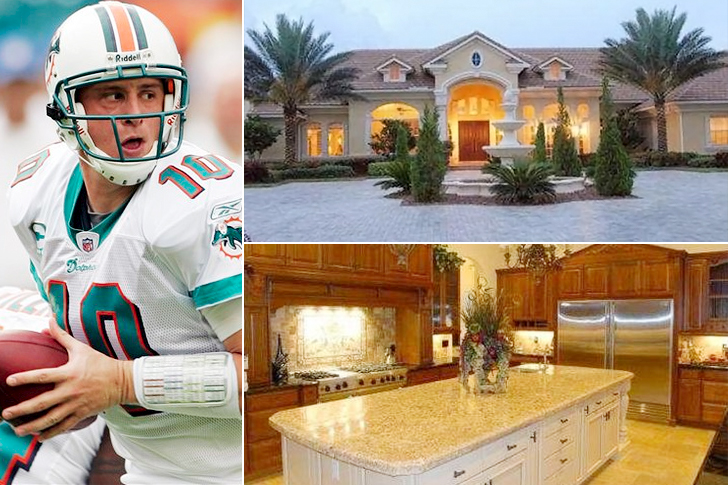 This only time New York Jets quarterback and Miami Dolphins player amassed a huge fortune while playing for the NFL. Chad Pennington first brought his place in Southwest Ranches, in 2008. It was his Florida home and it was a whopping 8,260 sq feet large piece of real estate. This mansion came with 6 bedrooms with a separate bath for each of the rooms and 2 kitchens spaced evenly in the house. It also had a home theatre for enjoying some movies in peace. Or if one wants he can enjoy a peaceful evening in the pool that comes with this house. Of course, it has a BBQ too for those amazing BBQ parties and steaks that have a built-in grill, a lush water fountain, and a 4 car garage
Cortland Finnegan – Brentwood, Estimated $3 Million 70*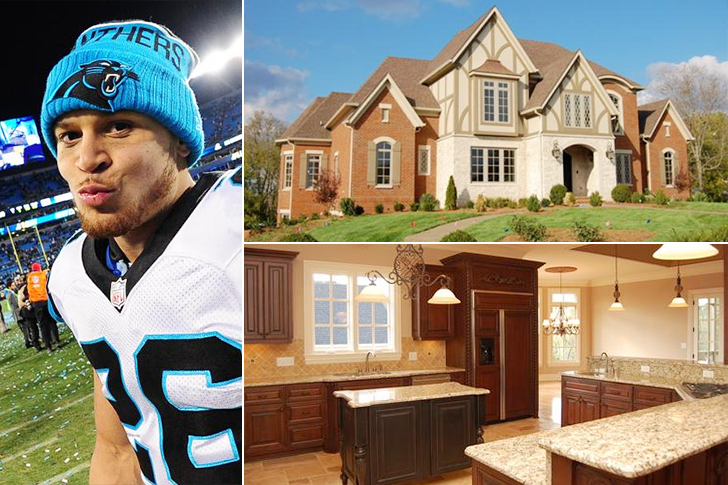 Currently this sports legend can be seen working as a free agent but this once cornerback who used to play for amazing teams like Tennessee Titans, St. Louis Rams, Carolina Panthers and the Miami Dolphins has to this day been unable to bid farewell to his $3 million mansion in the Annandale community of Brentwood, Tennessee. This house which spans to 2-story has an area of impressive 6693 sq feet and comes with 5 bedrooms, each with their separate bathrooms out of which 4 has their own fireplace. This piece of property also has an outdoor and a 3 car indoor garage, talk about utility and luxury at the same time.
Warren Sapp – Orange County, Estimated $2.1 Million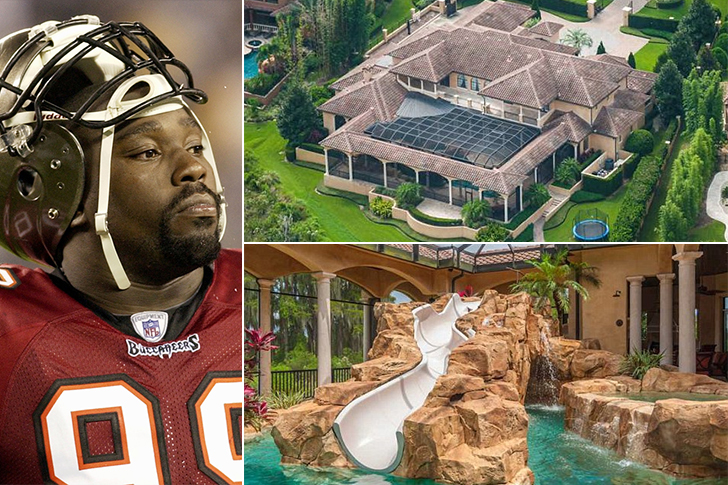 While it is true that this ex-NFL sports star retired with less than a $1K in his current bank account, while he had earned over $77 million throughout his NFL career. This trouble player had racked up a debt of $6.7 million because of his frivolous spending habits and so, not long after he had to file for bankruptcy which caused him to forfeit all of his value able possessions during auctions. His breathtaking Tuscan styled manor came with an impressive 15000 square feet of real estate, though it was built all the way in 2005 for an unbelievable $7 million. It was sold for just $2.1 million in the auction, with house insurance excluded.
Jay Cutler – Illinois, Rental $10K Per Month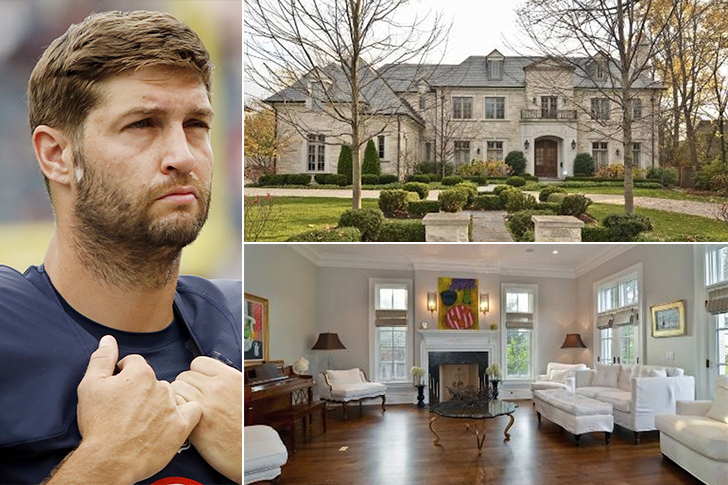 One of the perks of renting a house instead of buying one is that one saves himself from the trouble of having to pay for house insurance and other such inconveniences. And maybe that was the reason which inspired Jay Cutler who used to play for the Chicago Bears along with his beautiful bride to rent a place back In the year of 2013. But this was not a cheap deal as this house cost him about $10k for just a month. But you can't really complain when you find out that this family enjoys in a stunning 5 bedroom mansion which happened to be located in the beautiful city of Winnetka, Illinois. It also features a formal front side garden which is connected to the rest of place by a small grandiose balcony alongside a smaller balcony which even has french doors on it (oolala) and of course how could this house be complete without an atrium at the dead center.
Frank Gore – Florida, Estimated $1.7 Million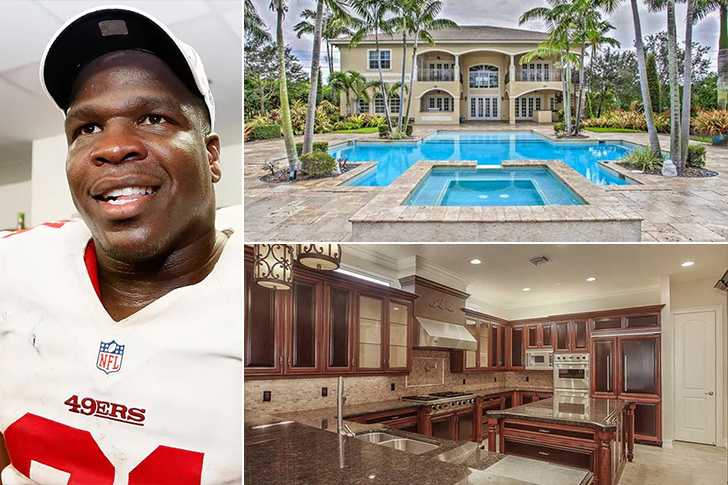 Working with the Indianapolis Colts in his glory days. running back Frank Gore was a name everyone was very well aware of during the peak of his career. He first sold off his custom Mediterranean-styled mansion last year for a whopping $1.5 million which was considered to be brought for by paying about $200k back when he had first bought it in 2008. Though many will tell you about its lavish 6 bedrooms and exceptionally amazing 8 bathrooms, this luxurious piece of real estate also comes with 2 fully covered balconies and a theatre room for some Netflix and chill. It also has a fancy entertainment area alongside a crest shaped swimming pool. Let's just hope that after splurging that way he did, Gore has employed some really good financial advisors to help him manage his remaining wealth peaceful and properly.