Home Improvement is one of the most beloved television shows for sure. Everyone was obsessed with the famous line from the show 'IT'S TOOL TIME!' Home Improvement was definitely one of the top tv shows that launched multiple careers like Tim Allen's back in the 90s. He became a household name after the show and was everyone favorite guy. It is unbelievable to see that the was first aired 25 years ago. Tim "the toolman" Taylor had been watched by millions of fans for over 8 years. It was like this show came to the rescue for people who wanted to remodel their windows and their homes, to help repair their house, with a clever show within a show. With his very sarcastic wife Jill, his chill partner in crime Al, and the secretive neighbor Wilson, the show captivated audience all over the country. Many untold tales have been in the midst of this ABC sitcom, and the ones about Jonathan Taylor Thomas are exceptionally shocking! Read on and find out!
Pamela Anderson's Career Was Launched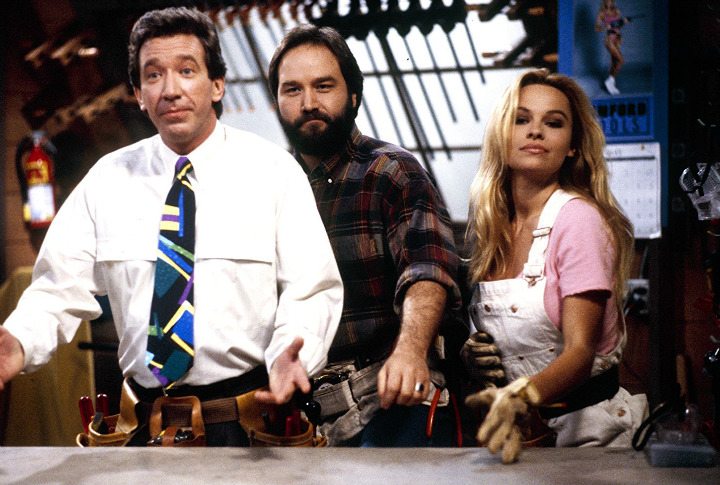 This top rated television show gave the model her big break as an actress when the producers cast her as  the Tool Time girl, Lisa. Pamela had recently become the Playboy cover girl and was the Playmate of the Month so it was not such a hard decision for the already established model to get the job. It was obvious that she would be the perfect fit as the gorgeous co-worker at Tim Taylor's Tool Time show! Pamela went on to star in 2 seasons of this show before she starred in  Baywatch as C. J. Parker. She played the role of a paramedic on Baywatch and it was definitely one of the biggest highlights of her acting career. Pamela Anderson decided to join the Home Improvement cast again to reprise the role of her character on season 6's finale, The Kiss and the Kiss-off in 1997. Obviously, fans were thrilled to have her back.
Debbe Dunning Took Pamela Anderson's Place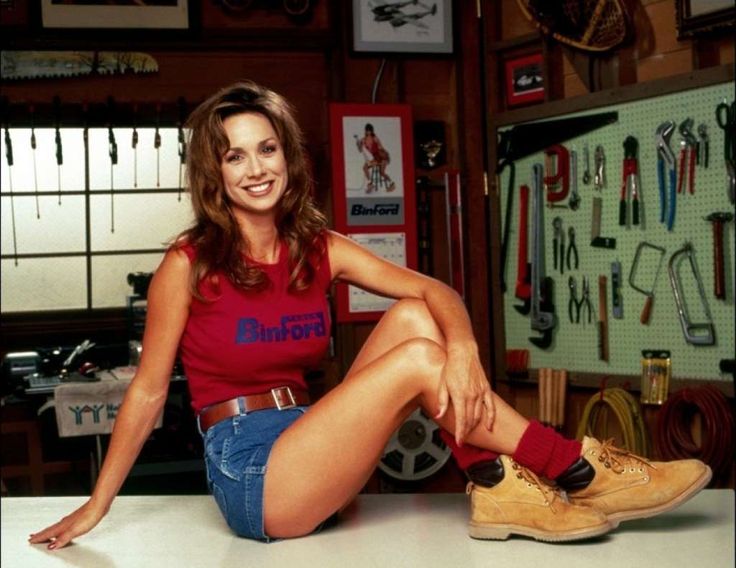 After just 2 seasons starring in the hit show, Pamela Anderson decided it was time to go. So then her role fell upon the actress Debbie Dunning who was later cast as the new Tool Time girl by the name of Heidi Keppert. The actress would open the show and become Tim and Al's assistant for a long 6 seasons. She starred in her first episode in Maybe Baby in the show's 3rd season 3 where the audience were quite positive in receiving the second Tool Time girl. Debbie did not have a huge part in the show when she first started off. It was a minor role she was given but as the show went on she was considered part of the main cast in the last 2 seasons. The producers made this decision after finding out that her character was beloved just as much as the first Tool Time girl Pamela Anderson.
Ashley Judd Was Rejected
Even before Pamela Anderson was selected to play the role of the Tool Time girl, there was another actress who caught the attention of the creators. Actress Ashley Judd was actually considered to play the Tool Time girl because Matt Williams, who is one of the creators of Home Improvement absolutely loved her audition. In the end, she was not selected because it was a unanimous decision where they all felt like her talent was too special to play such a minor role. He was even quoted as  saying, "I called her agent and told him that she was so good, we would find a way to incorporate her into the series, period." After all of this, the creators offered her the roles as Tim's sister which they wrote just for her but then Judd decided to reject the offer. Her agents responded by saying the Judd was "not ready to go into television right now. She thinks she has a feature career."
Tim Allen Declined Turner And Hooch And Dead Poets Society
Even before one of the best 90s TV shows Home Improvement was even though about, Disney executives offered Tim Allen the chance to star in two TV versions of Turner and Hooch and Dead Poets Society. Although these roles sounded very compelling there was something that held Tim from taking up these roles for himself. But ultimately Tim declined both of these roles as he felt that the two of them were both "preparing for failure." But then he decided to get his own TV show that would be a Disney production on the ABC network. Then soon, the creator of another hit television show Roseanne, Matt Williams was hired to d the job! As we all know all the waiting and patience paid off as Home Improvement went on to become one of the longest and most beloved tv shows in the 90s. Do you think Tim helped at all in eradicating ridiculous contractor insurance for the viewers?
Frances Fisher, The Original Jill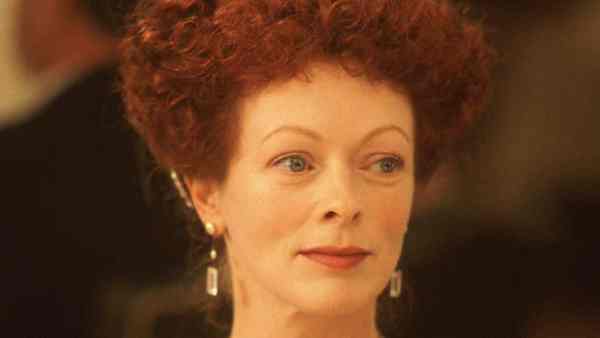 The pilot episode for the show Home Improvement was shot in the month of April back in 1991. During this time there was no Patricia Richardson to play the role of Jill in the show. Frances Fisher was, in fact, the actual first choice to play Tim's wife, Jill Taylor. The creators of the show soon found out that the audience was not really responding well to the actress as she was not humorous enough for the comedy show. Her talent as an actress was not so strong to be on a comedy-centric show. As we all know, this famous actress has played the roles of  Ruth DeWitt Bukater in Titanic or Strawberry Alice in Unforgiven. Most of her characters on screen have been so serious that the public could not wrap their heads around the fact that she was in this show that needed flawless comedic execution. So ultimately she had to be replaced. They wanted Fisher to loosen up a bit but became unsuccessful so eventually the role of Jill had to be recast.
Allen Could Only Wear Michigan  School Clothes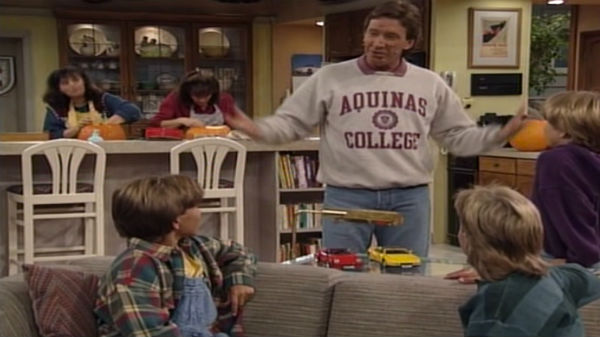 Tim Allen had been born in the state of Colorado but then they eventually moved to Michigan. While most of us would consider our the state where we were born as our home state, it was not the same case for Tim Allen. He has been known to state that he considers Michigan to be his home state. Hence, on Home improvement, Tim's character can always be seen wearing shirts that are from schools in that very state. There was a law on the show that only the colleges and universities from the state of Michigan would get the free advertising. The shirts and sweaters that he wore were all sent to the studio by the universities and colleges themselves. It would be safe to say that Tim is indeed a true patriot who would do anything for his home state. Do you think these colleges had more candidates during the time the show aired?
The Original Name Of The Show Was Hammer Time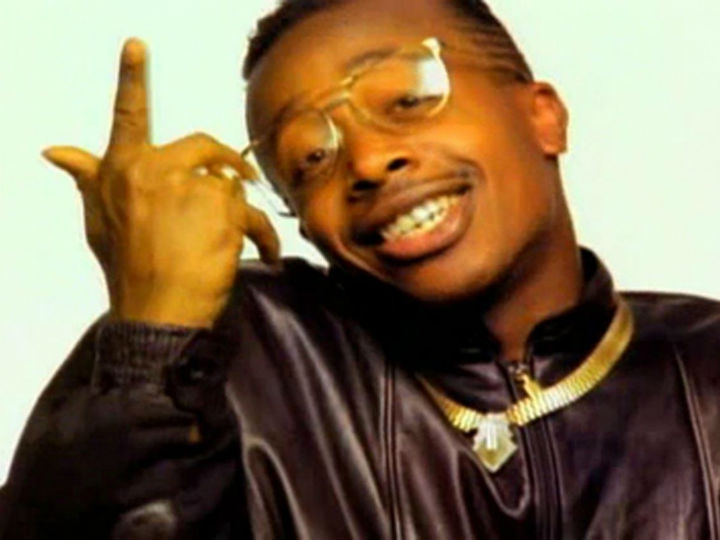 When the first pilot episode was shot where Fisher was still the actress for Jill, the show was called Hammer Time. This was supposedly an ode to the great entertainer, MC Hammer's catchphrase. We all know how big MC Hammer was during the 90s so it was not a surprise to see that the producers tried to make use of one of his lines to kickstart the show. This was also planned out to be the name of Tim Allen's character's show on Home Improvement. Tim Allen,  Carmen Finestra, David McFadzean and Matt Williams then met up and brainstormed, exchanging their ideas back in 1990 and eventually after a year, they made the decision to change the name. The actual idea behind the name was to symbolize fixing problems in our own houses with the family and even the house itself.
Allen's Michigan Jersey Had One Accident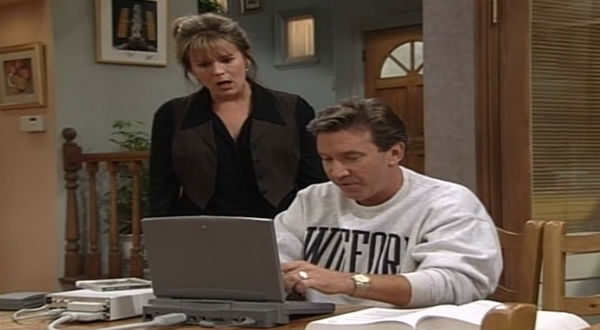 On one episode back in 1996 titled "Al's Video," there was one scene where Tim was seen rocking a Wofford College sweatshirt. As Wofford is one college in Spartanburg, located in South Carolina, there was a big confusion on the show because it had a rule that only allowed the use of Michigan jerseys but here Tim Allen was, wearing another state jersey. It was the fault of the costume department supervisor who approved of the clothes being worn by Tim's character. Valerie Levin-Cooper, who is the costume supervisor for the show later revealed that "Someone is supposed to double-check and verify the school is in Michigan. Obviously, someone didn't do their job. Wofford got lucky." We are quite sure that someone lost their job that they as the rules were very clear from the very beginning. Or maybe one of the staff members were from South Carolina and they wanted to lay a prank.
Allen's Stand Up Inspired Home Improvement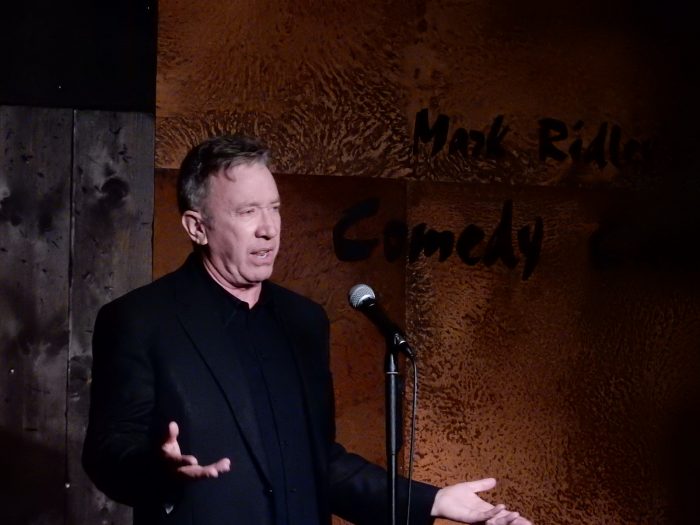 At the age of 25 years, Tim Allen had been busted for trying to see cocaine to an undercover cop who obviously arrested him. Tim had to wait 8 months before his official sentence for two years in federal prison was announced. After this incident, he started his career as a stand-up comedian in a Detroit club, the Comedy Castle. Since his comedic chops are impressive, it was not long for Tim to get a little amount of popularity. Soon his patience and hard-work paid off as he could finally work doing stand-up comedy, becoming a regular at The Comedy Store in LA. Walt Disney Co. Chairman Michael Eisner and Walt Disney Studios Chairman Jeffrey Katzenberg went to see him once and were so impressed, they decided to give Tim more options. The rest, as they say, was history.
Stephen Tobolowsky Played The First Al
There was another famous actor who had been a Home Improvement alumni. Stephen Tobolowsky was actually the first choice to co-host Tool Time alongside Tim on the show. His character was called Glen. But sadly due to the fact that during the time of the shooting of the pilot episode, the actor had already had prior commitment to a movie production. Although the producers were all in favor of him starring in the show, they had to get another actor to fill up his absence. So soon, Richard Karn was picked to play the role of Al until Tobolowsky was available. Unfortunately, Stephen had to drop out because of his busy schedule that had movie roles that he wanted to play rather than star in a television show. He later stated that he did not regret his decision to decline Home Improvement, saying, "It turned out to be a very good choice for me."
Wilson's Full Name: Wilson W. Wilson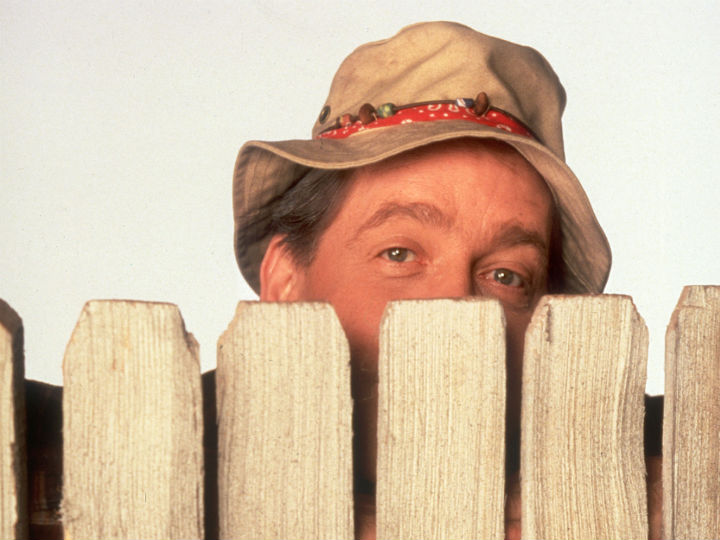 There was one joke that had been running in the hit show for all of the seasons. It was that there was never a revelation regarding the face of Tim's neighbor, Wilson. The only time the audience ever gets to see him is when he appears showing only the top of his head and eyes. Earl Hindman is the actor behind the character Wilson. He did not mind taking up a role which would disable him from ever showing his face! The only thing we knew about him was that his name was Wilson, that would often spread his immaculate wisdom to family members when they needed it most. In the show, he is only referred to by his first name Wilson. Producers have revealed later that his real name is actually Wilson W. Wilson. So now we can say that we all know his full name although it does not change anything about his mystery much.
Using The Same Studio Audience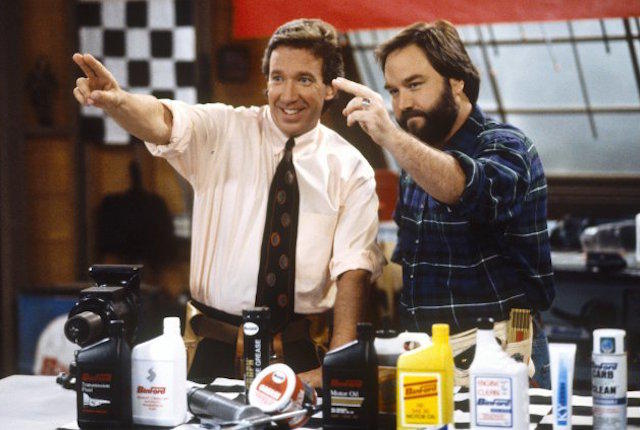 Home Improvement is a brilliant show that had a show within the show where Tim Taylor played the role of a host of the show, Tool Time. In every episode, there would always be a section that was unique from all other shows at that time. The tv viewers could see Tool Time's studio audience and Tim made a point to interact with them as the show went on. It was later revealed that the audience that plays the role of the studio audience for Toot Time, was actually the audience that came for the tapings of Home Improvement! It was indeed a very special bond that the audience and the show had. Allen would also entertain this audience as he was also known to use some "off-color language" and improv. All this fell as a charm for the viewers at home that were all glued to watch Home Improvement at home.
Tool Time Was Inspired By This Old House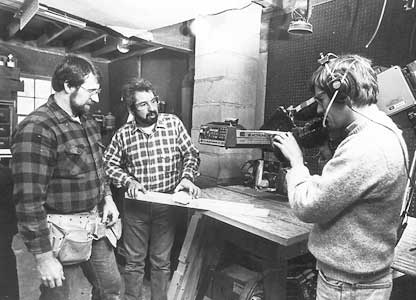 The format of the show Tool Time would be awfully familiar to those people who love to watch home improvement shows. The Tool Time show was meant to be a mock show about the PBS home-improvement show called This Old House. The characters of both Tim and Al were originally written to emulate Bob Vila, who was the show's host and Norm Abram, who takes charge as the master carpenter on the show. Al's character would also wear plaid shirts and had a full beard, that was no doubt inspired by Abram. Bob Vila appeared as a guest star on Home Improvement multiple times and Allen and Anderson were guests on his show! It is great to know that both the shows did not clash but rather worked in collaboration with one another that certainly helped raise both ratings of their shows.
The Great Race Took Great Effort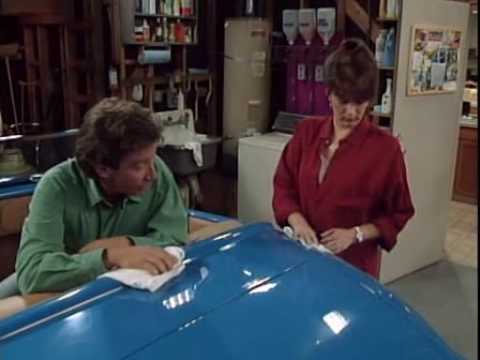 As we all know, all of these sitcoms are not that easy to execute. Many of the shows we watch on our television screens on even the shows online take up a great deal of work to be shown on screen. Such was the case for an episode of Home Improvement that ended being a very challenging task. On one particular episode where Bob Vila appeared, there was so much work that needed to be done. It was one from the two-part episode titled "The Great Race II" in the 3rd season, that was also a part of the two-part episode "The Great Race" on the 2nd season. In this episode, Tim challenges Vila to a hot rod race, instead of a lawn mowing competition. This episode was especially challenging because the producers needed to shut down the Burbank Airport runway to film the iconic scene.
 Reason Behind John Bedford Lloyd Quitting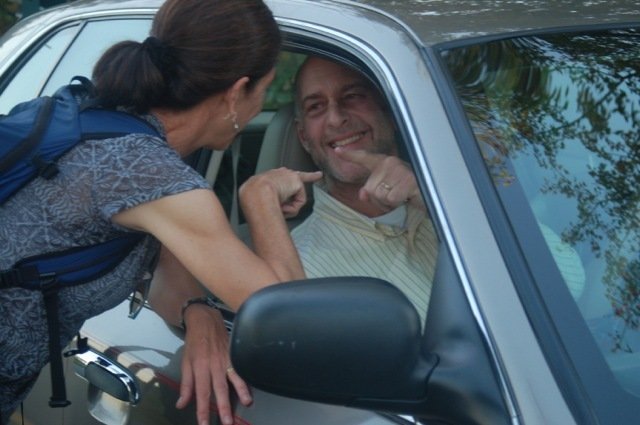 The show has had a lot of actors come and go as it has run for a long time. So when the actor John Bedford Lloyd auditioned for a part in Home Improvement, there were two roles he was considered for. The producers wanted him to play both the role of Tim's Tool Time assistant and his mysterious neighbor, Wilson.  The actor made a decision which he would soon regret. He decided on the latter character as there was no prior information about what he would have to do as the character on the show. He was in for a disappointing surprise when he discovered the fact that his character Wilson would always hide behind a fence throughout the whole show. So it was evident that he did not want to play the role, so he dropped out. Lloyd had only given a one day's notice just before the pilot episode was supposed to be filmed. The producers had to find a quick replacement for Earl Hindman to play Wilson on Home Improvement.
Richard Karn's Role After Traffic School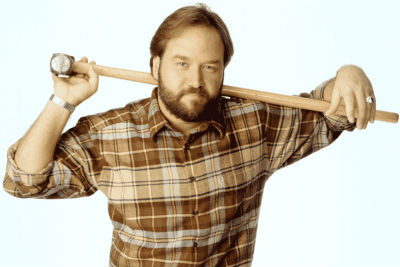 There were a lot of mysterious ways in which the actors for this incredible show were cast to play each of their roles. Richard Karn was rolling a stop sign which in turn ended up in him receiving a ticket. This happened soon after he had his Macbeth rehearsal in the city of Los Angeles. Because of his unfortunate traffic episode, he was ordered to join traffic school. While he was there at the traffic school, he happened to meet an agent who talked to him about a new show in the works called Home Improvement. Karn felt like he would have a good chance after his audition due to the fact that he was well acquainted with several of the people involved in the show. Although his role was initially written as a temporary one, he would get to star in all of the 8 seasons of the show!
Allen's Childhood Neighbor Was The Inspiration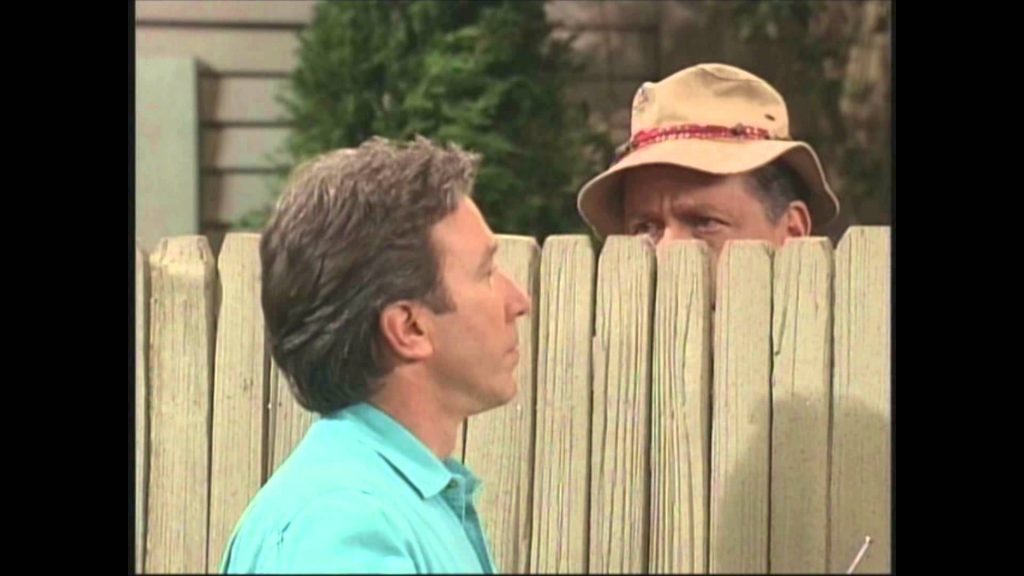 As we all know, Tim Allen is now known for coming up with some of the weirdest characters on his stand-up comedy shows. Even in the case of Wilson, he drew inspiration from the people of his own personal life. Wilson was actually based off of Tim Allen's childhood neighbor. He had a neighbor who he would often strike up conversations with as a child. However, since he was too little, he could never manage to get a look at his neighbor's face. So Allen decided to use this idea in creating a character who is always interactive with the main characters but whose face will never be seen on screen! We all know that it is quite common for mysterious characters to exist on shows where they never reveal the faces but most of these shows happen to be animated.
The Final Episode's Big Reveal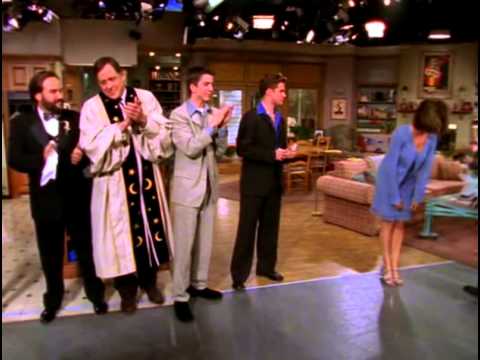 Since no one had never seen the face of Wilson the neighbor in all of the episodes, there was a growing curiosity among the viewers. So, it was high time when on the 8th season, on the 204th episode, Wilson's face made a surprising revelation for the whole audience to see. Also, on the final episode of the whole show, on May 25th, 1999, Earl Hindman revealed himself after the curtain call, showing the world who Wilson actually was. Wilson's character was no doubt loved by the viewers so much so that he was ranked #6 of the best-unseen TV characters of all time. Home Improvement's final episode became the fifth highest-rated series finale among all the shows during the 1990s and 9th of all time! It is truly an incredible achievement that proves the show's worth and the appreciation it receives from viewers.
A Home Improvement Video Game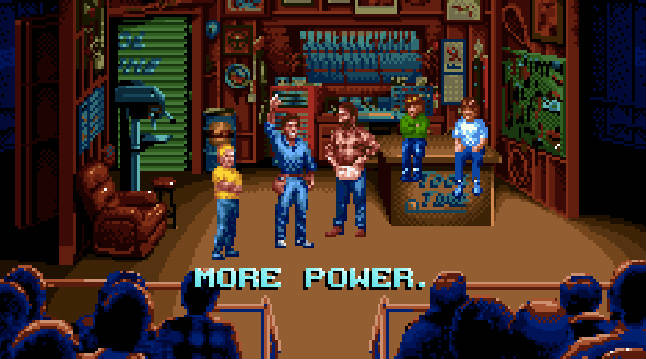 There is another fact that proves how popular the show was during its time. While most shows bank on merchandises and goodies that have been created under the show's theme, Home Improvement has a very different approach in branching out. In the month of November in 1994, Super Nintendo Entertainment released a 2D action platformer video game called Home Improvement: Power Tool Pursuit!. The main plot of the fame was that Tim's new Binford ultra power tool line goes missing and the player has to locate the missing tool. This game included 4 worlds with 4 levels each where the player had to fight their way through soundstages. The video game was voted the #5 worst game based on a TV series. It goes to show that just because something works as a television, it does not mean that it would necessarily work as a video game.
Tim's Phone Number Showed Illinois Area Code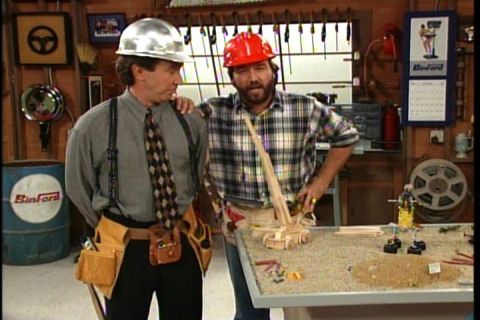 There was an ongoing joke on the show. During many episodes of the show Tool Time, Tim would often blurt out very offensive words that were mostly directed towards women. If ever this happened, Al would come to the rescue by holding up a cue card the contained either Tim's mailing address or phone number. He would take it up a notch by telling the viewers that they could also send some hate mail if ever they feel like it. The address that they showed was actually the location of the studio in Detroit, Michigan, with the phone number (815) 555-TOOL. The code that they have shown was actually for the Northern Illinois area but not Michigan… Do you think that the show received any actual hate mails or do you think it received mostly fan mails that were sent to Tim Allen?
Jonathan Taylor Thomas Quits The Show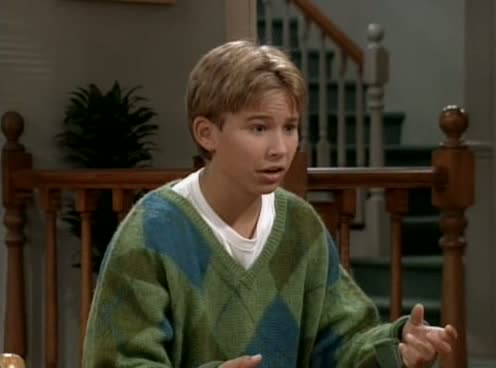 On season 8 we watched Randy Taylor leave for Costa Rica for his environmental studies in the 1998 episode, Adios. This was actually because Taylor wanted to pursue his studies in real life which Tim Allen was not so pleased about. In one interview he even said, "He said it was about going to school, but then he did some films," so his reasons were not legitimate. Thomas did not reprise his role in the later season but did come back for the reunion episode, "Home for the holidays."
Reuniting On Last Man Standing
December 8, 1998, marks the last time Tim and Taylor were seen on screen together. They were not on speaking terms as Tim was displeased by the fact that Thomas still made films during his "time off." 15 years went by and soon we saw them together at his former TV dad's show, Last Man Standing. Thomas plays the middle child on the show where he often says, "A lot of times, that middle child ends up being the funny one becomes he wants the attention." 
Refusing Season 9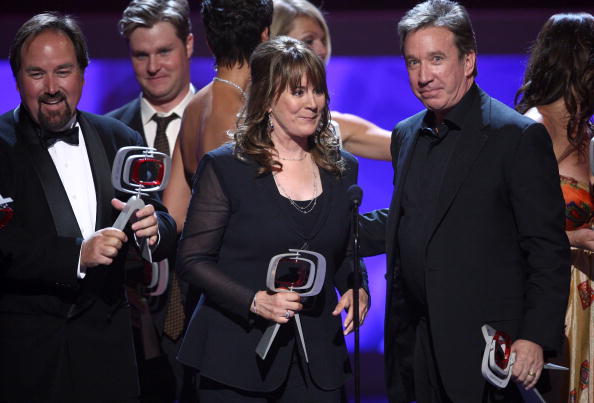 As the 8th season wrapped up, the producers were keen on creating the 9th season. They even offered Tim Allen $50 million for another season with his co-star, Patricia Richardson who was also offered half of that. Both the actors rejected this offer. Richardson was also very disappointed with the half payment bit of the offer. Richardson was a guest star on  Last Man Standing with Allen. SO we can say that they did have a reunion after all.
Inspired A Movie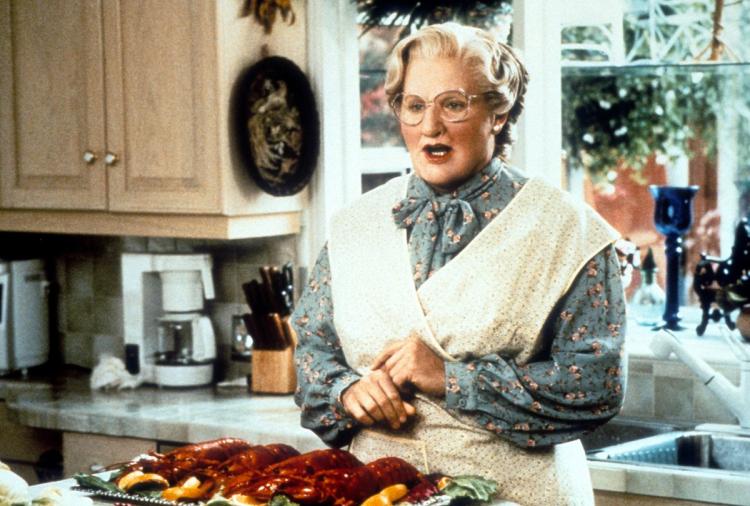 The producers were on the move to make a film that was based on the show as it proved to be such a hit. The plot of the movie would be that Jill and Tim got a divorce and he could only get to his family if he cross-dressed as a nanny. This idea sounds very familiar because it does exist in the movie world. There is, in fact, a show that has the exact same plot.  Robin William's movie, Mrs. Doubtfire was inspired by this storyline where the directors clearly did not make much change.
Binford Company Was Inspired By A School Friend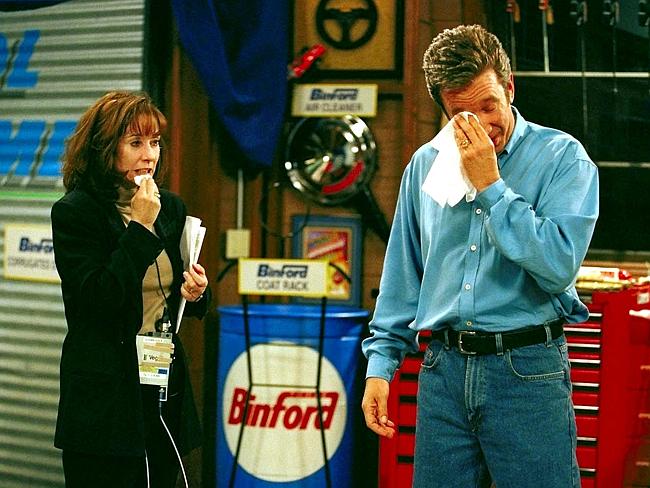 In the storyline of the show, Tim's character was a salesman for a company, Binford. The company sponsored the show Tool Time and the logo appears on all of the shows' episodes as it was where they got their tools from. The whole name and logo of this company were inspired by a school friend of one of the screenwriters. Binford later ranked #10 on the list of fictional brands on TV!
Allen's And Taylor's Disney Characters Have Jokes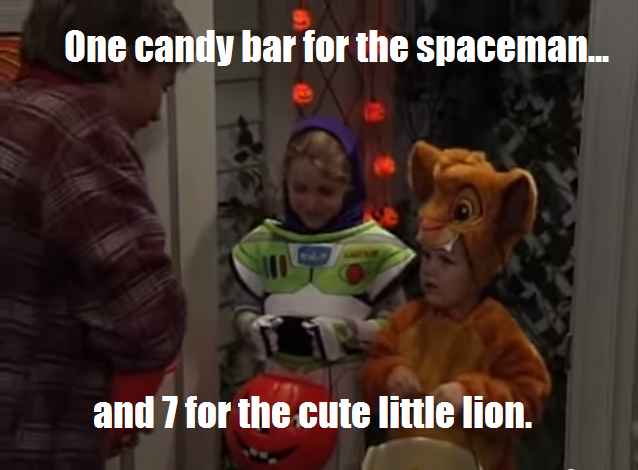 On the episode, "I was a teenage Taylor," the episode showed several pranks that were played on the family members. In one scene, Randy distributes candies to two kids that were dressed as Simba and Buzz Lightyear. He even said, "One for the spaceman, and seven for the cute little lion."  Tim Allen was the voice behind Buzz Lightyear in Toy Story and Jonathan Taylor Thomas was actually the voice of Simba in The Lion King.
Toy's Story And Home Improvement In The Same Universe?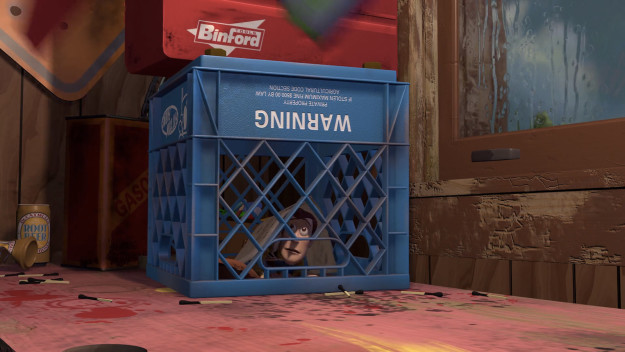 There is a theory that Toy Story and Home Improvement occur in the same universe. Fans were quick to point out that in a particular scene Woody is seen trapped under a Binford toolbox. To add to the speculation, there was one episode on Home Improvement, Tim literally states, "I am Buzz Lightyear," which adds to the theory as he voiced the character in the animation. Who knows, maybe Tim quit hosting Tool Time to become a spaceman!
Is Tim Allen Jesus?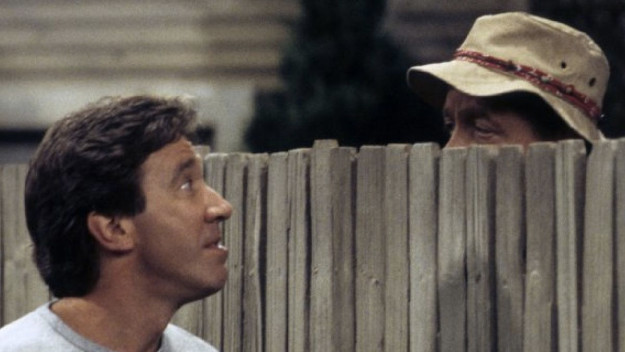 On very weird fan theory follows Home Improvement. There are many people who believe that Tim Allen is Jesus. This originated from a Reddit user who first pointed this out. Tim is like Jesus as he is also a carpenter who often receives advice from a mysterious neighbor. Tim not only receives wisdom from his neighbor but also teacher his viewers to other people/ his audience. This makes Wilson God-like, while Tim would be Jesus. This is highly possible if you think about it.
Michele Williams' First Time On TV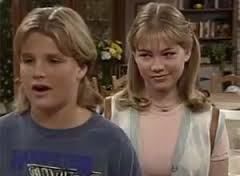 Michele Williams' first time ever on TV was when she appeared on one episode of Home Improvement back in 1995. She appeared on the 4th episode titled "Wilson's girlfriend".  She took on the roles as Jessica Lutz, a girl Brad goes on a date with. Williams was 15 during that time and had not made a name for herself. 3 years later, after starring as Jen Lindley on Dawson's Creek, she became a household name who is now one of the top rated actresses in Hollywood.
Randy Was Older Than Brad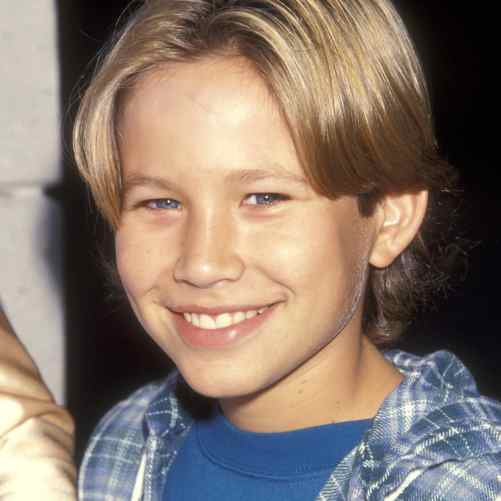 On the beloved tv show, Jill and Tim had three boys, Brad, Randy, and Mark. Among the siblings, Brad was eldest. But it is quite surprising to find out that Jonathan Taylor Thomas (Randy) was actually older than Zachery Ty Bryan(Brad)! His birthday was on September 8, 1981, which was a month prior to Bryan's birthday! They were actually studying in the same grade. Taran Noah Smith played Taylor, who was 3 years younger to his brothers on-set.