This is an open secret now, that the key to a successful marriage is….an open relationship. In case you don't know what an open relationship is then let me tell you it is about giving and taking the liberty of sleeping with other men/women from their partner in a relationship. This concept is very much in trend these days with many popular Hollywood faces adopting it in their personal life. Ironically, what once was considered the prime reason for the ruining of people's married life is now saving their marriages from getting destroyed. If you don't believe me, then just go through these slides that have enlisted the most popular faces who have been staying in an open relationship for years. And yes it is working! But as they say, everything has two sides. Whereas some power couples got their married life refreshed by using this concept, some got their relationship destructed forever.
Demi Moore & Ashton Kutcher
The marriage of Demi Moore with Ashton Kutcher came as a surprise to many people, especially to the girl fans of the handsome star. Ashton Kutcher had good looks, money and a heart that kept cheating on his wife who is 15 years older than him. Surprisingly, Demi knew about her husband's infidelity but instead of taking some action, she kept mum as she thought his linkups were restricted to physical pleasure only. Everything has its limits so did Demi have. Eventually, she accused her husband of cheating on her that steered her marriage into the eddy of controversy. The couple got separated in 2011 and got divorced in 2013. Consequently, the couple called their eight-year-long marriage quits.
Megan Fox & Brian Austin Green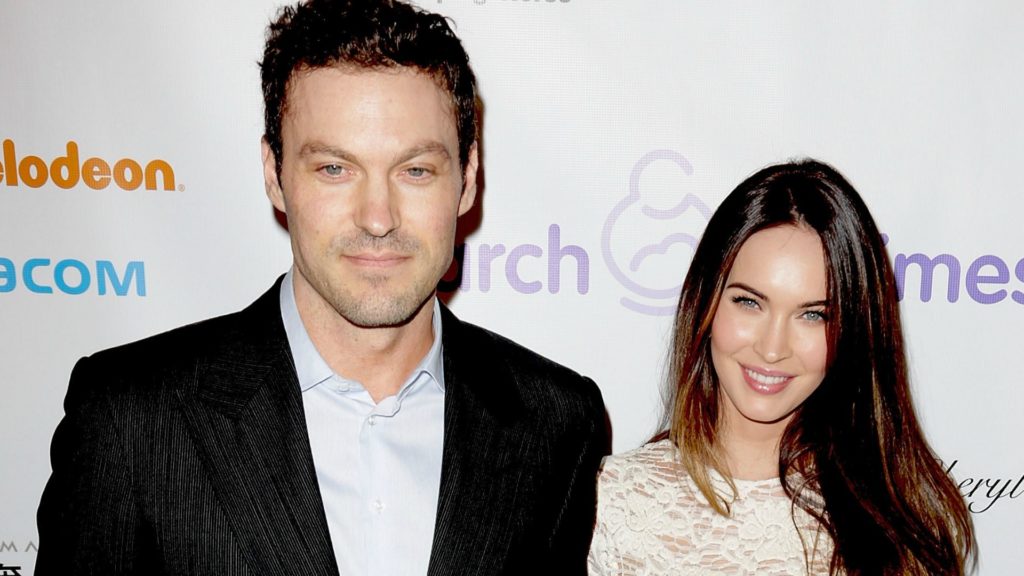 Megan Fox and Green makes one of the most popular couples of the Tinseltown thanks to their overloaded cuteness and of course some really extraordinary rules their relationship follows. We already know that the couple claims of following an open relationship. They have mentioned it in various interviews and events. But what most people don't know is that in this relationship It seems Megan has been given extra freedom to start flings with other men by her beau Green. Needless to say, the controversial liberty has tainted the image of Megan as people began to perceive her as a promiscuous female. However, the actress has always denied such allegations. We only can hope that the couple does not split up because of their unconventional rules in the relationship.  
Jada Pinkett Smith & Will Smith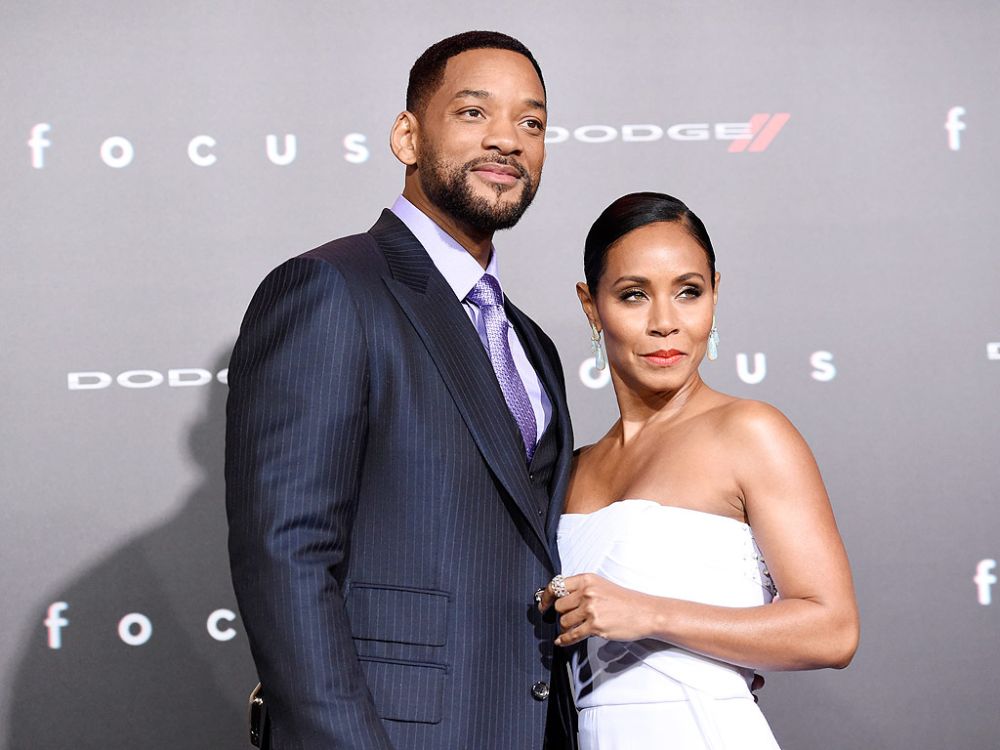 The "Hitch " actor got hitched with Jada Smith in 1997. They met when Jada had come to give an audition for the role of  Smith's girlfriend in a movie. Though she couldn't get the part in the movie she became the real-life babe of the actor. From there on they have been together in every thin and thick of their life. If we go by the rumor then it is said that the actor has even permitted his wife to sleep with other women if she wants to. But Jada like any other loyal wife chose not to go for this. Their exemplifying love for each other has indeed won the heart of their fans. Their relationship has trust, love and most importantly loyalties. It is really good to see love transcending all the possible limits even the physical one.
Beyoncé & Jay Z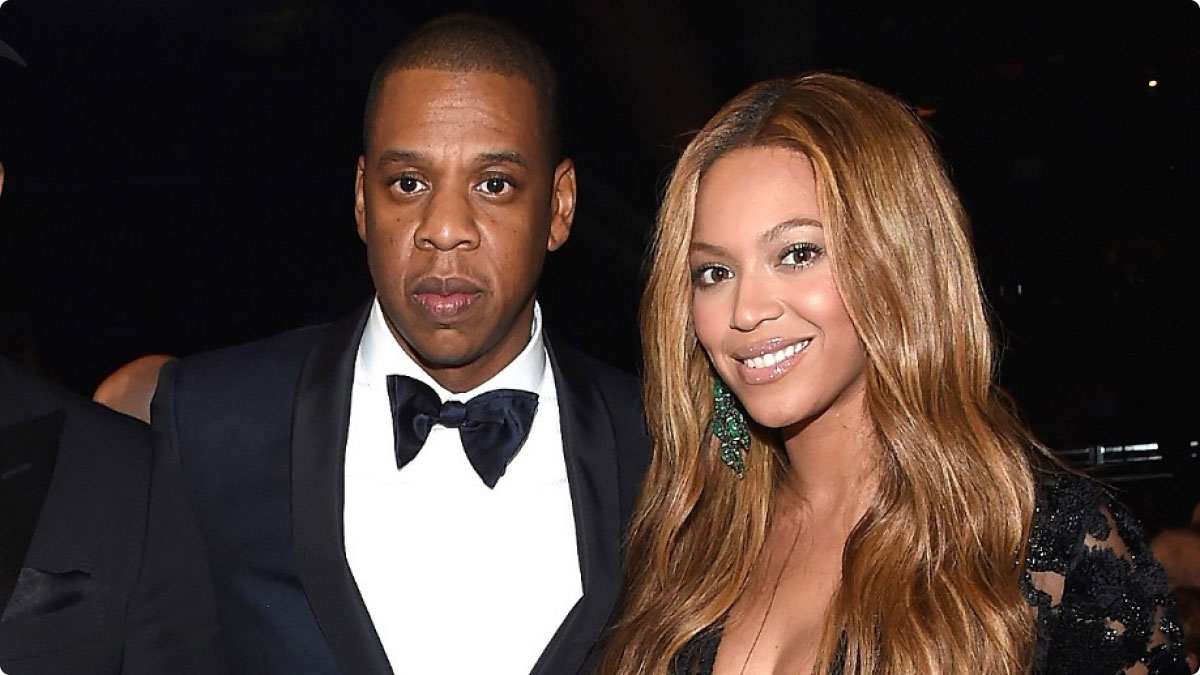 Whether you follow music or not, you surely would have come across the name Jay Z and Beyoncé. Both the musicians are very famous and married to each other but unfortunately, their marriage is not above flaws as the news of rapper Jay-Z's link-ups with other girls come frequently. That for obvious reasons makes Beyonce feel unhappy. Who would like to see pictures of her hubby walking around with other women with arms wrap around each other? The case exacerbates when these pictures get in the hand of media. We don't know how long Beyonce is going to withstand the continuous commitment of infidelity by her husband. But one thing is for sure, if the rapper does not quit his habit of cheating on his wife, not far is the day when their relationship would meet a tragic end.   
Kim Kardashian and Nick Cannon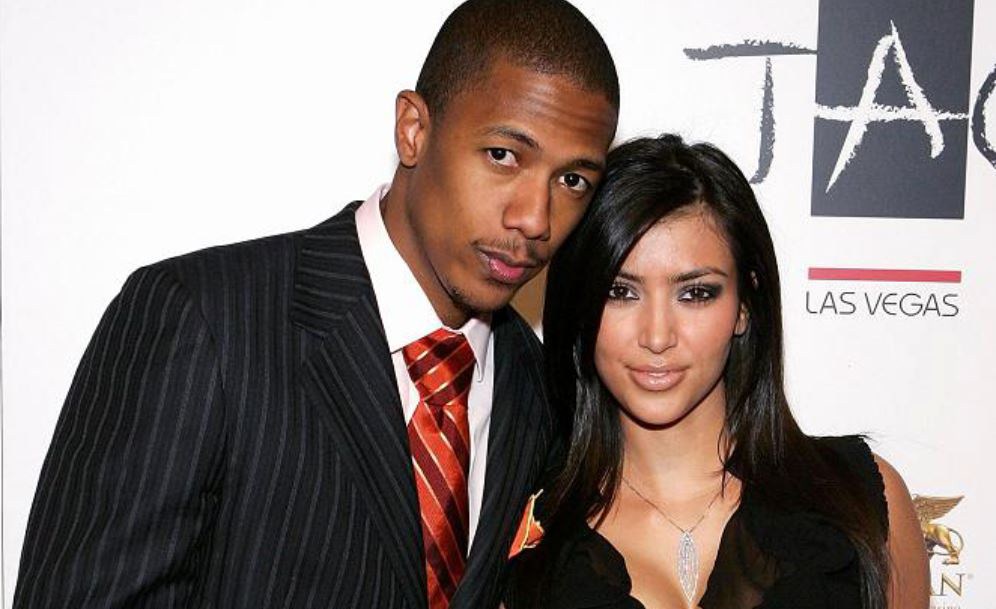 There was a time when the Kim Kardashian and her former boyfriend Nick Cannon were nearly inseparable. Their story used to take bigger space than other stories in the tabloid. One of the unique things about their relationship was that the couple were in an open relationship. Kim and Cannon had allowed each other to bring the other men and women in the house. It sounds so liberal! But unfortunately, Cannon never gave that liberty to Kim whereas he continued to bring his babe home. Perhaps, the Keep Up With Kardashian actress could not keep up with Cannon's hypocrisy and separated her ways. We wonder what was the need for Cannon to date anyone else when he had none other than Kim Kardashian. 
Pink & Carey Hart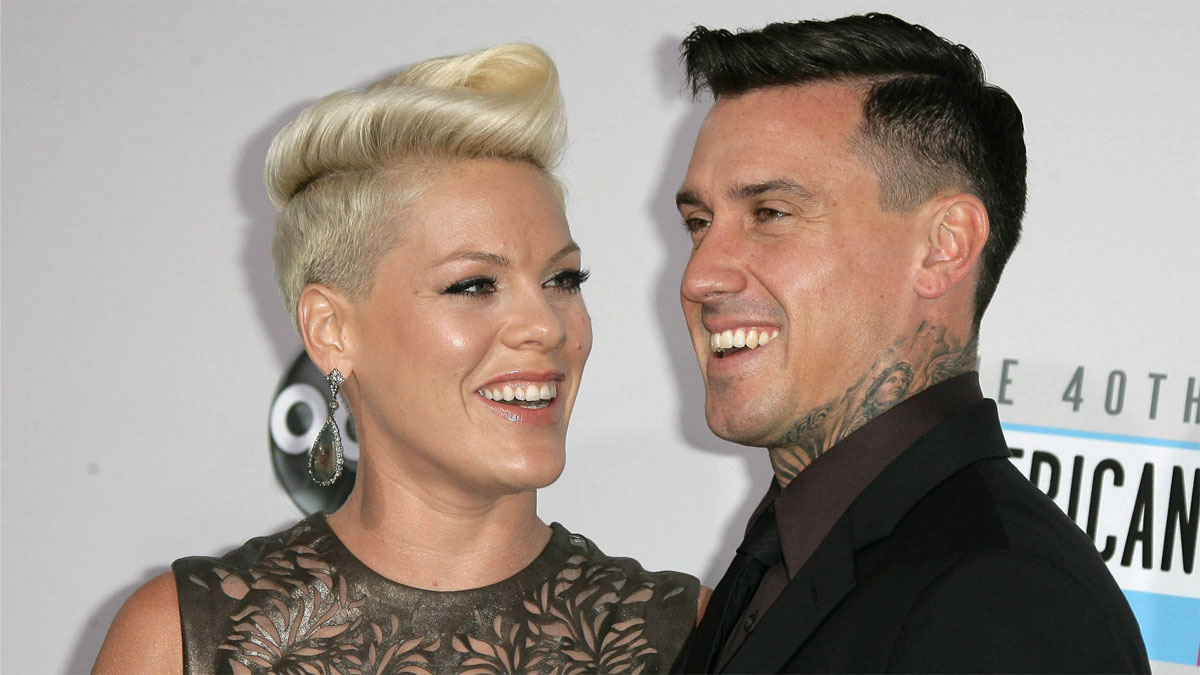 The open relationship is not for all. For some couple, it is liberating and for others, it is immensely devastating. Initially, Pink and Carey Hart decided to stay in an open relationship. But for some reasons it did not work out, in fact, the very idea became their reason for separation. Their decision to break up with each other did break their fans hearts. But when you love someone, you just can't help but get back to that person. That's what happened here, the couple decided to give their relationship another shot and this time without going into the open relationship. Surprisingly, this not so open relationship has brought them really close. Today they are living a blissful life together.  
Jacqueline Kennedy & John F. Kennedy 
This couple was one of the most popular pairs coming from the political genre. President John F. Kennedy and Jackie Kennedy emerged as the most influencing pair of their time. This is also true that at that time the rumors were doing the round that this ostentatiously madly in love couple had some own secrets. It is said that John F Kennedy had an affair with the that time's popular actress Marilyn Monroe. It is also believed that Jackie knew about this and her indifference to her husband's illicit relationship points to the possibility that they were in an open relationship. Some reports suggest that the couple was about to file for a divorce but in the meanwhile, an unfortunate event took the life of the then president that drowned entire nation in grief. This is just the beginning we have more extremely popular American leader on the list you never knew were in an open relationship!
Jessica Biel & Justin Timberlake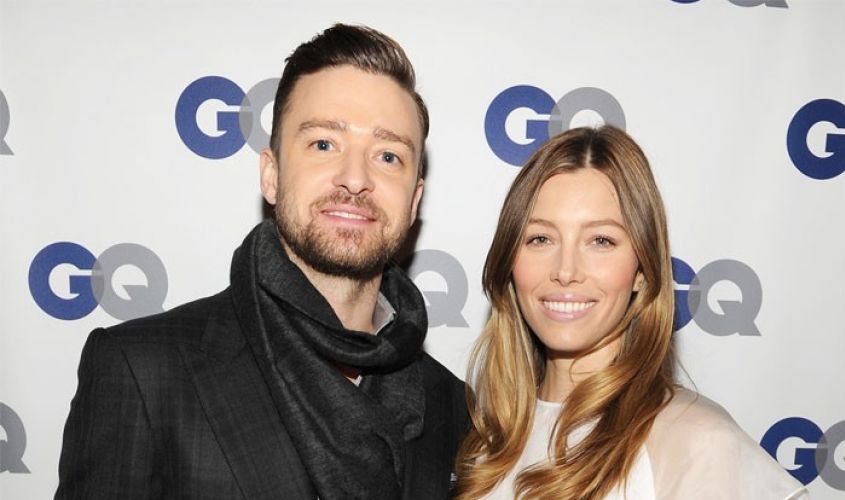 Justin Timberlake is a singer, songwriter, actor, dancer and most importantly a great husband. Known for his versatility, Justin shares a very good relationship with his wife. Though it was not always this way, their relationship has survived many hardships. At that time they tried every possible thing to make their relationship work one of them was committing to an open relationship with each other. At the show of Ellen, Biel put forth her idea of a happy marriage. She said that in order to have a happy and long-lasting marriage the couple needs to understand each other's desire. Her radiating smile and confident tone conveyed a lot about her successful marriage with Justin Timberlake.
Vanessa Hudgens & Zac Efron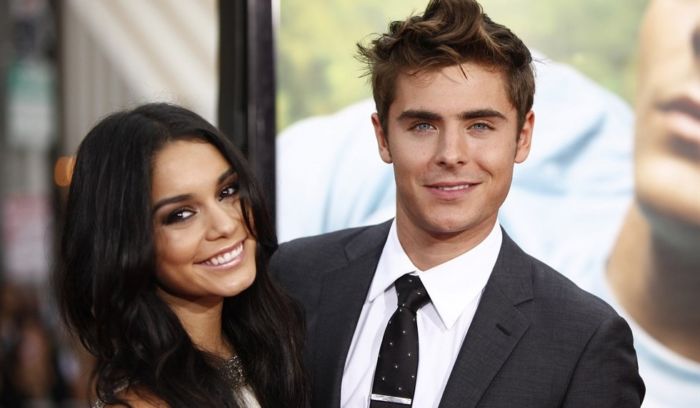 I have no intention to take you back to the time of the show "High School Musical." But I know you can't help but remember that time as the show had starred both the actors. The couple met each other for the very first time at that show only. The couple was very much in love with each other but ass we know love is not the only thing a relationship runs on there are many other forces that include trust too.  Efron has always been vocal about his intention of not getting married before turning 40. Whereas Hudgens could never appreciate her boyfriend's growing popularity among the girls. The couple with different mindsets could not save their relationship and broke up soon after.  
Gwyneth Paltrow & Chris Martin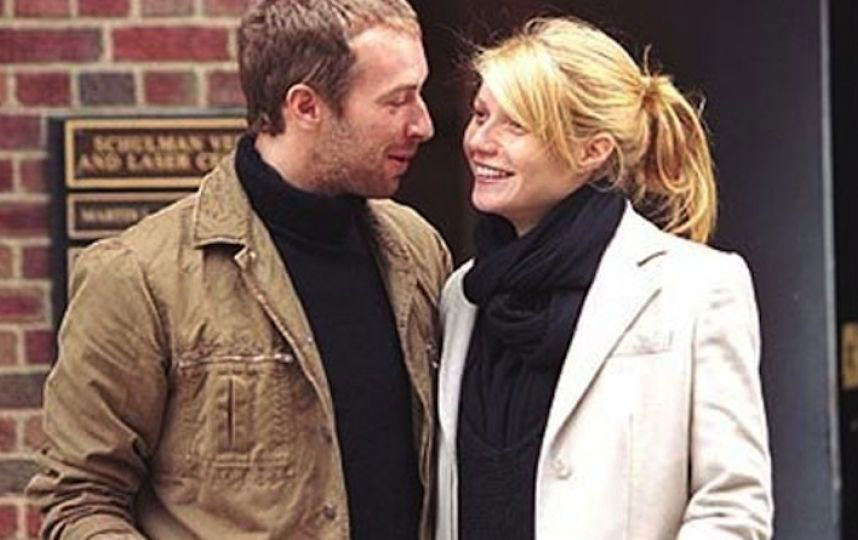 A wrong decision and a decade-long relationship can go into the pot. That is what happened here when Gwyneth Paltrow decided to experiment with the idea of open relationship in her 10-year-old marriage with her husband Chris Martin. Chris is the lead singer of the famous band called Coldplay. She found the idea of open relationship intriguing and brought that in her otherwise successful marriage. According to her, the two person in a marriage is mature enough to understand and respect each other's desires. They should not interfere each other in making their choices. Though she considered the idea as a breath of freshness in their relationship, little did she knew that the very idea would kill her relationship.     
Ryan Shawhughes & Ethan Hawke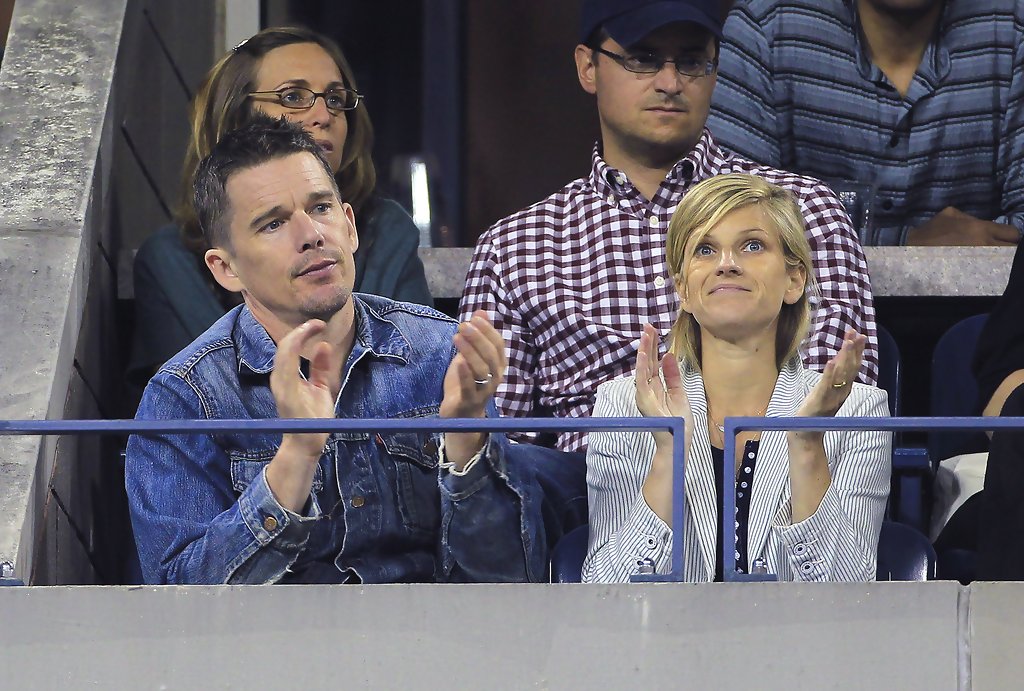 Hawke and Shawhughes came back together as a couple in 2008 when they remarried each other. This time, instead of keeping her better half in dark he made it clear to her that not every time he can resist the temptation of other women. Hawke is widely known for his discomforting views on matters of sexual fidelity. He calls sexual fidelity childish and also has hit the news for describing humans as a non-monogamous creature. Despite his views and stands, Shawhughes continued to be on his side. Thanks to her high level of tolerance, their relationship is still working and we really hope that their marriage would continue to blossom.
Victoria Beckham & David Beckham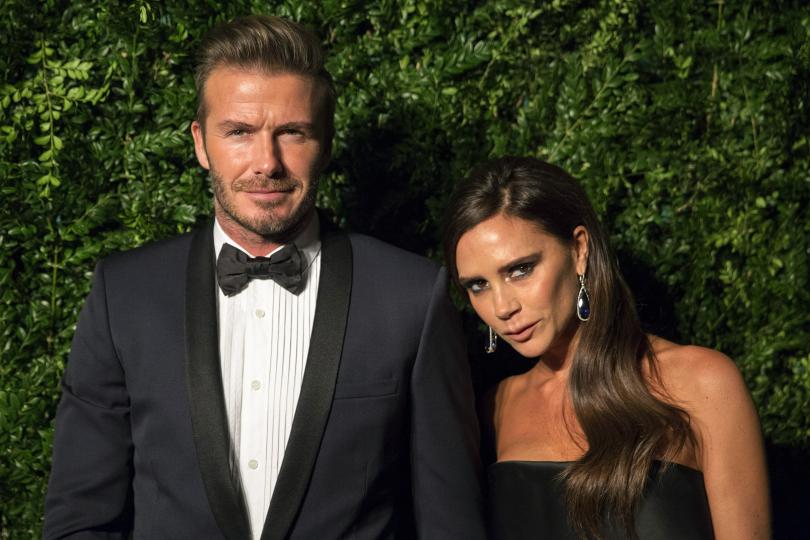 This couple is the perfect blend of perfection. As the man of the pair is a perfect footballer and the women is a perfect fashion designer who also happens to be the actress of Spice Girls. David Beckham met Victoria at a charity event and that was the love at first sight for him. They got married in 1999, after a short stint of dating. Now, if you have a husband this popular and handsome, it is natural for the wife to get jealous. Victoria, in order to fight this evil of jealousy, resorted to open relationship. No need to say that the couple is one of the most successful couples of the glamour world and credit for that goes to their trust for each other and of course, the open relationship they opted for.        
Vanessa Bryant & Kobe Bryant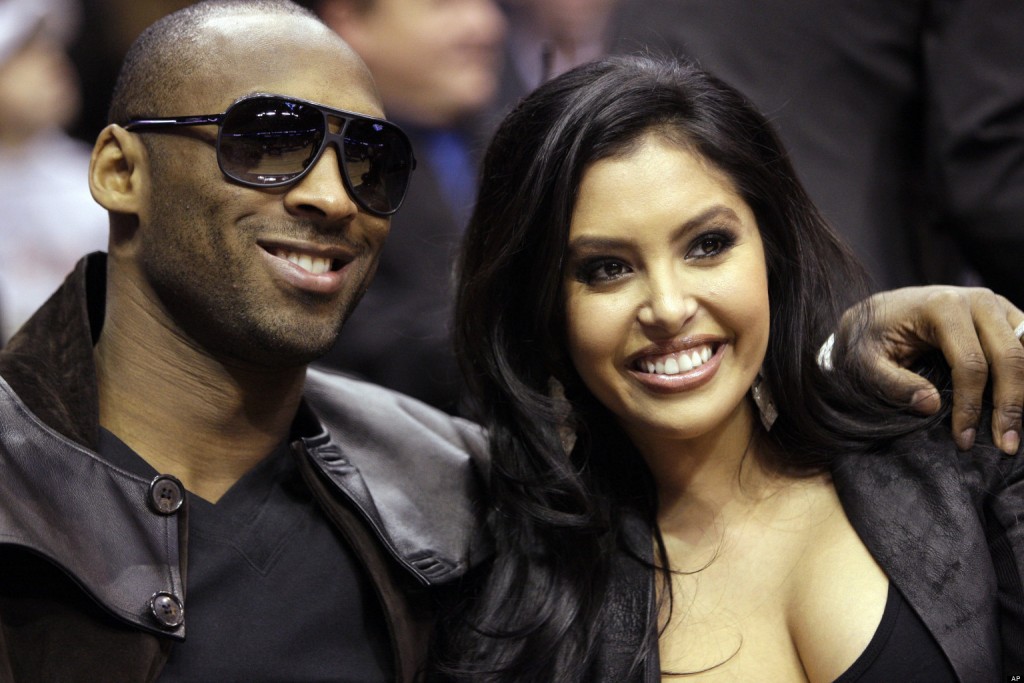 The married life of Vanessa Laine and Kobe Bryant suffered a huge setback when Bryant was accused of raping a hotel worker in 2013. The couple exchanged vow after two years of dating. Clearly, Bryant did not take vows seriously and cheated on his wife. The incident brought Bryant to the court but what made more buzz was the fact that he gifted his wife a yellow diamond ring worth $4 million while apologizing for his misdeed. Reports have it that the dancer was more upset about having her husband caught red-handed in public rather than having herself being cheated on by him. It seems Vanessa always knew about the unfaithful nature of her husband.   
Kourtney Kardashian & Scott Disick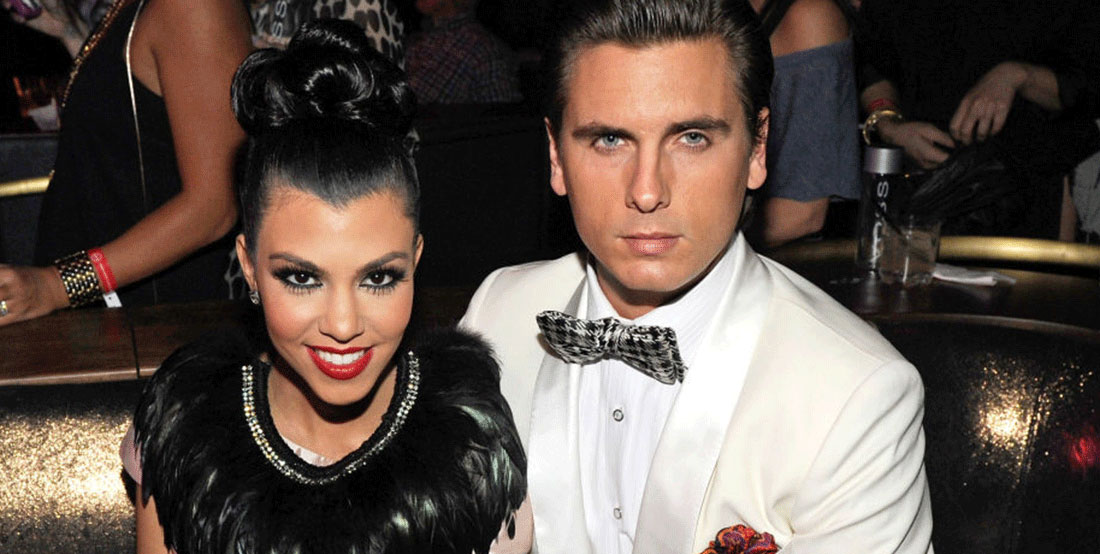 Kourtney Kardashian just like her sister Kim fell prey to open relationship. Kourtney came into a relationship with Disick in the year 2006. Disick never tried to hide his alcohol addiction and his habit of getting intimate with many girls. It was his these habits that put his relationship with Kourtney on rocks. Disick had no problem in getting into an open relationship with Kourtney but she, on the other hand, could not stand the idea, that eventually led to the end of their relationship. Post-breakup, Kourtney got very vocal about her relationship with him and even went on to call his behavior "disgusting."     
Paula Patton & Robin Thicke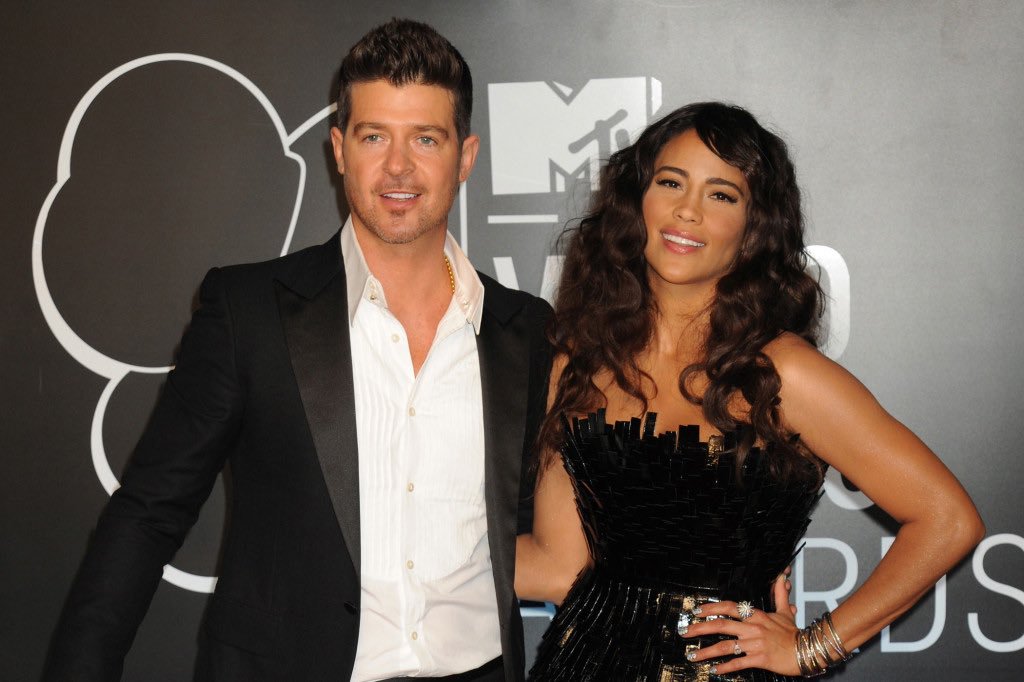 Patton and Thickie started off as a great couple. They even went for an open relationship with each other. However, this open relationship turned out to be a villain of their love as Thickie developed romantic feelings for a massage therapist. The feelings took time to last that made Thickie betray Patton. When Patton learned about all these things she did not wait much in filing a divorce. From there on Thickie has been trying to redeem his mistake by apologizing to his ex-wife. Accordance to that he even came up with an album dedicated to her name. The album did not help him in getting her forgiveness, let alone impressing her. Even an open relationship demands a bit of loyalty!     
Kate Hudson & Chris Robinson
Kate Hudson is an extremely pretty actress who has a successful film career. She shot to fame after doing the movie Almost Famous in the year 2000. From there on she kept appearing in many hit movies such as How to Lose a Guy in 10 Days and Bride Wars. The actress surprised everyone when she got married to the lead singer of The Black Crowes, Chris Robinson. Though her marriage did not last long because of her likeness for open relationships. Her father substantiated the rumor by making it clear that his daughter has no problem in keeping an eye on the other hot stars of the Hollywood. The couple parted their ways in the year 2007.
Rachael Ray & John Cusimano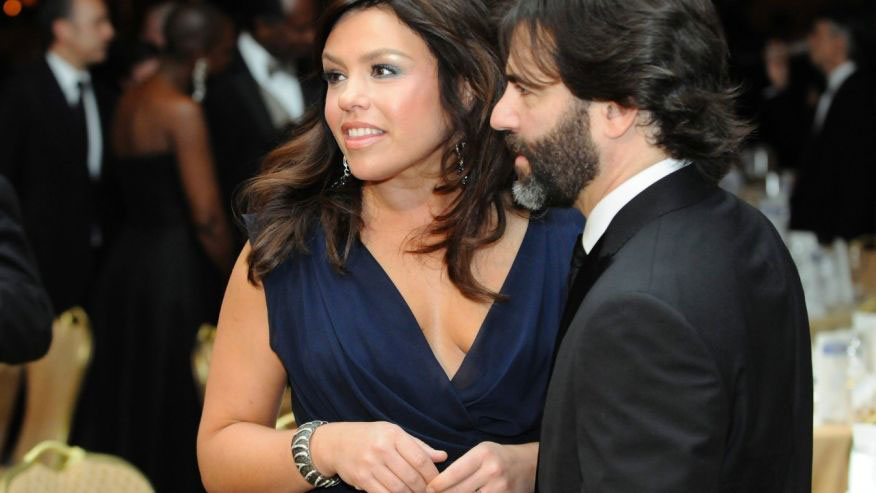 Though Cusimano and Ray have never admitted this publicly, the couple is very much in an open relationship. It is no secret that Cusimano frequents the Checkmate in Manhattan that is a swingers club. Along with that Cusimano has been spotted going on dates with other women. Surprisingly, Ray never ever commented on the sexual antics of her husband whereas Cusimano has always bragged about his marriage as a peaceful and loving relationship with his better half. It seems the pair is putting up well with the thing called open relationship. However, the public does not eye their relationship with admiration, in fact, they name it unhealthy for their courtship in a long run.
Tilda Swinton & John Byrne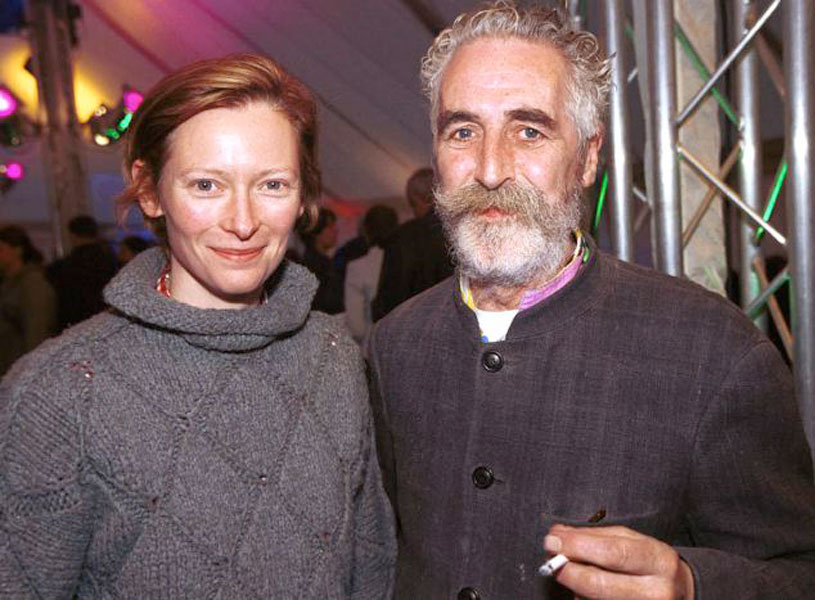 Tilda Swinton is a name that is highly respected in Hollywood.  She has earned that respect not just because of her amazing talent but also because of her broad-mind views. She openly admits the fact that she and her partner go for double in the bedroom without hurting each other's sentiments. Tilda is the mother of twins and is currently engaged in raising them with her partner. Though she has no qualms following her unconventional lifestyle, the actress never recommends this kind of relationship to others. The reason behind their unique equation is their twins.   
Elizabeth Hurley & Hugh Grant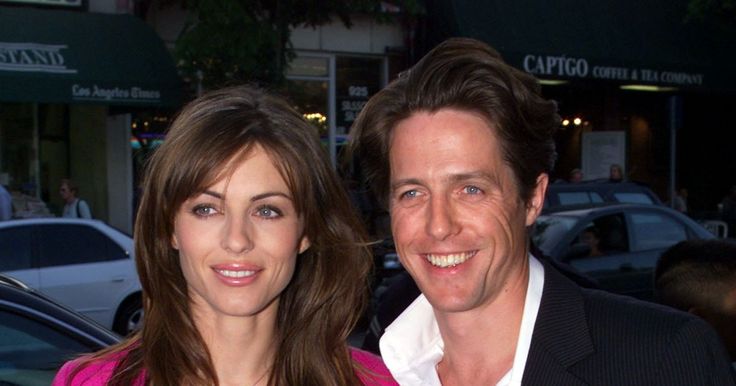 Hugh Grant is counted as one of the hottest actors in Hollywood. This star got married to Elizabeth Hurley in 1987. Their beautiful relationship had a tragic end when Hugh fell prey to a public scandal that caught him getting intimate with a prostitute in Los Angeles. Though his wife had no objection to having his husband getting involved with multiple partners she could not tolerate the fact that it all got exposed in front of the public. Consequently, she filed for a divorce in 2000 that ended their 13-year long marriage. In 2011, the actor became the father of a daughter by a receptionist at a Chinese restaurant in London. Recently, in 2018 Elizabeth let the information slip by that he is going to be the father of the third child with Anna Swedish,a television producer.
Amber Najm & T-Pain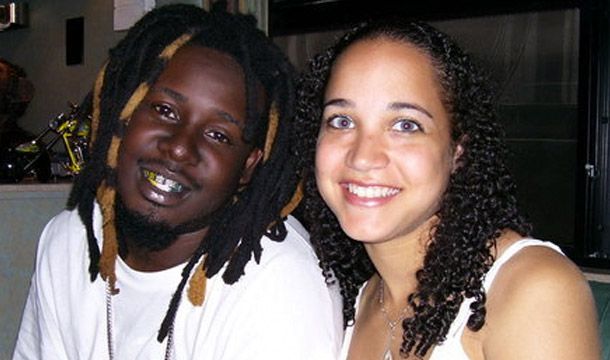 The secret behind this couple's successful marriage is the idea of adopting an open relationship. It is ironic that being with someone else for a shorter time keeps your relationship with your spouse intact for a longer time. T-Pain and Amber Najm enough love each other to respect desires of each other including the company of an outsider. They have been married for 10 years with having many partners coming and going in their lives. Apparently, they are very tolerant of each other's wishes and still continues to lead a blissful life. In their case, the open relationship has worked as a magic.  The couple has three children that they are raising together. We wonder, how the kids would be reacting to their parent's extra open views.    
Shawn Southwick & Larry King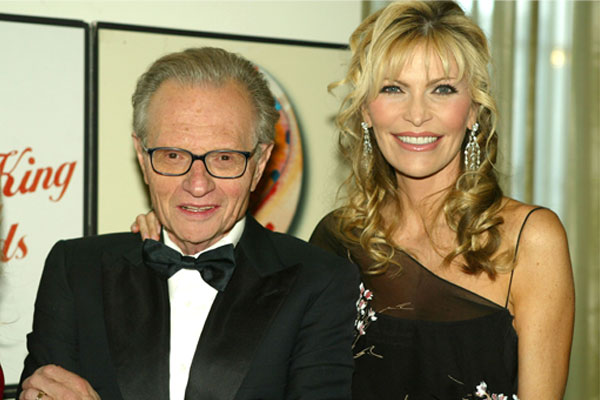 After the slew of failures in six marriages, Larry King dared to give it one more shot when he tied the knot with Southwick. Unlike the previous ones, this marriage has come a long way spanning 17 years and still is on. The prime reason is considered the freedom that the couple has granted to each other. The ex-wife of king states the fact that the pair has finally understood the importance of space and physical needs in a relationship. Sleeping with someone else in order to get their physical requirement satisfied is not a big deal. Ironically, the couple had filed divorce for the same reason in 2010. Fortunately, the legal proceedings were stopped shortly after the filing of the divorce. 
Angelina Jolie & Brad Pitt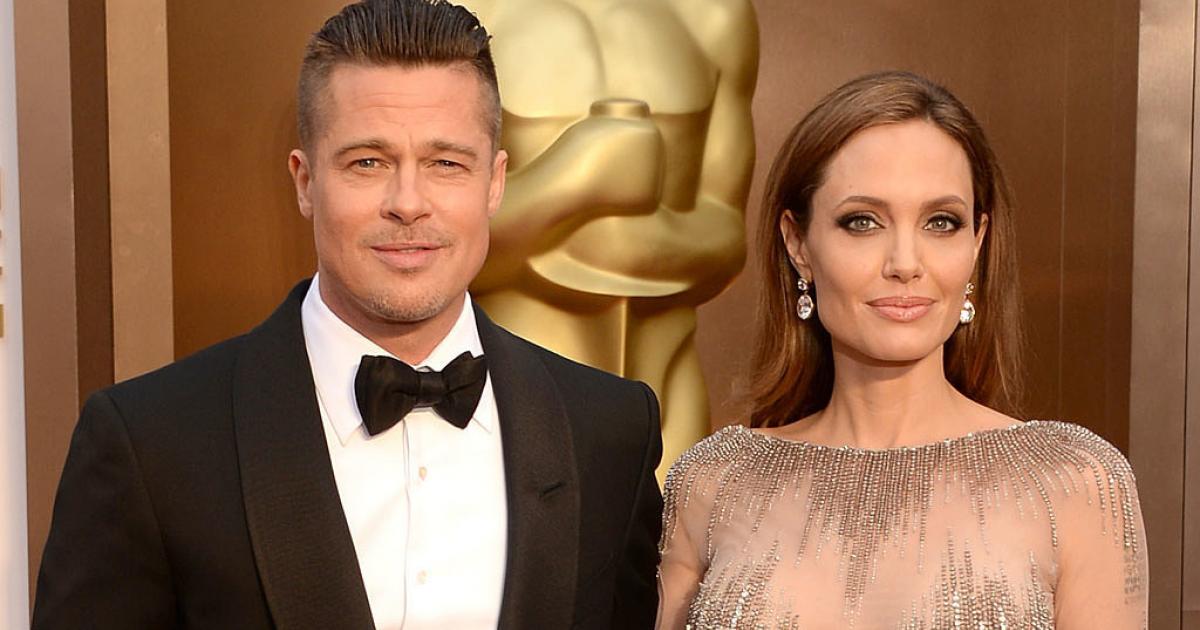 Brad Pitt and Angelina Jolie were the power couple of Hollywood who became an inspiration for other pairs. "Brangelina" as they were dearly called opened up about their relationship in 2006 when the girl was pregnant with his child. According to the popular perception, the star couple had a solid and monogamous marriage. But according to Angelina the secret to their successful courtship was something else. In 2009, she stated in an interview  "I doubt that fidelity is absolutely essential for a relationship … It's worse to leave your partner and talk badly about him afterward. Neither Brad nor I have ever claimed that living together means to be chained together. We make sure that we never restrict each other." Sometimes after few years of her statement, the couple filed for divorce in 2016 breaking the heart of couple's along with their popular name "Brangelina"
Sidney Hicks & Mo'nique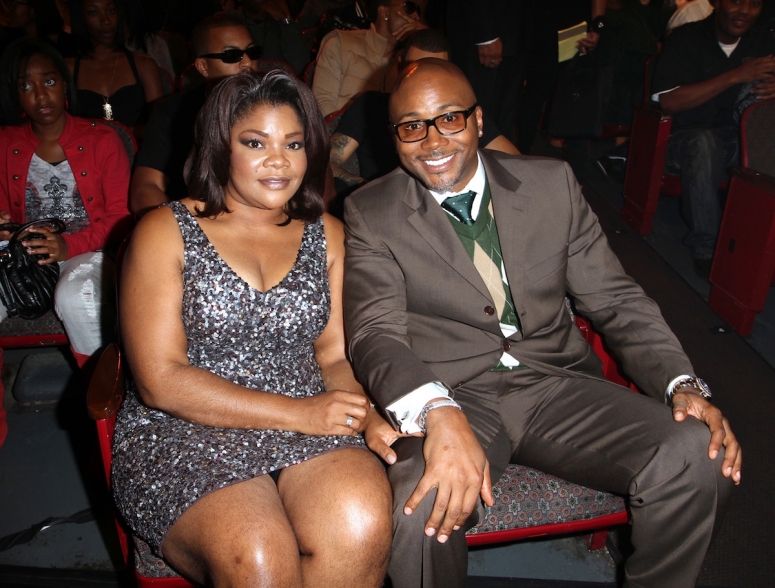 The unconditional love of Mo'nique for his partner Hicks came to the surface when he stood by her side as the news of her affair with someone else broke out. Apart from this instance, their courtship is filled with only bliss as they believe in giving space to each other. It should not come as a surprise to the reader that the couple has spent 25 years together and their relationships continue to flourish. The depth of their strong relationship can be gauged by the fact that once Mo'nique was heard saying that he would never leave Sidney no matter how worst the situation is.   
Marianne Gingrich & Newt Gingrich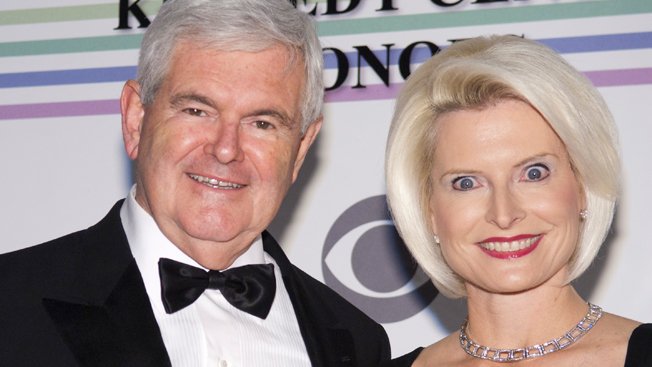 This American politician has been accused of keeping double standards by his ex-wife. His wife explains that whereas on the one side Newt was delivering big speeches asserting the importance of family and religion in 1999, on the other hand, he forced her into an open relationship. The news made big headlines as it came as a shock to the people. The news surely tainted his image to an extent. However, the couple has parted their ways and Newt is still denying the accusation made by his wife but admits the fact that he cheated on his wife sometimes.         
Marina Lopatova & Andrei Kirilenko
Here we have another sports star on the line following David Beckham. Andrei Kirilenko is a basketball player coming from team Utah Jazz, who is in an open relationship with famous pop singer Marina Lopatova of Russian origin. The surprising thing is that she is perfectly fine with her husband's habit of fooling around with other women. According to her "What's forbidden is always desirable. And athletes, particularly men, are susceptible to all the things they are offered." On the other hand, Andrei claims that he never slept with anyone else even after being granted the liberty.   
Cindy Margolis & Guy Starkman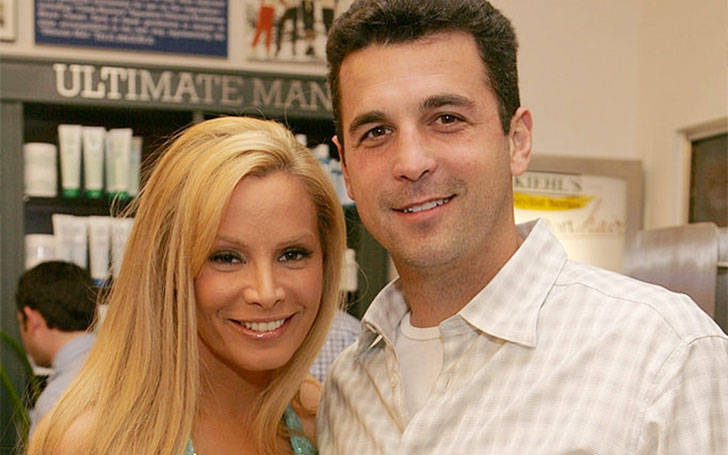 The rumor has it that the couple Cindy Margolis and Guy Starkman who is a restaurant owner came together only to have children. However, nobody knows how correct this assumption is but it is difficult to believe that the two had a relationship motivated by the need for children rather than love for each other. However, the couple broke up. The pair together has three children comprising of a boy named Nicholas and twin daughters. 
Julia Louis-Dreyfus & Brad Hall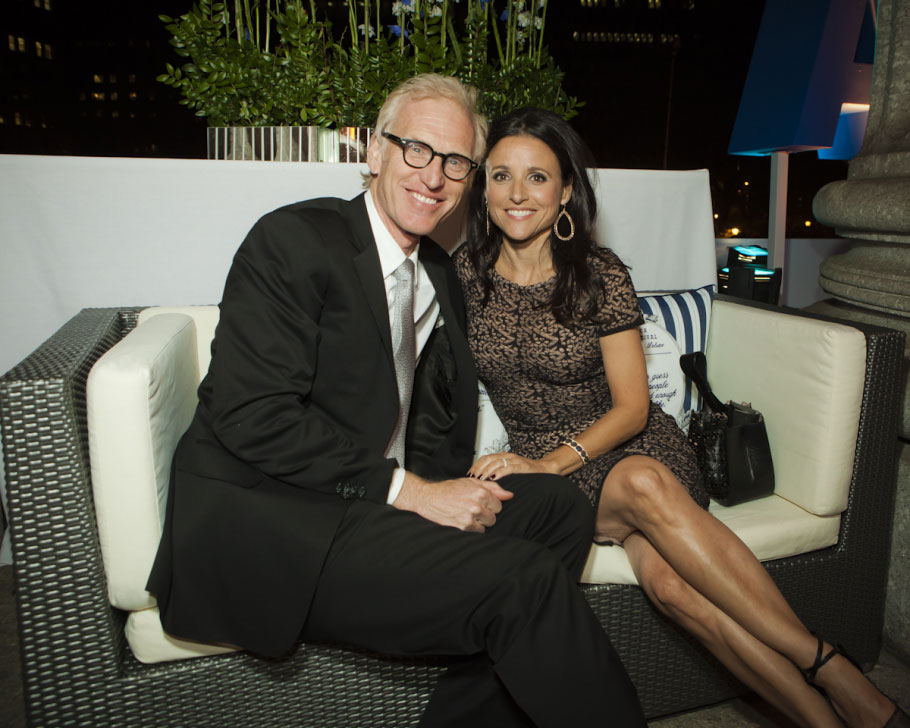 Julia Louis-Dreyfus has a similar character to the Elaine Benes she portrays on the show, Seinfeld. She has never admitted that she is in an open relationship with her husband but the public is smart enough to grasp that as the sources alluded towards a whole different story. Th couple is staying together for 30 years and has been running their alleged open relationship smoothly.
Dolly Parton & Carl Thomas Dean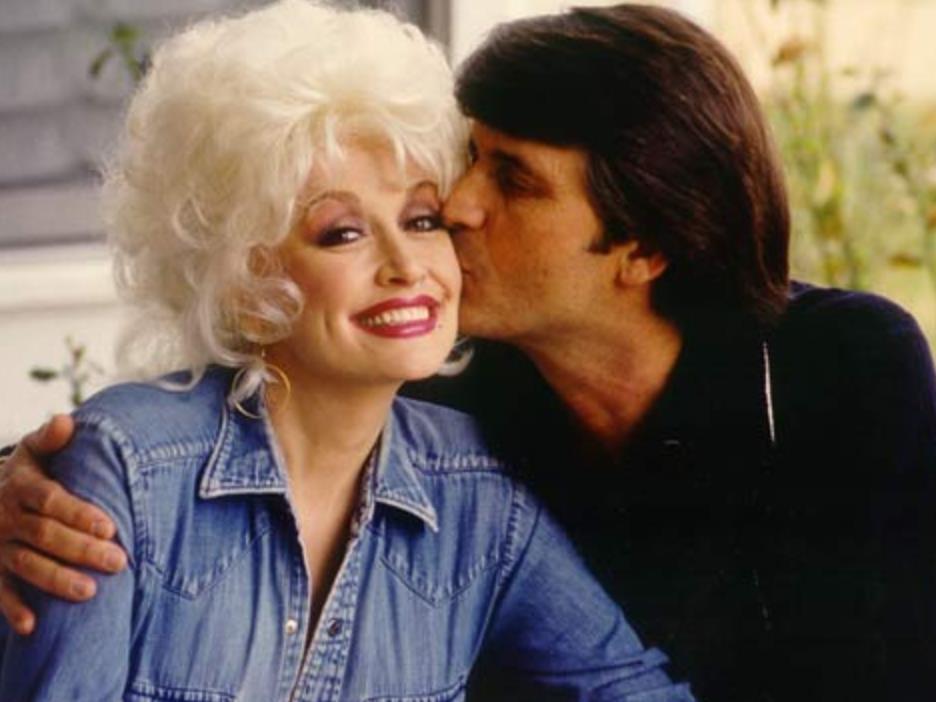 Dolly and his husband are living together for 50 years. Their love life is running very smoothly. Would you like to know the reason behind their successful marriage? It's the open relationship. The concept is years old that has been used as a trick by many prominent faces. Dolly, in her book Dolly on Dolly: Interviews and Encounters with Dolly Parton (Musicians in Their Own Words) said,"We're so totally open and free … I always call him Daddy and he calls me Mama or Little Kid or Angel Cakes."
Shirley MacLaine & Steve Parker
Shirley MacLaine is a very famous actress of her time whose career spanned over sixty years. The personal life of this actress had hidden some secrets that did not come out until 2011. After staying for 28 years in marriage, the pair called it quit in 1982. At that time she avoided making comment on her relationship with her estranged husband. It was in 2011 that the actress made a big revelation about her marriage to Steve. She admitted the fact that she was in an open relationship with Steve. The revelation was done by Shirley at the promotion of her book I'm Over All That.        
Susie Sprague & Corey Feldman
In 2002, Corey Feldman and Susie Sprague took the world by surprise by getting married to each other. The couple tied the knot at an episode of the show "The Surreal Life." The couple disclosed that they were in an open relationship. the revelation came many years after their marriage. If we go by the report then it says that Feldman liked to host a bunch of orgies though he never admitted that in public. Eventually, the couple got separated in 2009.
Eleanor Roosevelt & Franklin D. Roosevelt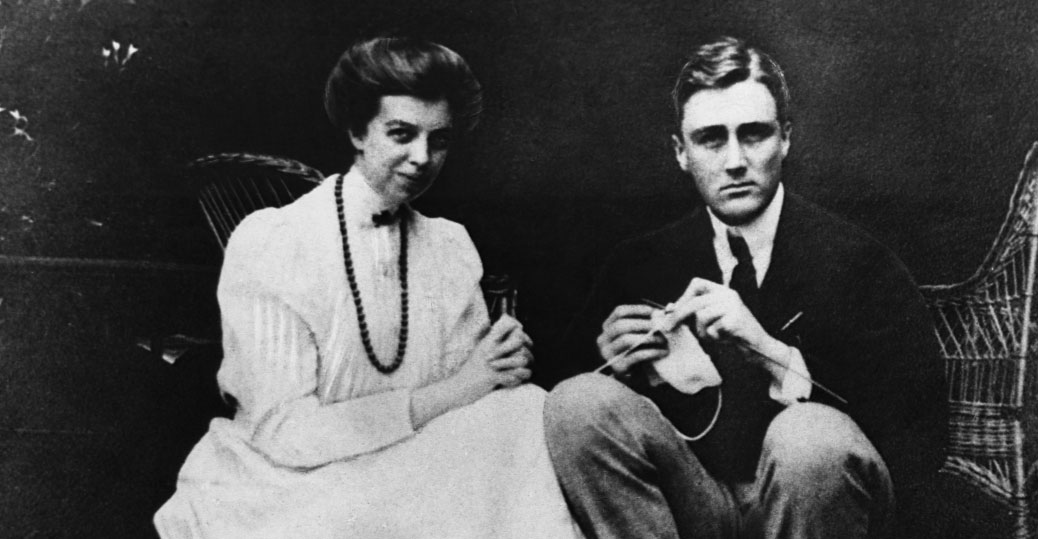 The former president Franklin D. Roosevelt was a big ladies man. He was in an open relationship with his wife Eleanor. His better half very well knew about his affair with Lucy Mercer. The political situation of the country helped a lot in binding the two in this marriage. She remained silent about her husband's illicit relationship. The reason includes her duty as a first lady and her status also gave her an opportunity to work effectively in social servicing. Franklin died of Polio after guiding the nation through world war II.   
Eudoxie Mbouguiengue & Ludacris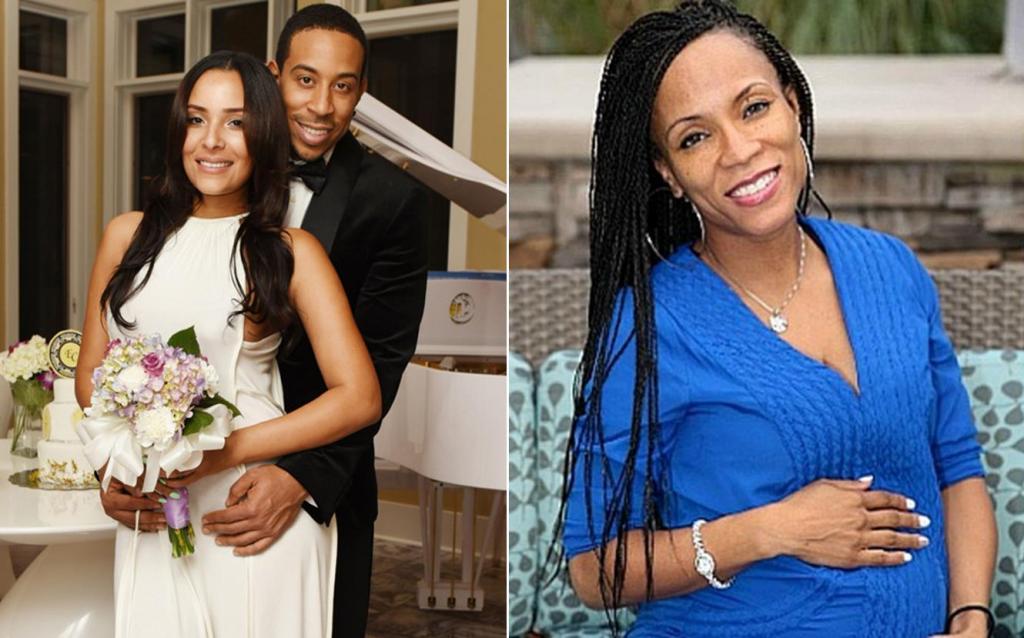 In 2013, the rapper Ludacris stunned everyone when he announced that his ex-wife expecting his child. The news came as a surprise in the sense that the actor-cum-rapper was in a relationship with Eudoxie Mnouguiengue during the time of the announcement. Eudoxie is a model by profession who comes from Gabon. The two had been dating each other since 2009. What was even more startling was the fact that Eudoxie stayed by his side and the incident was soon followed by the news of the pair having their fourth child. The two walked down the aisle in 2014, Cota Rica.  
Aline Kominsky-Crumb & Robert Crumb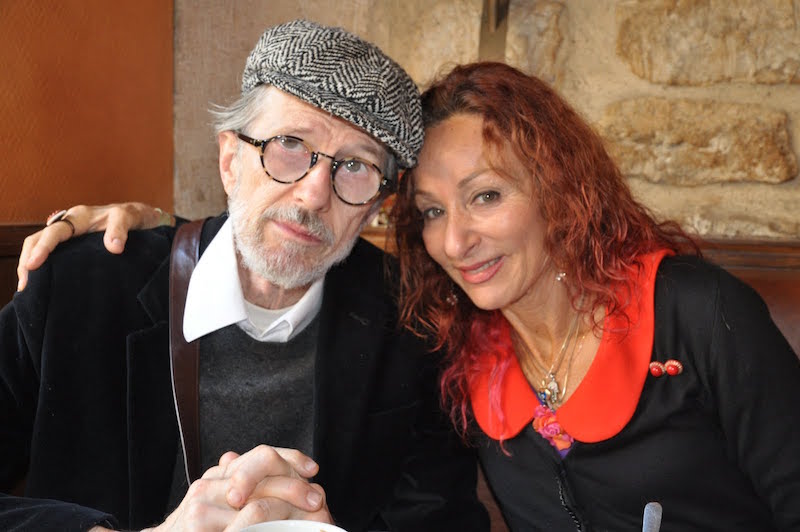 Robert Crumb is not a quite famous name. But one's popularity cannot measure one's efficiency. This man has contributed a lot in creating the series such as Zap Comix and Fritz the Cat. In 1964, Robert got into marriage with Dana Morgan but the two soon got split in 1978. Then the Pensylvania native married Aline Kominsky and the couple is still together. The reason behind their intact relationship is the Open relationship.  Robert once talked about his wife's lover, "Between Christian and I, we kind of make an ideal husband…but if she ever started making comparisons about our lovemaking technique, I might get jealous."  
Fergie & Josh Duhamel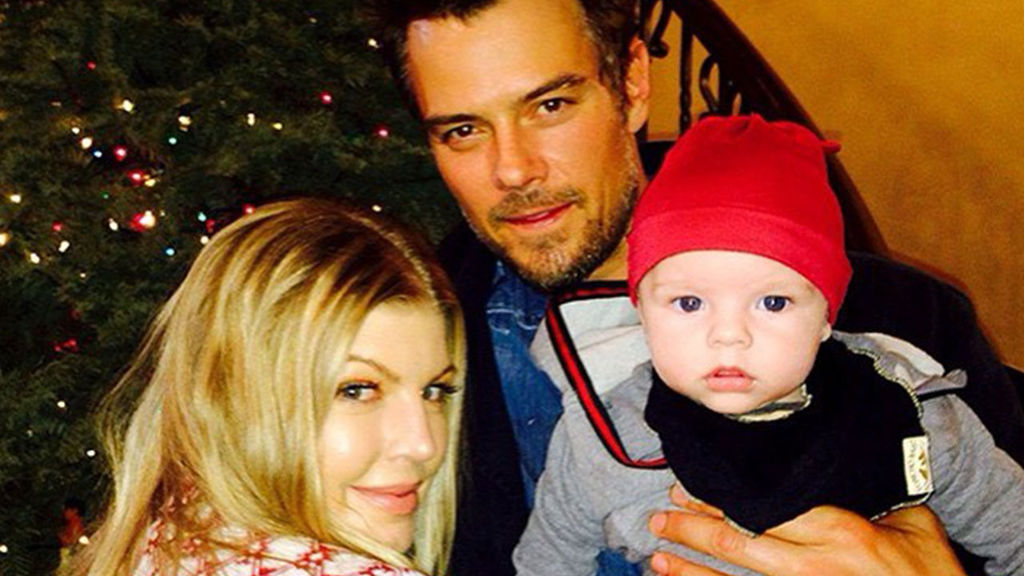 The Black Eyed Peas singer Fergie became acquaintance with actor Josh Duhamel in 2004. The couple got married in 2009. Interestingly, before their marriage, their relationship suffered a setback when Duhamel was caught red-handed in the act with a stripper. Despite that Fergie decided to marry Duhamel and the couple has been living together since then. Fergie gave birth to the son of Duhamel shortly after their marriage. They have been living a great life together.
Tori Spelling & Dean McDermott
Tori Spelling tied the knot with writer and actor Charlie Shanian in 2004. However, the marriage did not last longer than two years. The pair got divorced with Tori getting married to Dean McDermott. This time her marriage worked out and the pair is still together with their four children. It seems that their love for each other is unmoved as the recent news of Dean cheating on his wife did not impact their loving life a little. Or is it an open relationship? We don't know as the couple prefers to keep mum whenever asked this question.
Nancy Maginnes & Henry Kissinger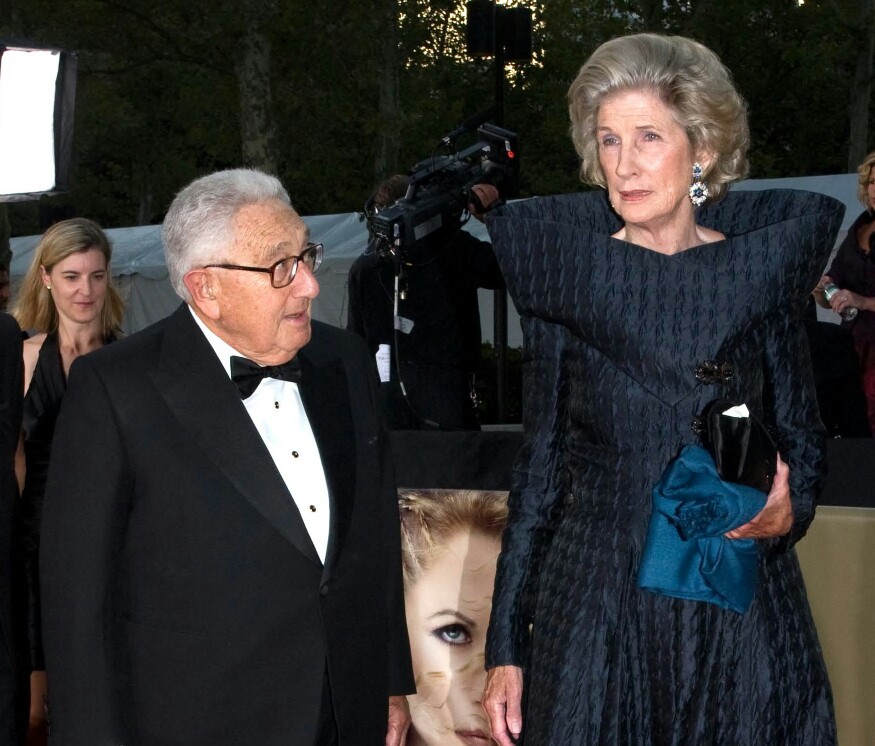 Henry Kissinger has seen a lot in his 94-year-old life. From reeling under the tormenting persecution by Nazis in 1938 to becoming the national political leader. He has served s the National security advisor followed by working under the Presidents Richard Nixon and Gerald Ford. The political personality married Ann Fleischer in 1949 only to end it in 1969. He once again got married to Nancy Maginnes in 1974. Henry has written many books describing his promiscuous lifestyle.
Jaime Bergman & David Boreanaz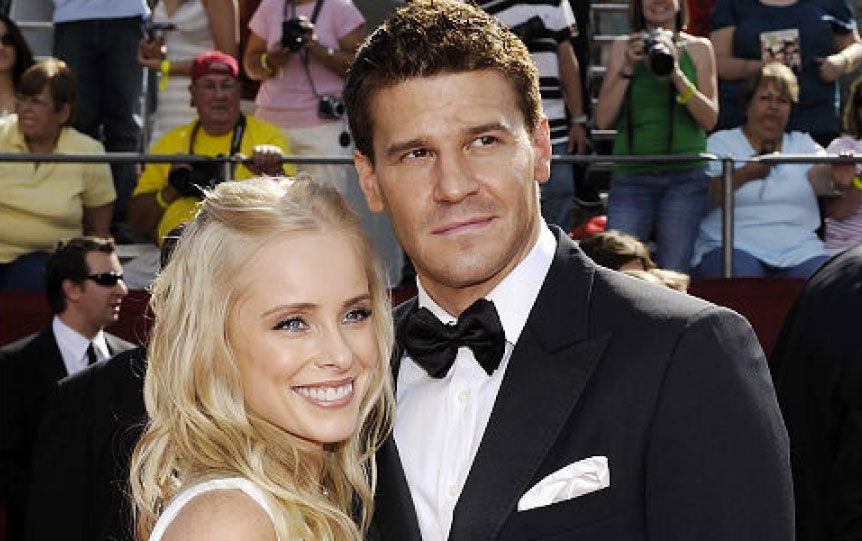 David Boreanaz is a television star who got married to Ingrid Quinn in 1997 and divorced in 1999. After that, he tied the knot with Jaime Bergman in 2001 who happened to be the playboy playmate of the month. The actor's infidelity cost him a huge amount of money as his wife demanded lots of money to not make his affair public. The incident took place in 2009 when she nabbed him texting their mistress. David has appeared in the shows like  "Buffy the Vampire Slayer" and "Angel."
Sadie Frost & Jude Law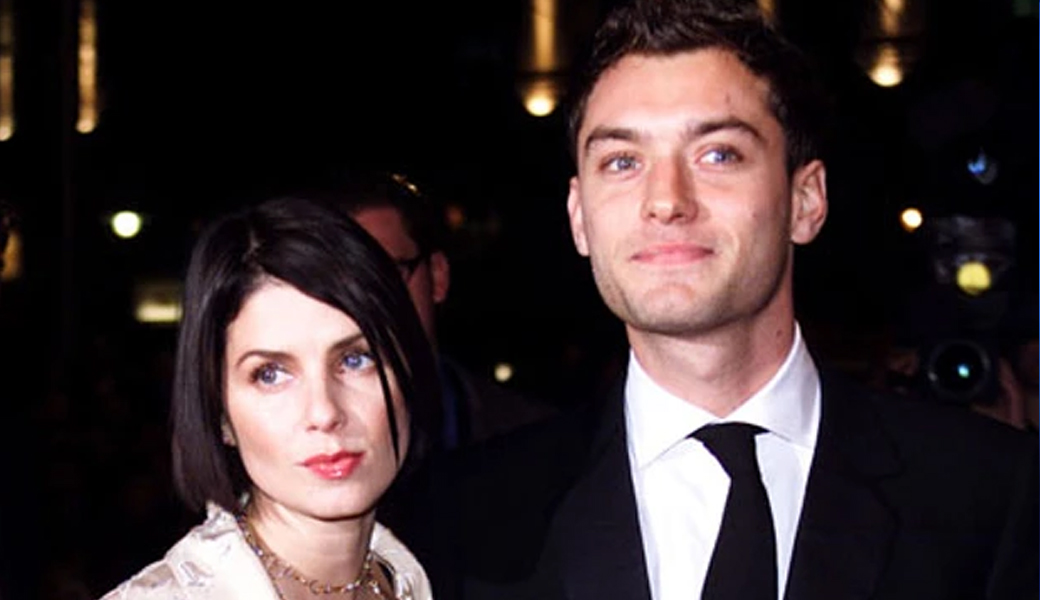 The actor Jude Law married Sadie Frost in 1997. The couple had their married life running smoothly before Jude developed feelings for Sienna Miller. He met Sienna on the sets of Alfein in 2003. At the time of meeting her, Jude was already the father of 3 children. But he decided to follow his feelings and got involved with Miller. Sienna Miller and Jude Law soon became each other's heart. However, their relationship ended when Sienna caught him red-handed sleeping with the nanny of his children. After his break up with Sienna, Jude came back to Frost.
Sarah Jessica Parker & Matthew Broderick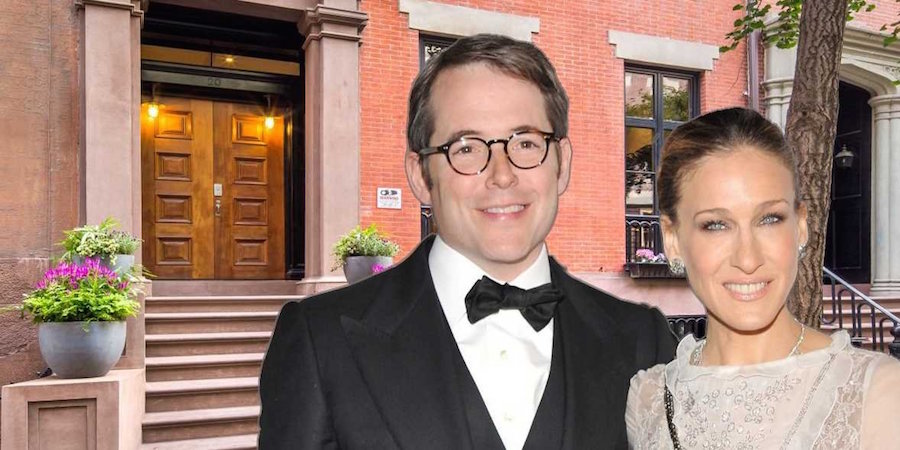 Matthew Broderick is an American actor who married actress Jessica Parker in 1997. Since then they have been leading a very quiet married life. Matthew and Sarah have appeared in one of the most famous movies and women TV shows accordingly. The couple parents three kids. They never open up about the rumors circling their married life but it is believed that the pair has the open relationship. Whereas Matthew is said to be involved in relations with many women, Sarah also has also allegedly got into relationships with other men.    
Shante Taylor & Snoop Dogg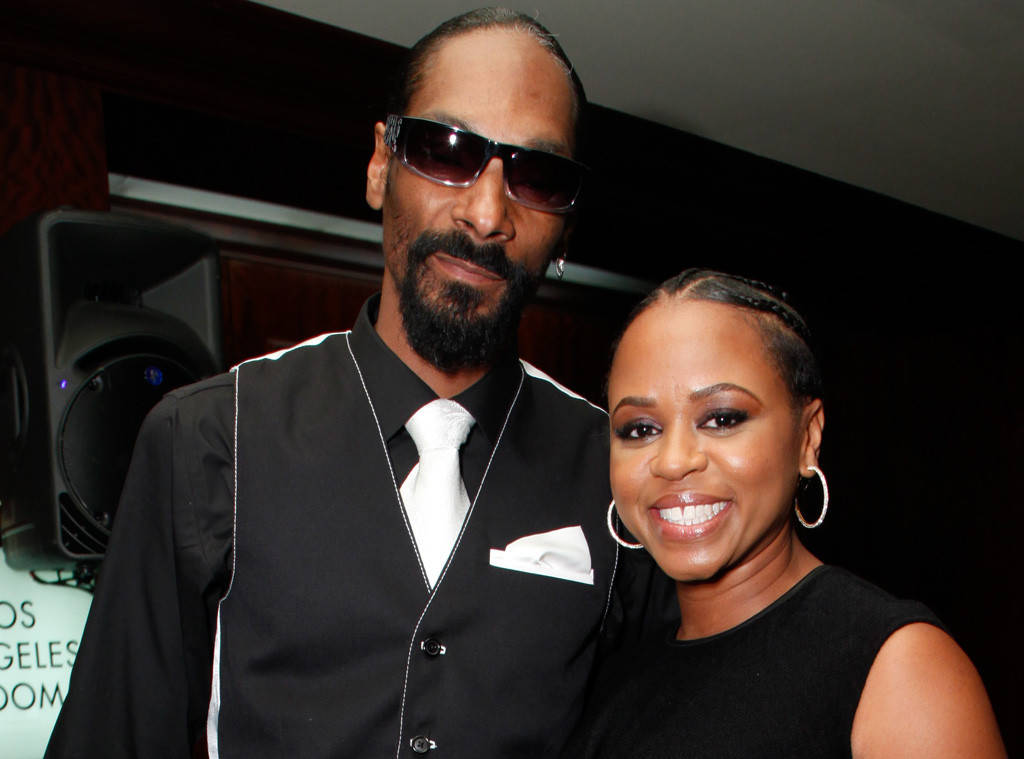 They are high school sweetheart! The famous rapper has sold about 35 million albums all around the world. Snoop Dogg just not own a blissful personal life but also an adventurous personal life. He got married to his high school love Shante Taylor in 1997. Though their marriage did not last long owing to Snoop Dogg's inclination to seeking sexual pleasure outside his marriage. The couple separated in 2004. Surprisingly, the couple reunited in 2008. We hope this time Snoop Dogg would be more serious about his marriage with his wife! 
Nicole Kidman & Keith Urban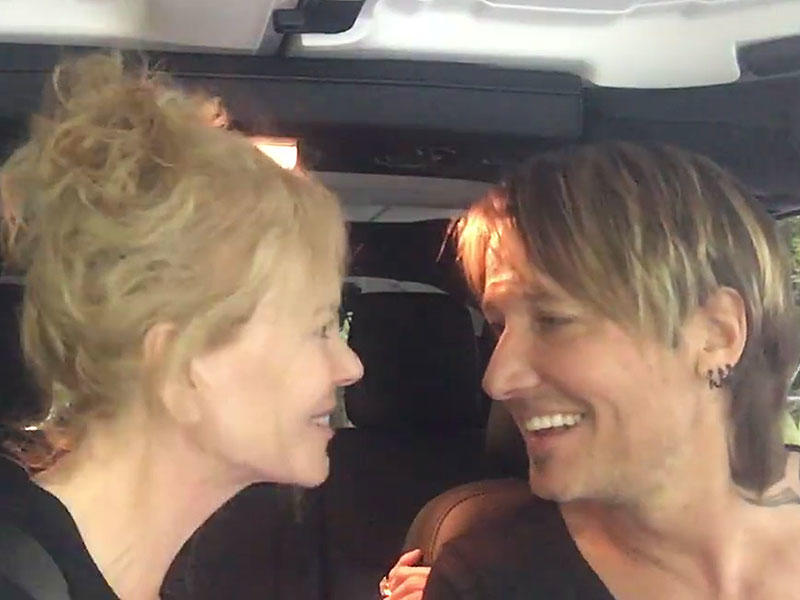 After getting a divorce from the famous actor Tom Cruise, Nicole Kidman walked down the aisle with the country singer Kieth Urban in 2013. Interestingly, even after the marriage, it's a common sight seeing Urban hanging out with singer Kelsey Ballerina. The casual reactions of Nicole to this conveys that the couple has no problem giving extra space to each other.  
Savannah James & LeBron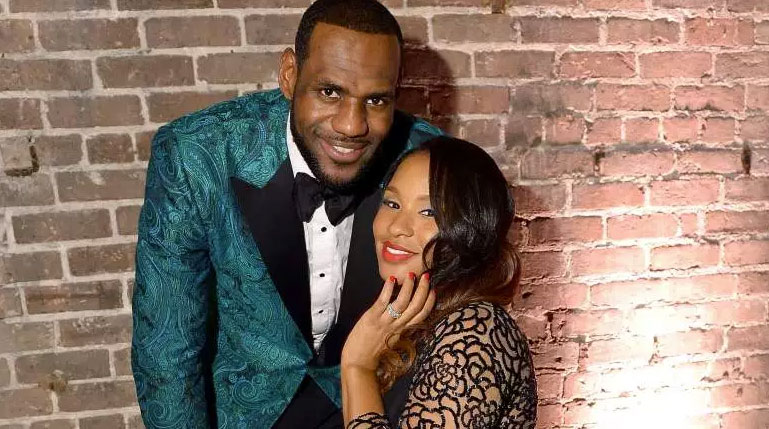 LeBron James is the wealthiest basketball player dwelling on the surface of the earth.The player is famous for one more thing that is for having an open relationship with his wife Savannah James. The couple got married in 2013. Though no explicit evidence is available , but once a fellow player mentioned the name of Lebron while explaining that the open relationship is normal in the sports world.
Wendy Williams & Kevin Hunter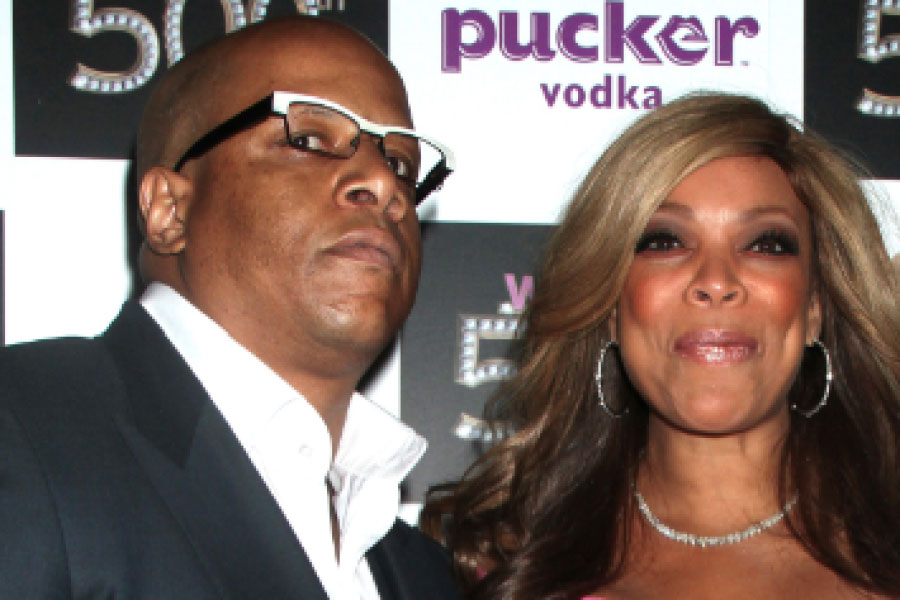 Wendy, the host of  "The Wendy Williams Show" married Kevin Hunter in 1997. The host made it clear that she had no qualms about the accusation of infidelity was put on her husband. She explained, "I don't regret it. I do think it's a double standard with cheating." 
Gwen Stefani & Gavin Rossdale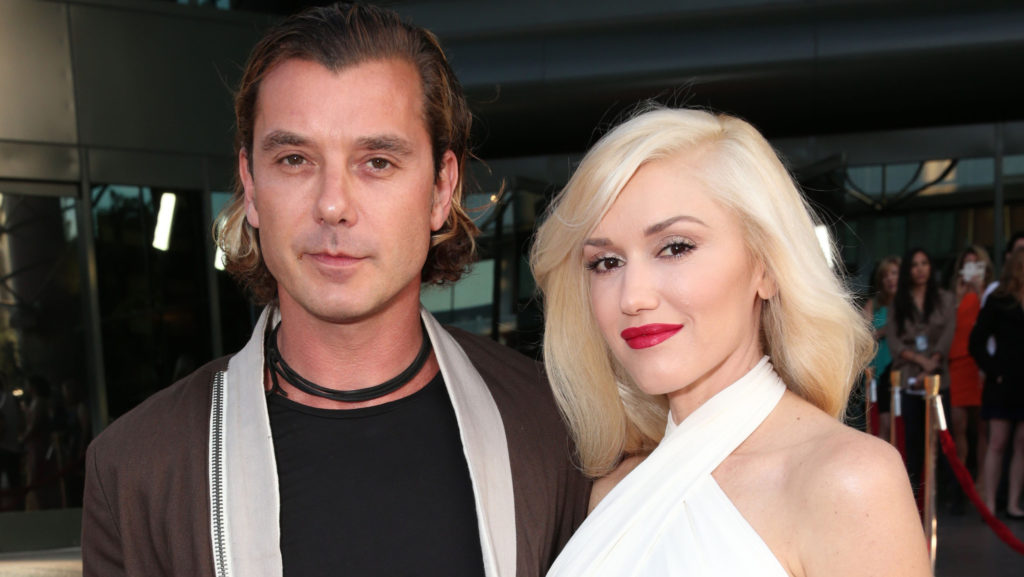 The singer Gwen Stefani is Hollywood's most sought-after style icon who also gained attention for having an open relationship with her ex-husband Gavin Rossdale. She does not hesitate from admitting that. Stefani gave her nod to her husband's habit of getting intimate with other women only to stay together with him. However, they eventually divorced. 
Alan Cumming & Grant Shaffer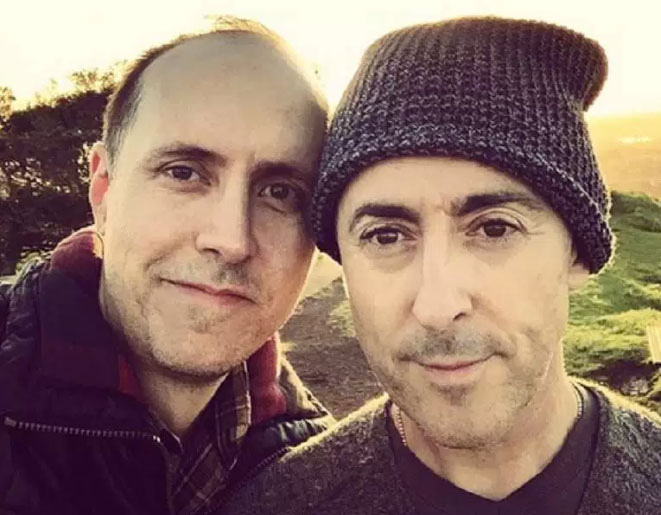 Alan Cumming and Grant Shaffer first attracted attention for being gay and after that for being in an open relationship with each other. The beautiful couple is also available on gay dating apps 'Grindr.'
Dwayne Wade & Gabrielle Union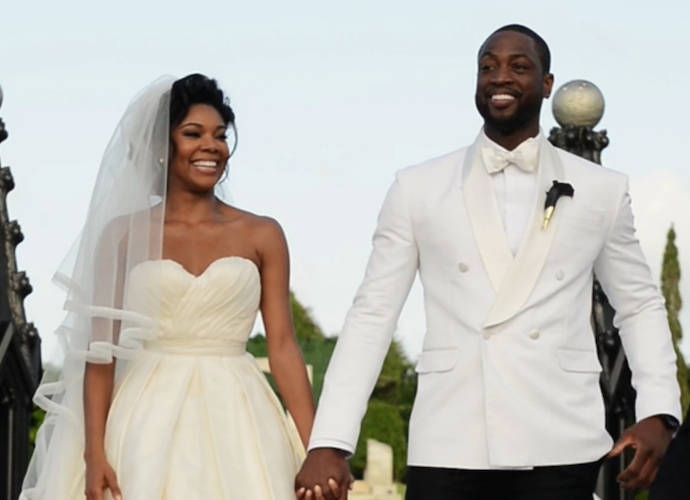 The split up of popular basketball player Dwayne Wade's with his better half Gabrielle Union shocked everyone as they looked head over heels in love with each other. Though no concrete reason behind their separation has surfaced it is believed that Dwayne cheated on her by impregnating another woman while being in a relationship with her. 
Karrueche Tran & Chris Brown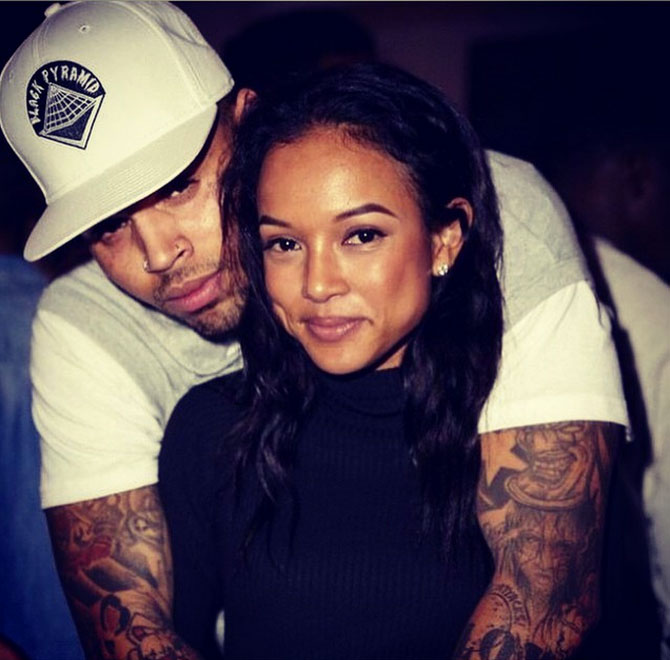 Chris Brown was in a relationship with Karrueche Tran. But their affair could not succeed because of Brown's habit of fooling around with other girls. Tran tried to put up with his this habit but gave up soon. Rumor has it that Brown is into a love triangle situation with Tran and Rihanna.
Pitbull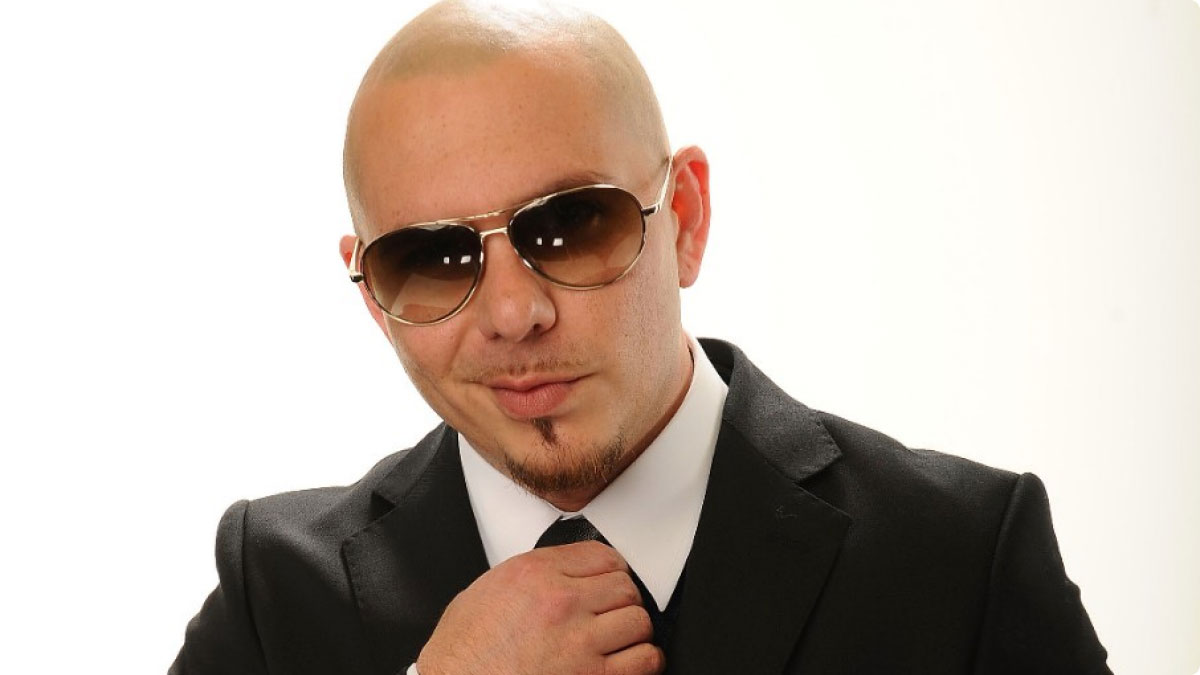 Pitbull also upholds the concept of open relationship. In fact, he himself indulges in open relationships. He does not believe in complicating things and prefers to keep it simple and open even if it is about relationships. According to him "what the eyes don't see, the heart doesn't feel."
Earlitha Kelly & Magic Johnson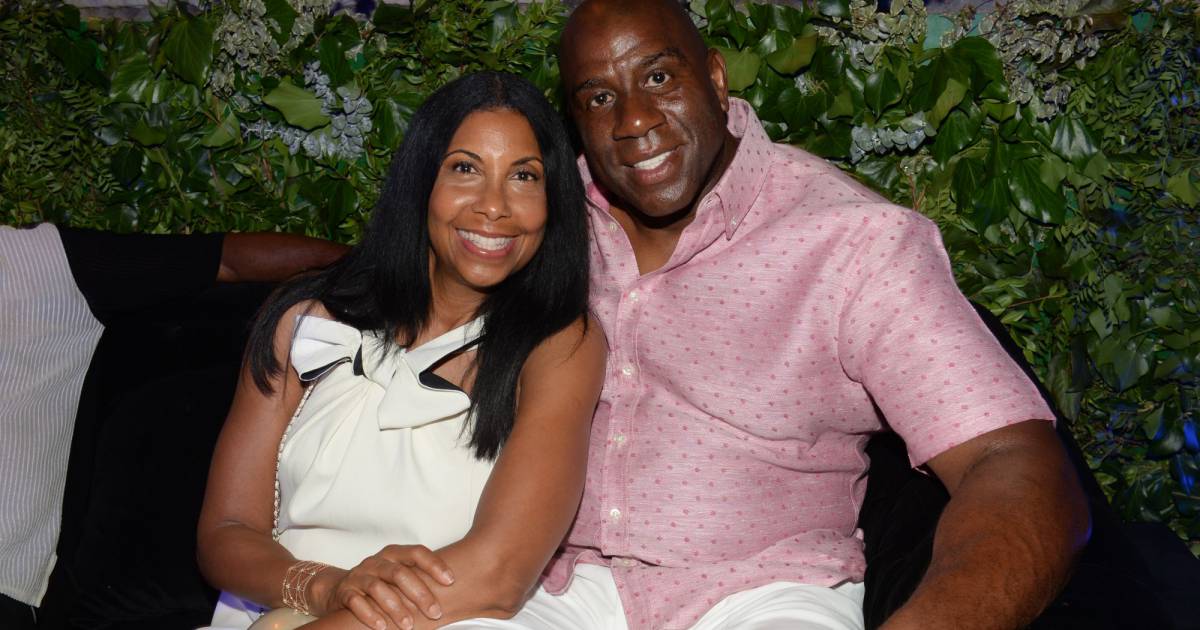 Former basketball player Magic Johnson stirred the pot when he bedded another woman while being in a relationship with his wife. Johnson is diagnosed with HIV. His disease also did not deter his wife from loving him. Now, the pair shares an open relationship. 
Hugh Hefner & Crystal Harris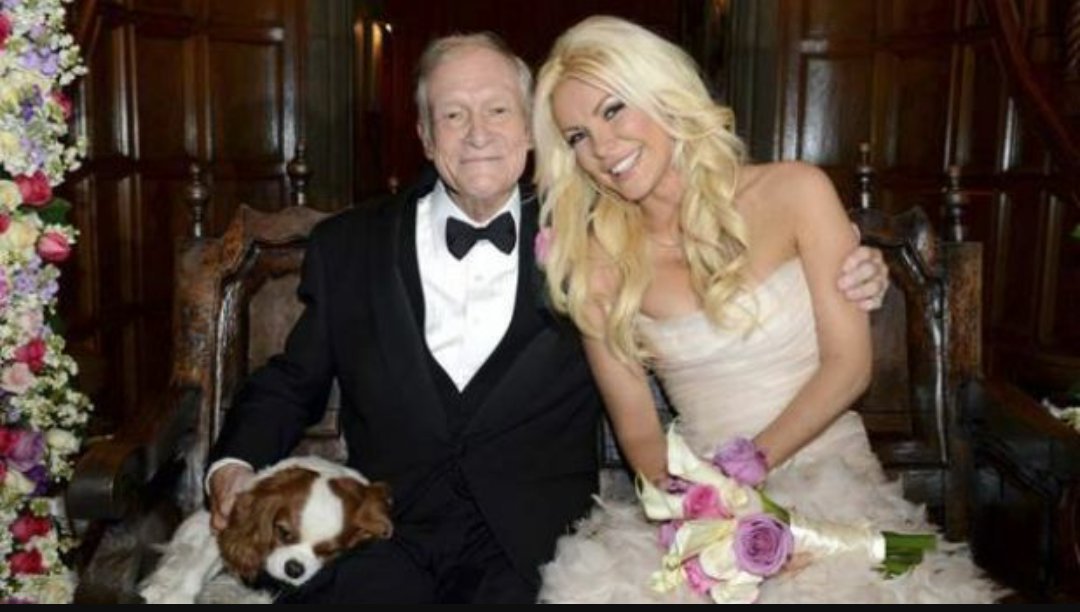 The name Hugh Hefner must not have surprised you. He gained the fame for being a ladies man in the show "The Girls Next Door." The show put his nature of getting into the polyamorous relationship on display. Lastly, Hefner married Harris after splitting up with 3 girls.    
Katharine McPhee & Nick Cokas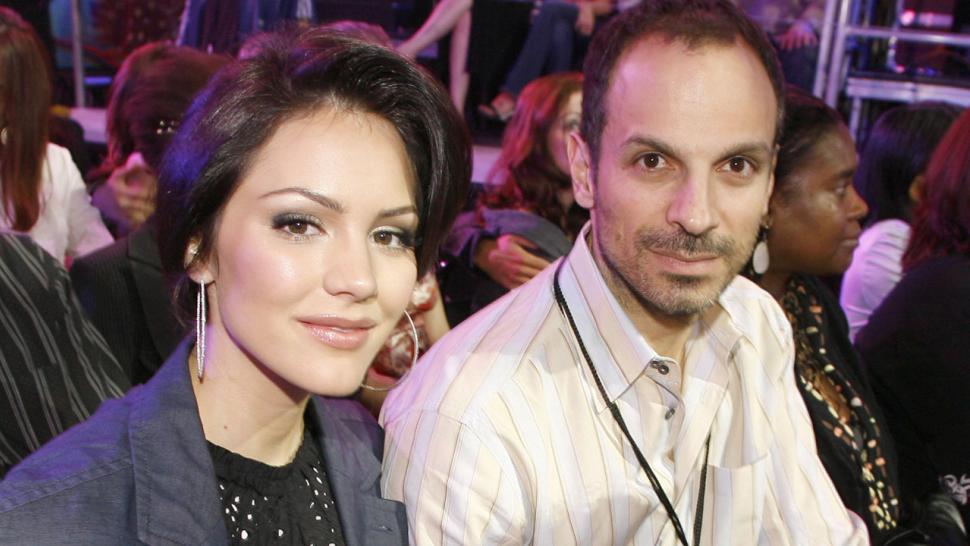 McPhee is an ex "American Idol" contestant. She got married at the age of 19. She openly admits the fact that she cheated on her husband and has no remorse for that. McPhee said: "I don't have any regrets. All of the choices I made I learned from in a really deep way."
Rita Wilson and Tom Hanks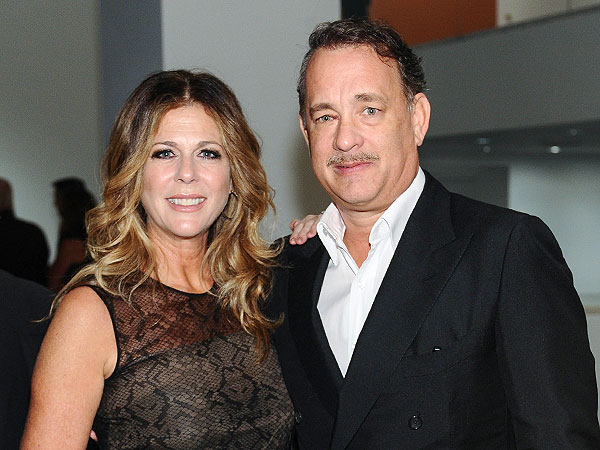 You remember the song "Forgiving Me, Forgiving You" by Rita Wilson? Well, it is said that she composed this song in order to apologize to his husband, the famous actor Tom Hanks. The two got married in 1985. Tom was already married before meeting Wilson. He said, "Well, yeah, I did happen to be married at the time, and there's nothing to celebrate about that."  
Margaret Cho and Al Ridenour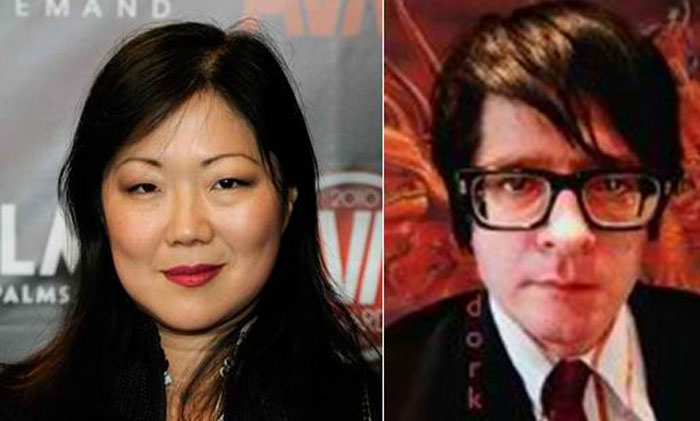 This couple stayed in an open relationship for 11 years. Comedian Margaret Cho and Al Ridenour are having a blissful married life that offers liberty to this extent. Cho maintained "We have a really big house. It's kind of like if we wanna have that, it's like, 'You can stay on your side or I'll stay on my side.' When I see her, I'll make her dinner. … Oh yeah. I've definitely been in the house."
Hillary & Bill Clinton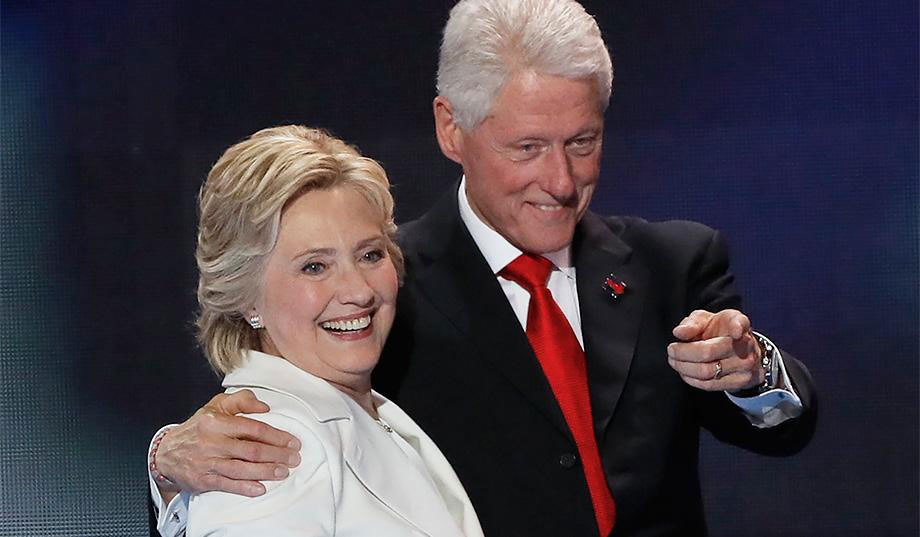 The news of former president Bill Clinton's affair with Monica Lewinsky failed to rock his married life. Whereas the entire world felt pity for Hillary, she stood firmly with her husband. The couple is still together. 
Jane Fonda and Roger Vadim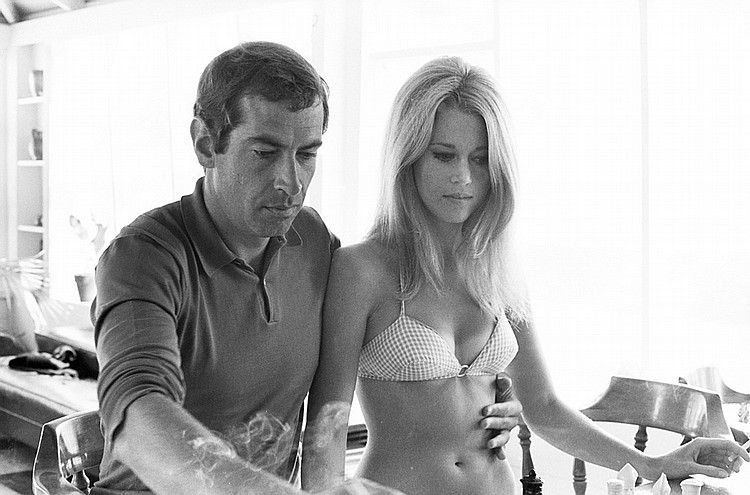 In 1965, French film director Vadim tied the knot with American actress Fonda. The couple had a very interesting married life as they did not hesitate from getting involved in threesome or foursome.
Ruby Dee & Ossie Davis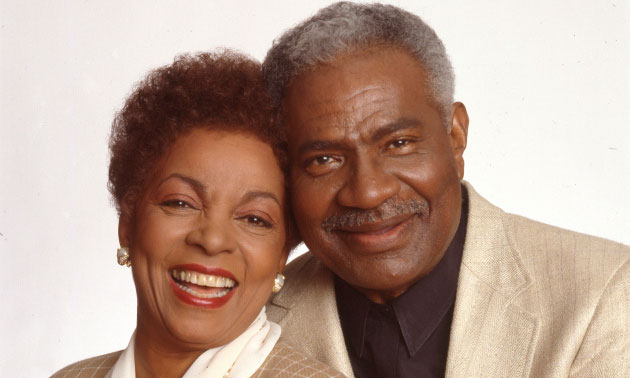 Ossie Davis shared an open relationship with his wife Ruby Dee in the year 1948. A part of their autobiography read, "It occurred to us, from observation and reasoning, that extramarital sex was not what really destroyed marriages, but rather the lies and deception that invariably accompanied it–that was the culprit. So we decided to give ourselves permission to sleep with other partners if we wished–as long as what we did was honest as well as private…."
Marlene Dietrich and Rudolf Sieber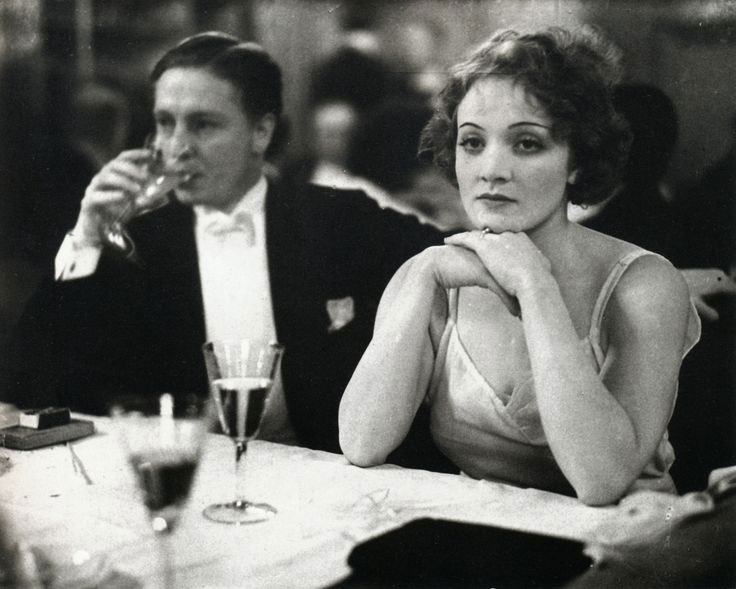 Marlene Dietrich was a German actress who slept with multiple partners including Edith Piaf, Greta Garbo, Frank Sinatra, Kirk Douglas, John Wayne, and Joseph Kennedy. Surprisingly, during all these time she was married to Rudolph Sieber who was an assistant director. David Riva, a nephew of Marlene described, "[I]t wasn't the physical side of sex that mattered. For her, intimacy was about power."
Goldie Hawn and Kurt Russell
Actress Goldie Hawn is in an open relationship with her hubby Kurt Russell. They have been together for 34 years. According to Goldie being in an open relationship is not an easy task. She said, "You're in the prime of your life, you are attracted to other people, potentially, you have fantasies about that."
Emma Thompson & Greg Wise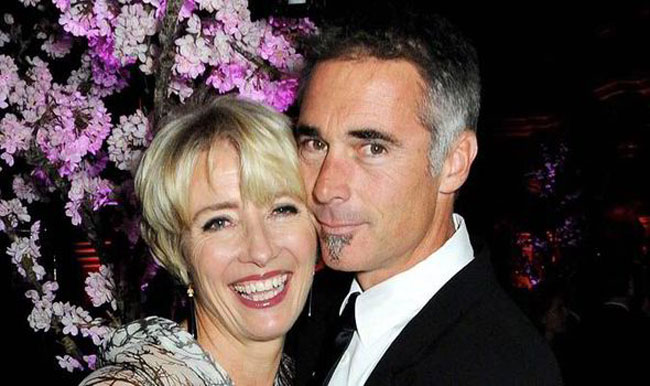 Emma Thompson is the wife of Greg Wise since 2003. Wise is professionally a writer. She once commented to Daily Mail, "I think that we're locked into certain ideas and certain romantic ideals that have shaped our thinking about relationships for some time. And I do sometimes wonder about whether there are alternatives, and about whether our fury and rage and disbelief and horror about infidelity are quite realistic."
Astrid Menks/Susan Thompson/Warren Buffett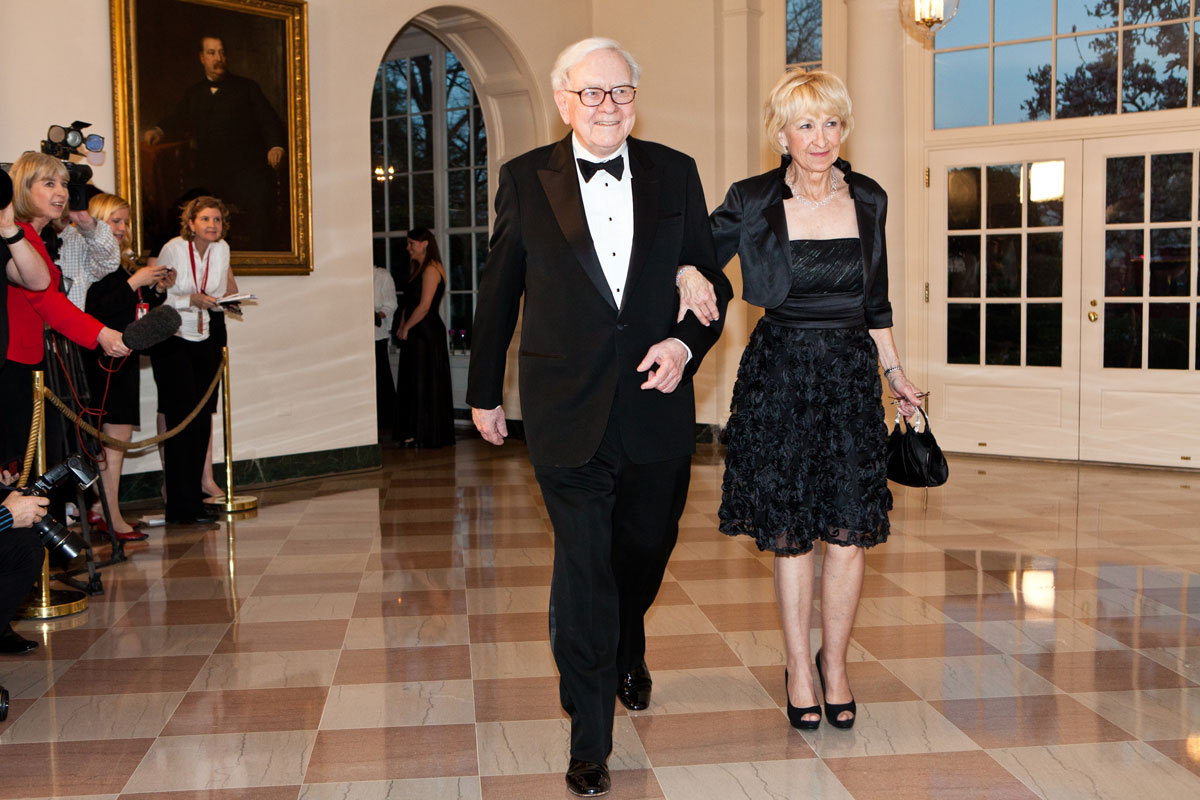 Warren Buffet is one of the richest men on the earth, owning the wealth net worth of a $75 billion. He also believes in an open relationship. His views are well reflected in his actions when he got into the relationship with a lady called Astrid Menks while being married to Susan Thompson. Unfortunately, Susan gave up her ghost in 2004.
So, these are some of the coolest celebrity couples we have, who have no problem with their spouse getting intimate with each other. Are you too that open?