There is a famous dialogue in the movie When Harry Met Sally that goes like this "It's so nice when you can sit with someone and not have to talk." Very few people have that special friend in their lives with whom they can spend hours without communicating in words and still feels the same comfort. This story is just about that friendship that includes big dogs and small kids. Despite their glaring differences, they make a beautiful vision to capture. Along with their stories, we are also sharing some of their cutest picture that will surely make your day and you wouldn't help but poke your friend who is sitting beside you to see them or perhaps you will have your long subsided memory of friendship come back to your memory store.
Newborn babies are cute and the dogs too are very adorable. What if we put them both in the same frame? We present some of the best pictures that have captured the cuteness in its best form. Go through the slides and chose which one of them is your favorite.
Kiss Me Quick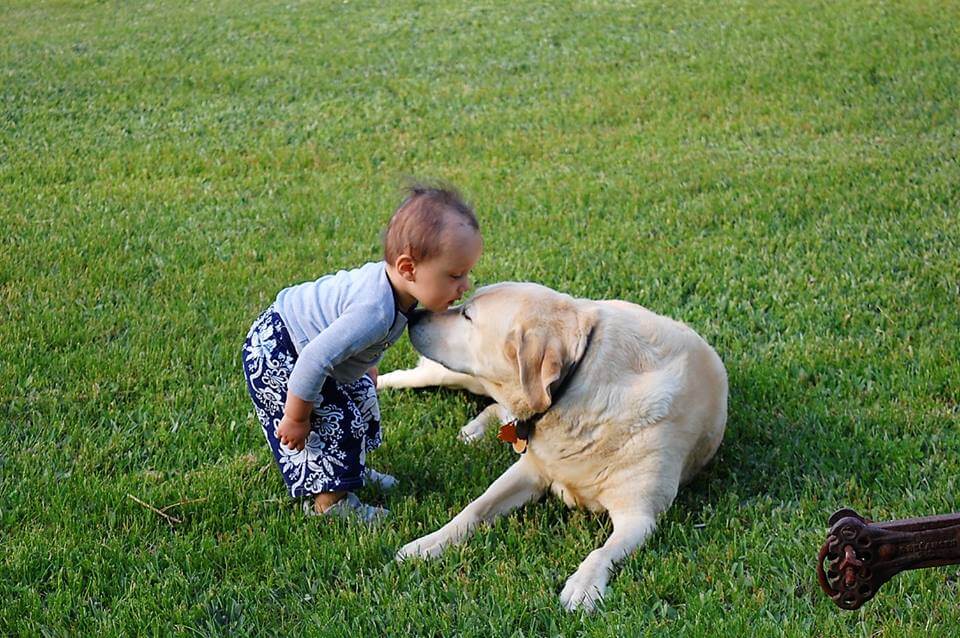 Awww, this is so cute. Who would not fall for the cute little boy Dimitri? But the boy gave his heart to, Fred, a yellow Lab. Fred and Dimitri made friends when the kiddo went over to his grandmother's house. Fred used to visit him every day and they played together. Whereas the dog showed his affection to him by licking him, Dimitri loved kissing him. The picture captures one of those precious moments when four-year-old Dimitri showers his pal with lots of kisses. It is their love for each other that made this picture so beautiful. Sadly, the pair had to split as Fred's family moved to some other place, taking him away with them. Though Dimitri can't play with his chubby and fluffy friend anymore, he always can remember him by looking at these cute pictures.
I'll Walk You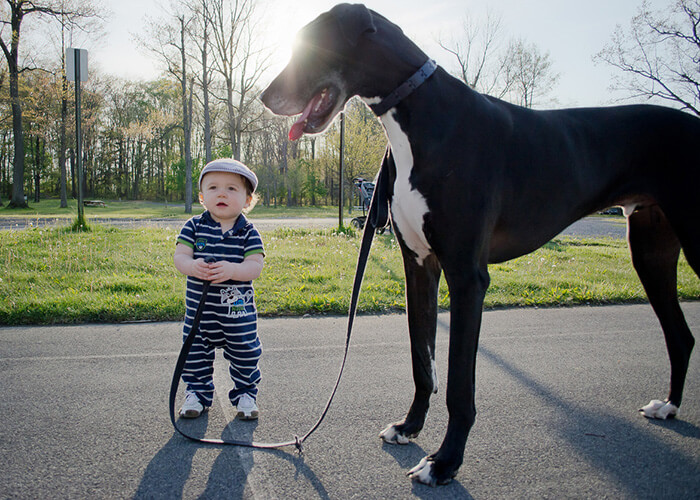 Simply wow. When you see this picture you get confused whether you should laugh or just keep looking at it. This toddler who just have learned walking is leading this giant dog. The sizes of the both look striking but is the perfect picture to make people wonder. Thanks to the photographer Brett Manippo who captured such a beautiful pic and shared with us. The dog perhaps would have been having problems while walking with this baby as he would have to look down before taking steps and no need to say its speed would have gone down considerably. Or it could be that the kiddo was put before the dog just for this picture but whatever the reason is this pic is surely going to make him laugh when he will grow up.
Cozying Up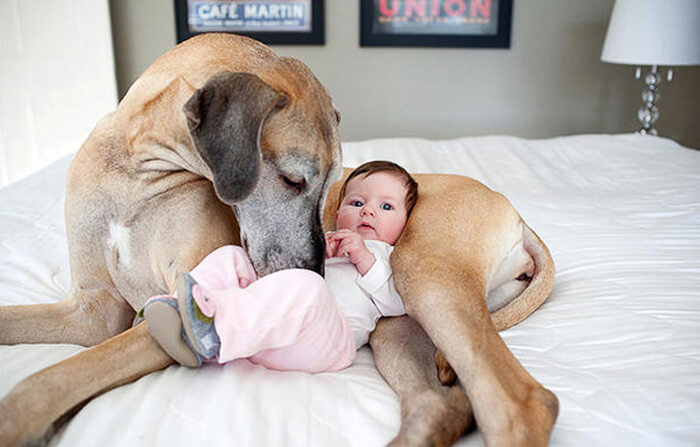 I bet you would have never seen a scenario like this. The dog here is tending to a baby which is apparently not hers, as her own. It is natural that the dog owner parents who are about to welcome a new member to their family get a bit tensed about how their pet is going to react. In order to get their pooch familiarized to the presence of the small member, they bring the blankets home from the hospital to have the dog sniff it and even play the records of crying baby and many more things. Just like any other family with dogs the family of this baby would too have gone worried a little about their dog reactions but they would have never expected this. Perhaps, the dog is seeing this baby as her own pup. The next picture is more like a painting of a beautiful bond. Click next to find out why is it so?          
Laugh Out Loud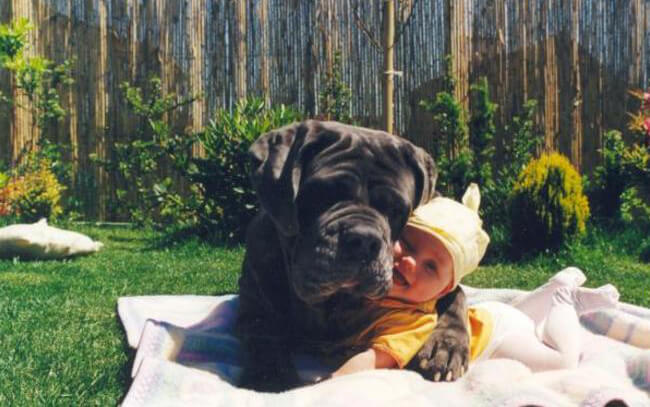 Me, my pal and lots of fun. The baby looks so happy in the company of his big BFF. It seems that they just don't need anyone else. We in the picture also can perceive the caring nature of the giant wrinkling dog towards the laughing baby. The amazing pose of the duo coupled with the scenic background makes it look more like a painting rather than a picture. Even the huge size of the dog doesn't seem to intimidate the teeny tiny baby. Both are hugging each other with the dog's leg on the baby. But the pressure put on him is gentle enough to let him know that he is being loved by the dog much more than anything else. Their friendship is just not cute but inspiring. The next picture in the line is equally cute and opens up a new dimension of dog-human friendship. 
You & Me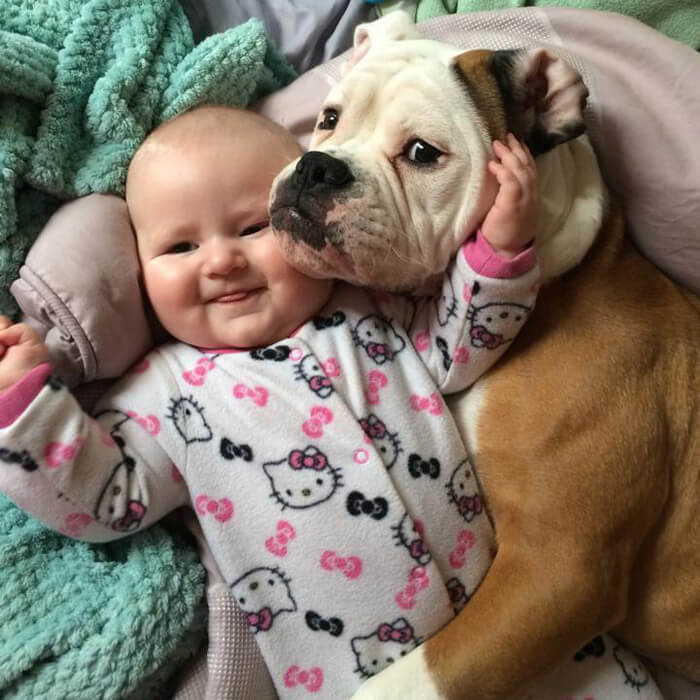 This overwhelming photo came to surface when a man shared it on Reddit. He along with sharing the picture also stated "The dog gets upset when she's away from the baby for too long". You just can't help but love this picture as both the character in this picture are extremely cute. You can also easily notice the overprotective nature of the dog. Just look at the dog who has wrapped the newborn baby with his arms as he is trying to convey that he will not share his newborn human sis with anyone even with their dad and mom. And why would he not be? Obviously, it would be her who will play with him and would take care of him when she will grow up. The family must be enjoying this amazing equation of cuteness and friendship.
Let's Have Some Fun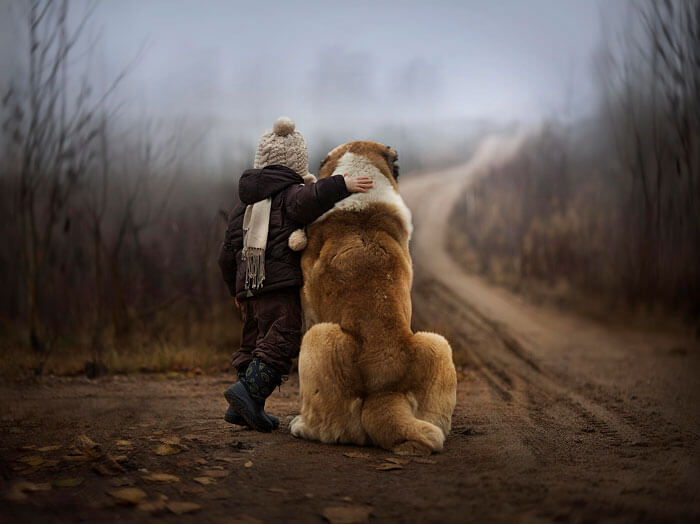 You'll agree that when you have a company around while on a path you just don't realize how much distance have you covered. Especially, if the company is of your best buddy. Our little super stylish adventurer here is having one in the form of a big fury St. Bernard. Seems like the two are waiting for something. What could it be? Perhaps, a transport that would take them on a new adventure. Nobody can touch even a hair strand of this toddler as long as his best bud is with him. Just like the young humans the St. Bernards also likes to have the company of humans. If kept alone for a longer time, they easily can slip into depression turning this usually affectionate dog into a violent beast. However, this gentle giant is very calm, sweet and patient that makes them perfect company while undertaking trips.
We Will Always Be Together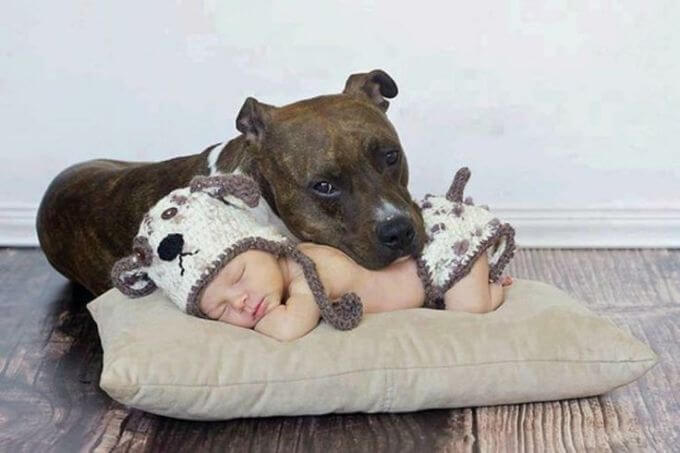 The picture is nothing less than a masterpiece. No need to say that newborn babies are the best example of cuteness and having a dog in the picture is a cherry on the cake. With their tiny and delicate body, they can attract anyone towards them. Even the dog in the picture could not resist his affection for this newborn baby. Look at the pic, whereas this adorable baby draped in its knitted outfit is dozing off the big sized dog is resting his head on it making it a perfect pose for a perfect picture. Surprisingly, it doesn't seem to affect the sleep of tot. The dog might have mistaken the infant for its puppy. Regardless of the reason behind dog's behavior, the picture is cute enough to secure a spot on our list. We have many more adorable pictures like this that would make you awestruck. One of them is just below this one and trust me you would literally fall for that.
Best Friends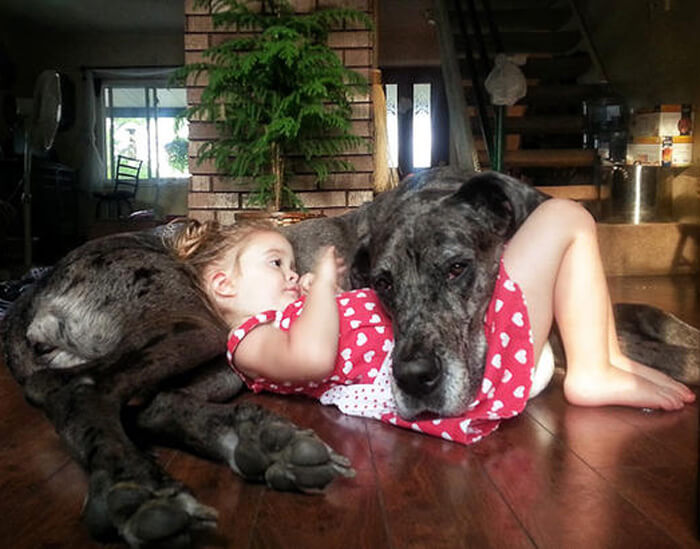 Home is where the heart is. There might have been many beds and sofas in the house but for this girl, the best place to sprawl on is in the arms of her BFF. Whether she feels sad, bored or alone she goes to him to share her feelings who listen to her carefully without interrupting her for a second. That is what a true friendship is, isn't it? The dog o the other hand doesn't seem to be bothered by laying herself on the dog, in fact, the giant dog is more than happy to have her around and goes further by putting his head on her lap. She even seems to caress him with her hand. Both are very caring for each other. The picture aptly translates the amazing bond between the two. The next picture would make you rethink even if it's a real one or not. Trust me the next one is absolutely real.   
Let's Take A Ride
The picture is too good to be real. It looks more like a photo coming out of a fairy tale book in which a little boy is riding a large mythical creature. Much to your surprise, this picture is very real with very real characters. The giant beast in the photo is a Newfoundland Ringo and the boy topping him is a three-year-old toddler. He takes full advantage of his giant best buddy. Get over him whenever gets the chance and after that both go for a ride. The picture is the product of their this habit only. The dog weighs up to 168 pounds and the boy is only 33 pounds. But in friendship nothing matters except the feelings for each other. Despite their drastic differences, they come up as the best example of true friendship.  
Sleeping Time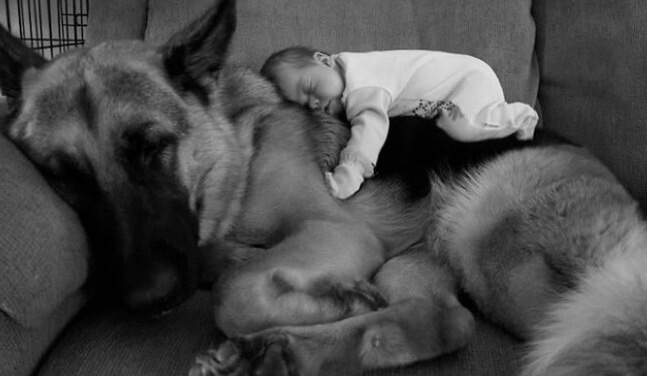 "I can't carry it for you, but I can carry you." Seems this popular dialogue from the movie Lord Of The Rings was meant for this pair only. This giant dog seems to have no problem in letting this cute baby laying on it or perhaps it is too much in sleep to realize that little weight on it. It is generally believed that the German Shepherd is not a good choice when you have a kid in your home. But this photo clearly stands against such perceptions. If we go by the pictures it seems the dog is quite a cozy spot to doze off. The pose makes a perfect picture. The kid might not be realizing all this right now but when he'll grow up he'll surely have a hard laugh on watching his wonderful picture with his pet. 
I Am Your Doctor!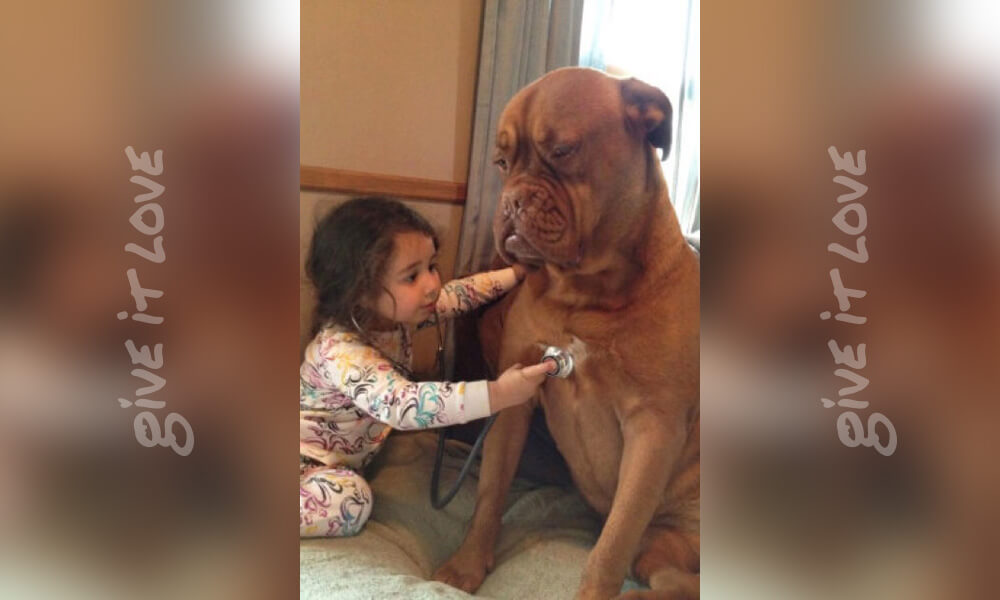 You too would have played Doctor in your childhood. With who you used to play with? The friends of your age right? But unlike you and me this little girl plays with her family dog. It is more beneficial in the sense that you can hear the real heartbeat of the dog with the dog being patient enough to let you do your business. The expression of the dog is ambiguous as it is difficult to detect as he is playing willingly or just because he had no other options. The girl is acting just like a doctor if you may have noticed the hand of the girl on the back of the dog while checking his heartbeat. Another perk of having a dog as your patient is that they don't talk that helps to maintain the decorum of the hospital!
Let's Take A Nap Together
You can fall in love at any age. This little tot fell in love with his pet in no time. Her love is Sprocket a three-year-old Pit Bull Lab mix. The dog also reciprocates by taking good care of her. He tends to all her needs and is extremely careful with her. Pit Bul is also called "nanny dogs." Judging by the photo it seems they are rightly say so. Not long before they met and they already have become very good friends with each other. So good that they always stay together. As you can see in the picture, both the friends are taking nap together with her laying her head on him. She also grabs the paw of dog but he doesn't get offended by it. The dog sometimes fails to realize that as which toys are his and which are hers but despite that he cares for the infant just like the other member of families do. Just like any other best buddies in the world, the BFFs in the next slides share many similarities even the bad habits as well. Find out what habit am I talking about in the next slide.
Learning The Bad Habits
Picture Perfect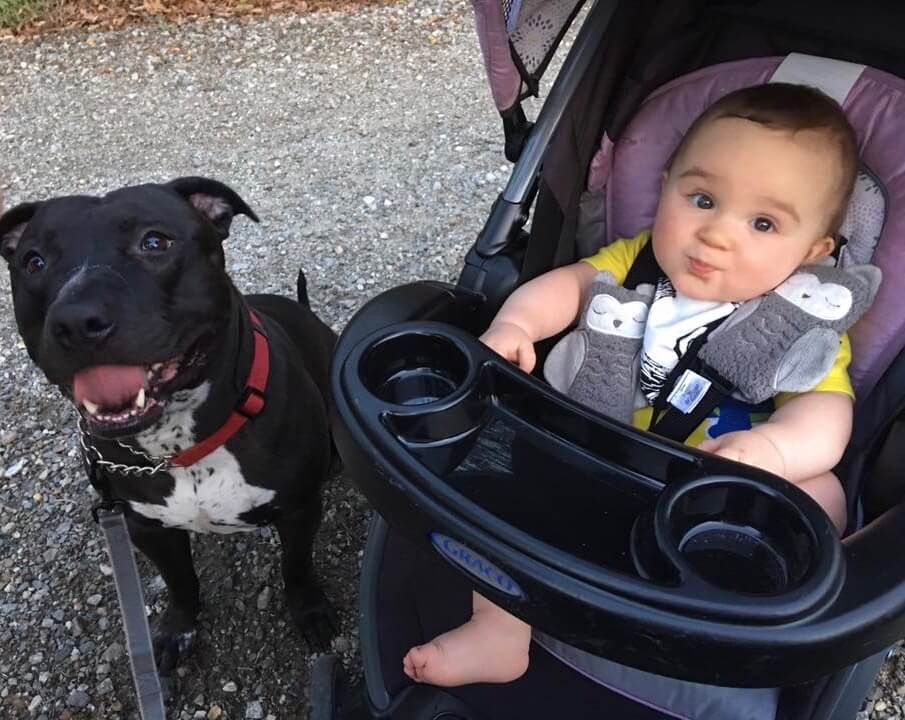 Little Savannah and her dog Loki looks perfectly cute in the picture. Loki is a Staffordshire Bull Terrier/Lab mix. They hang out together and pose together. The 10 months old Savannah loves to pull the already hanging tongue of Loki. She does it more often and surprisingly, the dog has no qualms. He instead showers all his love on her by licking her for instance, whenever Savannah pulls her tongue out when he is in sleep, the dog wakes up and instead of barking at her he simply lick her and sleeps again. Apparently, Both are very adorable and their bond is equally amazing. Next is about a dog who is desperately waiting for his little pal to grow up and play with him. How do I know? Well, his expression says it all. You check out for yourself.
Planning The Fun
The dog in the picture is Tank, he is the chubbiest puppy in the litter and that is the reason why he is named so. Clearly, this giant German Shorthaired Pointer breed is having an amazing and loving time with this teeny tiny seven-month-old baby. This breed is very much fond of human companies and enjoys daily physical exercises. They are also hyper by nature. Perhaps, Wrapping his arms around the baby the Tank is making future plans of the time when his little pal will grow enough to play with him. Then they'll have lots of running and physical exercises. Till then, he'll have to satisfy himself by snuggling with his would-be playmate. We hope, he will get to roll on the gardens with his small friend soon.
This amazing little girl in the next slides shows us the multi-usage of a dog. They are more than just a pet.
Best Place To Sit
Who needs a chair when you have a big, cuddly and warm dog that can also be used as a cushion to sit on. The five-year-old Sophia is checking a phone, probably of her mother, after plonking herself comfortably on the back of her pet that happens to be a golden retriever. What a great place to relax! Sophia is an all animal lover but Uma, the cushiony dog owns a special place in her heart. Uma also likes Sophia a lot perhaps that's why she did not mind the girl putting all her wait on her. When being asked to not to sit on the dog, Sophia with a great confidence on her face and in her voice replies "But she's my girl!"      
Not Again!
No, Not Anymore Please!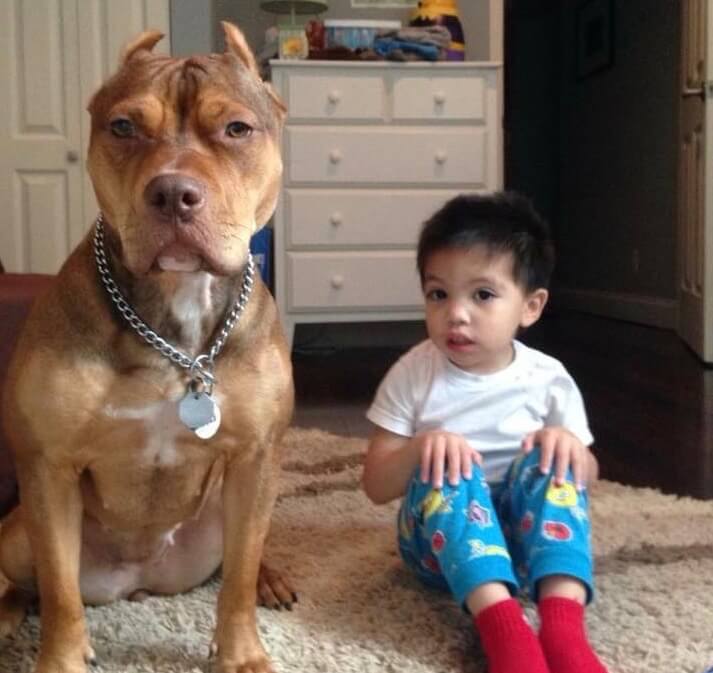 Seems like the both were not prepared for this picture. Look at their expressions! They look so tired. Perhaps they are tired of posing for a number of pictures. They said no more when the photographer clicked the button or maybe they just have woken up. The boy in the picture is Lucas who is two years old and the dog is Lexi who is a few months younger than him. Lexi is an American Pit Bull Terrier who loves the company of Lucas. She every night before going to bed spends an hour snuggling with her little mate. Only after having him slept she goes over to her resting place to have her share of sleep. And the next morning they began having fun around with each other. Isn't it just the perfect lifestyle?
Snuggling It Out!
 The Snow And Us
The sports enthusiast boy usually has their best buddy in the form of a dog. Similarly, Daniel got his best friend in Enkido a Rottweiler/German Shepard mix. Their friendship was so strong that they used to be together every time. They were glued to the hips. The pictures are of the time when Daniel was only four years old. The picture aptly describes their amazing bond. They have done much fun together such as playing in the water and with bubbles. What they like the most was playing in the snow and whenever Daniel felt cold he always had Enkido by his side. All he required to do was to snuggle with him. Daniel also likes sliding down the hills and Enkido would follow him.
Friends Or Competitors?
Who you find cuter? If your answer is the baby then read this. The dog in the image is trying his best to outdo his competitor that is the baby. However, it doesn't mean they don't like each other. They too are BFF but with a flavor of jealousy. The picture is little old and both the friends have grown little more. They stay and does many activities together. Winston the dog also has the habit of stealing the toys of Simone who later runs after him. Though they both do not fit the life together and die together kind of friendship but shares a good bond. Their love for each other can be seen when Simone gets some food for Winston.
To play games you don't need any kid of your age, a dog also could do. 
When Will Santa Come?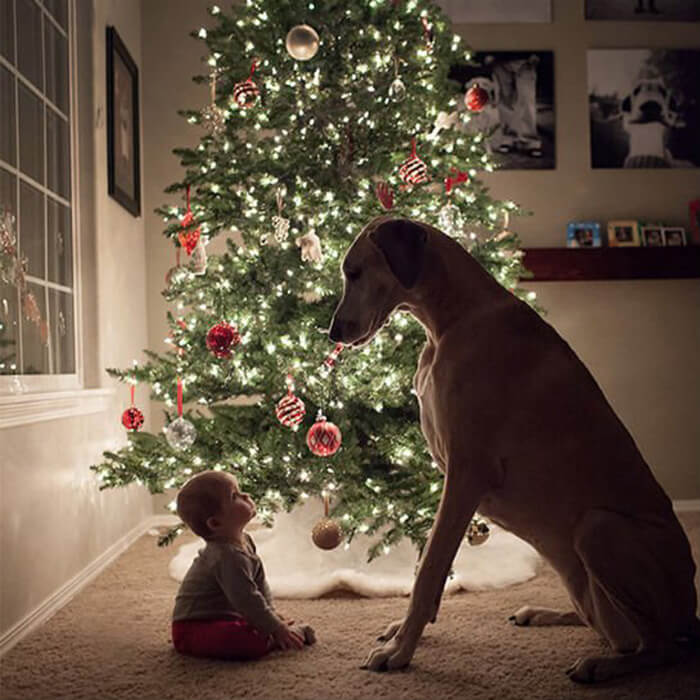 "Jingle bell, Jingle bell, Jingles all the way Santa Claus coming around sliding on the sleigh" and this small and cute baby is waiting for the Santa who will bring him lots of gifts. But when will he come? Well, this dog knows it better that is why he is trying to get the kid out of that place. He is trying hard to convince him that Santa would only come when he will be away from this place. But the kid is just not in the mood to move. You can see the tension in the picture, both are constantly looking at each other waiting for the other to break the eye contact. We don't know what would be the result but there is one more possibility that the baby might sleep of tiredness and the dog would inform the Mom and Dad who would deliver the gifts to the baby.
What Does He Mean?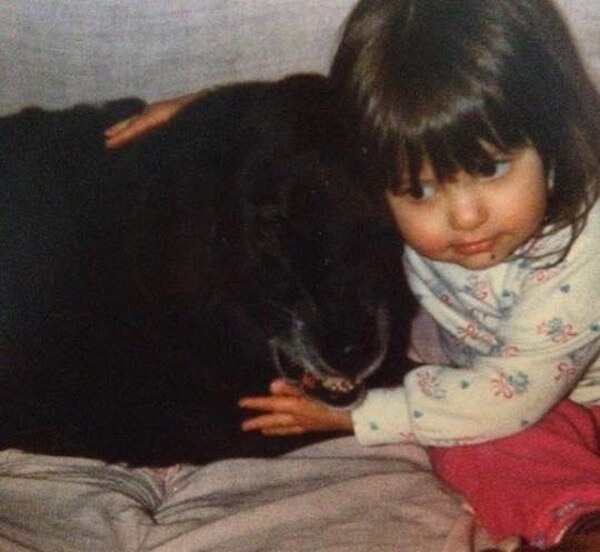 You may think by looking at the picture that the dog is not liking the hug by the two-year-old girl. But that is not the case here, the dog despite having his teeth open is enjoying the cuddle of this little girl. He has been very possessive of her and always looked after her. Boo Boo the dog of her grandmother fell in love with her and did everything at his length to protect her. He even used to growl others out whenever he felt something strange approaching his buddy. They have spent many good moments together and this picture is one of them. Though the dog has opened his mouth while the girl hugs her he would never bite her as she is his best buddy.
Time To Go!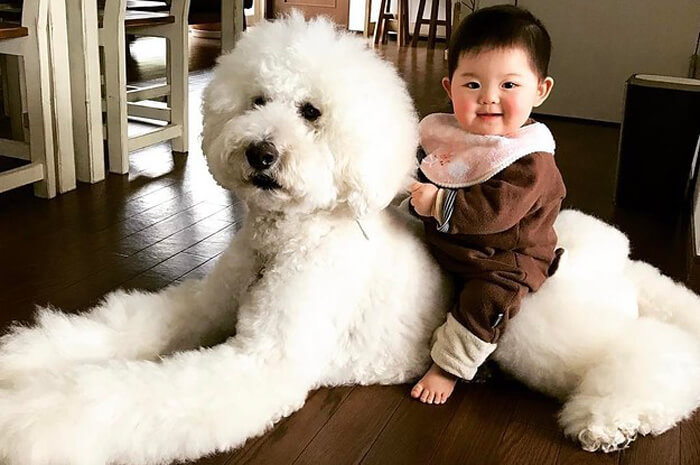 This photo was shared on the Instagram account @tamanegi.qoo.riku by the grandparent of Mame. The account is replete with many more cute photos of the both but this one stole our heart away. Mame is a little native of Japan who found her best friend in Riku a poodle. She gets on the top of furry Riku like a horse. Though Riku let her get on her he never runs as he knows that running with the small Mame on the back could lead to her fall. The poodle is extremely intelligent. The house has two more Poodles but for Mame, Riku is the best. Their amazing bond surprises everyone so does their extremely cute pics. If you want to see more of their inspiring bond you can go to the @tamanegi.qoo.riku to see more.
In the next slide, you will find out how a pet dog helped his BFF to step on a new journey.
Yes, You Can Do This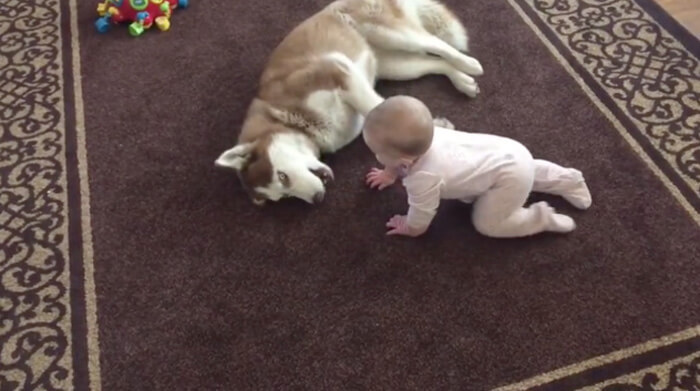 This must be a memorable moment for the parents of this little baby as he is trying to have his first crawl. What makes it more memorable is the constant encouragement by their family dog to the kid. How could they not capture this moment forever? Whereas the parents are busy taking pictures the Husky has taken up the job of a parent. You can see he is constantly trying to motivate his small buddy to crawl further. The Husky is an integral part of the family and has been staying with them sometimes before the baby was born.
Meant For Each Other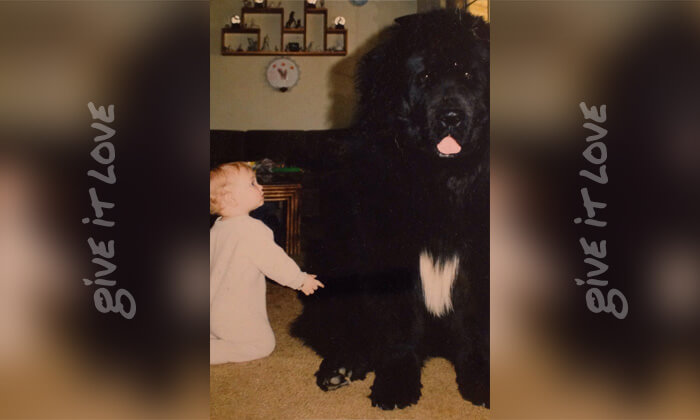 There is a very heartwarming story behind this picture. Mother of baby Teagun had got depressed as she was not able to conceive the baby. But one day someone who is now nothing less than a god for the mother offered Teagun to her. She in return t show her gratitude gifted the surrogate Grizley. Both were born in the same month and this photo was taken when both turned a year old. They are more like siblings now, who are very fond of each other's company. The two in the next picture is waiting for something and we are not able to figure out what is that. Can you guess? Click the next slide and try to find out.
Waiting For What?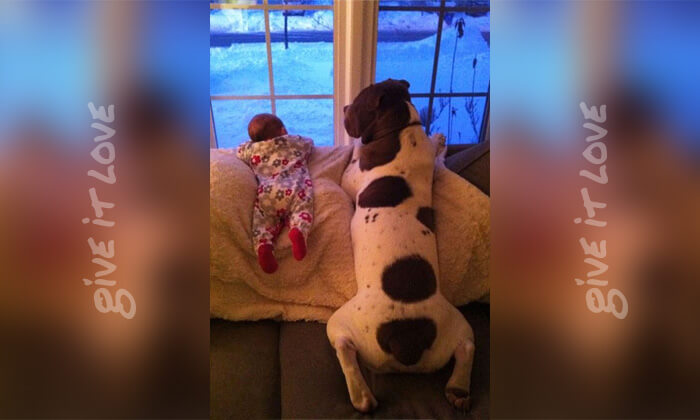 It must be fun to wait on a stuffy sofa. But what are they waiting for so desperately? Perhaps of the time when the baby would be old enough to step outside the house and have fun with her pal. They are most probably discussing their plans for those days. What an awesome days would that be? They will play outside the whole day. But for that day to come the baby would have to undergo many learning processes such as walking and talking. We are sure the dog will stay with her throughout the process.   
Sleeping Beauties!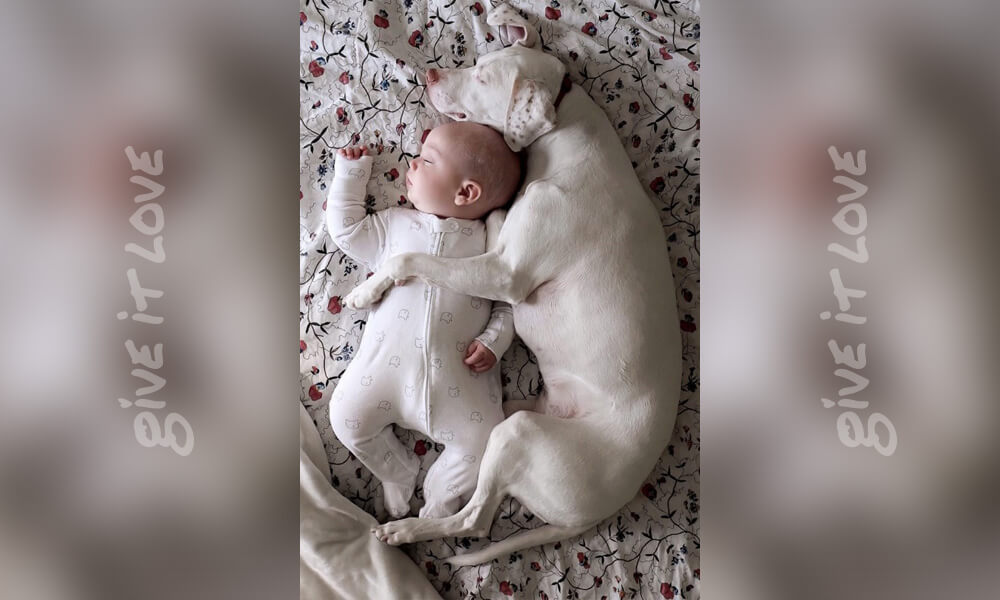 What could be cuter than seeing a dog and a baby taking a nap together? Archies the baby and Nora the dog are the best friends. Their mom Elizabeth loves to click their pictures and sometimes use props to make them more enticing. Nora is a rescue dog who got well with the Archie in first meeting only which is rare as Nora doesn't gel well with strangers. The family has two more rescue cats. Their bond sends out a lesson to the world that rescue dogs too can adapt to the new world if treated wisely.
Let's Cuddle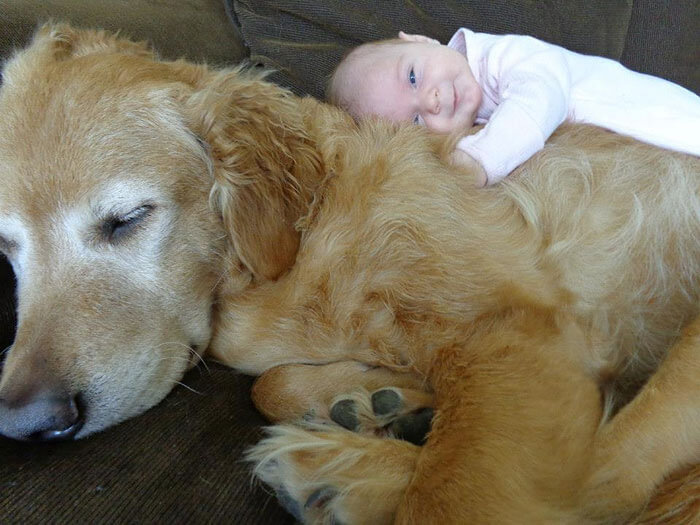 The height of cuteness! This baby loves to snuggle with her giant pet. Look at the smile that came on her face when she cuddles with her big furry friend. The dog who seems sleeping is pretending so as the mom wants the baby to go to bed but the baby seems busy in cuddling the dog. Mom will have to wait a bit more as the girl looks in no mood to quit her snuggling. However the warmth and comfort of her friends furry would eventually make her feel sleepy and then mom can take her to her bed. 
We Will Take Care Of Everything!
This little samurai is all set to save his country from the foreign threat by riding on his best buddy. The dog is also determined to help his warrior buddy in his venture. That is what they must be playing right now. The kid is very small in comparison to his buddy and that enables him to go on top of the dog. What A fun! We wonder what could be his next war place? Kitchen, bedroom or bathroom? He is really going to miss his these days when he will grow up. Now let's head to the next slide that you just would not want to miss.
The Best Version Of Justice League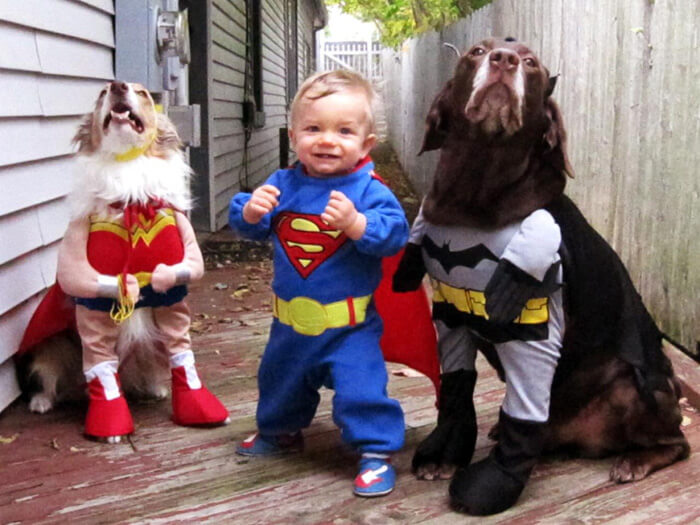 Here we present the cutest version of Wonder Woman, Superman, and Batman. By looking at their expression it is clear that they are all set to go on their duty of saving the world. I believe they would do a fantastic job as who would like to defeat such cute warriors. If ever someone would dare to harm the Superman the other two team members would surely come to the fore to take the revenge. These three best friends make the cutest avengers we know.
Not all friendship starts with a smile some has unexpected beginning. The next story on the friendship explains that perfectly. 
I Am A Friend!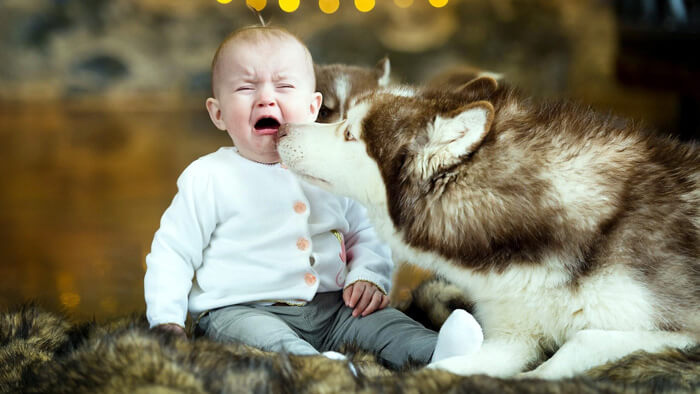 Even while crying the baby looks so cute. Perhaps this is the first time he is meeting this dog and is crying out of fear. But the dog on the other side is happy having him around and is trying to convince the kid that he is no harm but just want to be friends with him. We are sure that with the constant efforts by the dog they would surely make good friends eventually. Then the dog would have Siberian Huskies are known for their friendly nature towards humans. They are a great companion.    
Christmas Is Coming!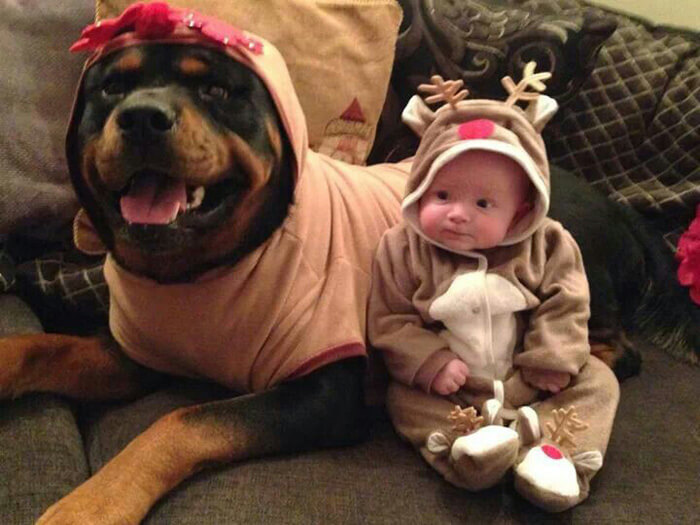 Yayyy, here comes the Christmas! Both the buddies have fit themselves into same outfits of reindeer and are waiting for the festival to come. They have their list of gifts ready and would show only to the Santa. The dogs usually don't like wearing clothes so we can understand how he must be feeling in these tight clothes. But he can undergo this much of pain as long as his best friend is with him. Surely, their cuteness would have got them more presents then they would even have expected.     
Together At Every Crawl Of Life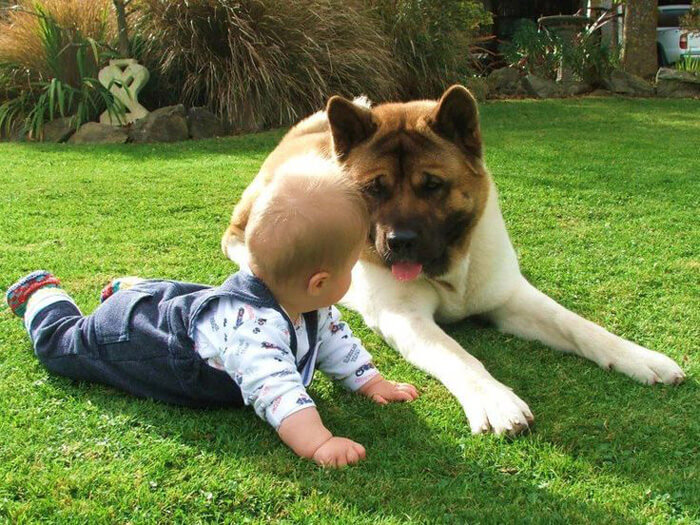 "You are doing well" this is what the dog is whispering in the ear of this tot who is learning crawling. The dog is encouraging him and assuring him that he is with him on every step of life. The kid too has begun to gain confidence and is crawling forward. The kid surely has a very nice mentor and companion. The do must also be waiting for the day when the kid would take him on an evening walk every day. But for now, let us concentrate on his crawling. The dog is not doing it out of selflessness, he also needs a companion to run and play with.
Are You Ready For Some Football?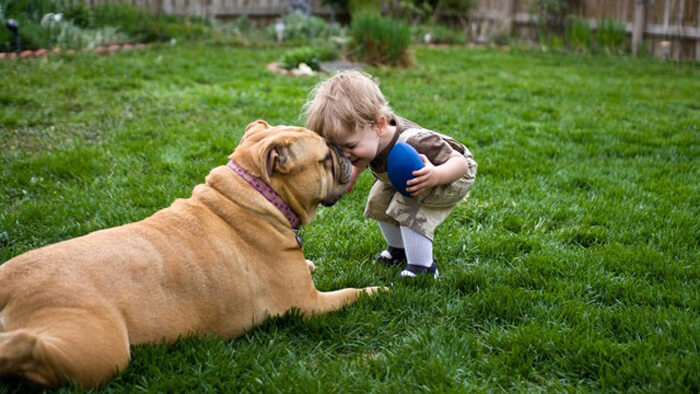 In this picture, we have next football star. The kid is trying to convince his companion to play with him. Dog, on the other hand, could not make anything of his companion gestures. The toddler wants to teach his giant fellow to throw a ball. The dog who also is like a mother figure to the kid is trying to understand him. She has been with the kid since his birth and continues to stay by his side. She also must be waiting for the day when her friend would become a star footballer. The picture is too cute to ignore that's why we have it on our list. 
Selfie King!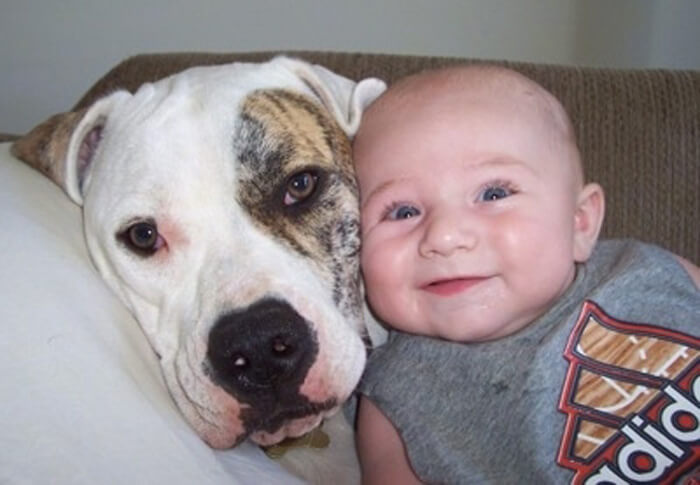 Let's take a selfie! It seems the small baby in the picture likes to take a lot selfie with his big buddy. Their friendship dates back to the time when the baby was born. They have been together since then. The kid and the dog are showing their chubby chicks off. Along with the boy the giant dog too, is giving a good pose. These photos make a great memory. Both look extremely cute in the picture and we are sure the kid would adore these pictures, even more, when he will grow up.
Hug Me Like You Do!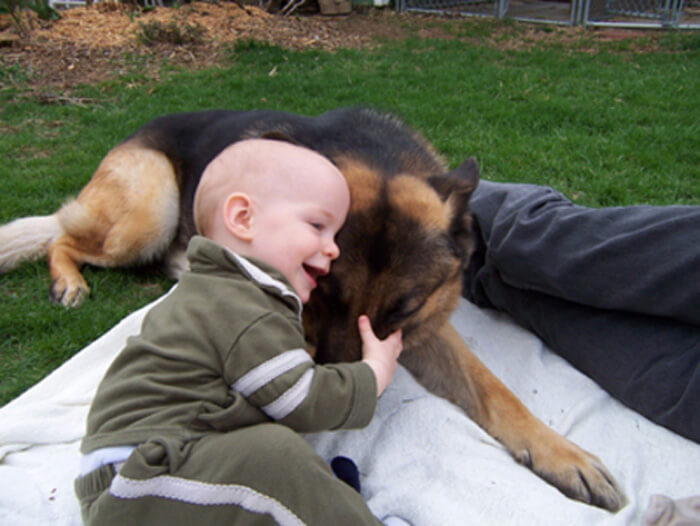 Who needs a hug? The kid loves to shower his dogs with hugs. The dog too loves the affectionate behavior of his tiny friend. They are out on a picnic in a park and are immensely enjoying each other company. Though they must have come with their mother and father it seems that they just don't remember any other person in the world as they are too busy hugging each other. The mom and dad found it a great view to capture. Thanks to them that we today are able to witness such a beautiful picture of an amazing bond.
Friends With Secrets!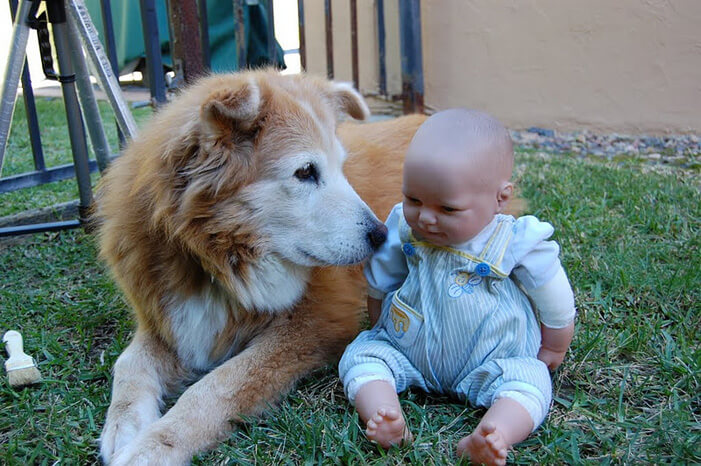 The dog here is trying to convince the sad kid that he is his true friend and she should share everything with him. The girl is perhaps sad about the food she was served today or because her mother did not make her wear her favorite dress. It could be anything. The dog is ready to listen to every complaint of her as this is what best friends are for. We really hope the small girl would soon confide in her best friend and would have her heart lightened. But the question is what has made this small girl so upset?
Bed Time!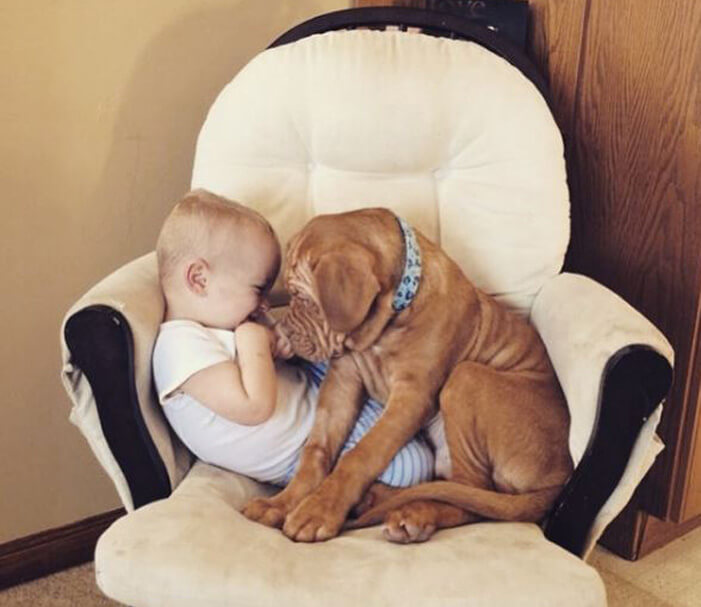 Time to sleep but first we will hear a story. The dog and his buddy are waiting for mom or dad to come and read them a story. As both of them are busy with something. So they are playing with each other to kill the time. They both love to cuddle with each other and has been together since kid's birth. The picture clearly translates the unbreakable bond of both. The parents would come back to them after getting their work done and they both would listen to a story that would take them to dreamland. But if their parents are too busy with the house stuff then who took this picture?
 Ice Cream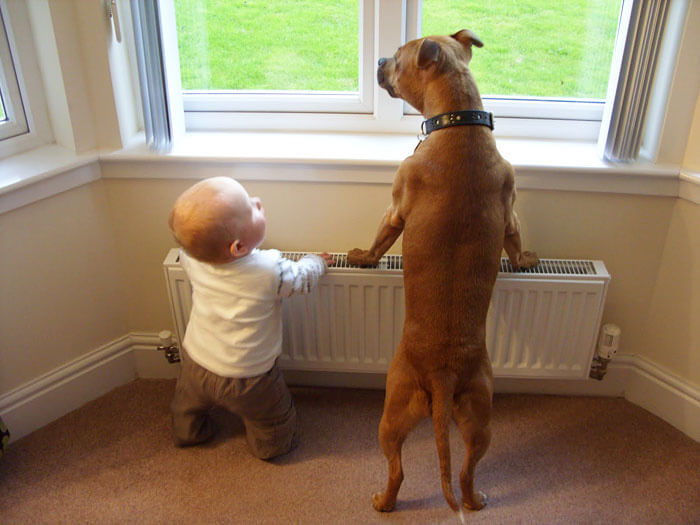 Someone took their photo when they were probably waiting for the ice cream truck. The dog is taller than him so he is keeping his little friend updated about the movement on the road. They look more like brothers, the dog clearly behaves as the elder one. The tiny child is relying entirely on his friend to get all the update. As you can see the small pal is looking at him to know what is going on out on the road. Their friendship has grown into something so beautiful. They too like other ones on our list are inseparable and spends most of their time together.
We have discussed all the cutest picture that exists on earth. We are sure you would have loved them. The dogs ARE simply the best companions one can have.