There is something so magical about love. True love does not base affection on silly things like material things or physical appearances. Age is also just a number, for people who fall hard in love with one another. Celebrities are all humans too, as far as we know, so even they fall in love time and again. It is certainly nice to see that even the most famous faces find love in a strange place or in this case, at a strange age. You would not believe some of the Hollywood couples that have such a huge number of years apart in their age. If you think about it, they really are an inspiration to unconventional relationships where their love is not defined by the difference that is there in their age. Here are some of the most adorable celebrity couples that prove that age is indeed just a number and that love is all about devotion, communication, and sparks.
George and Amal Clooney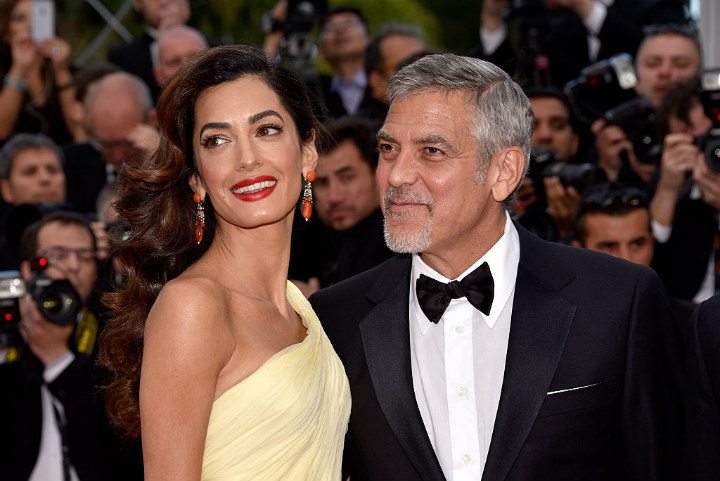 Even since they tied the know in 2014, these two have become such a wonderful sight to see as a blissfully married couple. Little did both know that their fateful meeting one day at a charity event would lead them to marry each other after just a year. George Clooney is actually way older than Amal. The two share an age gap of 17 years but does not seem to cause any issue in their relationship because of their devotion to one another. Their wedding took place in the beautiful city of Venice in Italy back in 2014. George was a rather old groom who got married to Amal, 36, at 53 years of age. The two of them now reside in a luxurious £10 million ($13,496,000) home they bought in England.
Megan Fox and Brian Austin Green
The beautiful couple that is, Megan Fox and Brian Austin Green have been dating and committed since their first meeting back in 2004. After 6 years of dating, they decided that it was finally time to get married to one another in the year 2010. The two got hitched in a beautiful ceremony held in Hawaii and their wedding was not a small one. The couple has been in a relationship ever since Megan was just 18 years old and their age difference of 13 years seems to have caused no rift between each other as we can all see. The two have been together for so long and have had 3 amazing with each other. They have had some problems in their love life with but worked they way to become even stronger.
Johnny Depp and Amber Heard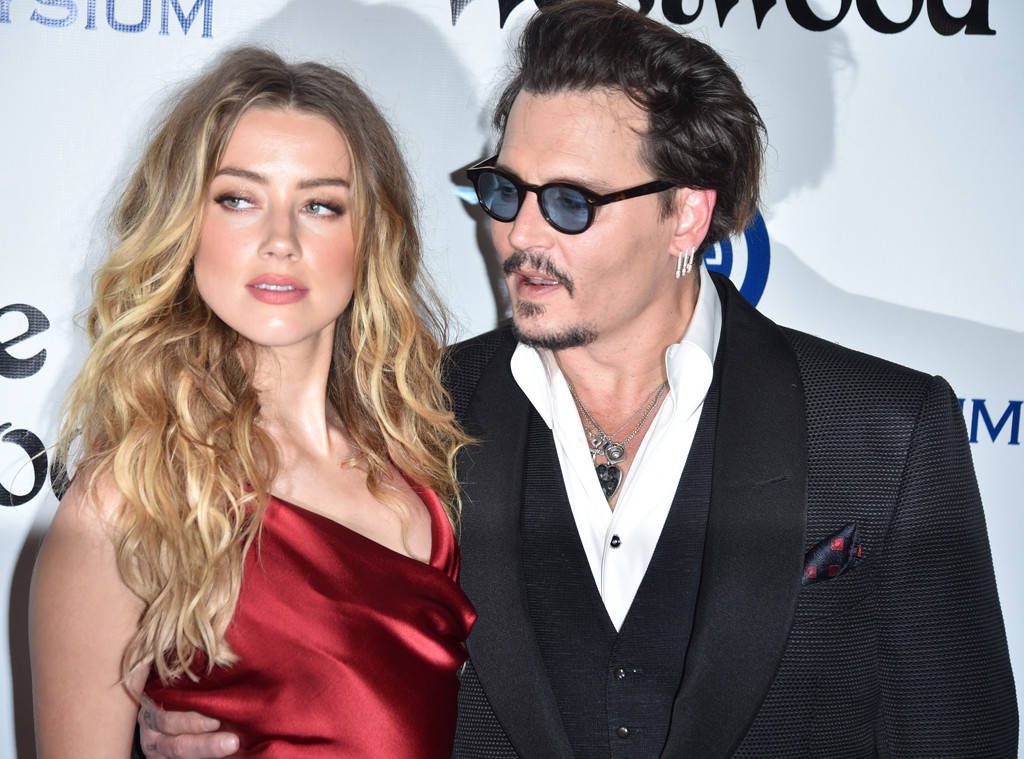 The legendary Johnny Depp met his future wife Amber Heard and was completely taken by her after first meeting in the year 2011. The two dated for a while and by 2015, they felt that it was time they tied the knot. Johnny is 23 years older than Amber. This would clearly be an issue for most people but the two were determined to make things work. The pair got married at a time when Amber was 28 and Johnny was 51 years of age. They soon found out that they were not, in fact, the person for each other and called it quits with the couples' divorce finalized by 2017. They had a very nasty split where Amber accused Johnny of being verbally and physically abusive to her, hampering Johnny's beloved public image.
Beyoncé Knowles and Jay Z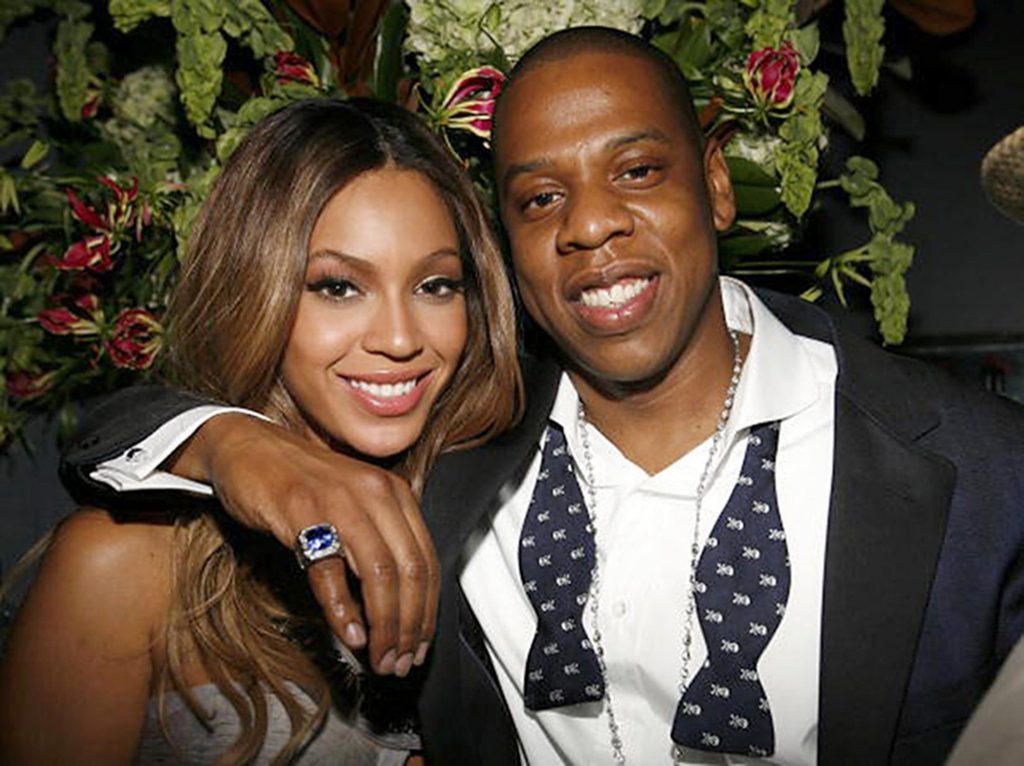 Beyoncé is one of the most powerful women in the field of entertainment who even released a song that tells a man that she can replace him in a minute. In reality, though she fell deeply in love with her now husband Shawn Carter who is also a powerful force in the music industry. We all love and admire Shawn as a rap icon better known as Jay Z. When we look at the couple it is quite hard to believe that Jay Z is actually 12 years older than his wife Beyonce. They got married in 2008 and have expanded their budding family by 3. Their first daughter Blue was born, followed by their twins Rumi and Sir Carter, where each birth made headlines all over the world. These two are definitely a force to reckoned with, having a combined total net worth of over a billion dollars.
Adam Levine and Behati Prinsloo
We all know and love Adam Levine because of his music, his band, and his show plus his charismatic charm. After meeting the Victoria Secret supermodel Behati Prinsloo at a show, he swept her off her feet and the two became inseparable in no time. This couple shares an age difference of nearly 10 years that has not seemed to make any problem in their love life because all we see is how much fun they have and how loving they are to one another. Adam and Behati decided on Mexico to have their beautiful wedding back in 2014. Behati got married at quite a young age of 25 years while Adam was 35 at the time. The couple welcomed a beautiful baby girl named Dusty after the third year of their marriage. They have undeniable chemistry and together appear on red carpets to make everyone else green with jealousy.
Matthew McConaughey and Camila Alves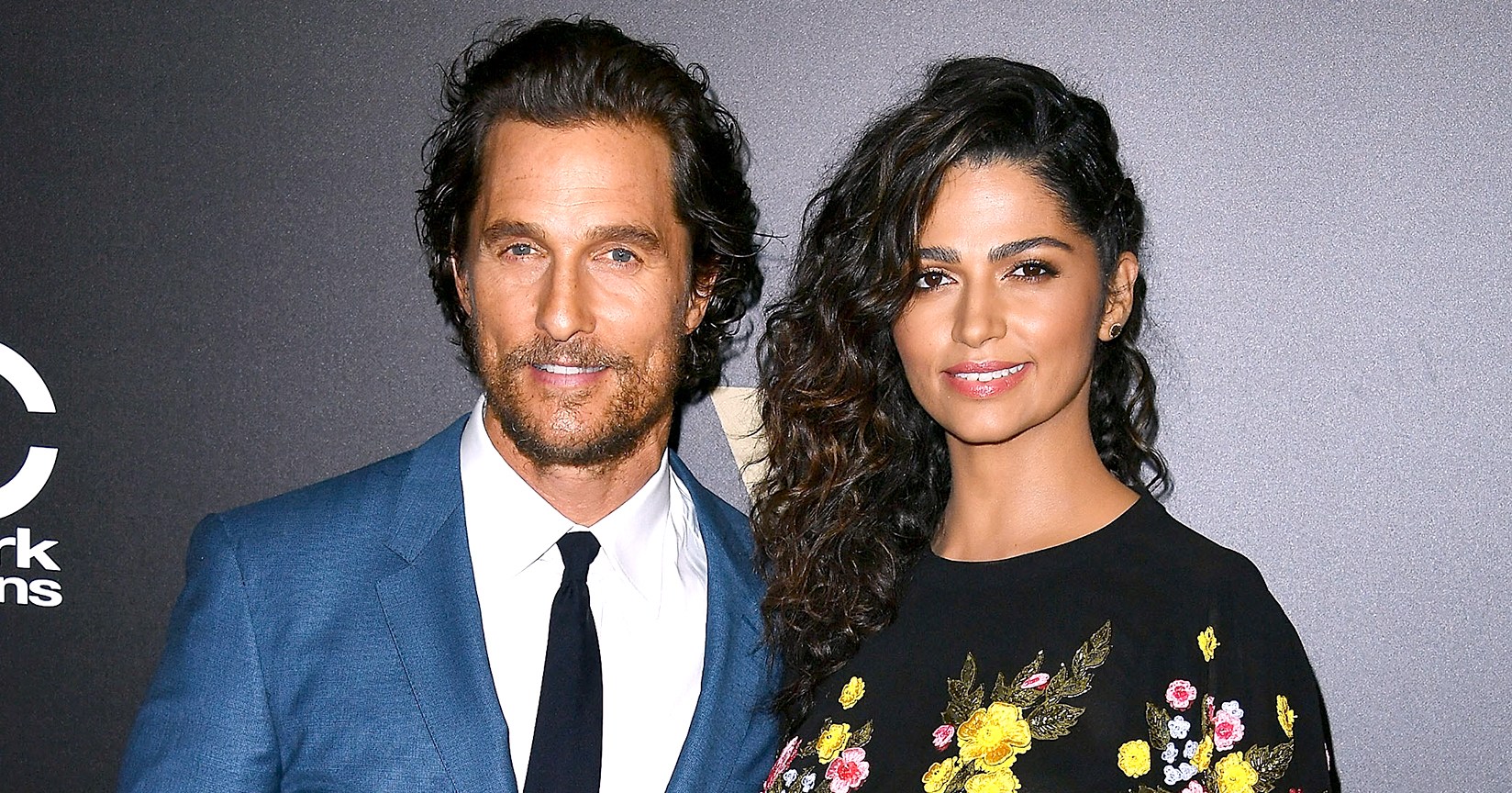 The popular Hollywood actor  Matthew McConaughey has always been a ladies man who is adored by women all over the world. So it comes as no surprise that when he met the Victoria Secret model Camila Alves, she would ultimately fall for him as well.  The two became quite a serious thing after a span of being romantic with each other. After meeting each other in 206, they have never strayed away from each other, becoming closer each year. The model and actor share an age gap of around 14 years but it has not stopped them from becoming each other's one and only.  On Christmas Day of 2011, Matthew proposed and the two got engaged followed by a wedding the very next year. The couple now live in Austin, Texas and have now welcomed 3 kids into their family. They certainly prove that age is no issue when it comes to love.
Brad Pitt and Angelina Jolie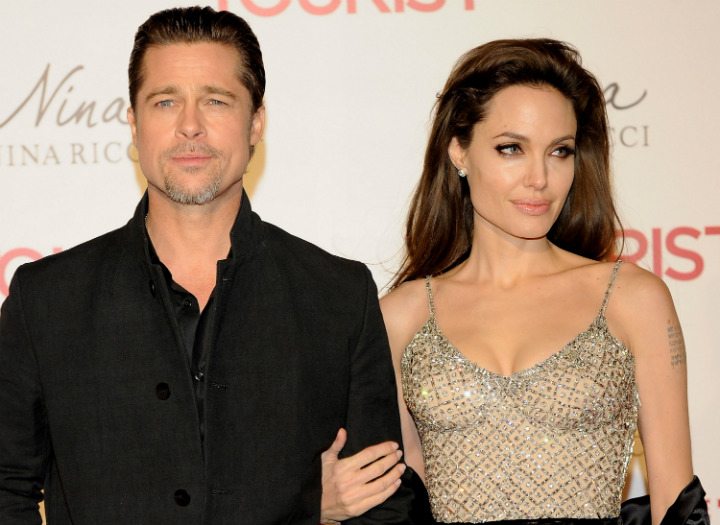 Brad Pitt is considered one of the most handsome men on the planet while Angelina Jolie's beauty can be surpassed by no woman. When they revealed that they were an item, it was like the g0ds had made this master plan to create the ultimate Hollywood golden couple. After meeting on the set of a movie, the two began dating for seven long years. They grew closer and closer and by 2014, the decision to make things official. Even though there had always been a big age difference in between them, they made their relationship seem very intact. Brad Pitt is now a 52-year-old man while Angelina has crossed her 40s in the recent years. They two have 6 kids together where 3 are biological. After trying to mend their dying marriage, they decided to get a divorce instead in 2016. They realized their difference was creeping in too much.
Tom Cruise and Katie Holmes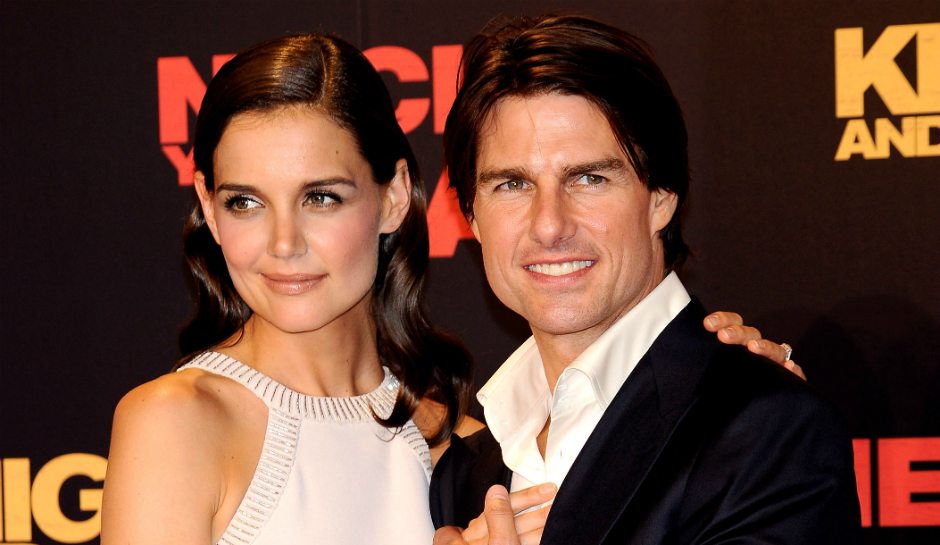 When you take one of the most successful actors in Hollywood and one of the sweetest actresses together, what do you get? The ideal Hollywood couple. That was what happened when Tom Cruise and Katie Holmes dated each other. After dating each other for a long 7 years, the couple made news everywhere again after deciding to tie the knot back in 2006. Even though Tom was 17 years older than Katie, the couple seemed to make it work and professed their love for one another everywhere they went. The two had a marriage that ran for 6 years and was clearly so in love for the most part. They soon gave birth to their adorable baby girl Suri following their marriage. After trying to stay together, their problems got the best of them and so they divorced each other in the year 2012.
Nicolas Cage and Alice Kim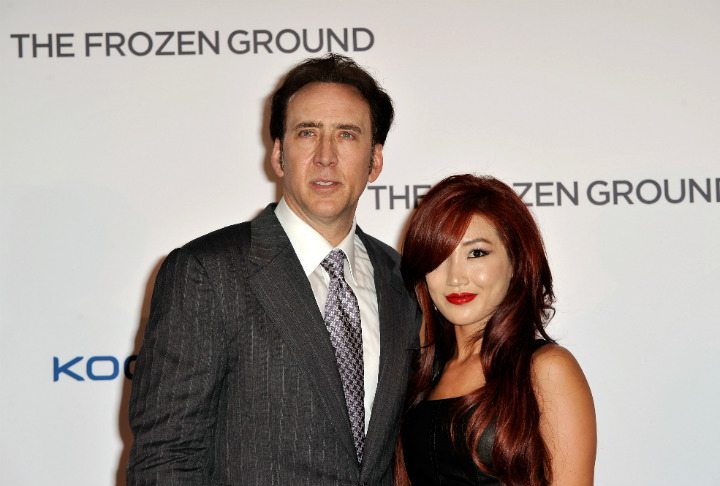 Nicolas Cage as we all know has starred in a string of Hollywood hits for a very long time. Before waitress Alice Kim ever came into his life, he was already a two-time divorcee who has had his fair share of love loss. After they met, the two were instantly head over heels for each other and by 2004 the couple was already married. Their Californian wedding took place at the ranch where the reception was kept very simple and classy with no big fuss like other typical celebrity weddings. The public was really concerned as Nicolas was a little too old for Alice. Alice is actually 20 years younger to her husband and makes some people very uncomfortable. Their wedding took place when Alice was just 20 years old and Nicolas was a fully grown 40-year-old man. Following their marriage, the couple welcomed a son named Kal-El. Luck was not on their side as they eventually separated by 2016.
 Catherine Zeta-Jones and Michael Douglas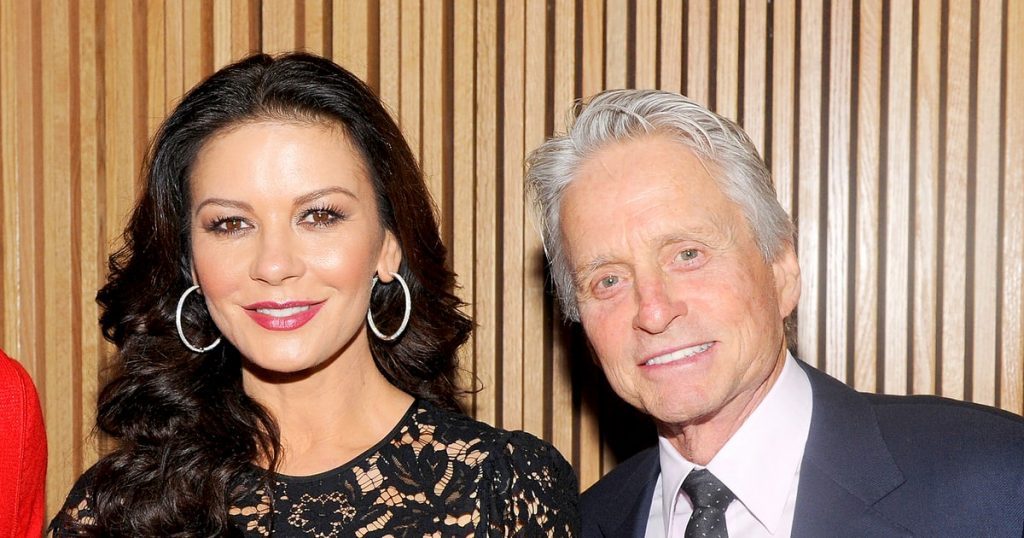 Catherine Zeta-Jones and Michael Douglas have been a powerful Hollywood couple for a very long time. They got married back in 2000.  Although many of their peers have split up and found another lover very quickly, the two have remained loyal to each other for an impressive time span now. The couple even shares the same date of birth and might even be a factor that makes them such a match for each other. There has always been that age issue people have had with this particular couple.Michael Douglas is now a 72-year-old man which means that Catherine is younger to him by a staggering age of 25 years. Catherine has jokingly stated that they keep their own separate bathrooms and is the reason why they have lasted for so long. Could this really be the reason for their successful marriage?
Mary-Kate Olsen and Olivier Sarkozy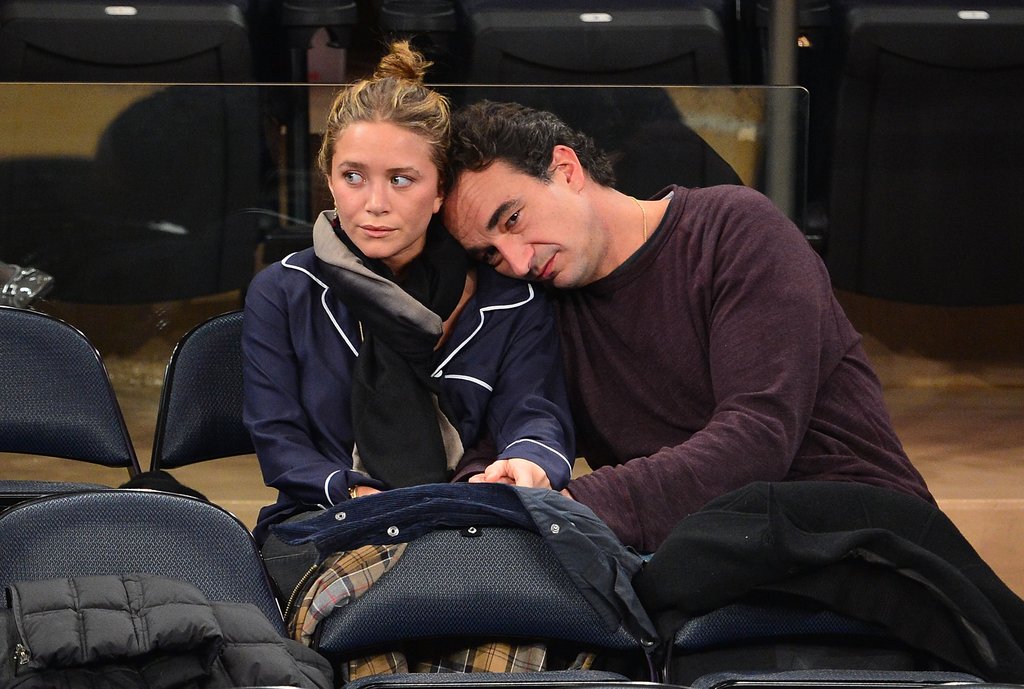 One twin from the uber-successful Olsen twins is also dating a fairly senior man for her age.  She is, in fact, dating a man who is 17 years her senior. Olivier Sarkozy is the ex-French president Nicolas Sarkozy's half-brother. He is no movie star nor is he a rockstar. Their age gap did not bother the two of them and soon Mary-Kate and Olivier decided to get hitched in 2015. At their time of marriage, Mary-Kate was a 29-year-old while Oliver was 46. In November 2016, there was a shocking discovery that leads the whole world to scratch their heads. The twins were spotted on a double-date with their men and were quite evident that they indeed had a thing for older men. Have they been playing us all these years?
Ashley Olsen and Richard Sachs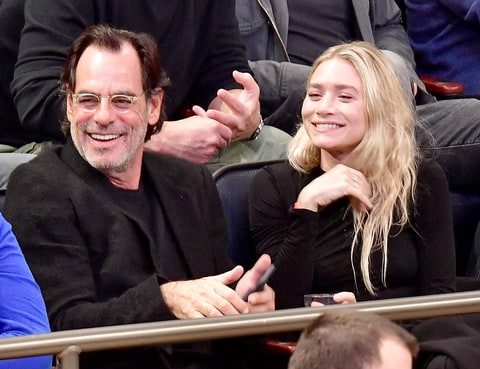 After Ashley Olsen revealed that she was actually in a relationship with Richard Sachs, it caused many people to be very surprised. The two of them seem very happy with each other despite the fact that Richard is 28 years older than his partner. Maybe because the twins have always been under such a microscope, Ashley and Richard decided to keep a majority of their relationship very lowkey maintaining a low profile. But then since the public is ever so curious about what the twins are up to, their relationship made news after the twins were on a double-date with their beaus. Although Mary-Kate got married, Ashley's case was different as she and Richard split up in 2017.
Olivia Wilde and Jason Sudeikis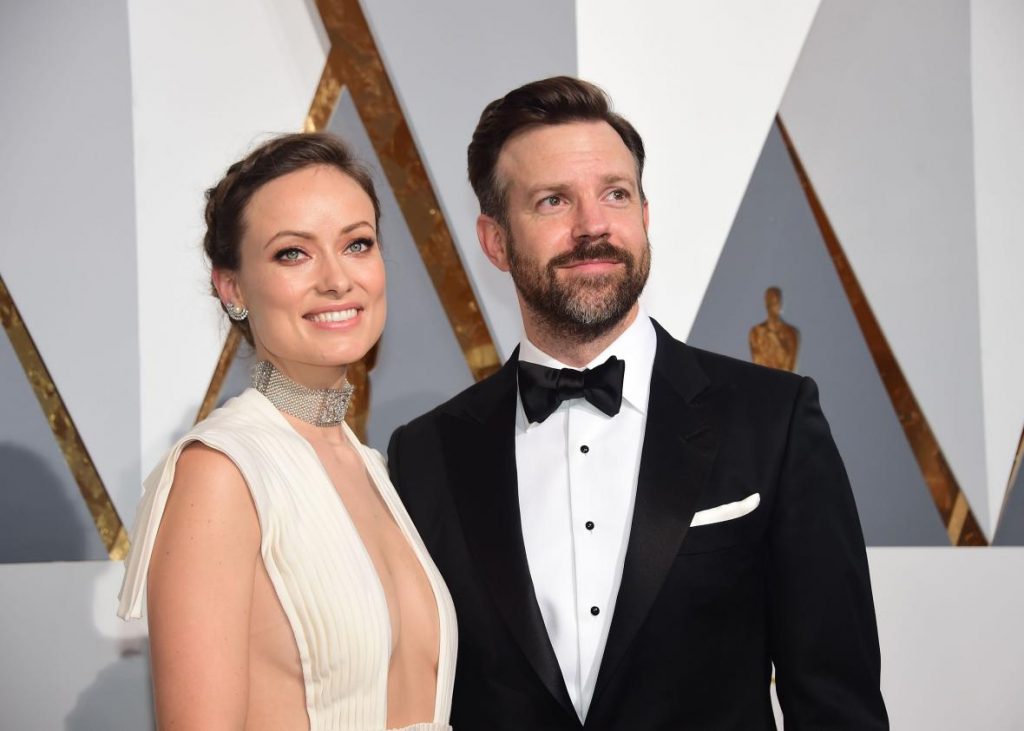 Olivia Wilde and Jason Sudeikis have become one of the most adorable couples we have in Hollywood these days. After they started their relationship in 2011, the pair has become closer and closer. Jason soon proposed to Olivia after two years of dating in 2013. The couple has not revealed any news of marriage but all seems to be quite well-judging from how they treat each other in public. Although they seem like any other couple, the two share an age difference of 9 years between them. Olivia Wilde is actually 33  years old while Jason Sudeikis is now 42. This does not, however, seem to create any problem for the couple. Since being together, the couple has had two kids, a boy, and a girl, named Alexander and Daisy, respectively.
Katy Perry and Russell Brand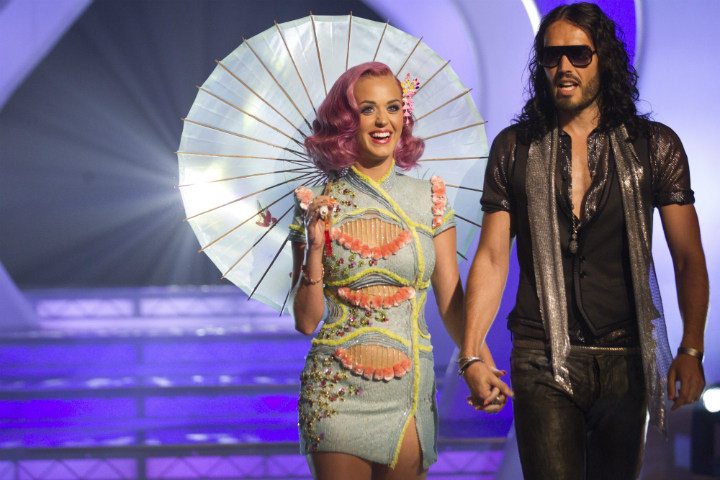 Even though this couple has called it quits a long time back, when they were together, they were undoubtedly the talk of the town. Every red carpet they attended or every trip they went to was worth swooning over for the audience/public. However Katy Perry and Russell Brand actually had a lot of years in between them that no one actually paid attention to. The two had a shocking age difference between that almost hi the decade mark. Russell is actually 42 years old and Katy is very close to getting 33. They enjoyed 2 years of blissful marriage after getting married back in 2010. Distance caused them to split so it is a good thing to know that it was not their age.
Mariah Carey and Nick Cannon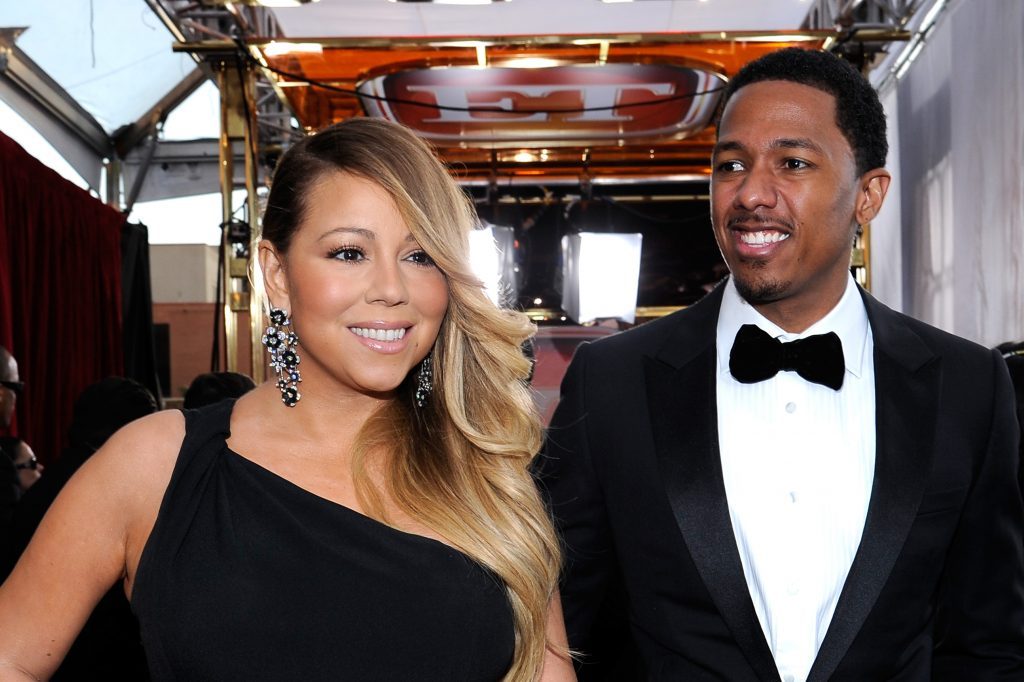 In 2008 Nick Cannon and Mariah Carey shocked everyone when they decided to tie the knot. It was such a lovely sight to see as the couple enjoyed 8 years of a happy married life. But then in 2016, the couple decided it was time to throw in the towel. Most people were really concerned about the couple's age difference that was a little unlikely for ordinary couples. At the time of their wedding, Mariah was 38 years old and Nick was just 28. As you can see the couple has a decade in between their ages. They were good for each other for a while but soon separated in 2014 and by 2016, the couple finalized their divorce papers. During their relationship, Nick starred in several music videos of Mimi.
Harrison Ford and Calista Flockhart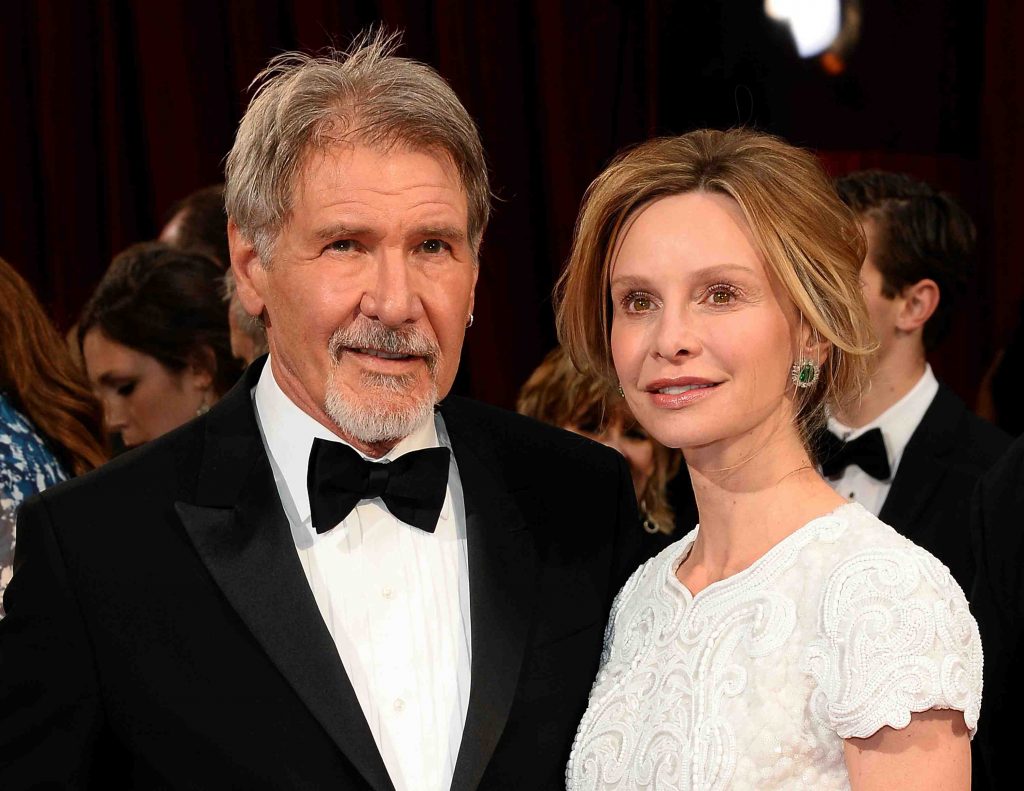 Harrison Ford has never been the type of man to show off or reveal any information about his personal or love life. But we all know that he and Calista Flockhart have been together as a married couple since 2010. They had been an item for a long time and sources say that they began dating back in 2002. People became really stunned to hear that the couple had a 22-year difference between each other. Harrison is now 74 years of age while Flockhart just turned 52. Did this age thing ever bother the two? Heck no. They are so chill about their age gap that they even joke about it themselves. The couple knows that age is just a digit but that love is all about commitment and communication.
Kris Jenner and Corey Gamble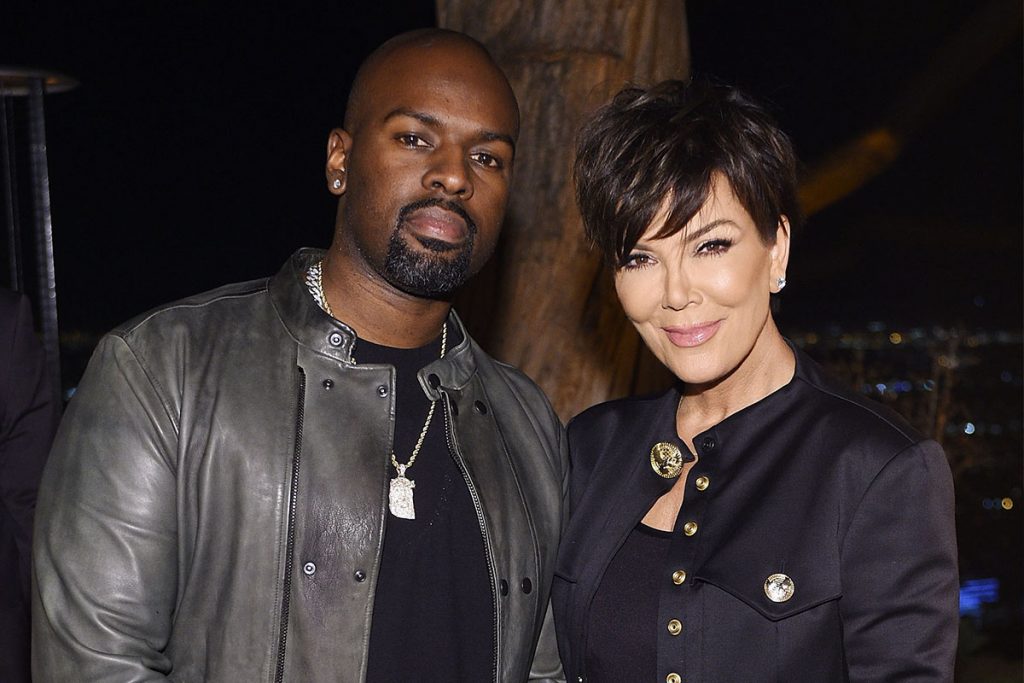 This couple is again one of the most scandalous couples to arise in the recent past. Kris Jenner has actually revealed that she and Corey Gamble do not actually have plans of getting married at all. In fact, they have revealed that they see this pairing as a pragmatic one than a romantic one. But this did not stop people from voicing their opinions on their relationship that has a very large age difference. Kris is now 61 years while Corey is 36. This would mean that there is 25 years gap between them. They have been together as a couple since 2014 and show no signs of stopping as of now.
Sarah Paulson and Holland Taylor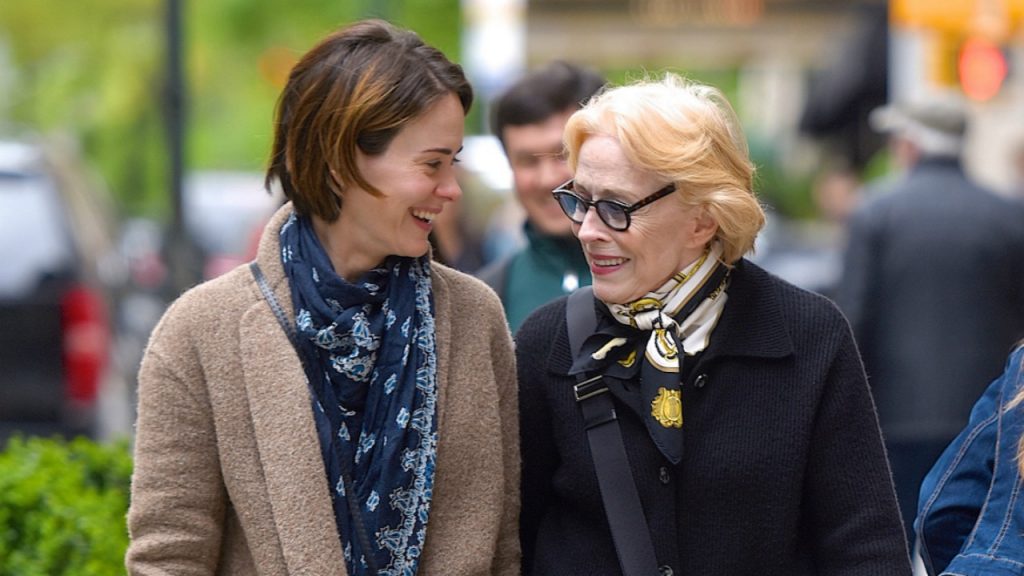 Sarah Paulson found her big break after starring in all of the series of American Horror Story. People are often shocked to hear that she is actually a lesbian and is in a romantic relationship with Hollywood actress Holland Taylor. They have started dating ever since 2015 and are getting more stronger. The two seem very happy with each other although there is a whopping 32-year gap between their ages. Paulson is now 42 and Taylor is 74 years old. The two have both gushed about each other in interviews and show no signs of splitting up as of now. They do make a cute couple, don't they?
Hugh Jackman and Deborra Lee-Furness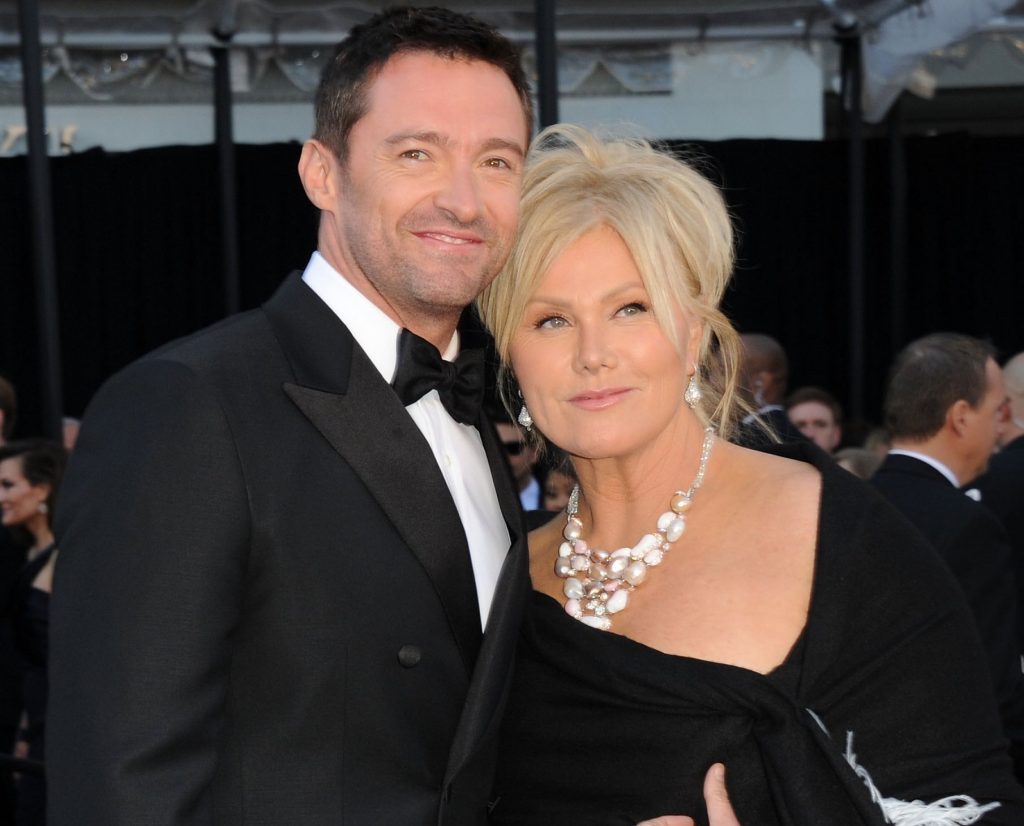 Hugh has been blissfully married to his lover Deborra Lee-Furness since 1996. The couple has a 13 year age gap between them but does not stop them from becoming excellent partners to each other and also exceptional parents to their children. The two have been married for 21 years now and have two adopted kids as well. They, till today, seem to be happier than ever as Hugh has found massive success in almost everything that he does. The couple knew they were meant for one another when they married back in 1996. Hugh Jackman even gave his loving wife a ring with the inscription: "Om paramar mainamar." which roughly translated to "We dedicate our union to a greater source."
Kate Beckinsale and Matt Rife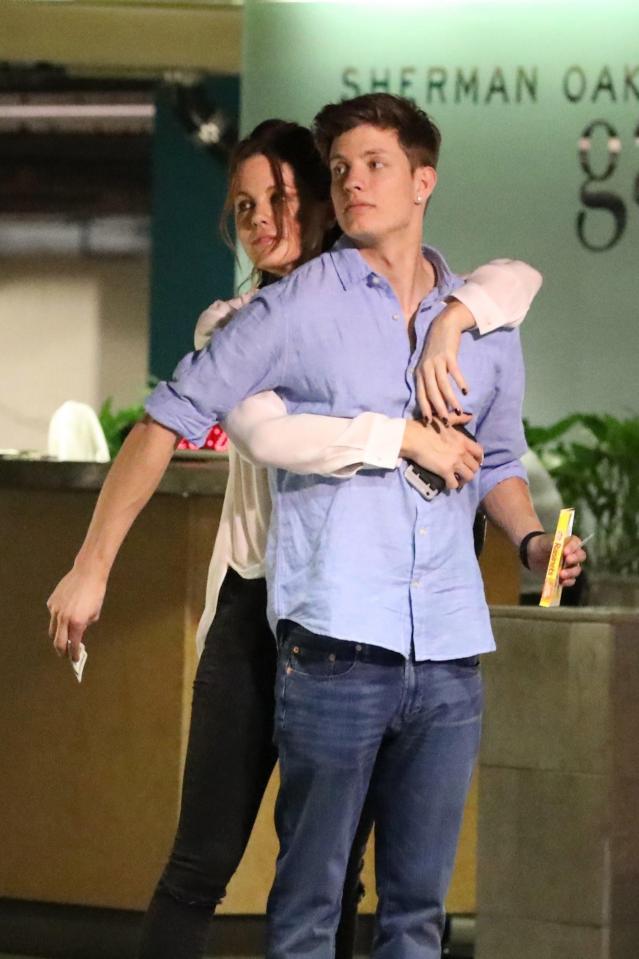 Two years ago, the gorgeous English actress Kate Beckinsale and her then-husband Len Wiseman decided to get a divorce after staying together for 12 years as a married couple. Kate is an attractive woman who is one of the most desired women in Hollywood, so it is not such a shocker to see her get the attention of many suitors. After diving into the dating pool again, she met Matt Rife who is an actor/model trying to get his big break. It was certainly a very shocking news to read as Kate is way older than him. Matt is a 21 years of age while Kate is in her mid-40s. He is actually just 3 years elder to Kate's daughter. They did not let their 23 year age difference bother them and dated anyways. But, as fate would have it, they were not the perfect match for one another as they called it quits by August of 2017.
Bradley Cooper and Suki Waterhouse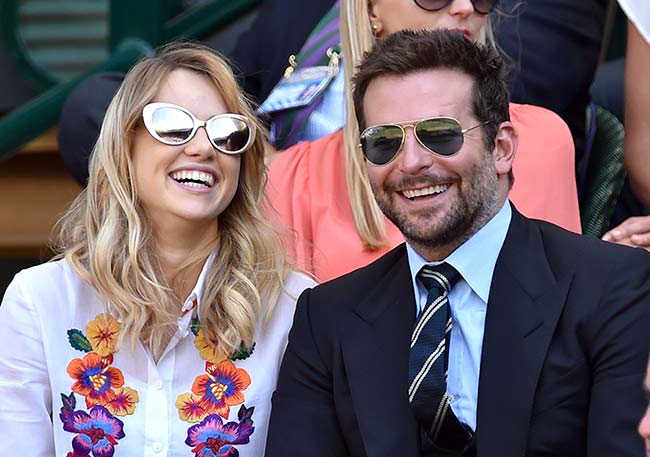 This couple is so precious that no one would ever guess that there was ever a big age difference between them. However, Bradley Cooper was 38 when he started dating Suki Waterhouse who was just 21 at the time. They were happy for a while but soon ended things in 2015. They are both so attractive and charismatic that it leads many people to root for them to save their relationship.
Alec Baldwin and Hilaria Thomas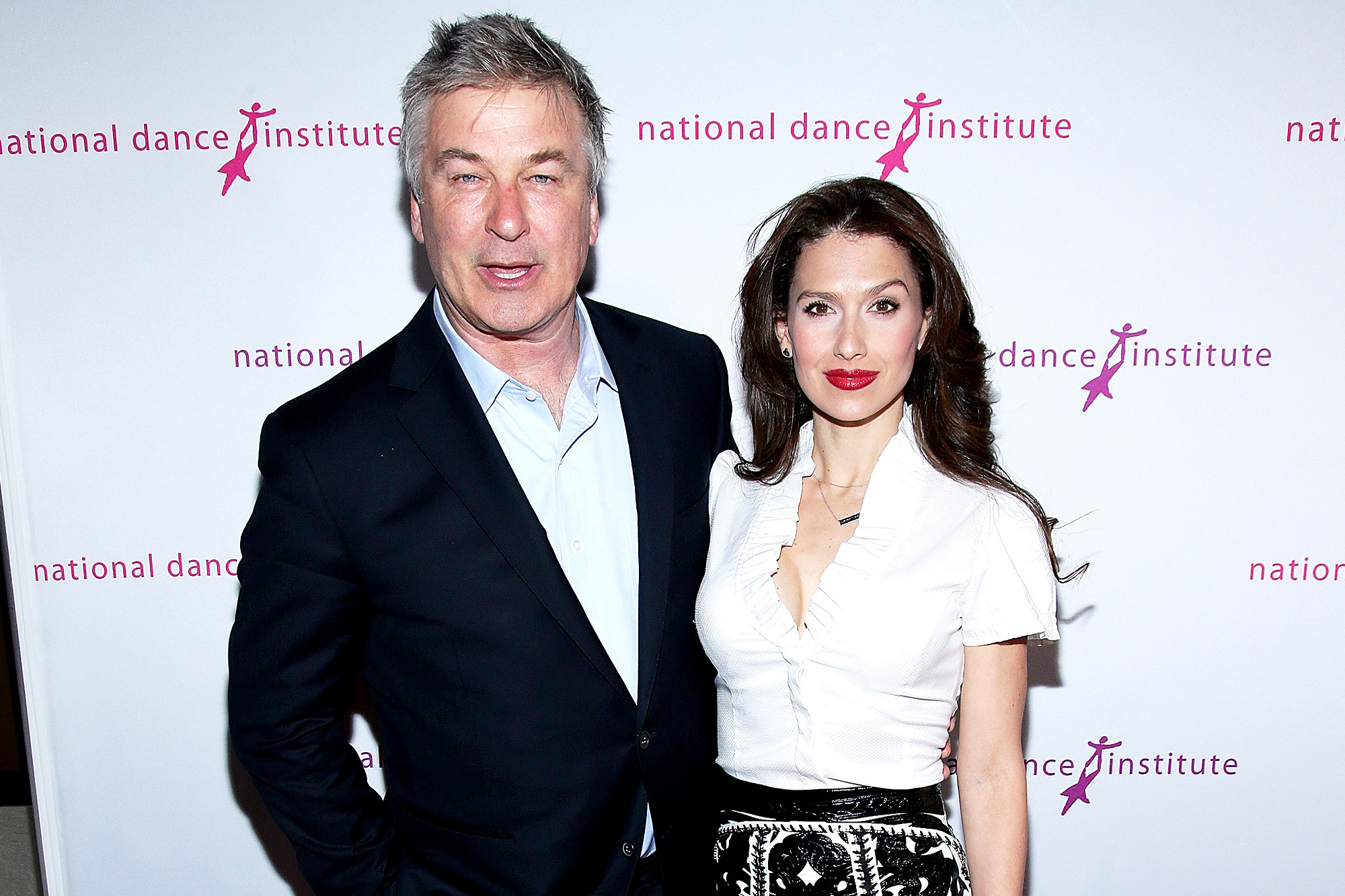 Alec Baldwin met yoga instructor Hilaria Thomas and fell for her, marrying her by 2012. They live in New York with their three kids, leading a happy wedded life. But actually, Hilaria is 33 years old while Alec is 59, making that a 26-year difference between them. This did not stop them from being devoted to one another and so they are very happy together till date. He is known for his talent as a comedic actor so maybe that keeps her satisfied right?
Patrick Stewart and Sunny Ozell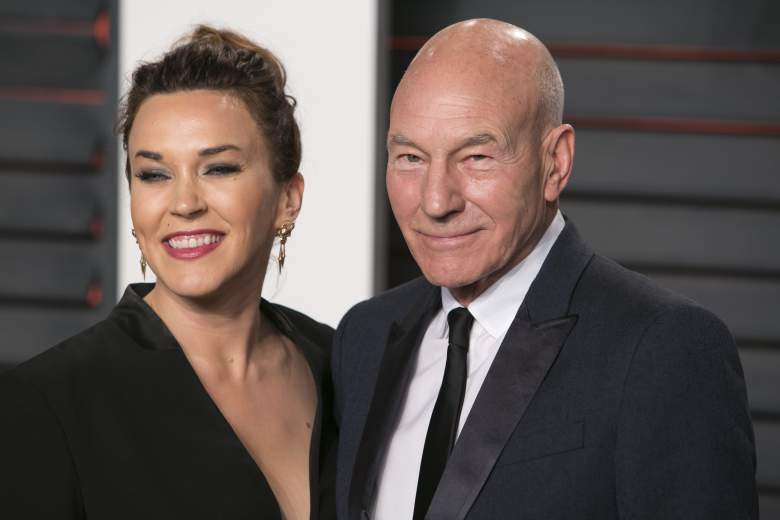 Sunny Ozell and Patrick Stewart might be the couple with the biggest age gap in this list.As Patrick is 77 Sunny is 38, just calculate the age gap that separates these two. After dating in 2008, they wanted to make things official and got married in 2013. Although they have a 40 year age difference, it still did not stop them from being together.
Jeff Goldblum and Emilie Livingston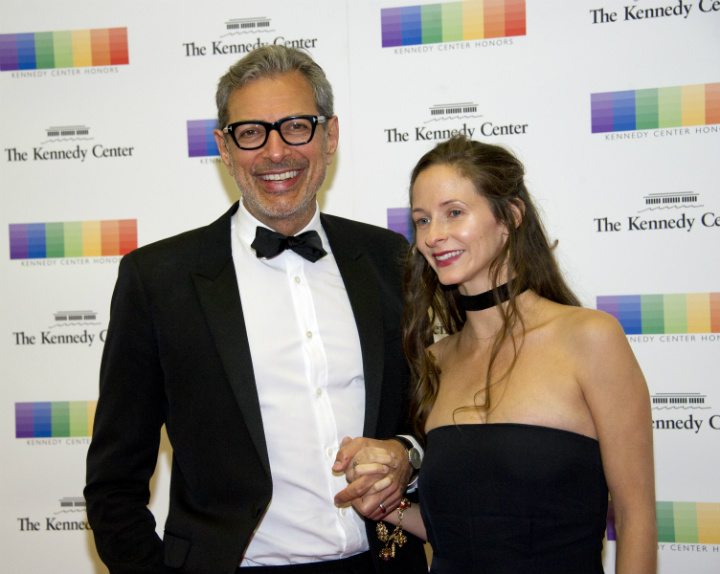 Jeff Goldblum is one of the most famous men in cinema and has starred in the hit franchise Jurassic Park.  he has been around since the 80s and has a number of hit movies under his belt. He got married to someone who is 31 years younger than him. That person is none other than Olympic medalist Emilie Livingston whom she married in 2014. The next year, the couple welcomed their son Charlie Ocean and their second son, River Joe was born in 2017.
Celine Dion and Rene Angelil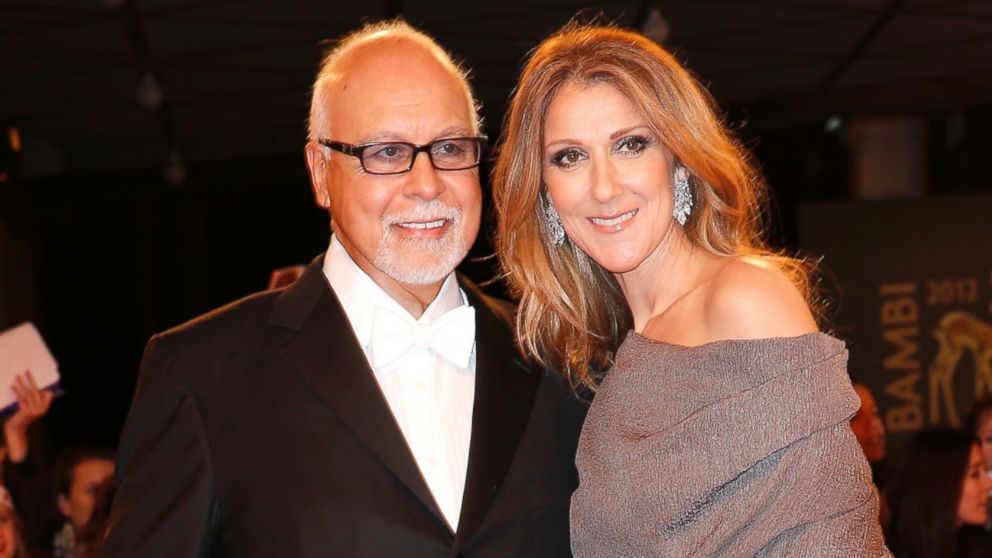 Celine Dion and Rene Angelil have certainly had an impressive love story to share. Even though they are 26 years apart they got married in 1984 and remained happily married until Rene Angelil's death in 2016. Celine remembers her husband very fondly and till this day speaks to him in all positivity. Their age difference was never an issue for the couple although it raised eyebrows everywhere.
Pierce Brosnan and Keely Shaye Smith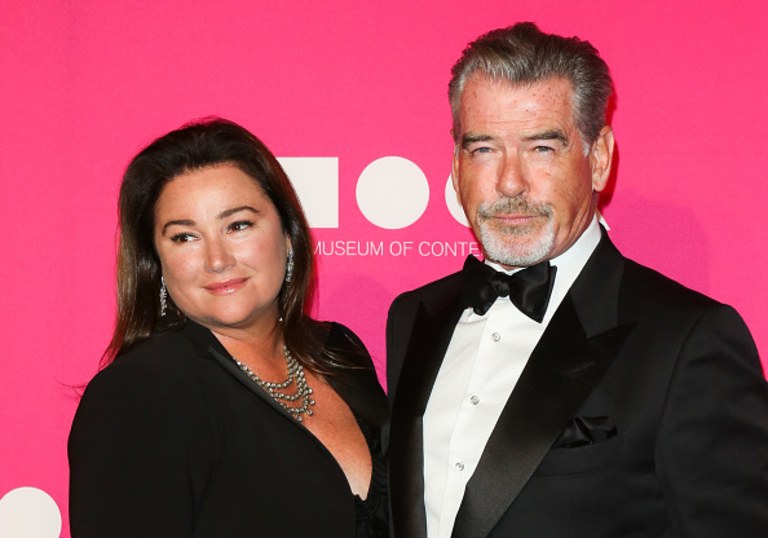 Another couple that has a massive age difference between them is Pierce Brosnan and Keely Shaye Smith. There is a 10-year difference that separates the two. Pierce Brosnan is now 64 years old, whereas Keely Shaye Smith has reached 53 years. The two married after seven years of dating in Ireland. Pierce is now a dual citizenship holder who holds both US and Irish citizenship.
James McAvoy and Anne-Marie Duff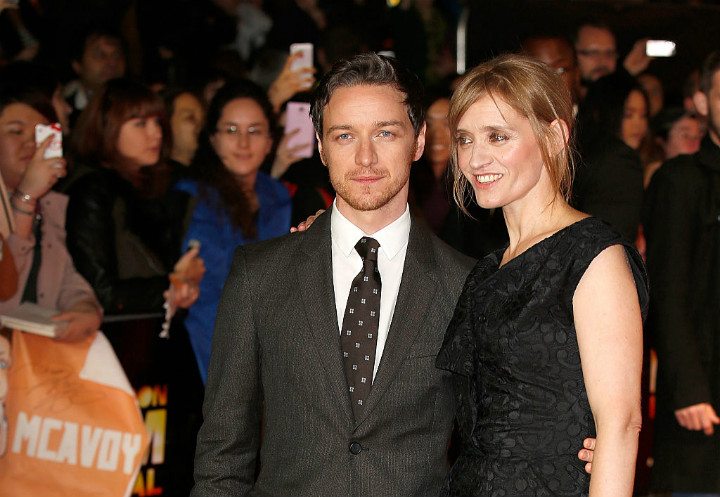 Even if there is a 30 years gap between James McAvoy and Anne-Marie Duff, they seem to have no problem with it at all. After meeting on the set of Shameless they started dating despite their 9 year age difference.They got married in 2006 but sadly split up in 2016. They have a son together so they made sure their divorce was kept as low profile as possible.
Jerry Hall and Rupert Murdoch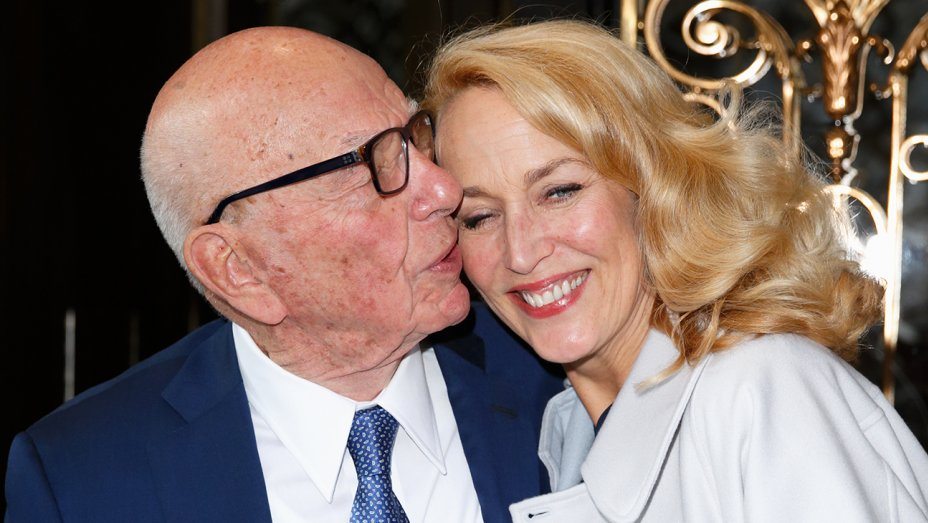 American-Australian tycoon Rupert Murdoch and the iconic model made headlines when they announced that they were dating. Although they are 25 years apart, the couple insists that their initial meeting in 2015 was love at first sight. They deiced to tie the knot in 2016 when Rupert was already 85 years old and Jerry was 60. He deiced to propose at the Golden Globes ceremony of all places.
Ellen DeGeneres and Portia de Rossi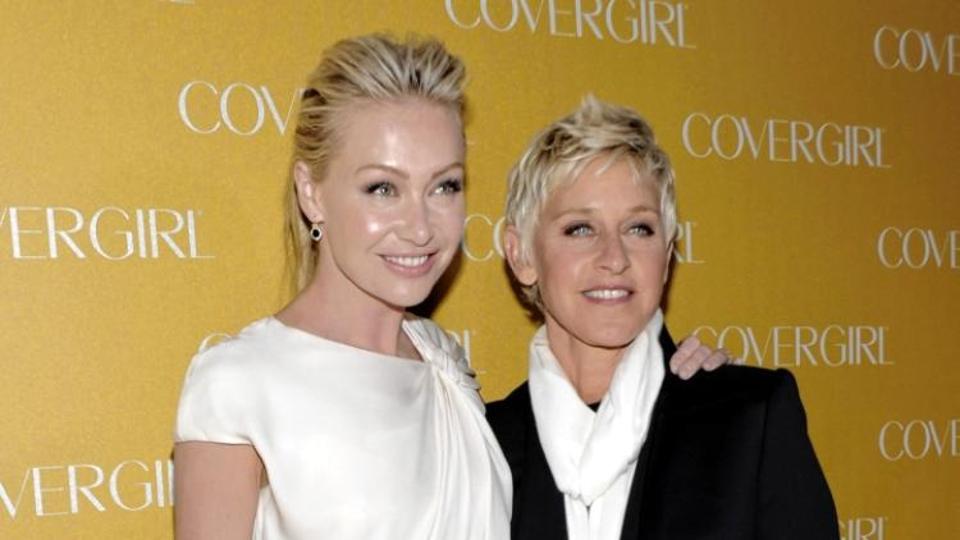 Everyone loves Ellen DeGeneres and Portia de Rossi. The two began dating in 2004 and have made people all around the world jealous of the love they share. There is a 15 year age gap them where Ellen is 59 and Portia is 44 years old. Their age does not seem to cause any problem as they are now happily residing in their Californian mansion with many of their pets.
Ashton Kutcher and Demi Moore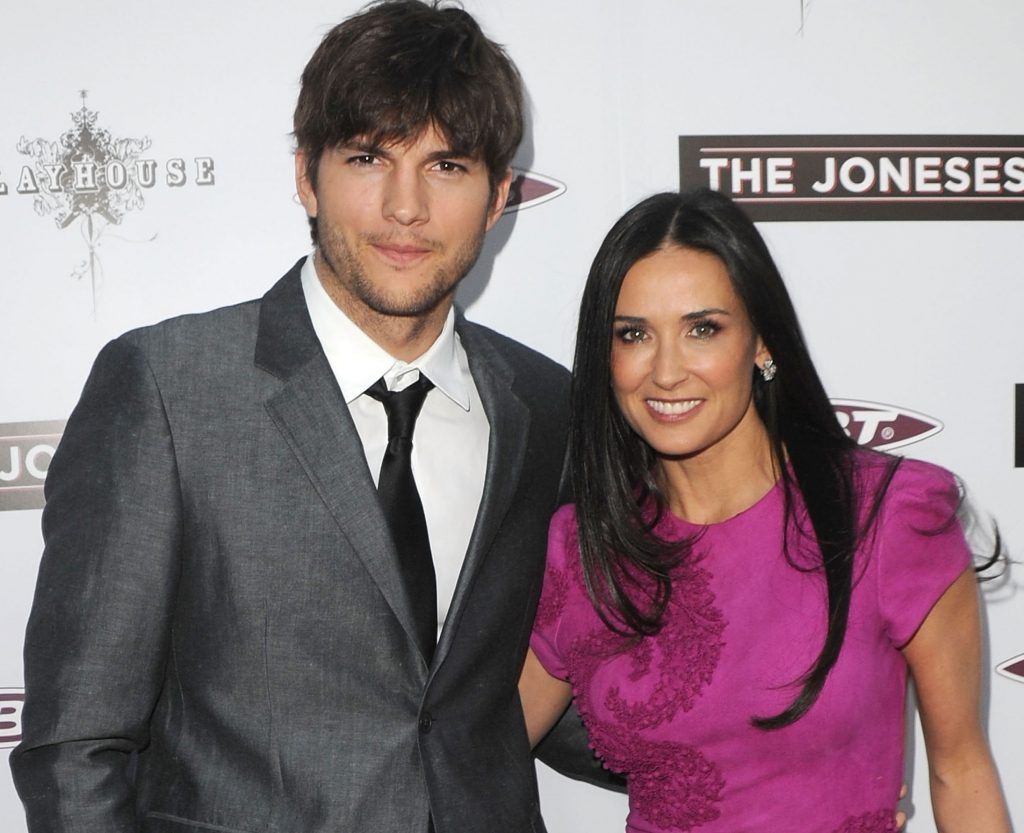 Ashton Kutcher and Demi Moore were once the top celebrity couples to walk the red carpet. Many people were quick to point out their age difference but the couple decided to get married in 2005. When they got hitched Ashton was 27 while Demi was about to 45. They filed for divorce in 2013 maybe after realizing that their age difference was a little too much for them.
Sam and Aaron Taylor-Johnson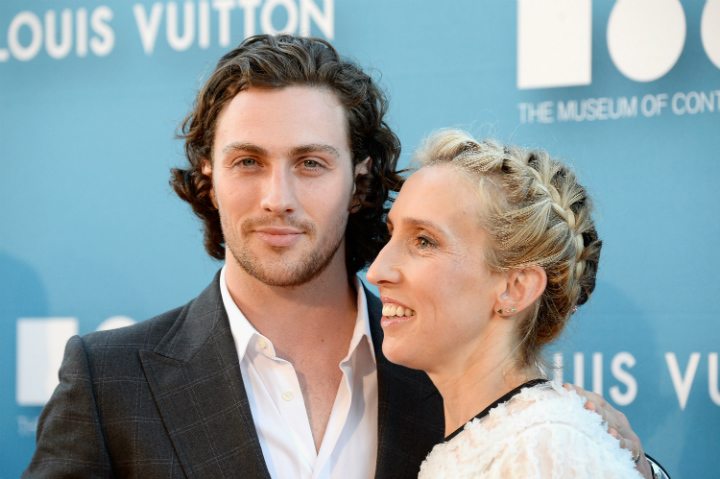 This couple met on the set of the 2009 John Lennon biopic "Nowhere Boy." Sam was already 42 years old while Aaron was a 19 year old. They have 23 years of gap between them. There have been a lot of hateful comments and opinions about this couple but it has never seemed to bother them. They now have two daughters and are still very much together.
Michael Fassbender and Alicia Vikander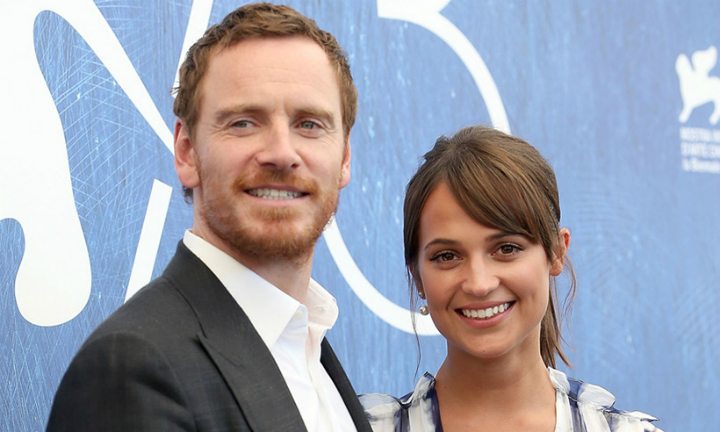 It was as if fate had something to do with this couple as they met on set for their movie "The Light Between Oceans." Alicia Vikander is 29, while German-born actor Michael Fassbender is 40. Even on set, the couple's chemistry was brewing and it was too obvious that they were meant for each other. This chemistry sparked off off-set as well and the pair is still going very strong. Their relationship is worth envying as they have both gushed about each other in the talk shows they appear in.
Hayden Panettiere and Wladimir Klitschko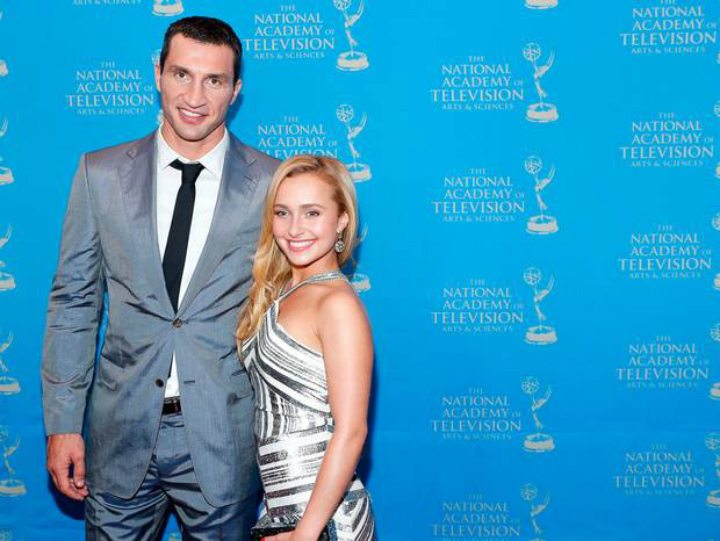 When Hayden Panettiere and Ukrainian boxer Wladimir Klitschko started dating, it was a very different sight to see. Their height difference was fairly apparent and so was their age gap.  The 40-year-old boxer is 6'6, while his lovely fiance is 27 years old and stands at five foot. They started dating in 2009 and by 2014, their daughter Kaya was born into this world. We wish the best of luck for this family.
Cheryl Cole and Liam Payne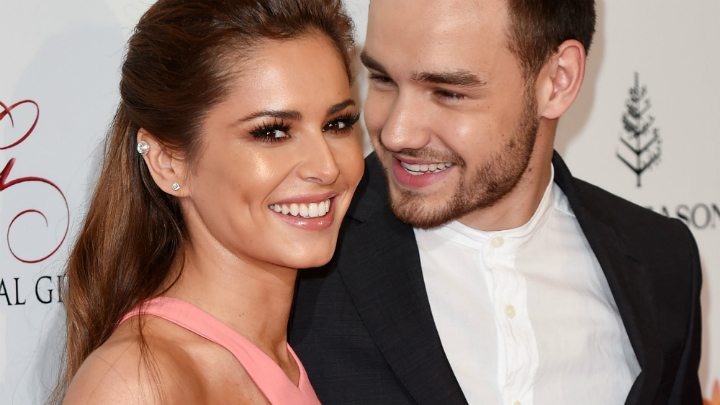 These pop stars caused quite a buzz when they announced that they were a couple. Liam Payne and Cheryl Cole have an age gap that amounts to a decade. They first met in 2009 when Liam auditioned for 'The X Factor' where Cheryl is a judge. Soon after the success of One Direction, Liam could win over Cheryl's heart. The couple now has a son named Bear who was born in 2016.
Elton John and David Furnish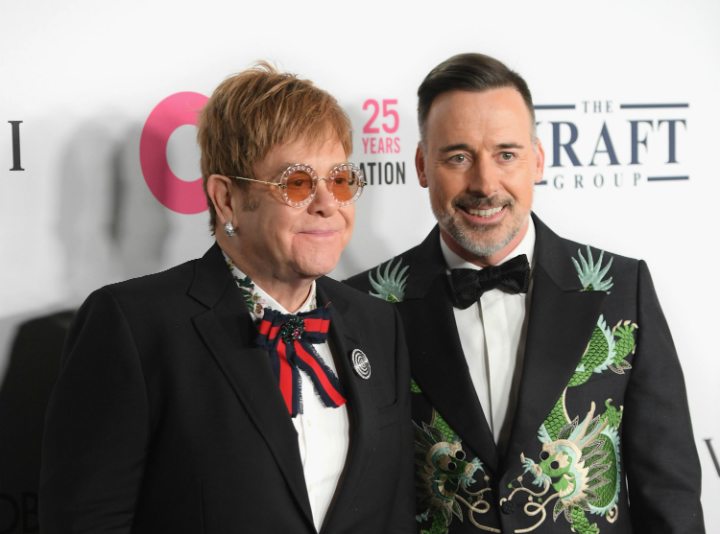 Elton and his partner have an age gap of 15 years between them. The two have been under the public's criticism ever since announcing their relationship to the world. They now have two sons named Zachary and Elijah. They are the first to get a civil partnership in the UK before marriage became legal in 2014. Therefore, the couple is indeed an important asset to the LGBTQ community who still work for the good cause of the community.
Rosie Huntington-Whiteley and Jason Statham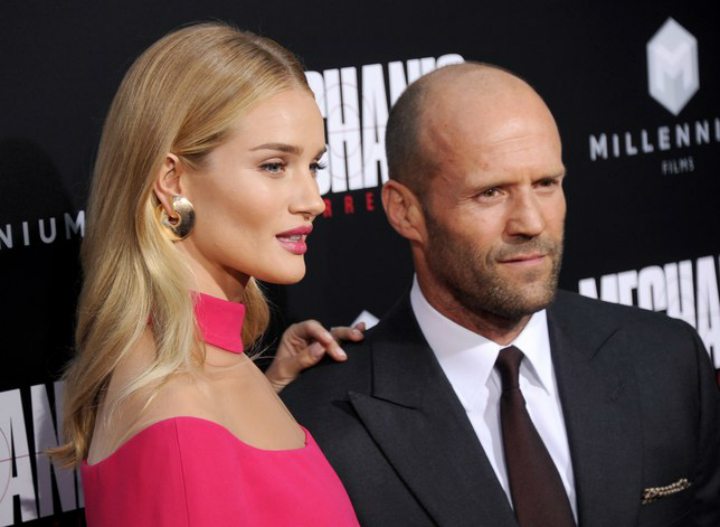 Jason Statham and Rosie Huntington-Whiteley first started dating in 2010. They are obviously a gorgeous couple just by looking also. They are 20 years apart as Jason is now 50 years old. This does not even bother the couple who welcomed their beautiful son, Jack, in June 2017. Considering his parents, Jack is going to be a handsome young man with an enviable body as well.
Eddie Murphy and Paige Butcher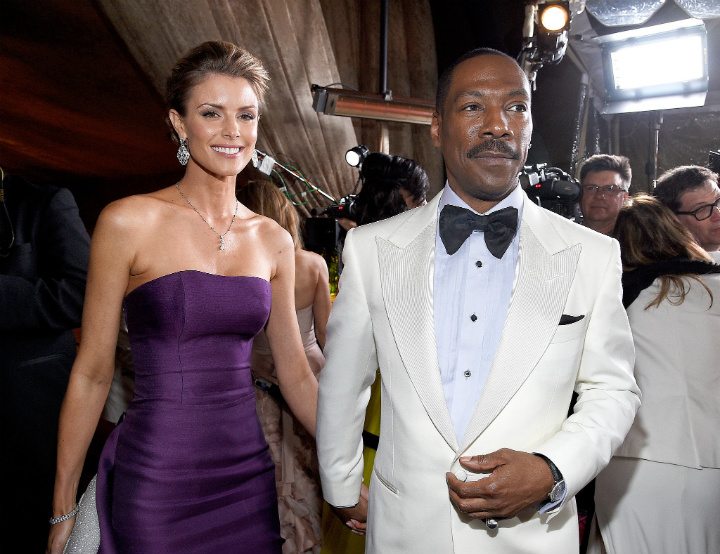 Eddie Murphy and his Australian model wife have a total of 18 years in between their ages. This does not seem to bother Eddie who has divorced both his ex-wives Nicole Mitchell and former Spice Girl Mel B. (Brown). Paige gave birth to their first daughter who is also Eddie's ninth daughter back in 2016. They seem to be happy as they are reportedly planning to expand their family too.
Dick Van Dyke and Arlene Silver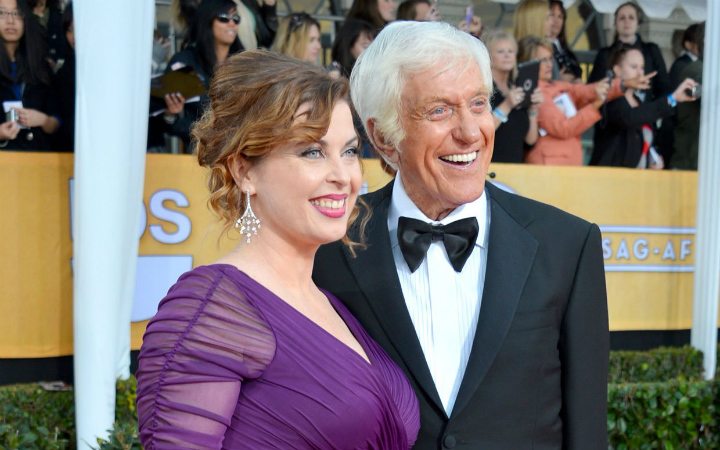 Dick Van Dyke and Arlene Silver share an age gap of  46 years. This Hollywood legend got married to his makeup artist wife married in 2012. They dated for 6 years after meeting at the SAG awards. The couple does not seem to show any signs of issues as they are still going strong. The icon and his wife are always smiling away at red carpets and do not seem to split up anytime soon.
Bruce and Emma Willis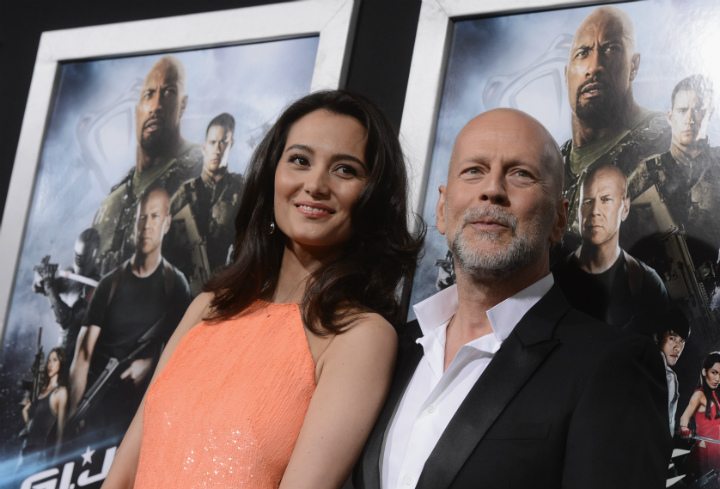 Bruce Willis and Demi Moore had a long run as a married couple for 13 years but split up. Fortunately, although Demi's luck was down Bruce may have found the one. Bruce Willis is now 62, and his wife Emma is 39 years old. They have been married for 9 long years and do not seem to care about their age difference like most couples do. The couple now has two daughters and could not be happier.
Rod Stewart and Penny Lancaster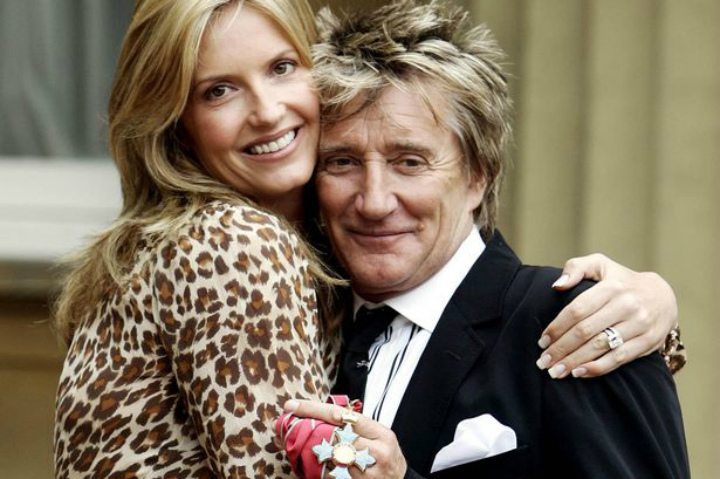 Rod is married to television personality Penny Lancaster, who is 27 years younger to him. This is Rod's third try at marriage and it seems to be working so far. Rod became a father yet again with his eight kid at age 66 when Lancaster gave birth to their youngest son. The couple maintains a low profile and it seems like Rod has learned his lessons in keeping his personal life private.
Mel Gibson and Rosalind Ross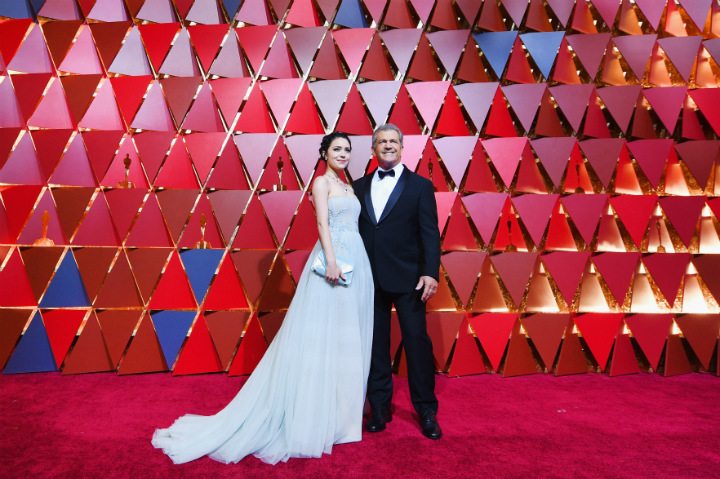 Mel Gibson and his current wife Rosalind Ross have an age gap of 35 years.The couple welcomed Mel's ninth child and his first with Rosalind. She is actually 10 years younger than Mel's eldest child.
David Hasselhoff and Hayley Roberts
David Hasselhoff got engaged to his longtime partner Hayley Roberts in 2016. She is actually 27-years younger to The Hoff. This is the third time David would get married and we wish him luck.
Emmanuel Macron and Brigitte Trogneux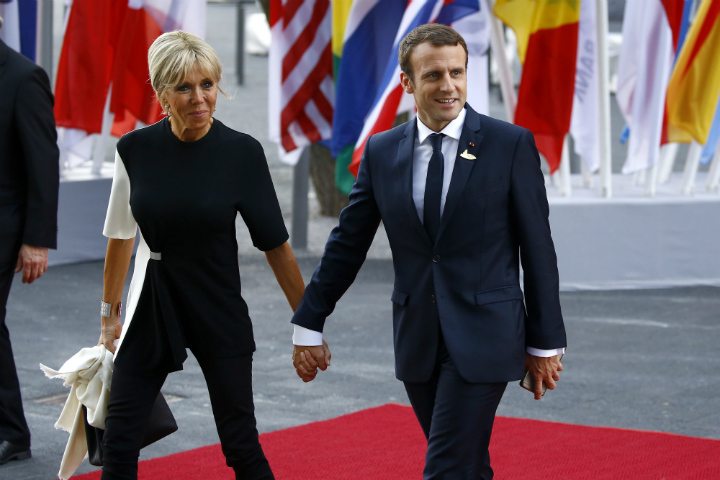 The French President Emmanuel Macron and his wife Brigitte Trogneux made headlines as they have a 25-year gap between them. Brigitte was, in fact, his school teacher when he was in school. Creepy or sweet?
Amber Tamblyn and David Cross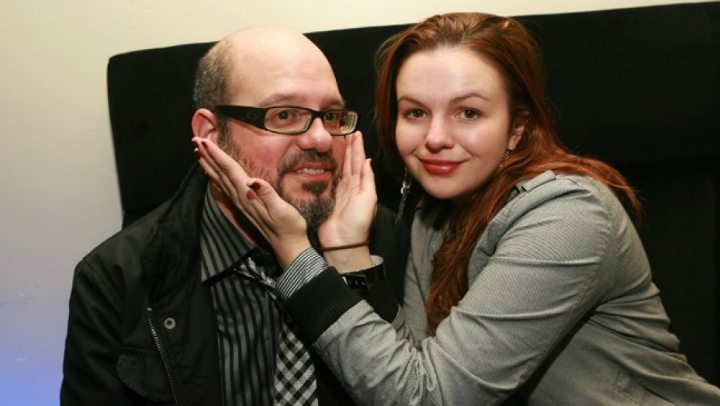 Amber Tamblyn is 34, and comedian David Cross is now 53. The pair got hitched in 2012 and have even had a baby girl Marlow, last year. They are still as happy and ever and we feel like maybe David's humor makes up for his age.
Warren Beatty and Annette Bening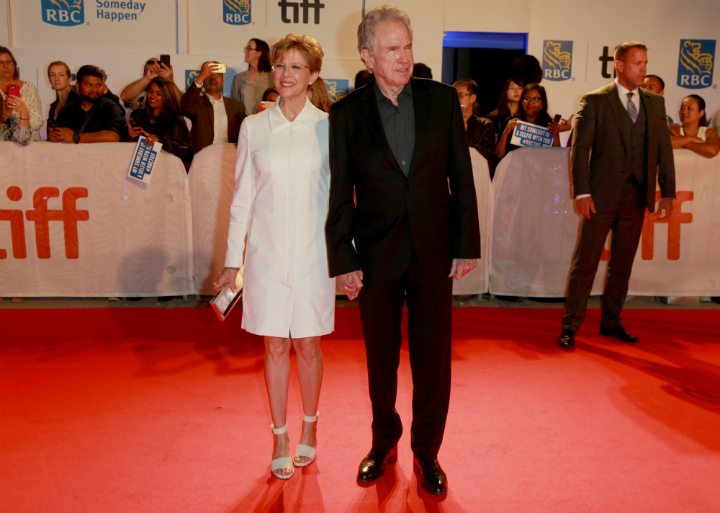 Warren Beatty and Annette Bening have a 21-year gap between them but it did not stop the iconic actor and talented actress to start their romantic relationship. They got married in 2012 and now have 4 kids. Impressive right?