Do you remember Abigail and Brittany of TLC reality show Abby and Brittany? If you have watched the show then it must have been on your favorite list. The show documented day to day life of these extraordinary twins. Abby and Brittany are twins with one body. Due to their unique body shape, they have faced a lot of difficulties in their life. But instead of bowing down they made it their strength and emerged as champions. We have documented the inspiring life journey of these two unique twins that began from their astounding ends at their present. You will also come across some surprising lesser-known facts about the two.
Arrival Of Miracle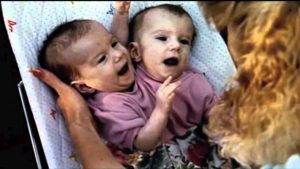 Mike was very happy on learning about the pregnancy of Patty, his better half. They were super excited and unaware of what future had planned for them. The pregnancy was going smooth and no trace of complication had been anticipated. Even the ultrasounds were very normal according to their parents. Whenever they saw two heads linked in the sonogram the doctors thought that the heads of the twin might have got aligned and dismissed any further doubts. However, Mike once or twice heard two heartbeats but even his observation was scrapped. Then came the day when Patty was rushed to the hospital. She was about to give delivery to their child. It was going to be a remarkable moment for everyone.
30 Seconds Silence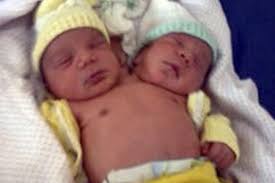 Brittany and Abigail Hensel were Born on 7 March 1990, to Patty, a nurse, and Mike, a landscaper, and carpenter. Their arrival was nothing short of a surprise for their parents and doctors. The newly born babies were not ordinary in any sense! They were conjoined twins. The doctors had to double take on the infants as nobody had anticipated united twins. In the surprise, everyone in the room fell silent for about 30 seconds. The surprise was soon followed by despair as the doctors declared that the twins would not be able to survive the night.
They Are Going To Die?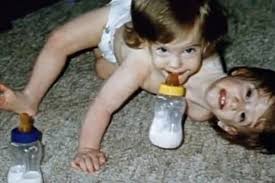 That very night the infants were taken to a closeby children's hospital. Patty remembers "We thought they were going to die." Patty's health had also deteriorated due to high blood pressure. Because of her weakness, Patty's sister Sandy Fiecke took the charge and cared for her kid at the children's hospital. She used to go near the newborns only after wearing Patty's and Mikes's sweatshirt so that the two could know their parent's scent. It was difficult for Mike to spread the news of the arrival of their newborn babies to their kin and friends. He said, "It's pretty hard to explain to your folks how the kids were put together."
Minnesota's Girls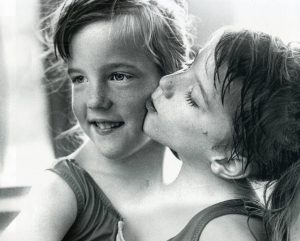 But Minnesota's girls did survive the night! It was yet to be seen for how long were they going to prove the doctors wrong. They had a medical condition called Dicephalic Parapagus. It is a rare condition in which twins share the same body separated by two heads on the torso. Usually, infants with this medical condition do not live long, in fact, most of them are stillborn. Britanny and Abby also had the same body with separate vital organs. The two had their own stomach, spine, heart, spinal cord and lungs. However, the two did not have the same reproductive system. The worst thing was that the doctors had said that the twins were not going to live beyond their childhood.
Separation Surgery
In order to separate the twins, the doctor advised a separation surgery after the girls were born. But their parents turned down the option. They had been told by many other medical practitioners that the surgery can prove detrimental to their newborn's lives. It was a high risk. As of now, the decision was okay for the kid but it was to see how right or wrong was the decision of their parents when the twins would grow up. Will they accept being conjoined in future when they would have their own thoughts and preferences?
The Hurdle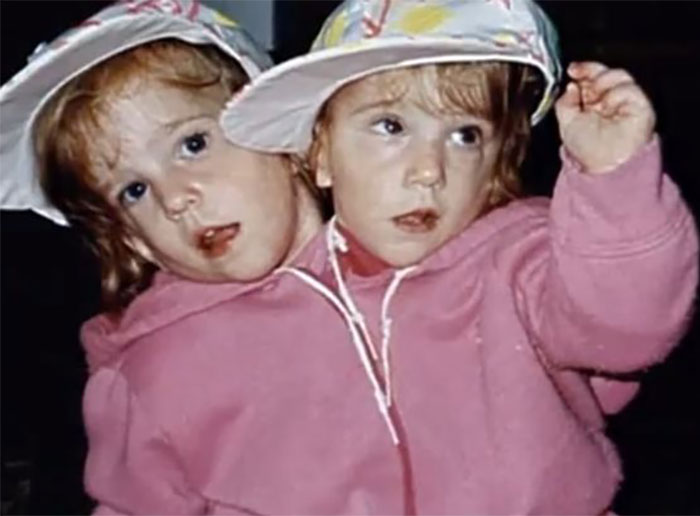 The sharing of the same reproductive organ made it difficult for them to undergo separation surgery. The surgery was dangerous as despite having separate vital organs they were sharing same reproductive organ. Along with having one reproductive organ the two also shared liver, ribcage, intestine, bladder and circulatory system. If we go by the estimation than the birth of conjoined twins occurs only once out of every 189,000 birth and the rare condition of Abby and Brittany makes them a part of 11 percent.
Arm Stretching Out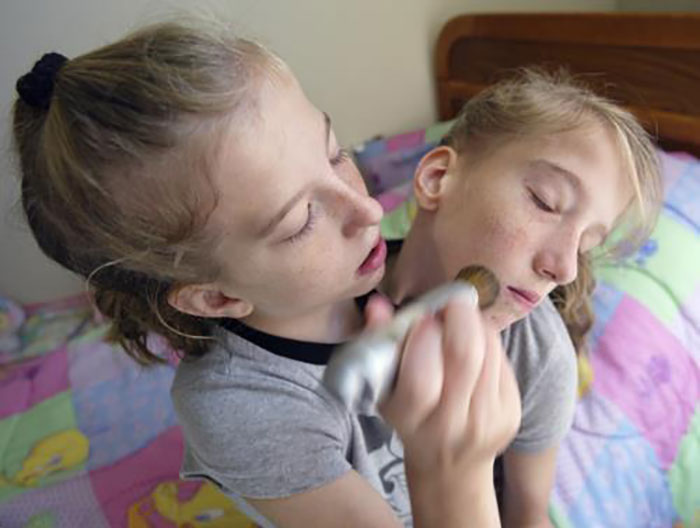 Not just that, the girls underwent several surgeries! The twins were born with a third underdeveloped arm branching out of their chest. In order to get it cut they had to come under the knife. The second time they underwent surgery was when they were only 12 years old. The surgery was done to mend their scoliosis (curvature of the spine). It was followed by another surgery that increased expansion of their chest cavity so that they do not find difficulty in breathing in future. Their unusual condition hampered not just their health but their social life too.

Unique Problems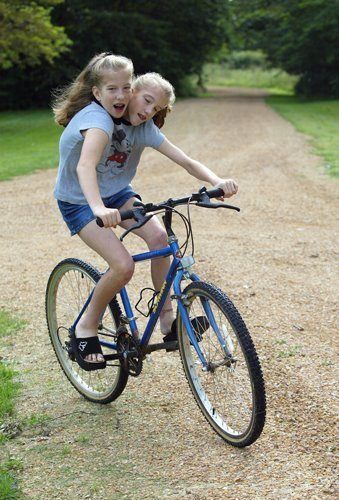 Due to their uncommon body shape, they had to face some uncommon problems in their childhood. To learn standing up, crawling or walking is a difficult feat for every child but for the twins it was way more problematic as they had two minds working on one body that often crossed each other. Girls took 15 months to learn walking. They took little more time to learn other basic activities. Astonishingly, despite facing these problems the duo did not hold back from foraying into any activities. The result is that the girls today are well trained in riding a bike, running, swimming and even driving a car. The extraordinary twins did not know that a big opportunity was going to knock at their door.
Coming To Life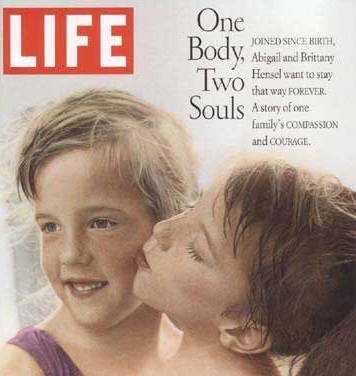 The twins became the cover girl of Life Magazine in 1996 at the age of 6. Their picture had the caption of "One Body, Two Soul".The Magazine shed light on their extraordinary life and challenges they meet every day. It documented the life journey of the twins. The magazine made them quite popular in their hometown and the world. But it was just the beginning of the fame they were going to have in future. Little did they know something very unexpected was on their way!
Appearance On Oprah Winfrey Show!
In the same year, the girls were going to witness another phenomenal moment. Winfrey Oprah got very interested in these twins. She wanted to know them personally, so she invited them to her show. The episode was a big hit and the girls became popular even more. It was all because of their popularity that the twins were called once again on the show. It was just a teaser of what was going to happen them in the future.
Conjoined Twins, Not Always Good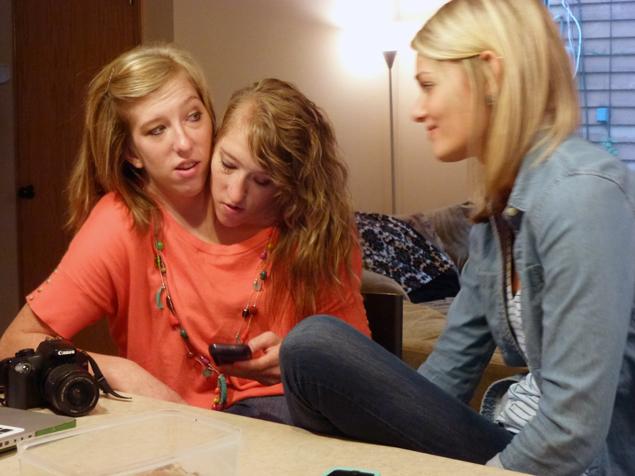 They are one other's best half in the real sense. The girls control each half of the body. Abby and Brittany control the one arm and leg of their body. So, in order to stand, walk and picking things up they need each other's support. Usually, it does not pose any problem to them but sometimes it gets really irking. There have been instances when Abby wanted to have a walk and Brittany preferred sitting on the couch. And sometimes, Brittany wanted to sleep early but Abby had no plans to go to bed. These differences made Abby demand something that was the least expected.
When Abby's Demand Hurt Britty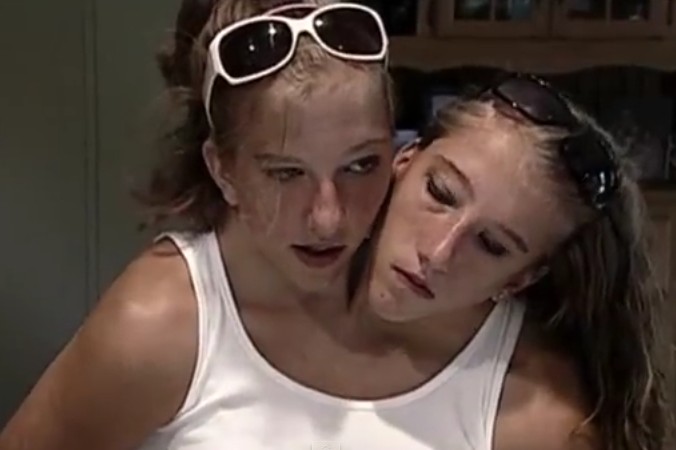 If we talk about the health then it is Brittany who has always been prone to several diseases. Brittany has the tendency of catching cold frequently and twice was she diagnosed with pneumonia. The ill condition of Brittany would also force Abby to stay on the bed the whole time. Once irked by this the agitated demanded surgical separation that used to make Brittany cry. But as they grew up Abby became more sensitive and understanding. She said "We never wish we were separated — because we would never be able to do all the things that we do now … like play softball, run and do sports."

One Heart, Two Minds
Interestingly, Though Abby and Brittany have one body, both of them are controlled by their own mind. Consequently, the two have different hobbies, for instance, whereas Abby excels in mathematics, Brittany loves to write a lot. The good thing is that the duo never interferes in each other's likings.
Controlling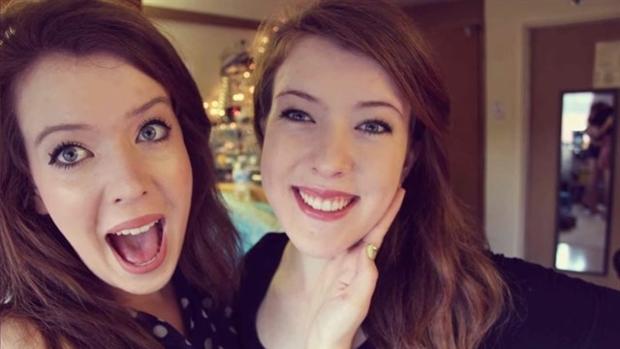 The duo controls each half part of their body respectively. The two girls control one leg and an arm of each part of their body. So in order to stand, walk or picking anything up, there should be the consent of both the girls. Usually, it does not pose any problem to them but sometimes it gets really irking. There have been instances when Abby wanted to have a walk and Brittany preferred sitting on the couch.
Physical Structure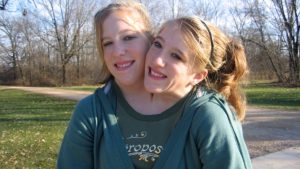 Their physical outlook is different too. Abby is taller than the Britty. Whereas Abby stands at 5 feet 2 inches, Brittany has the height of 4 feet 10 inches. Another thing that distinguishes them is their walking style. While walking Abby has her feet pressed on the ground on the other side, Brittany takes the help of her tiptoe. The difference in their walking style is quite visible. Some even think that they are walking lame. But that's not the case here.
Priorities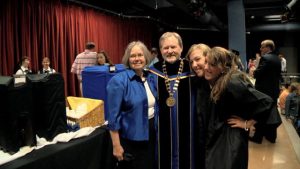 The two have different choices but what is common in their list of priorities is education. After completing their high school education in 2008.  After that, the duo has done their graduation from Bethel University in education. Their school life was not easy by any mean. Both the twins had their interest in different concentrations in their major. It was not the studies that proved challenging but the extra coursework that included physical activities and many more.
Drawbacks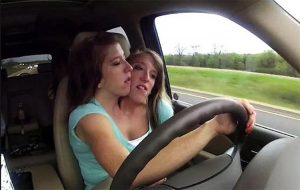 There is some perk of being conjoined with some drawbacks. Brittany Hensel explained that they had to give written driving test twice and had to clear supervised test couple of times in a line. The twins have divided the responsibility of driving the car. On the one hand, Abby handles all activity of right of the driver seat, Brittany takes charge of the left side. Their mother once said "I don't know what would happen if they got pulled over for speeding. Would they each get a ticket or just Abby because it's her foot on the accelerator?"
As One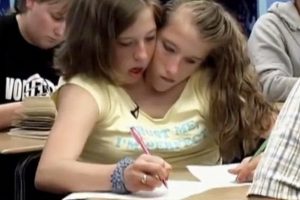 While writing any letter, application or email they mention themselves as one person. Abby maintains that the sisters understand each other feelings with almost no verbal communication. That is why when they write they don't have to ask each other anything. 
Likes And Dislikes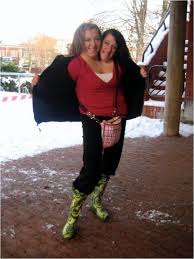 We usually think that the conjoined twins have the same likes and dislike but the reality is not like that. These twins are very different from each other carrying different personalities, having different color choices, foods, and yeah, of course, dressing style. As they say, your clothes explain a lot about your personalities the two conveys their different personalities by donning different clothes. In order to have a dress going well with their personality, they even have hired a seamstress who has designed custom neckline that gives a different touch to their style.
Taste buds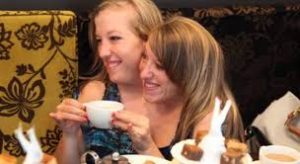 The twins are ruled by different taste buds. While out or at home they order different foods. Though their body is one though have their own stomach so evidently one plate is not enough for them. They have many differences when it comes to food. Whereas one likes spicy food the other prefer less spicy. Their likes or dislikes are vastly different when it is about culinary.
Birthday
Needless to say, their birthday is a double celebration for the family. Both the girls enjoy their birthday a lot and have a separate cake for themselves. They have different flavor choices as well. We don't know what flavor do they like but if we go by the picture it seems that the one girl likes vanilla and the other prefers chocolate over any other flavor.
As Separate Individuals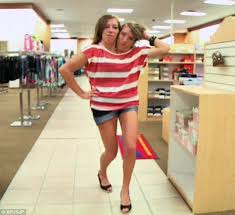 Though the twins share the same body they have always been seen as separate individuals by their family and friends. They also take themselves as separate individuals, for instance, buy two tickets for the movie and with that they also have two driving licenses. They order different meals at the restaurant and wears clothes of their own choice.
Joined For Life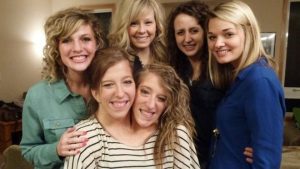 In 2002, they made another appearance on TV with another documentary called "Joined for Life" by Advanced Medical Productions. The documentary was distributed on the Discovery Health Channel. The documentary was followed by another documentary called Joined at Birth. After that in 2006, Advance Medical filmed another documentary on them called Joined for Life: Abby & Brittany turn 16. The documentary covered their social life, adolescence, school and other activities.
TLC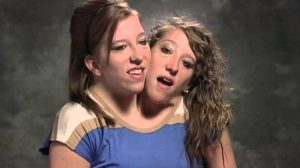 The girls had another opportunity awaiting them when they completed their sixteenth year. TLC approached them to make a documentary on their lives. Abby and Britanny gave their node to the offer without giving it a second thought. The documentary on these extraordinary girls was a success! After the success of the documentary, TLC came up with a full-fledged show on the girls. However, the show had only eight episodes and one season.
First Home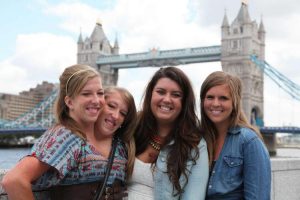 After the completion of their graduation, the twins shifted to their first home. It was their first taste of independence. Their independent life journey was recorded by TLC. In the initial episodes of the reality show, the sisters were shown decorating their new home. The show also documented the preparation of their s to begin their first part-time job as a teacher.
Athletic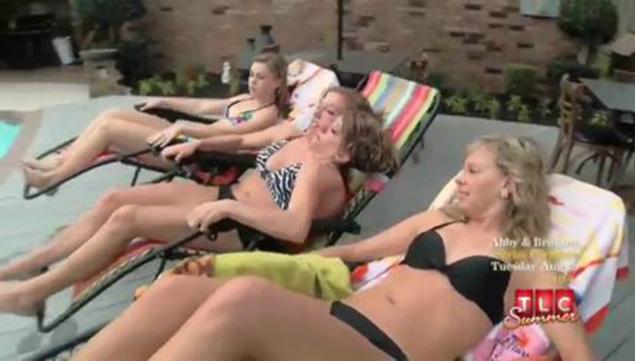 The rare twins are always high on energy and are very athletic. They also like playing a number of sports. In sports, they like bowling and playing volleyball. They pull it off very nicely. Their interest in sports favors them a lot as it helps them to improve their coordination skills. They have achieved dexterity in many sports and their list of hobbies does not end here.
Music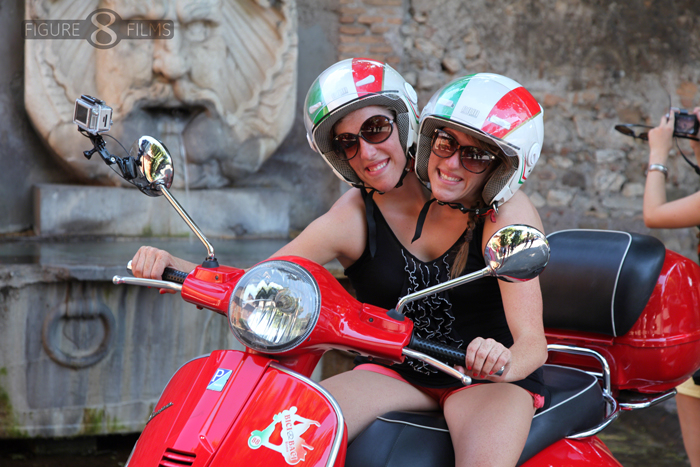 Not only sports, they also like music. Their love for music is evident by the fact that they are well versed in many musical instruments. They spend their leisure time in playing these instruments.
Friends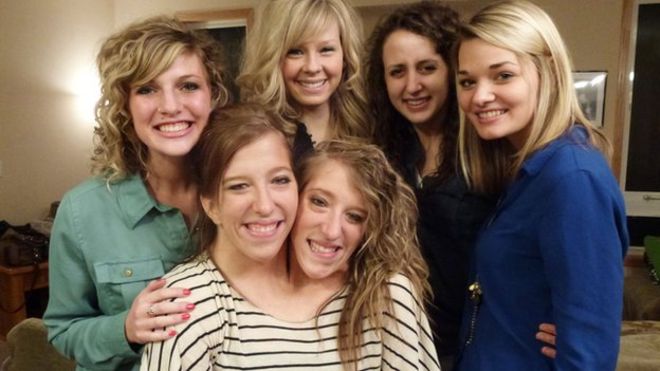 Abby and Brittany are full of positivity. And it is there optimistic nature that draws people towards them. Despite their tough present and questionable future, they maintain an affable smile on their face. It is because of their jolly nature they have made many friends. The TLC show had also featured their big group of friends. They believe that by sharing their experiences and lives with other people would enable them to gain more knowledge about the world. It will also help them to get closer to the ordinary world they are living in. But when it comes to social life they face some odds on daily basis!
Stare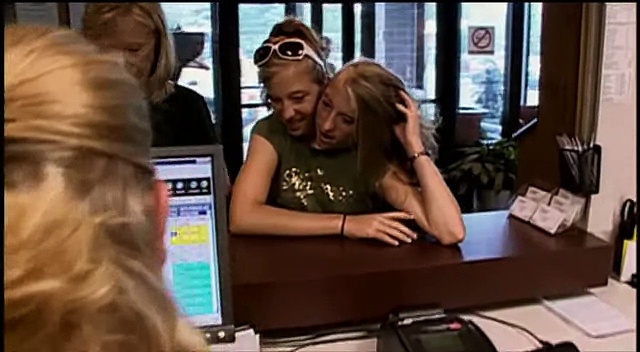 The twins are very comfortable in their skin but sometimes they get really uncomfortable. Due to their unique body shape sometimes some people stare at them and in worst cases began to take their pictures. According to the girls they have no qualms posing for pictures but before taking them they should at least be asked. It is really infuriating for the twins.
 Love Life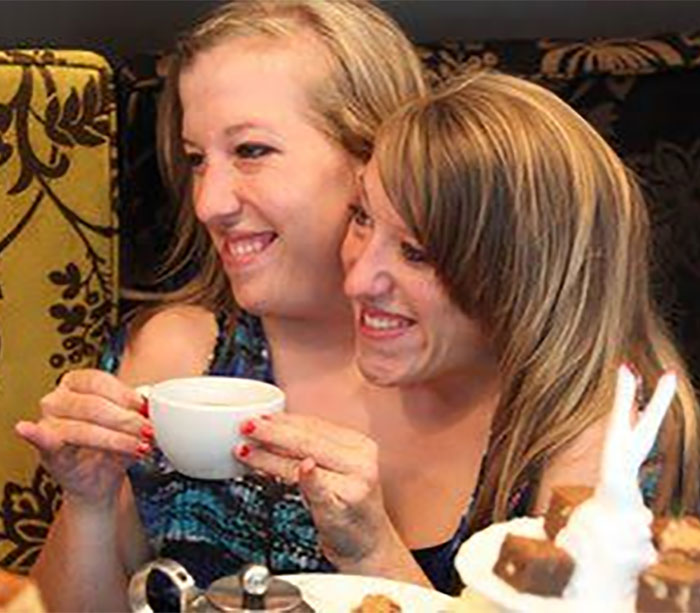 No doubt the twins have many friends but what about love? The two very much believe in love. Bot the sisters are looking for their prince charming! They want to have a family and kids. Though having one body they have different choices and it goes about their crushes too. Despite their conjoined fate, they want to get married to different men and have their own family. They know there is someone who is meant only for them. Their father Mike says on their daughters' dream of getting married someday "They're good-looking girls. They're witty. They've got everything going for them, except, "they're together." 
Coming Dangers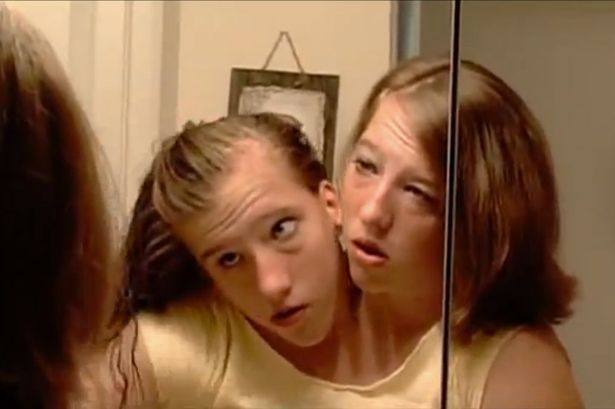 The twins are living a great and famed life. But unfortunately, their perfect life is not above dangers. This is true that both the girls have proven the doctors wrong previously but the life taking danger is still looming above them. According to a study, till now only four conjoined twins have managed to survive this detrimental disorder. We really hope the girls would prove the doctors wrong again.
Health Problems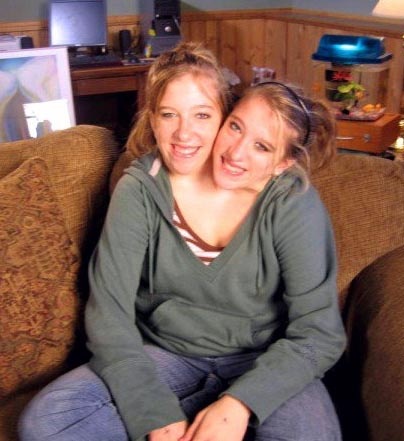 Usually, the twins suffer from many health hazards. Likewise, these extraordinary twins too are predisposed to several health problems. Prominent of them is heart failure and organ defect. The girls have the high chances of getting diagnosed by any of them. Luckily, till now, the girls have a great health. Today they are 22 years old and are leading a very healthy life.
Pilot And Dentist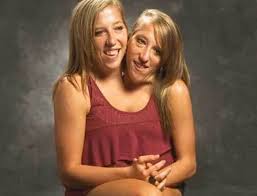 During their growing years, Abby and Brittany had different career plans. Whereas Abby aspired to be a dentist, Britty wanted to become a pilot. Mike said jokingly "It's gonna be kind of hard in the cockpit when one's flying and the other ones working on someone's teeth,"
Teaching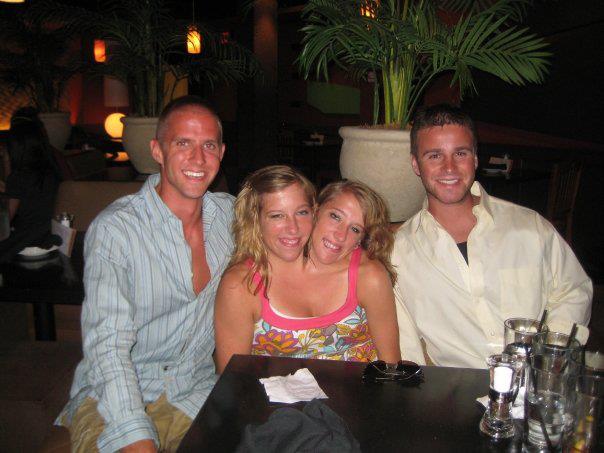 The small twins have grown into the big girls. The two have even chosen their career. Today, they are working as a teacher with a specialization in maths. It is interesting to see that despite their different tastes the two agreed to make teaching their career choice. The conjoined sisters take full advantage of their condition while teaching. Whereas one focuses on teaching the students the other makes sure the students are paying enough attention to the class.
Low Key Life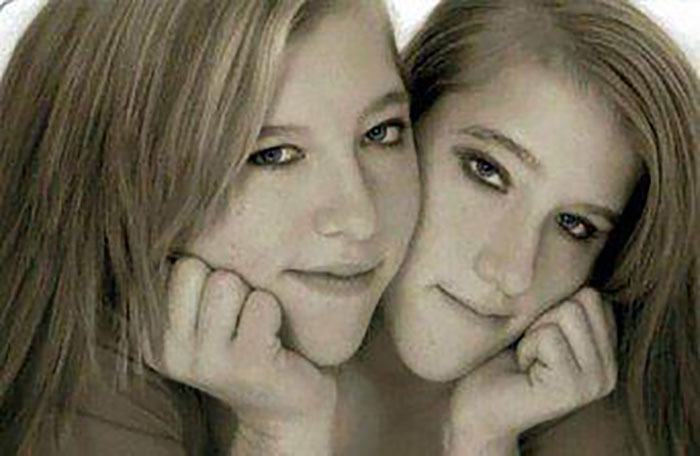 Abby and Britty are 27 years old today. Despite their amazingly unique appearance they prefer to have a low key life. Gone are the days when they liked to be the center of attraction. Now, the only thing they want is peace and a life off camera. They make it clear that they loved being in limelight and their popularity helped people to know that conjoined twins have as normal a life as any other people do.