Travelling can be really fun. But it can be an embarrassing thing to see that your family members have come to pick you up from the airport with signboards that say a little too much. Just check these embarrassing greetings that have been used by these people to pick up their loved ones.
You Mean Duty?
So does this lady deserve to get the award for 'Wife of the year' or what? This is such a clever sign and the wordplay is so smart. We are so sure A. Neal reported for booty on time every day henceforth.
A Survivor?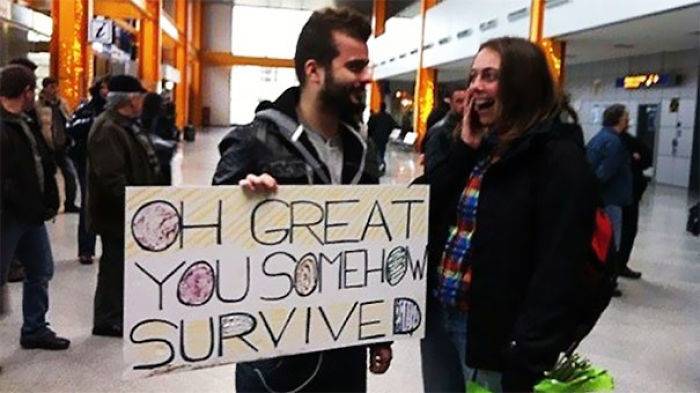 So is this a good way to pick up your sister? After she went to an uncharted territory followed by a long flight, this girl comes back to see her brother making fun of her trip. Well, she did survive so, enough said.
Very Creepy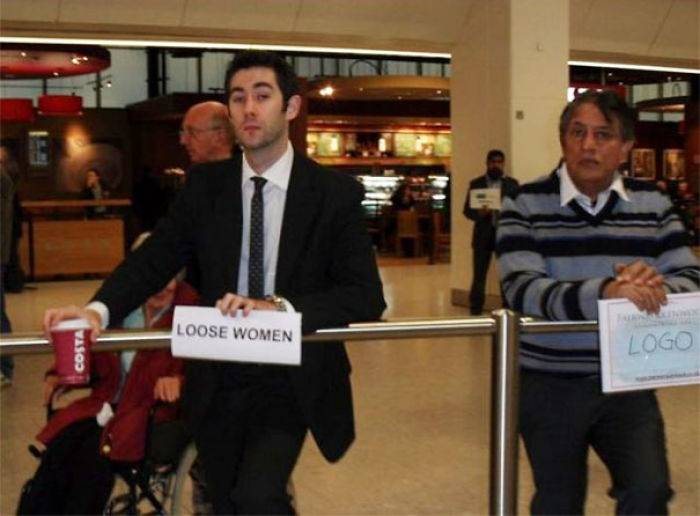 Men like these need to get arrested immediately. He wants to score some by picking up loose women at the airport. We hope this is some kind of bet or prank because it is a little too extreme.
Say No More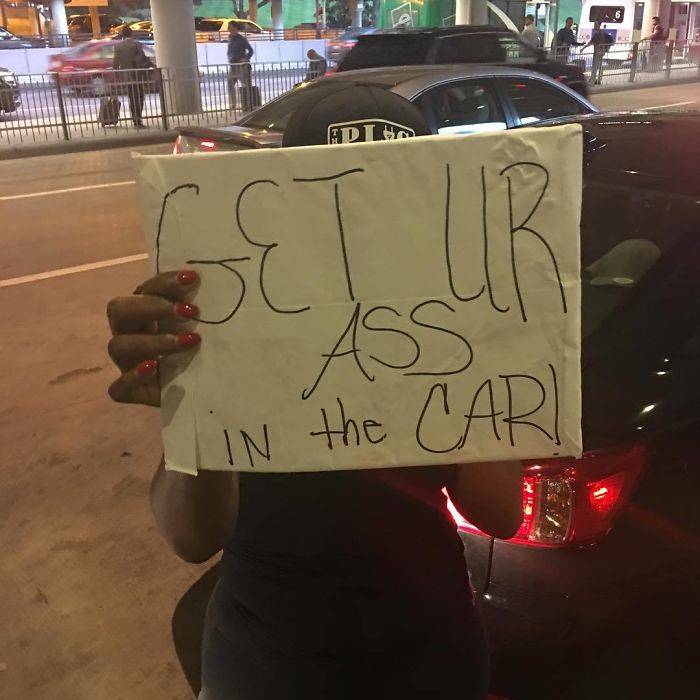 When you ask your girl to pick you up form the airport while she is too busy, this is what you will get. This feisty woman did not waste second and ordered her man to get into the car immediately.
Called I.D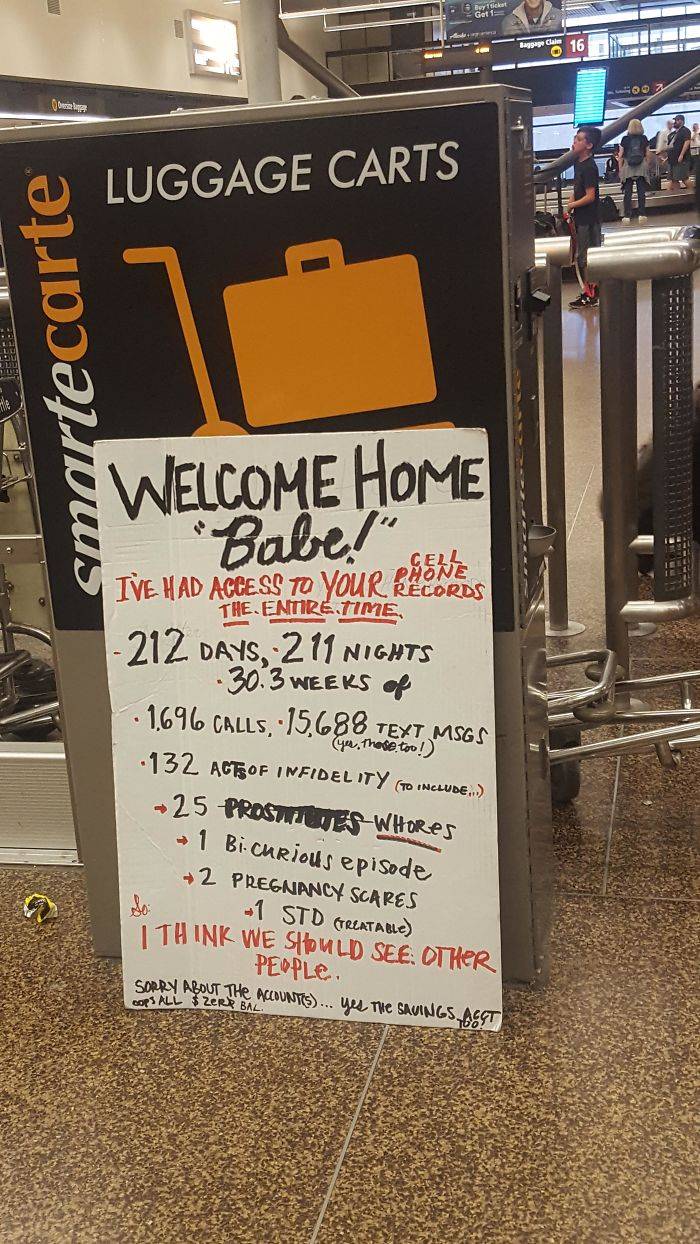 We have a feeling this couple is about to break into a long-awaited fight. Do you think the woman deserves to get humiliated like this? ok, then, would you pay to see them fight?
Holly Jolly Christmas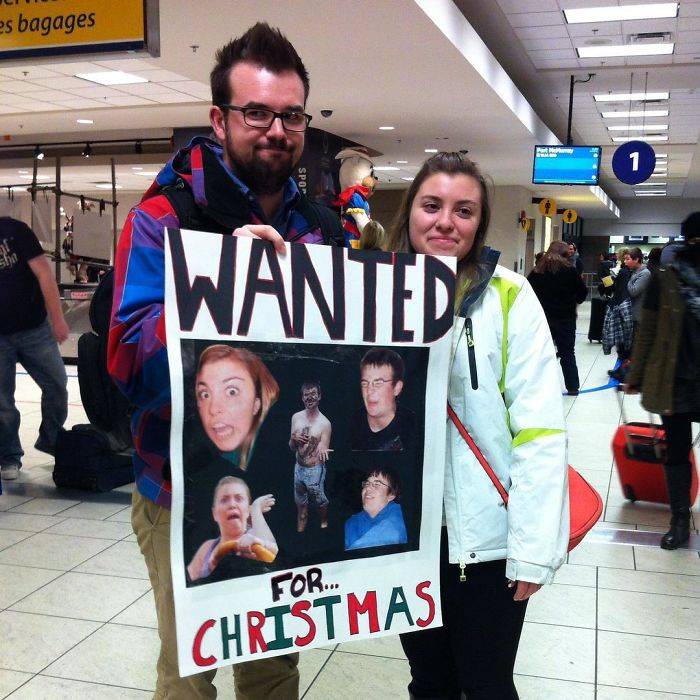 These guys are spreading the holiday spirit and cheer. We all know that we have all, at one point collected embarrassing photos of our friends and make a cute collage. No?
Out Of Jail Greeting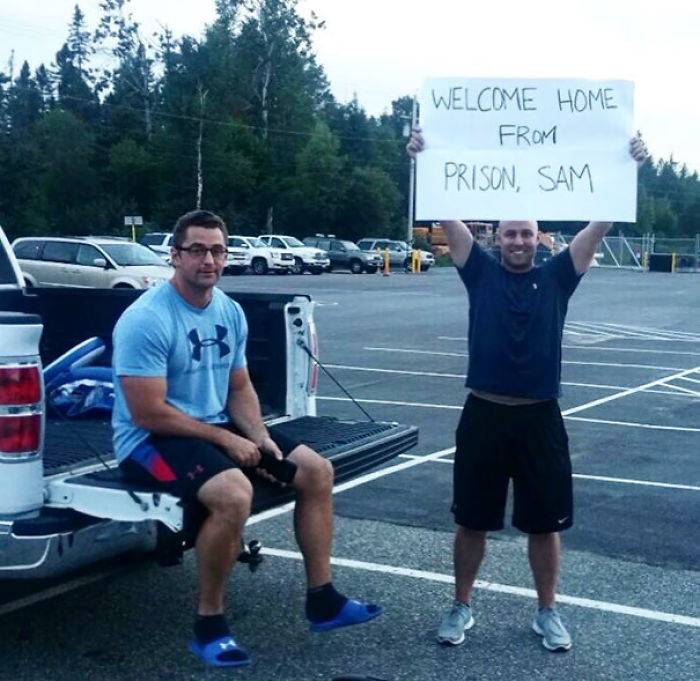 So Sam got out of jail? These guys seem like they are really into fitness and the gym. So Sam probably did not have the nerve to get mad at them because judging from their looks, they might be pretty strong.
A Dog's Love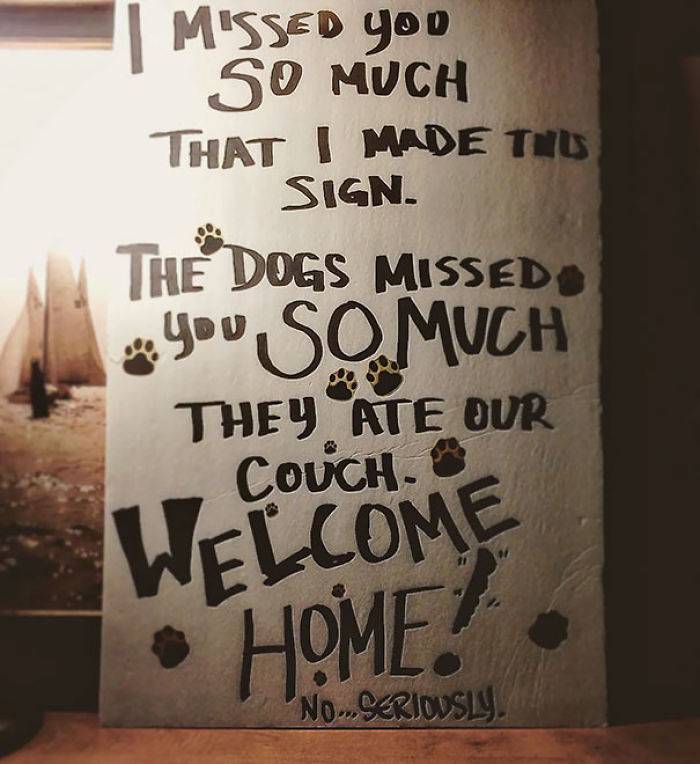 When we miss someone we often make cute stuff for them like frames and cards. This woman did just that and made a card for the one she misses. What did their dogs do to show their emotion? They ate the couch. Very nice.
The Wall Joke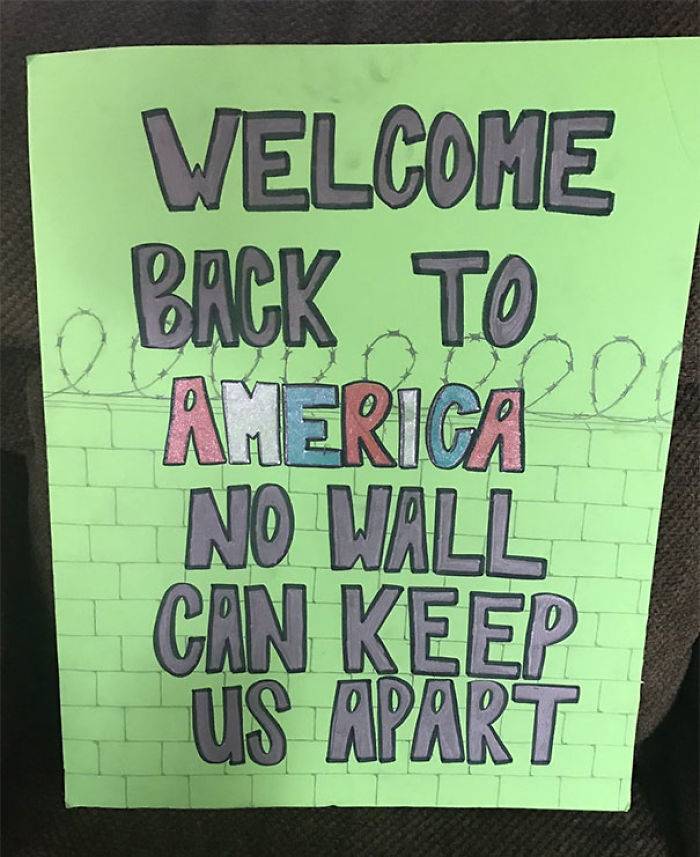 So when Trump decided that he was going to build a wall to stop illegal immigrants from entering America, many people were outraged. But it never ended up happening. So these people were able to reunite once again, unaffected by 'the wall'.
Is There A Mr. Snowden?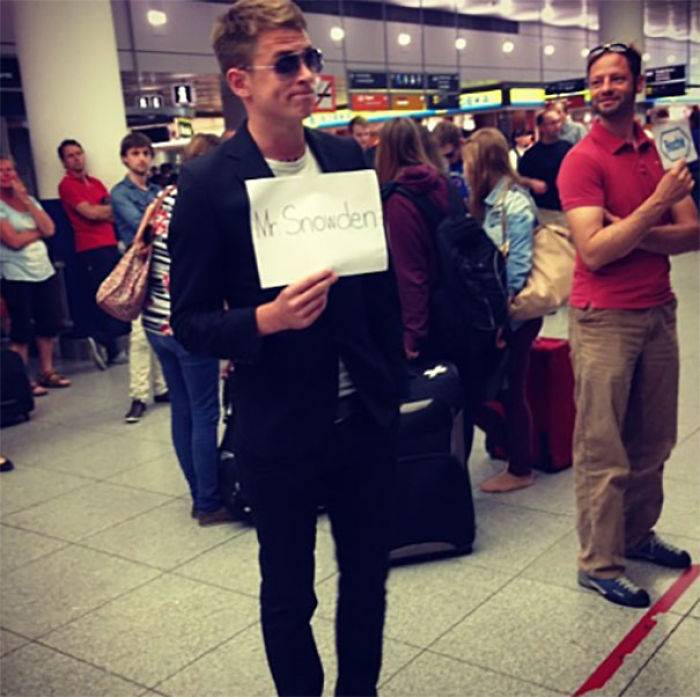 Some people just never keep limits as to how much they joke around and play. This man here was waiting for a Mr. Snowden. Which one though?
Picture Perfect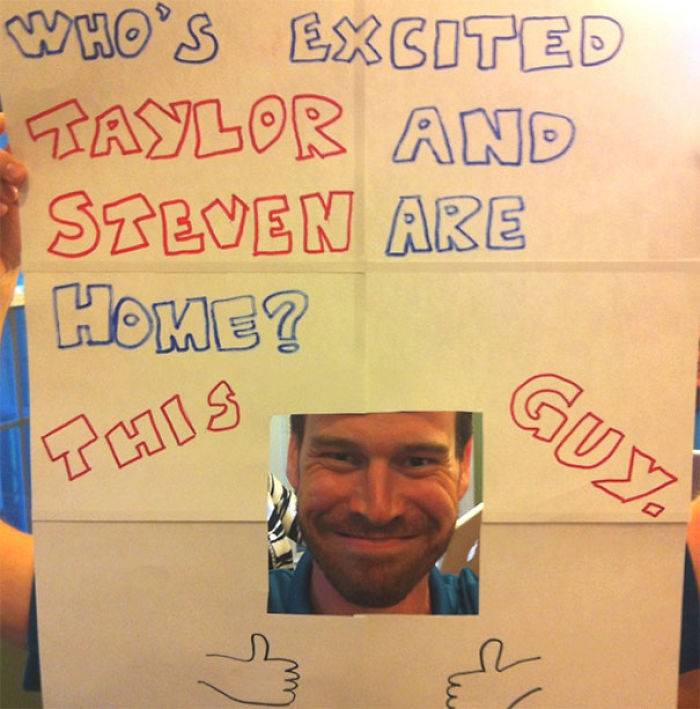 This is by far one of the most creative ways to express how you truly feel about your mates coming back home. His friends should be really happy to see this greeting after a long flight. Just look at that expression!
Hor- What?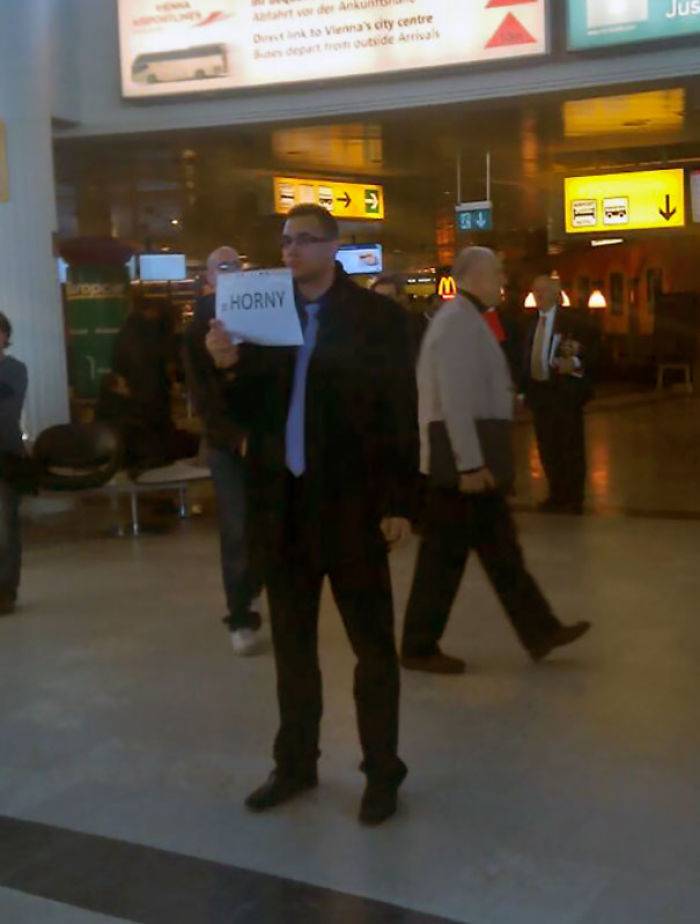 So is this guy looking for someone or is he looking~ for someone? We hope this is just someone's tragic name because otherwise, ti would mean that he is announcing that he is indeed feeling horny. Why would anyone announce such feelings?
A Hugh Jarse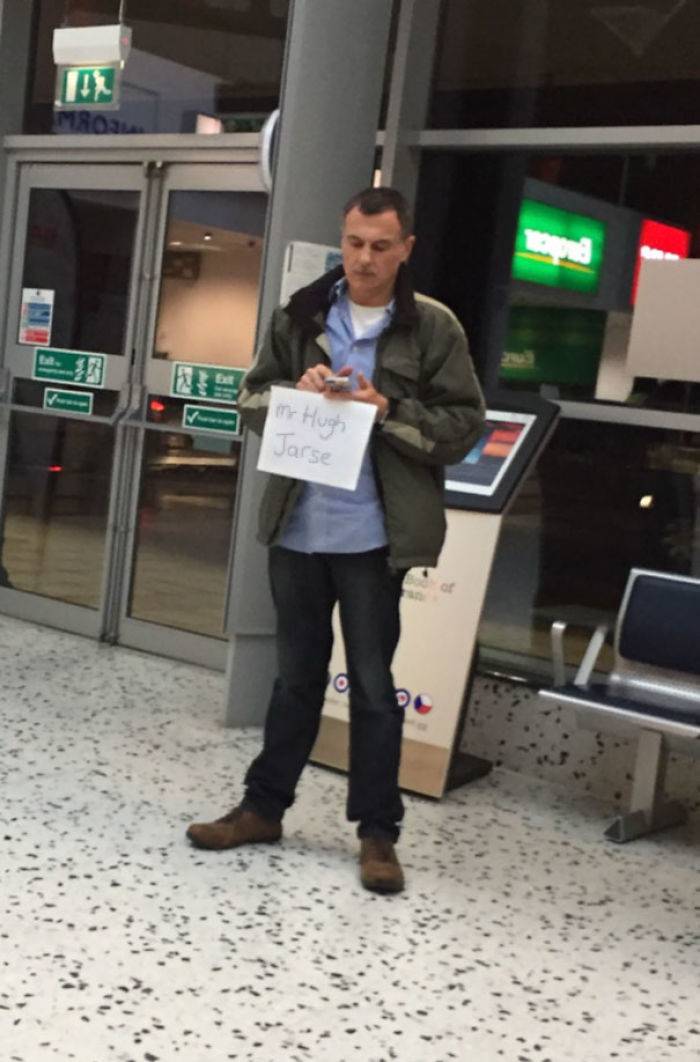 This man is literally waiting for a Hugh Jarse. Yes, reread that as many times as you want. He is waiting for a Hugh Jarse. We certainly hope he got to find the Hugh Jarse he was patiently waiting for.
For Mom and Dad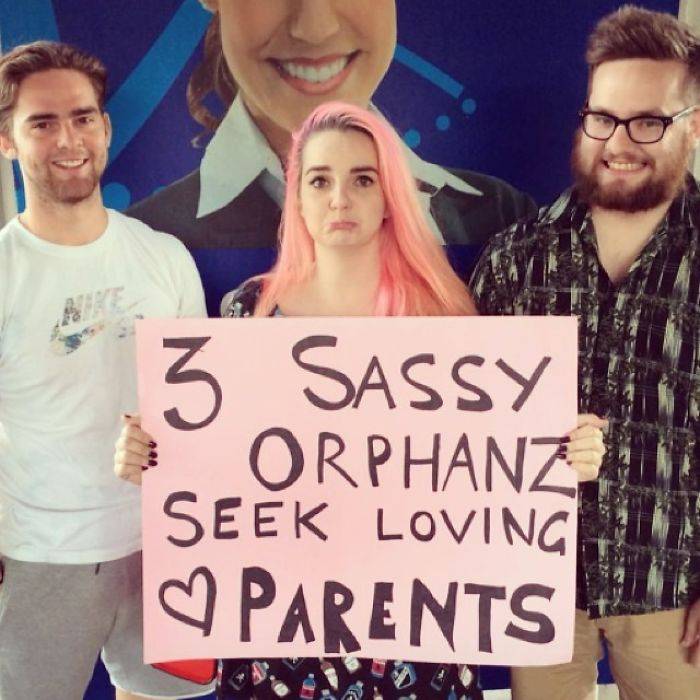 These three siblings were left to fend for themselves as their parents went on a vacation without them. When the kids got together to pick up their parents, they decided to play a prank and act like they were orphaned.
No Undies Boys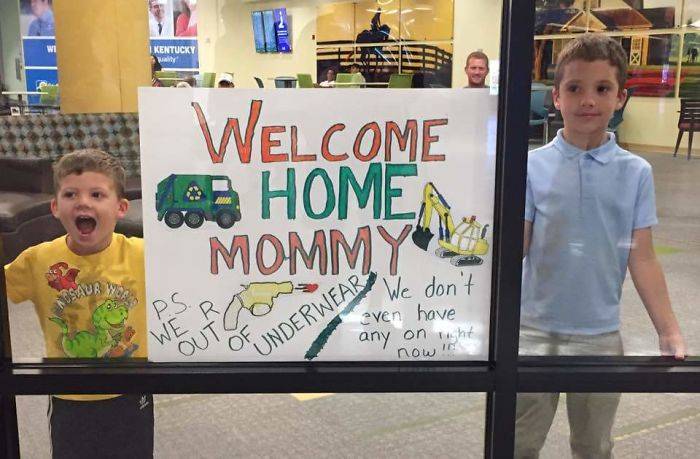 When dad is in charge, there is always something that is bound to go wrong. These boys were tended by their father who tried his best but when it came to changing diapers, failed miserably. How do you think their mom responded?
From The Movie?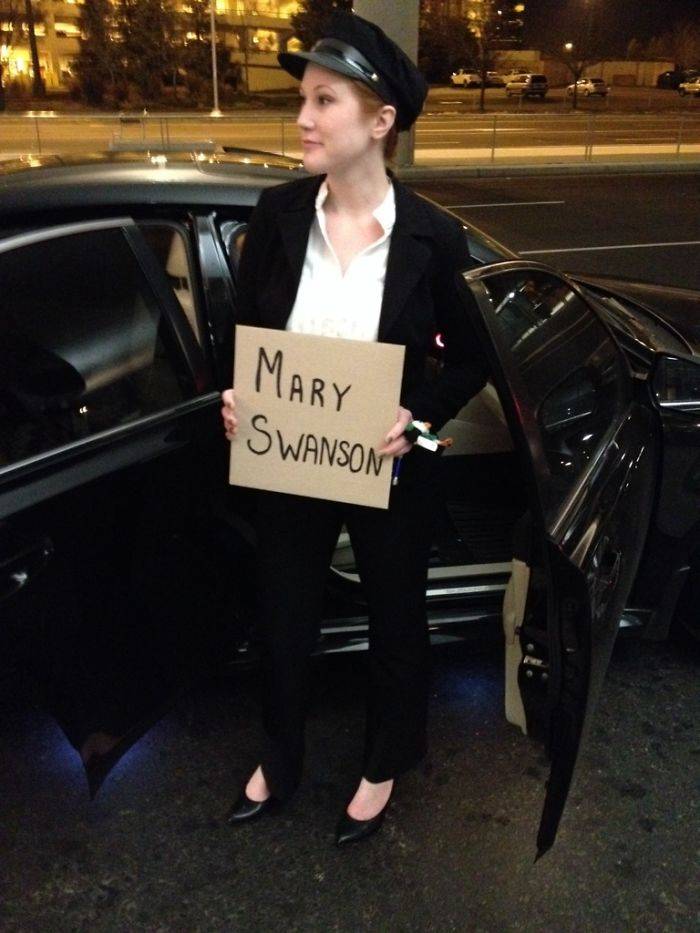 So this lady chauffeur is waiting for a Mary Swanson. Does she not know that it is a fictional character? Even if she were real, do you think this Mary Swanson would resemble the one from the movies?
Diarrhea?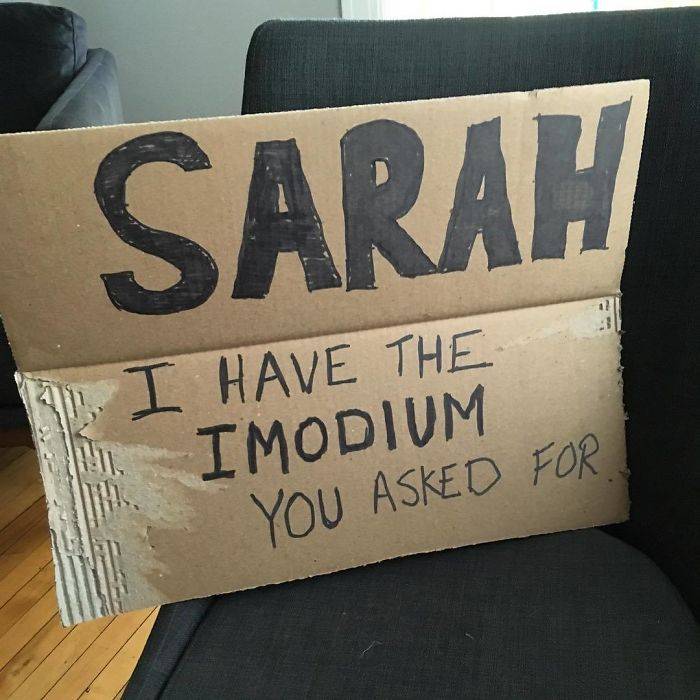 So how would you feel about someone exposing something embarrassing about yourself? Whoever Sarah is, we are sure that she is not at all pleased with this greeting. Why would you bring up diarrhea as a greeting, that too in an airport?
Gay And Happy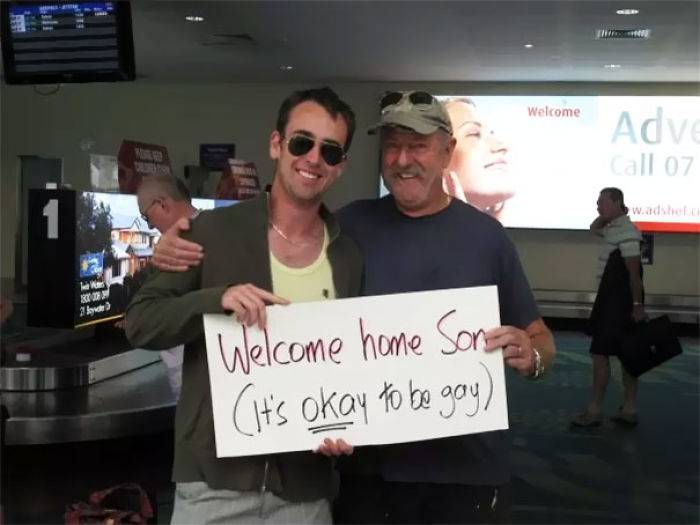 So this is 2018 and it is a time where no one should be restricted from being themselves. We are sure glad to see that this dad gets with the times and embraces his gay son with open arms. He did not have to announce it at the airport though.
Newsworthy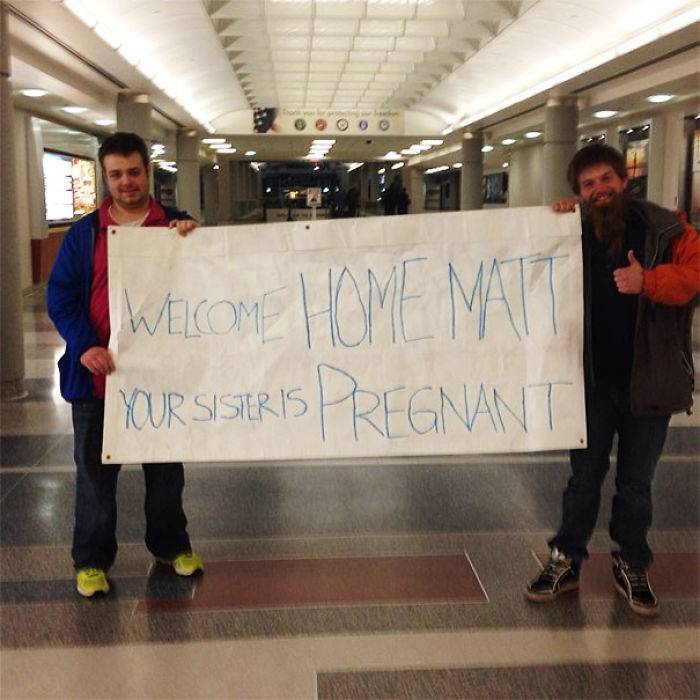 These guys could not wait for their pal to get the news about his sister's pregnancy. So what did they do? They made a sign to bring to the airport that announce that this guy's sister is expecting. Was this all necessary though?
Now That's A Signboard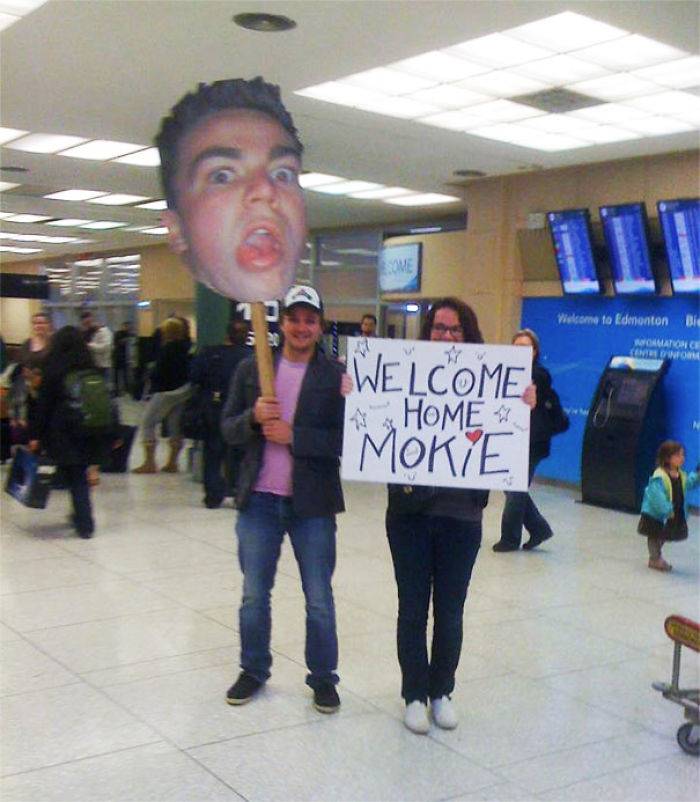 Sometimes it is hard to locate your family members while they wait for you at the airport because of the crowd. Mokie would not be missing the huge signboard of his face. They would not even need to call him so loud because they have this sign.
Mooooooooom!~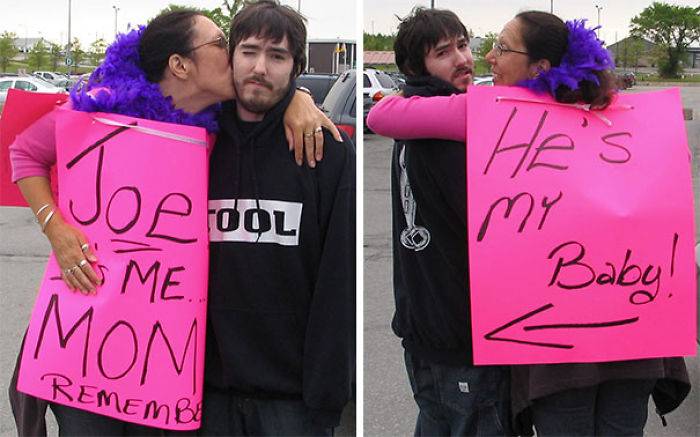 We all go through that phase when it gets embarrassing for your mom to be overly affectionate and lovey-dovey with you. This guy here has clearly not passed that phase as his mom is shown showering him with kisses and a loud pink signboard.
THE Michael Jordan?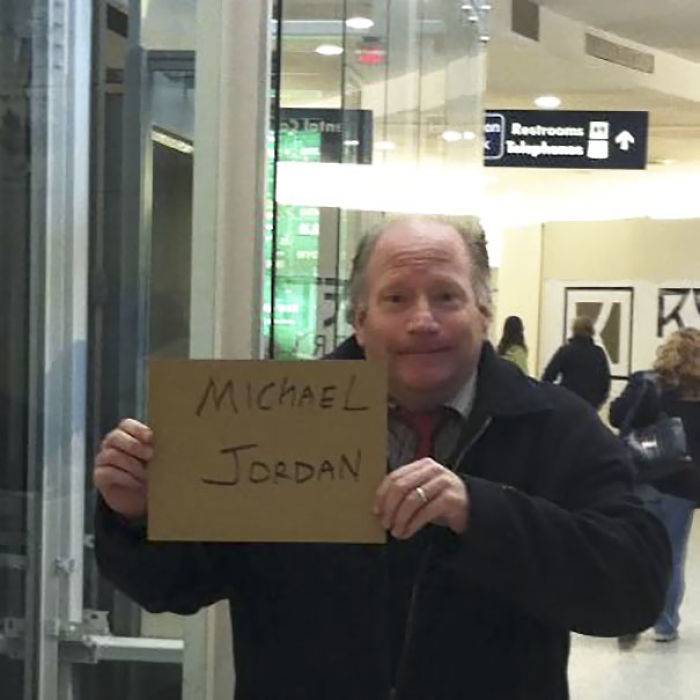 If you are a basketball fan then you would definitely wait until this Michael Jordan come out from his flight. We cannot tell if this man is joking or not but we are pretty confident that the real Michael Jordan does not have to search for his taxi drivers.
Oh Please No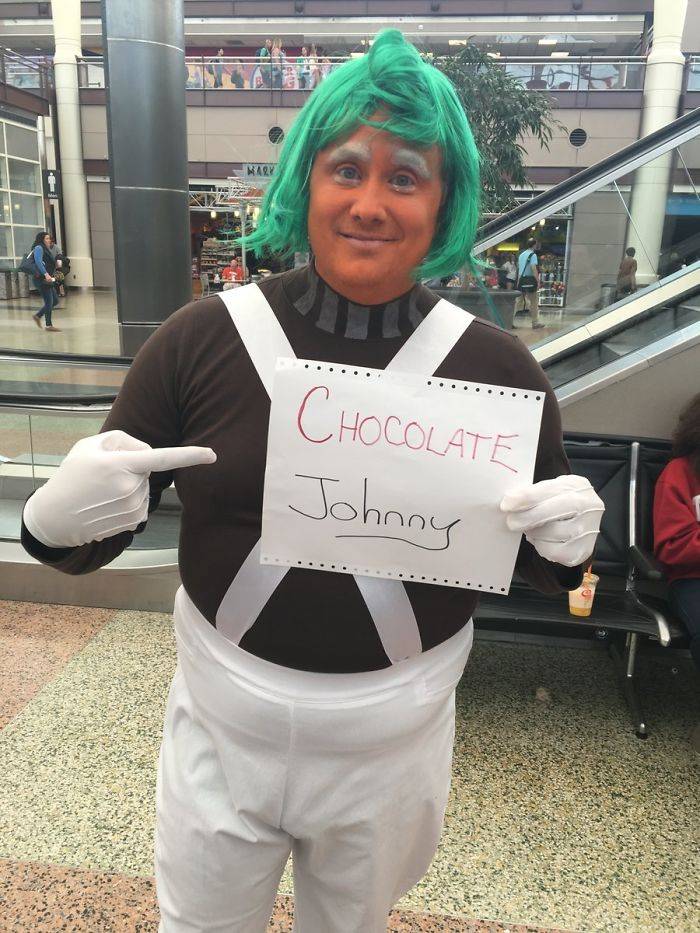 Putting on costumes and wearing wacky outfits can be fun. However, it all depends on the time and the place you put on these clothes. The airport is certainly not the place to wear a green wig and loud make-up. 
Drinks On Me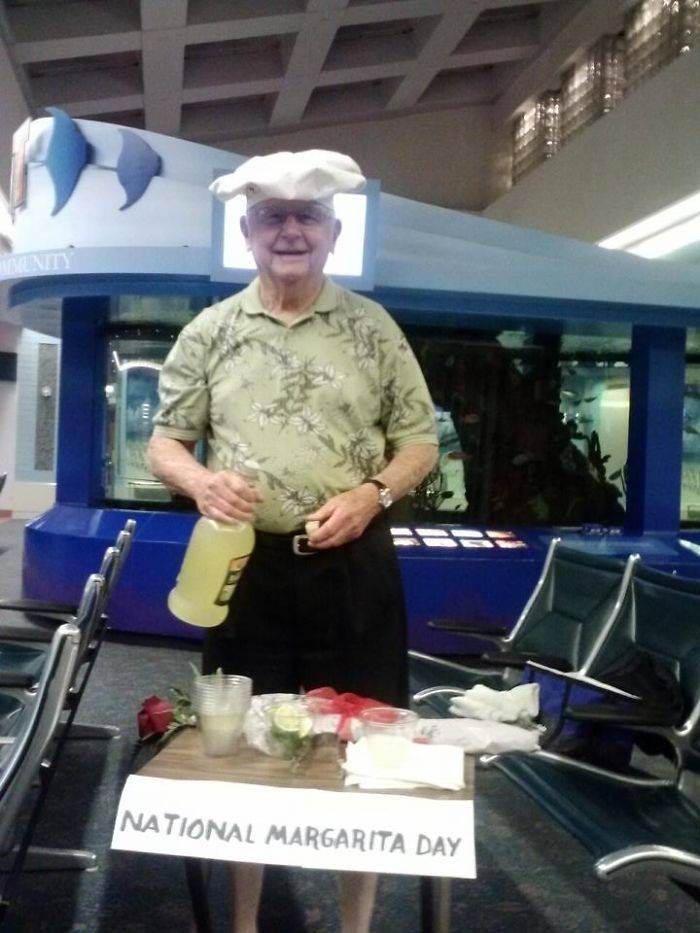 See this grandad right here knows what is good. After a long exhausting flight, all we need sometimes is a nice drink of margarita. The man here came prepared to start the welcome home party right from the airport.
Baby Duty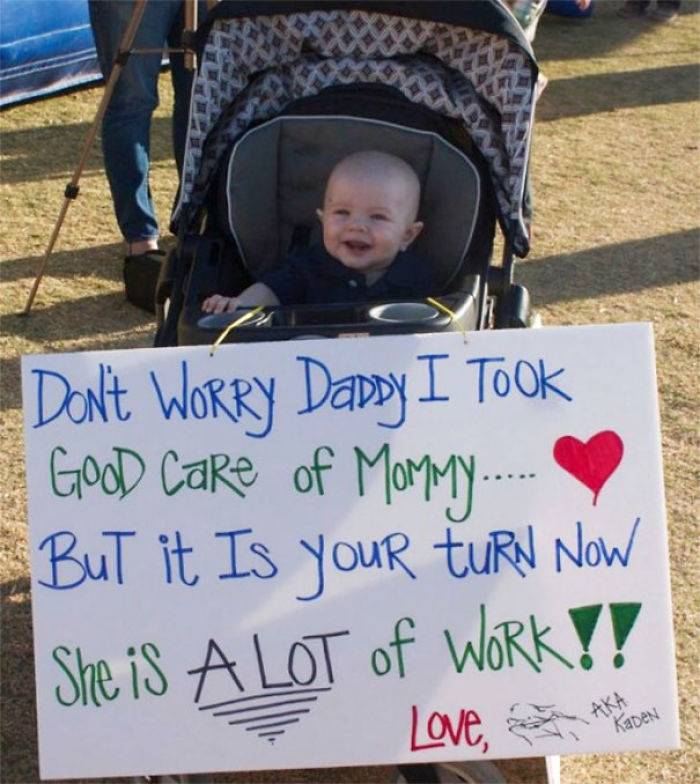 This mother must need a long day to herself. She made her baby send a message to her daddy so that he can take care of her. She admits to being a lot of work. Look at the how unaware the little baby is.
Bye Rehab, Hey Home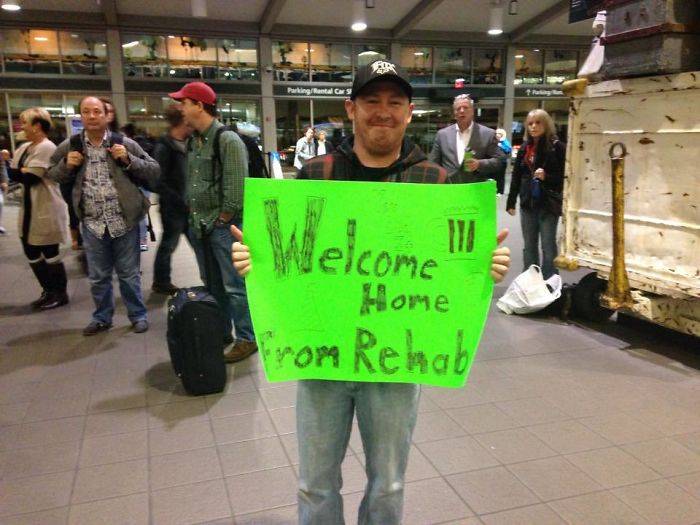 How would you feel if someone came and picked you up from the airport announcing that you had just gotten out of rehab? This man here became so excited that his friend was finally coming home from rehab so he made a sign that he took to the airport.
Descriptions Please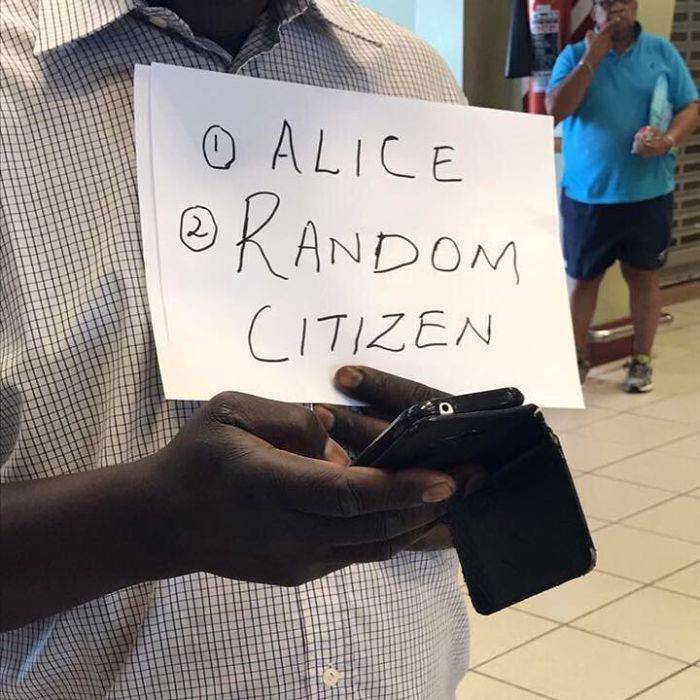 When you need to pick up a stranger from the airport, you need to know what they look like first. This man here had that covered. Or does he? So Alice must have been easily spotted. After all, who else is a 'random citizen'?
Looking For Some Action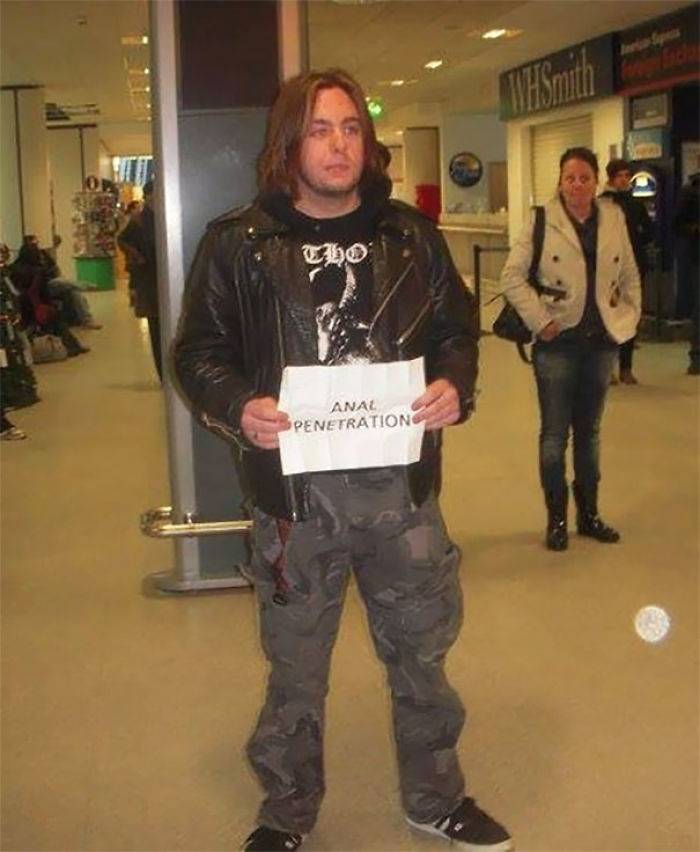 So here we have this guy, obviously looking for some action. Last we checked, there was no one by the name of 'Anal Penetration', so we assume he wants to enter someone's back door. Why would he need to look for this at the airport though?
That's A Promise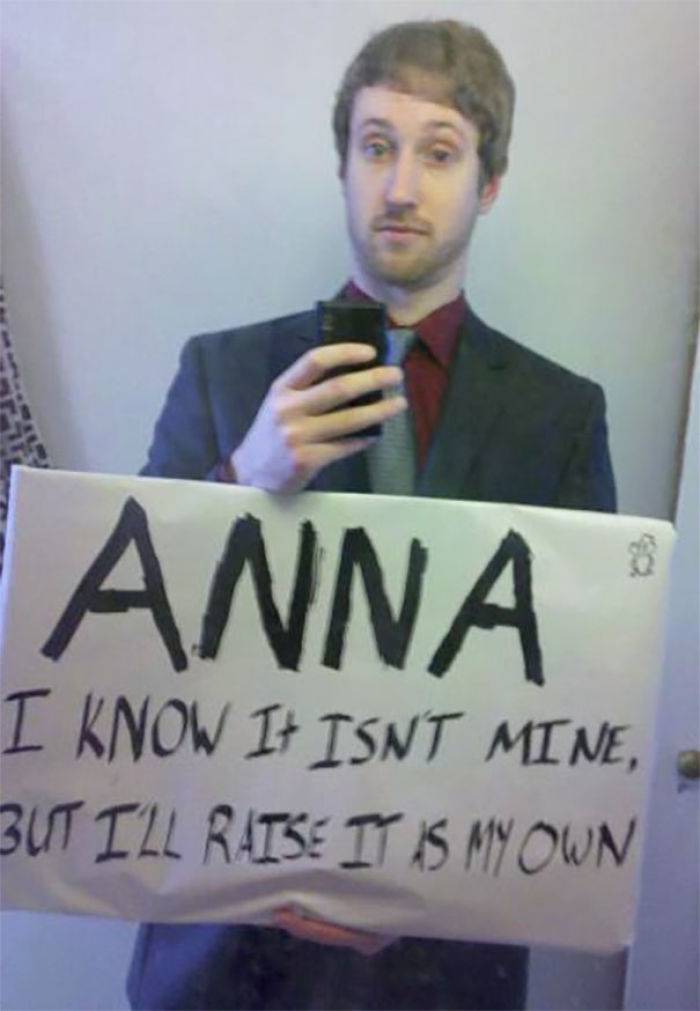 Women these days need a man like this guy. Here he is literally offering to raise a child that is not his with the woman he loves. It makes us wonder though, who got her pregnant? Was it from before or was it during this trip she took?
Well Described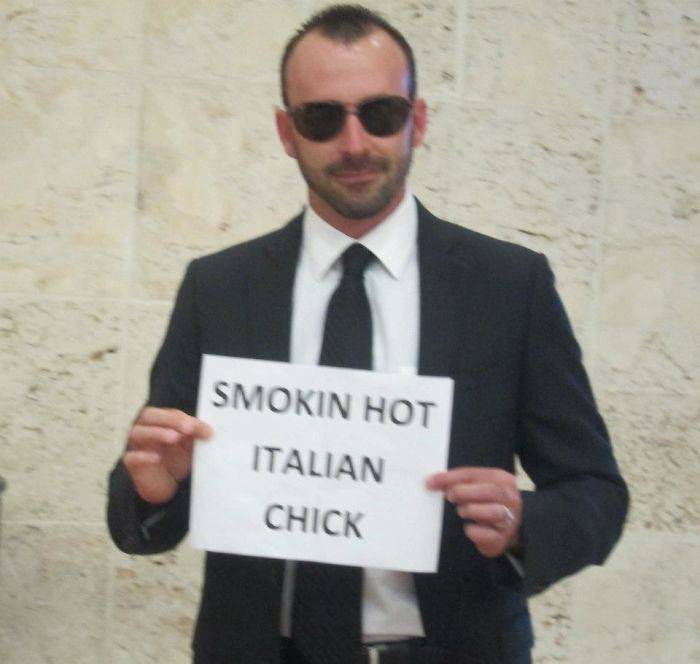 This chauffeur here is looking for one woman and one woman only. A 'Smoking Hot Italian Chick'. Do you think he ever found the one he was looking for? Or could this be some prankster trying to get lucky with a naive tourist?
Needs Practice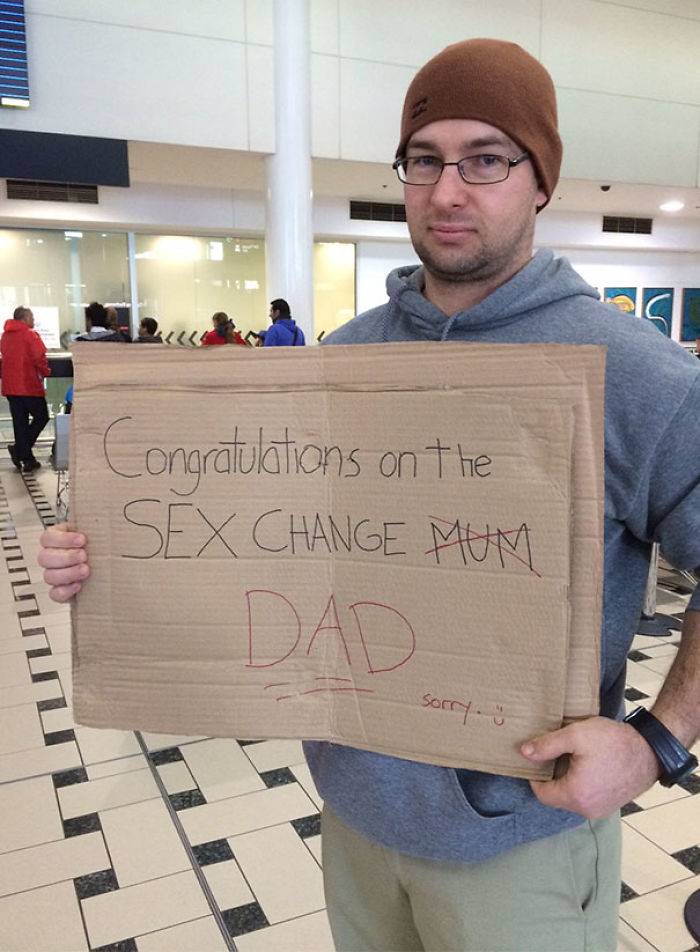 When your parents get a sex change, it would indeed be very hard to get used to calling them using the other gender. This guy here made the mistake of greeting his new dad who was once his mom. We need Caitlyn Jenner to explain all this.
A Proposal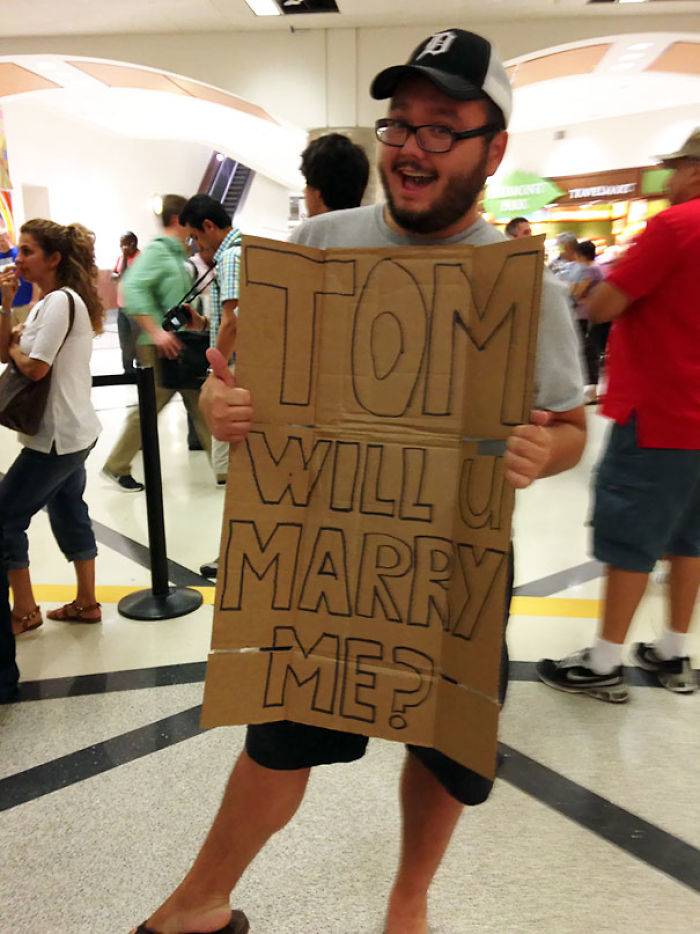 This guy here used the airport to propose to his boyfriend. Do you think it is special to propose to your significant other at the airport of all places? Anyways, if you were Tom, would you accept or decline this big offer?
You Don't Say?
There are so many questions that come to the mind when we look at this photo. Is the mother new? Is she weak in Geography? Why is she 'welcomed to Florida'? Also, this signboard could have been made a little better than this.
All That Jazz
This man here is waiting for his family. This is understandable. But why does he have on an ugly Christmas suit? if our guess is right, we think he must have been home alone for a while and had too much freedom. So he was obviously excited for his family to be back home.
You're Doing Great Sweetie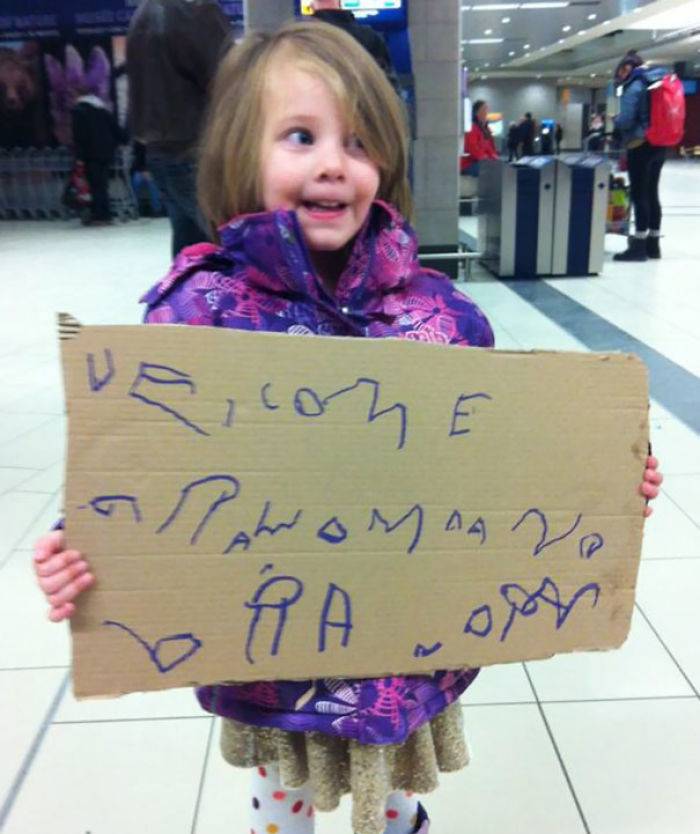 So this very sweet message was used as a greeting by this lovely girl to her father at the airport. Do you think she meant it? She had a very bright future in writing and would surely release a lot of books considering the pace she is on. 
Daddy?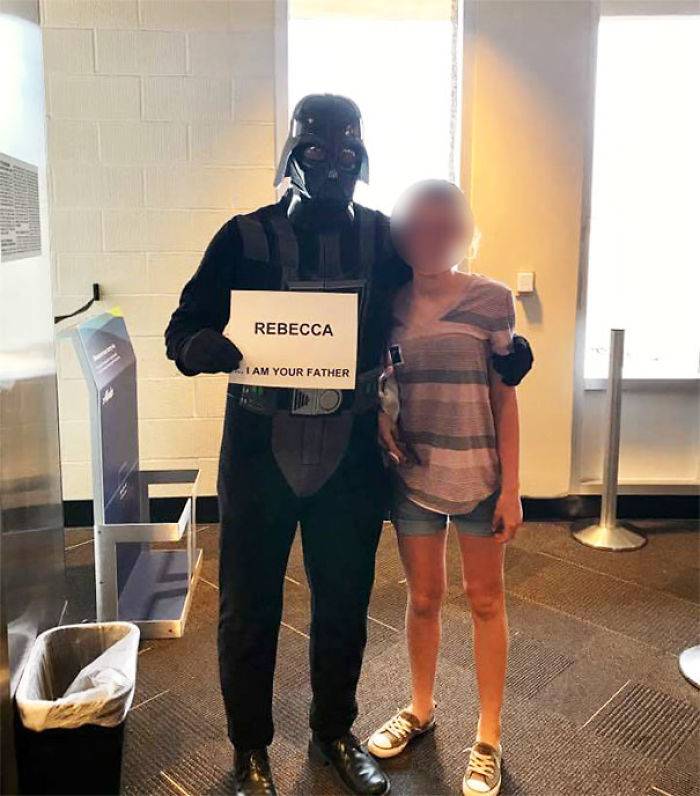 The Star Wars Saga is one of the most legendary movie franchises to have ever existed. So it is not so surprising to love to make jokes on a daily basis. Darth Vader right here had to inform Rebecca that he is indeed her father.
Maybe, Just Maybe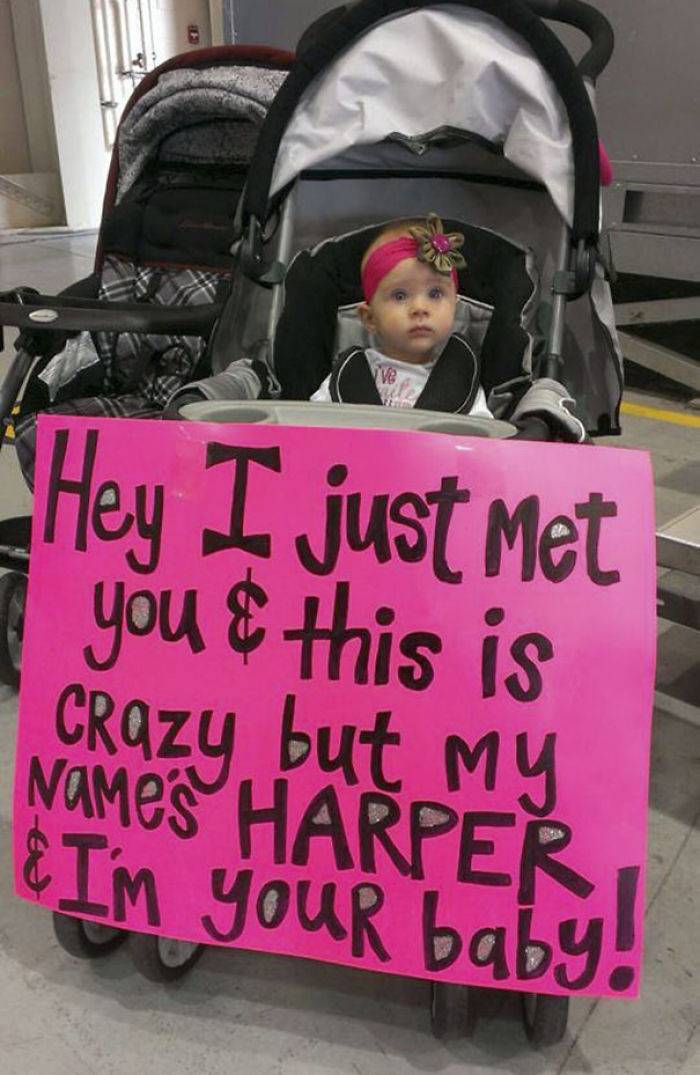 So this is a nice way of introducing your daughter to her father. The mother cleverly used the iconic lyrics of the inescapable song of Carly Rae Jepsen to make this announcement. Look at the confused little bundle of joy.
A Message For Mommy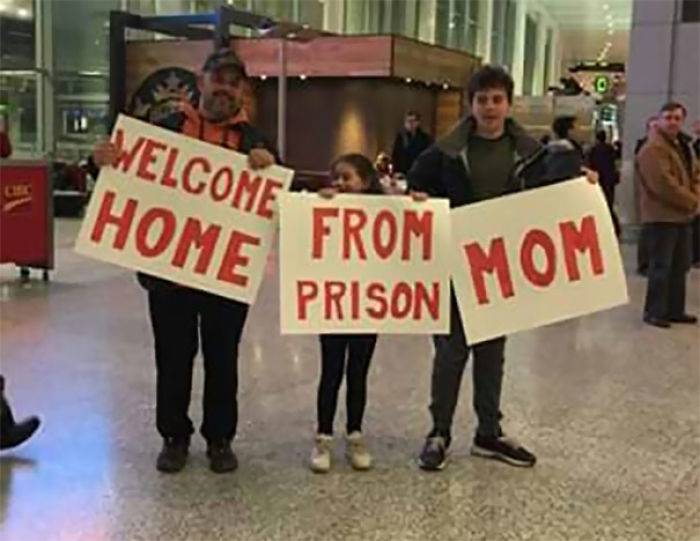 It is not easy to live through every day without your mother's presence. These kids were so glad to have their mother back from prison. They were too excited that they could not even contain it, so all the people present at the airport got to know where their mom had been.
Waiting On Darth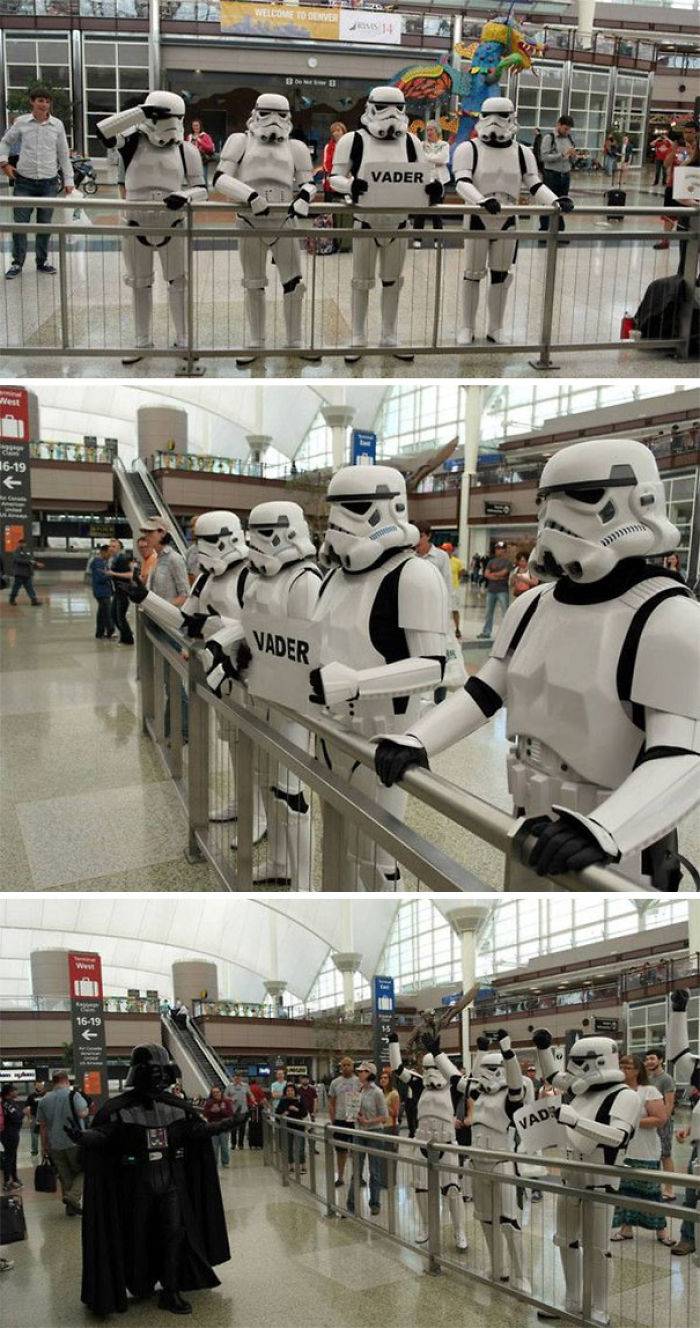 The stormtroopers know exactly who they belong to. They were spotted at the airport waiting for the one and only Darth Vader. When he came out, they showed their excitement and cheered like anything. These Star Wars fans though.
That's Two Of You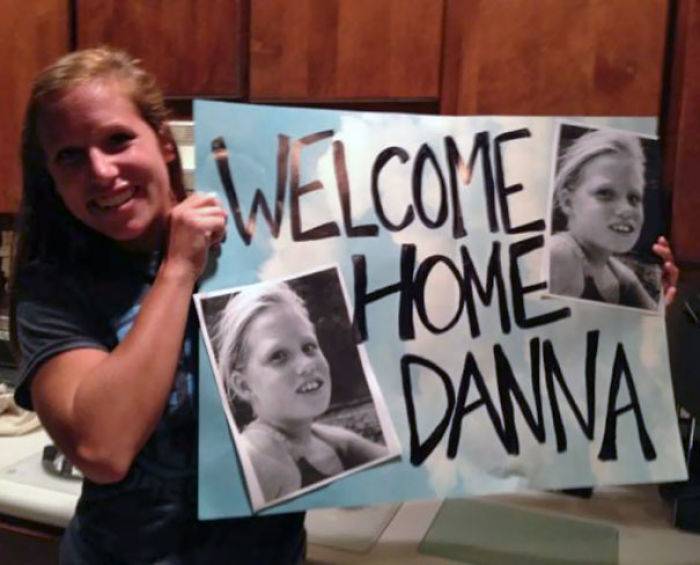 When your friends make a signboard with your face on it, it is okay to have more than one photo? This girl made a greetings sign for her friend Danna and decided to add two identical photos. A little confusing right?
Color Talks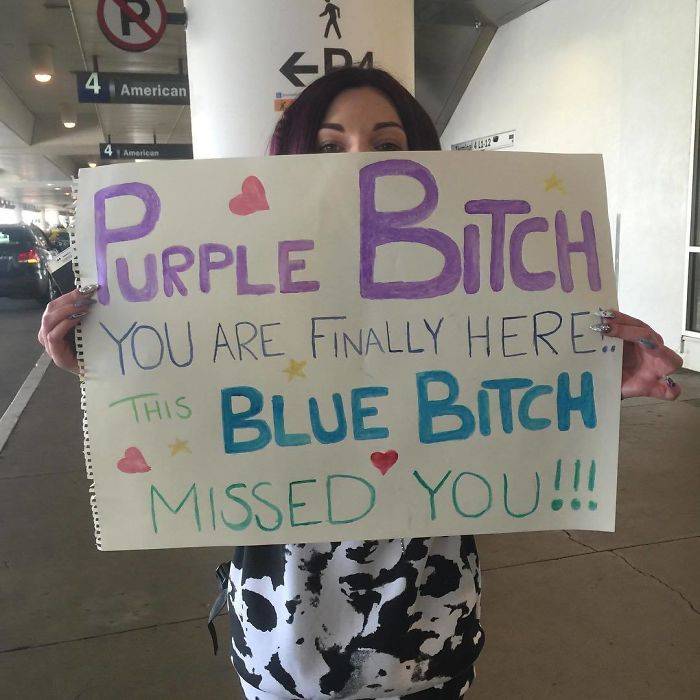 As kids, we would often assign ourselves specific colors. These two women have not grown past that and are still referring to themselves using colors. Purple and Blue were the colors they tagged themselves to. Cute or not cute?
Throwing Some Shade?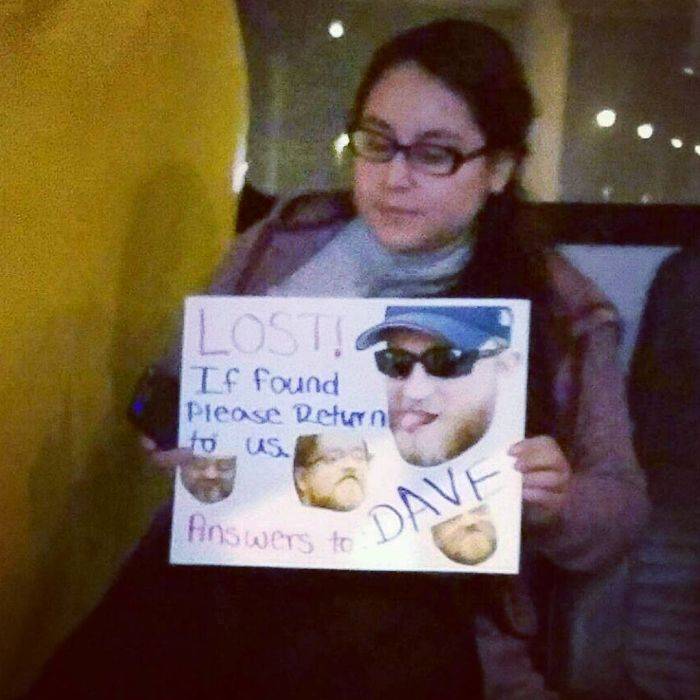 This woman here does not give a care in the world. She is out here waiting for her man but sends a very loud message that he must not want to hear or see. Dave must have done something really wrong to have triggered this woman to make this sign.
A Very Fanny Taxi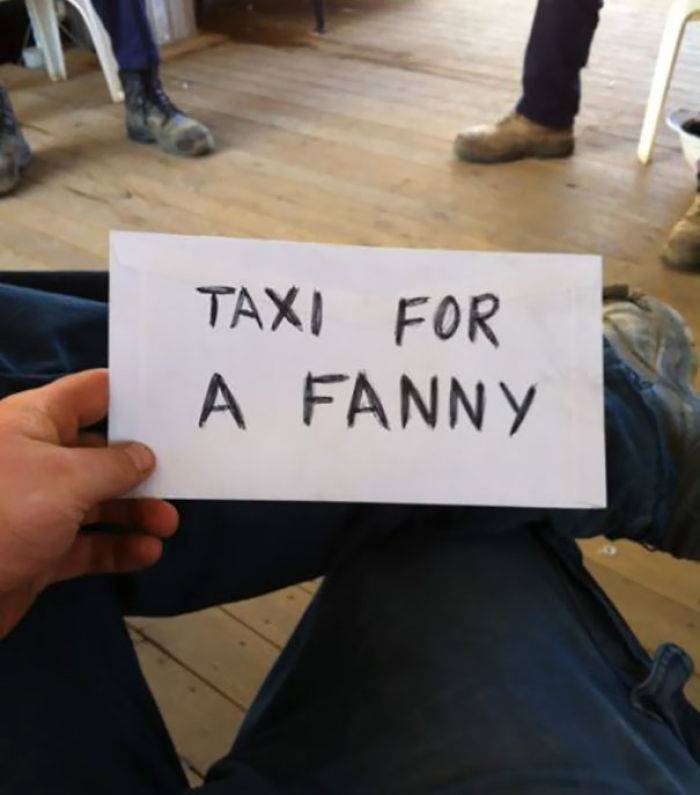 So when you look for a taxi, is it okay if you address yourself as a fanny? Would that not get you into trouble? This guy here is trying to get a taxi but wants to stay true to himself while doing so. We hope he finds it. We really do.
Stop It, Dad!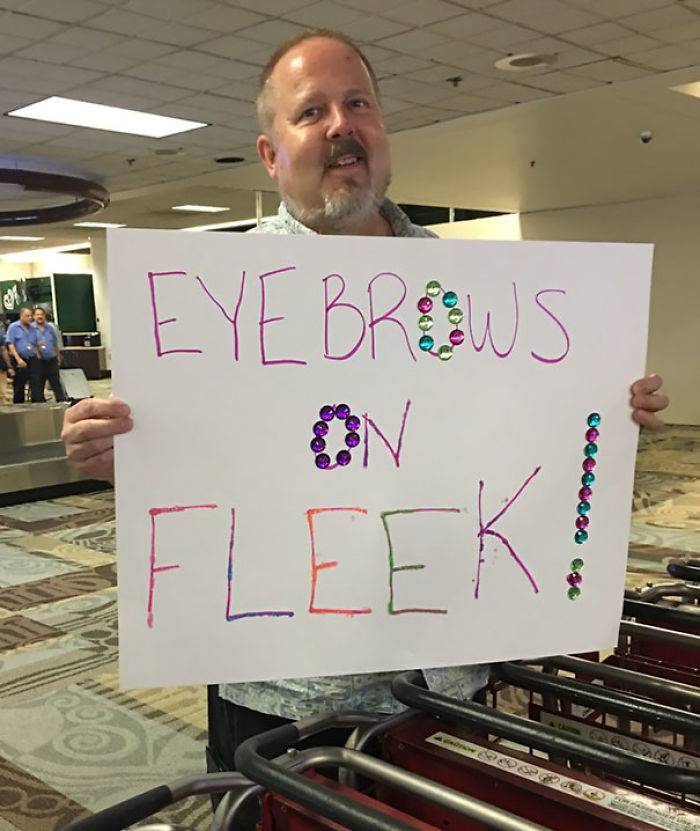 Most dads try to stay hip and cool so that their kids will not get embarrassed by them. However, if you try a little too hard, like this man, for example, you will surely steer away all of your kids by holding a sign like that at the airport.
Nice Kids, But…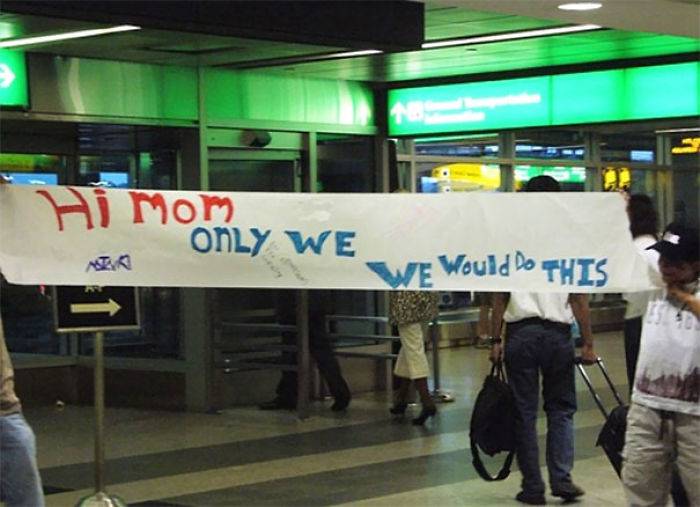 These kids have tried really hard to impress their mother by giving her the best greetings sign she could ever receive at the airport. But they made a mistake is placing two 'we s' on the sign. We still give them an 'A' for their effort.
What That?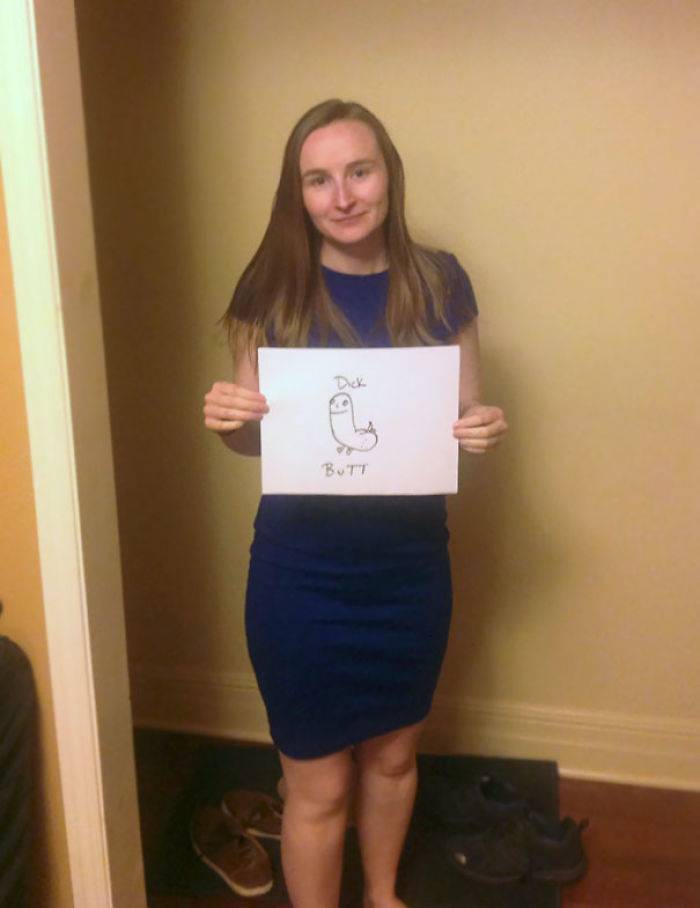 We often call our siblings the most offensive names. This girl here has a very nice nickname for her brother whom she just picked up from the airport. It has everything to do with a man's private parts. Did she really hold that out public though?
Direct Message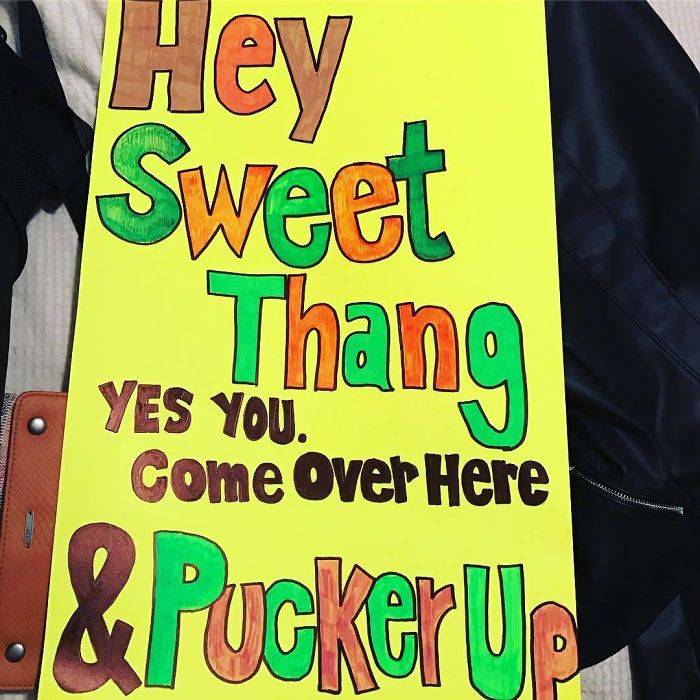 When your significant other has gone on a business trip or a vacation, you tend to miss them a lot. Here is a greeting that has been directed to the better half of this person to get closer and pucker up. A very direct message that needed no sugar coating.
Very Clever Girls
This message is one sweet and clever one. The mom grabs hold of the tree while the daughter holds the apples. Looking at them, the apple does not fall far from the tree regarding just physical appearance.
Small Wee Wee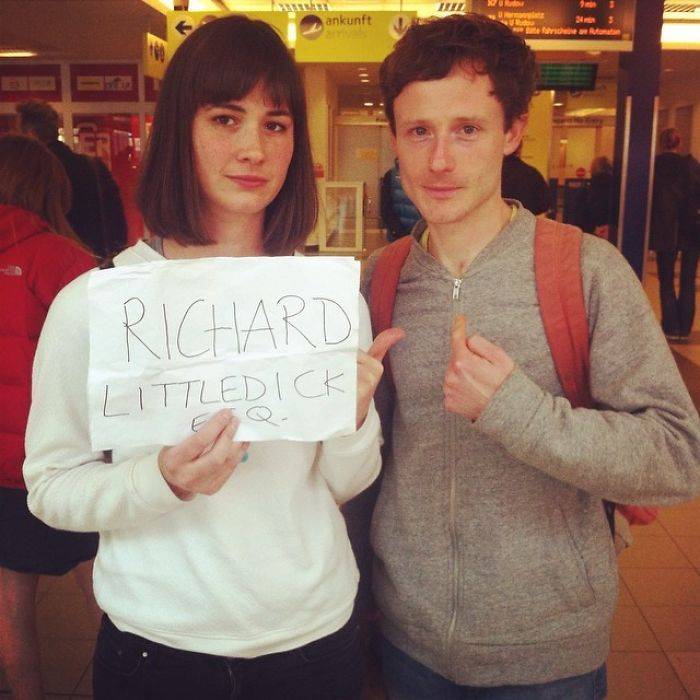 This girl is not afraid to spread the word about her friend's small wiener. He does not see to mind at all as well. Do you think the guy greets her with signs like this when it is his turn?
A Hate Speech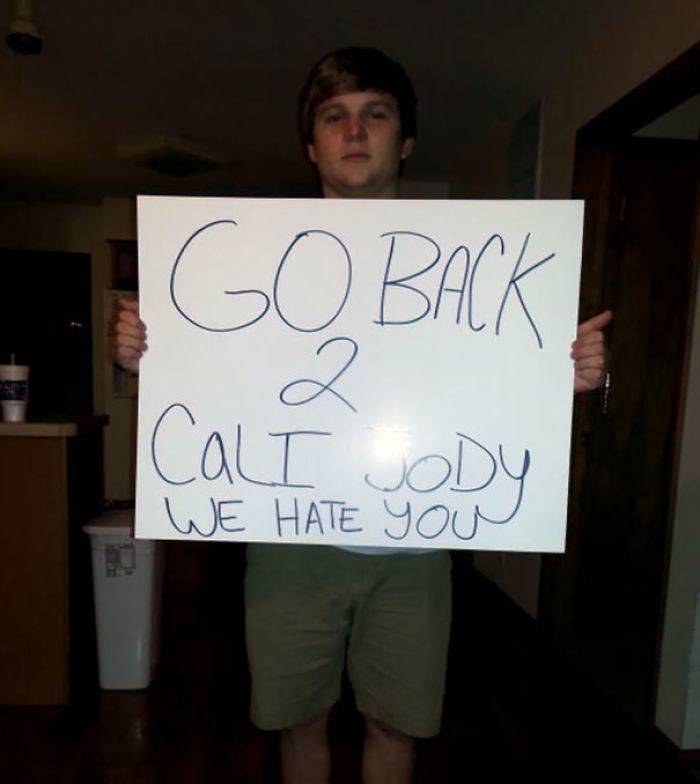 So this guy is not a fan of Jody. He is seen here sending a clear message telling her to go back to California and that they hate her. Does 'they' refer to her family of her friends?
Short And Simple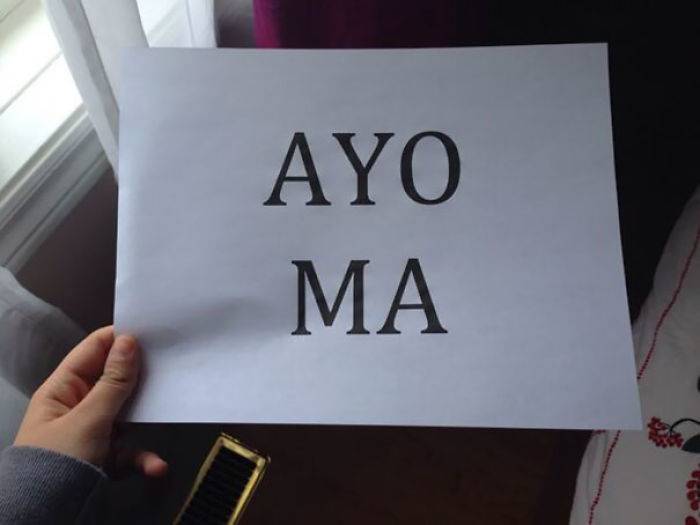 There was no effort put into making this greeting. It just read 'Ayo Ma'. This is a popular term used by youngsters these days to address their love interests. Maybe she does not mind.
Freckled And Stuff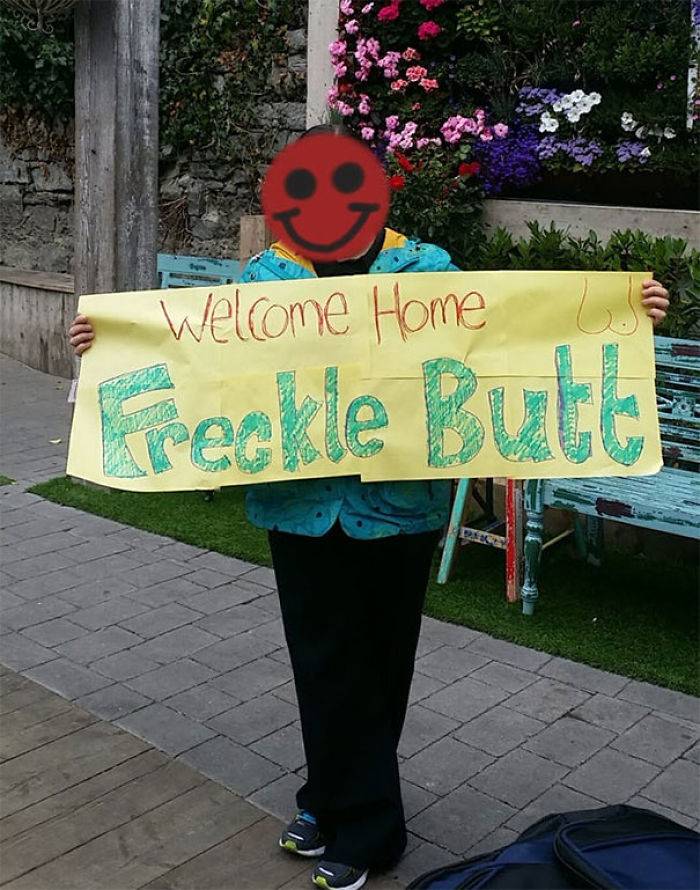 have you ever seen a freckled butt? Before seeing this post, have you ever thought about a butt that had freckles? We haven't either. You don't have to google this though.
Yes, The Band!
Remember when being emo was a thing? Yes, it, fortunately, ended after staying relevant in our society for quite some time. This man does not look emo but is holding a sign that has an emo band on it. Ironic right? And funny.
How Long?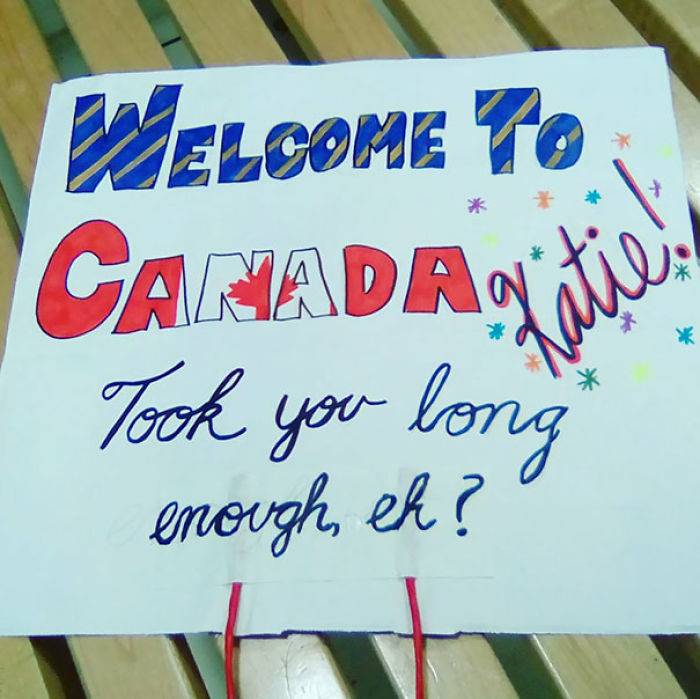 So these people were waiting for Katie to enter Canada for some time now. We should be thankful for Katie that she gets to get to a country that is known for being friendly and kind. But this sign is a wee bit too much.
Please Make Sure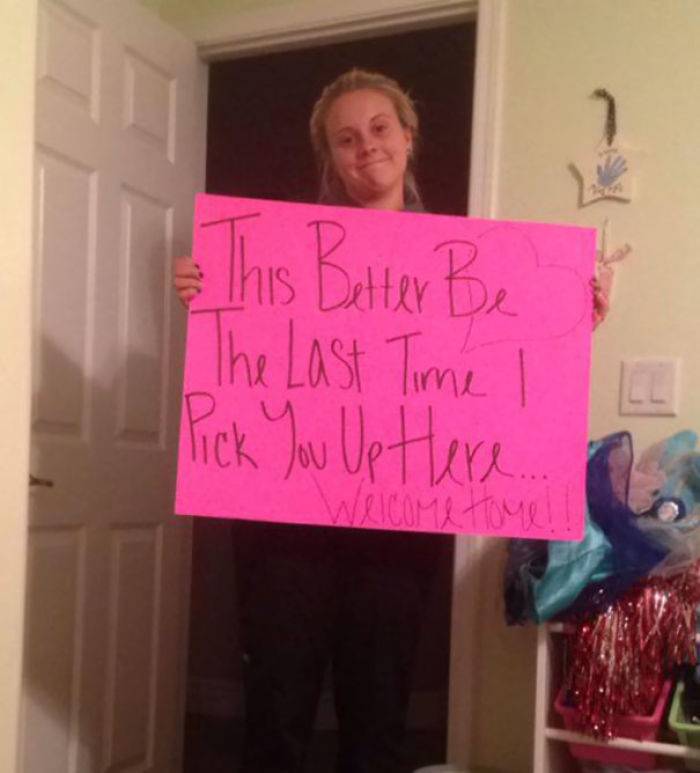 This elder sister is tired of picking up her baby sister who keeps sneaking off to take trips out of the state. She is getting a little frustrated and so she made a sign to put out the message.
Lowkey Racist?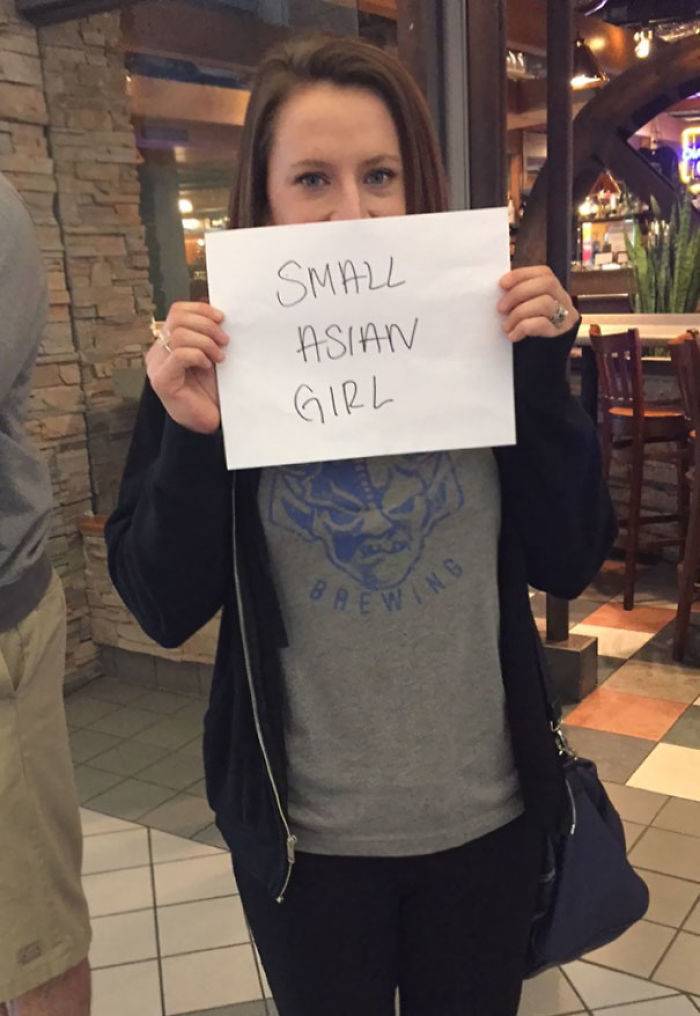 This girl here is looking for a foreign exchange student she is in charge of for the next semester. She does not look so interested and hence does not even know her name. Her description though.
Very Nicely Put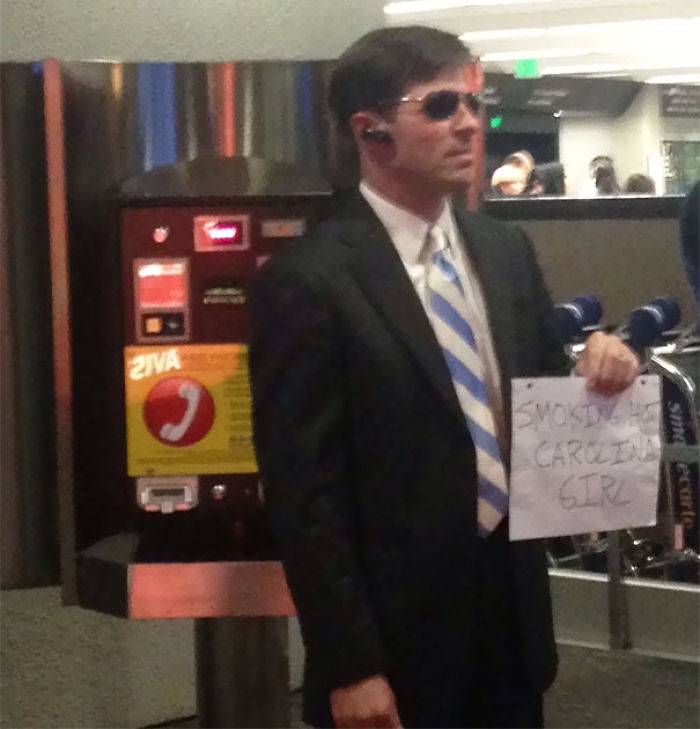 This driver here is looking for a "Smoking Hot Carolina Girl". Do you think all the smoking girls lined up to take a ride in his car? We hope his sign was clear enough and that he did not lose her.
Photoshop Love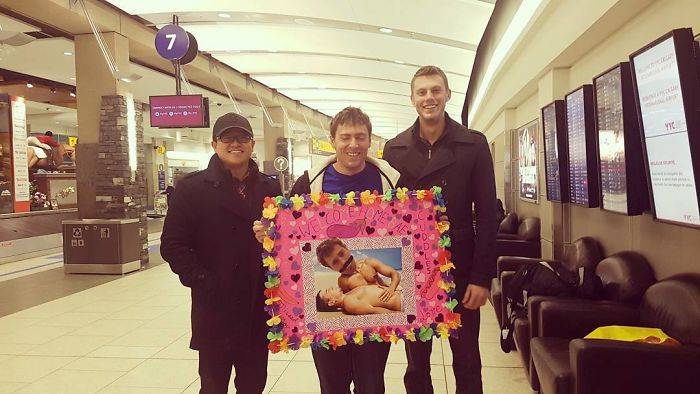 These guys wanted to make fun of their friend who had gone on a summer vacation. What did they do? They made a sign with their pal on it, caressing another dude at the beach. It was photo-shopped but yes it was funny.
A Little Confusing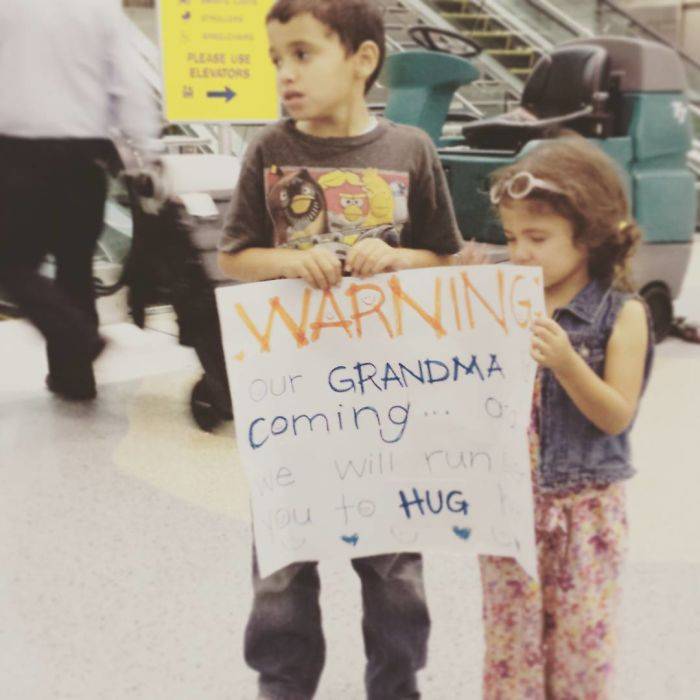 This greeting that the two adorable kids are holding is a little too confusing. DO they want to give their grandma a hug or run away? Someone, please explain.
Getting Frisky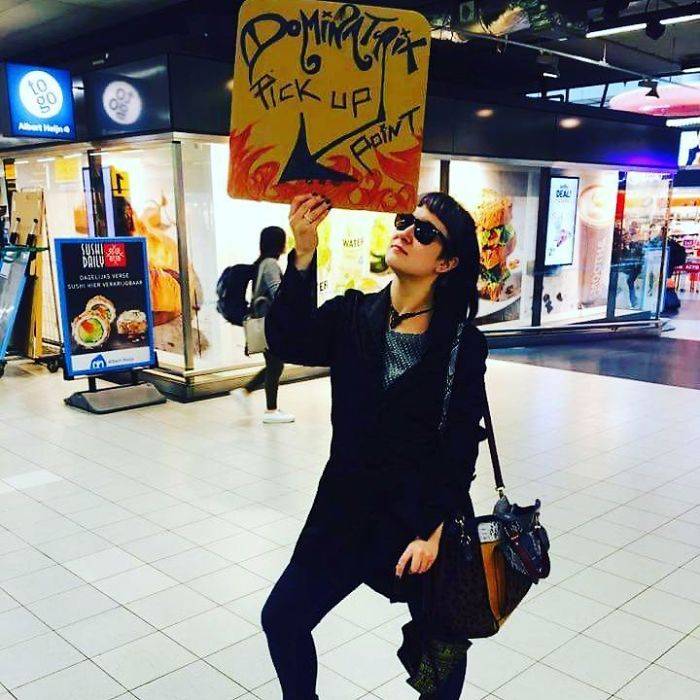 So there was this dominatrix who was waiting for her man to come out from his flight. Is this a part of some gag or does she really intend to gag him. Some people play too much!
Nemo Found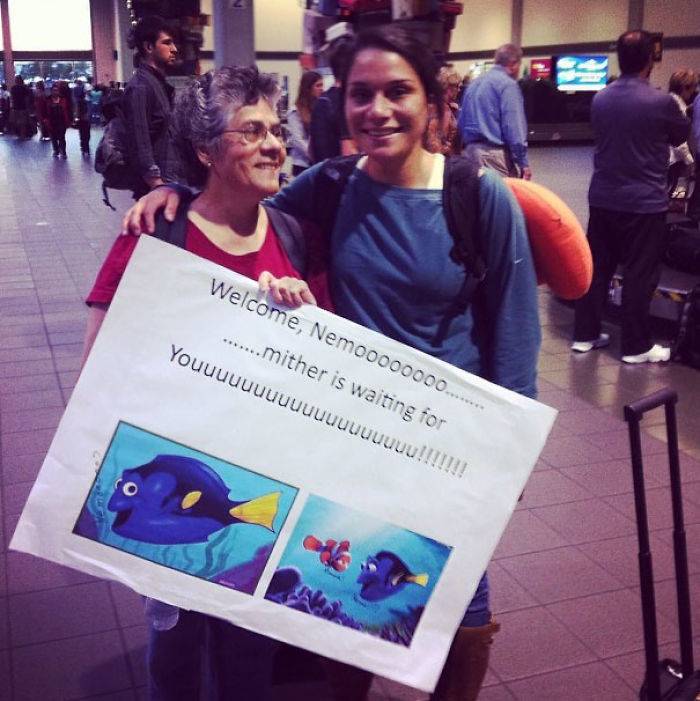 So 'Finding Nemo' was a good movie. This lady here decided to use the movie as inspiration to create this cute greeting sign. We can guess that the lady's name is Nemo from all the emphasis it is given.
We All Have Fetishes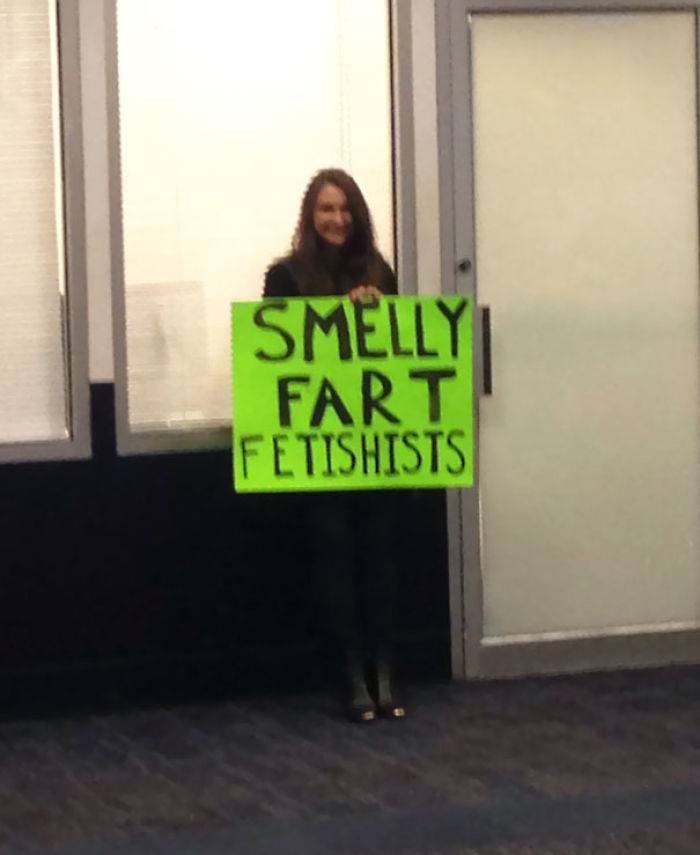 On one corner of the airport, this girl was holding this green sign that reads 'Smelly Fart Fetishists'. She must have fallen out with her friends or lover because of her weird fetish and looking to get someone new.
Sparkly Idiot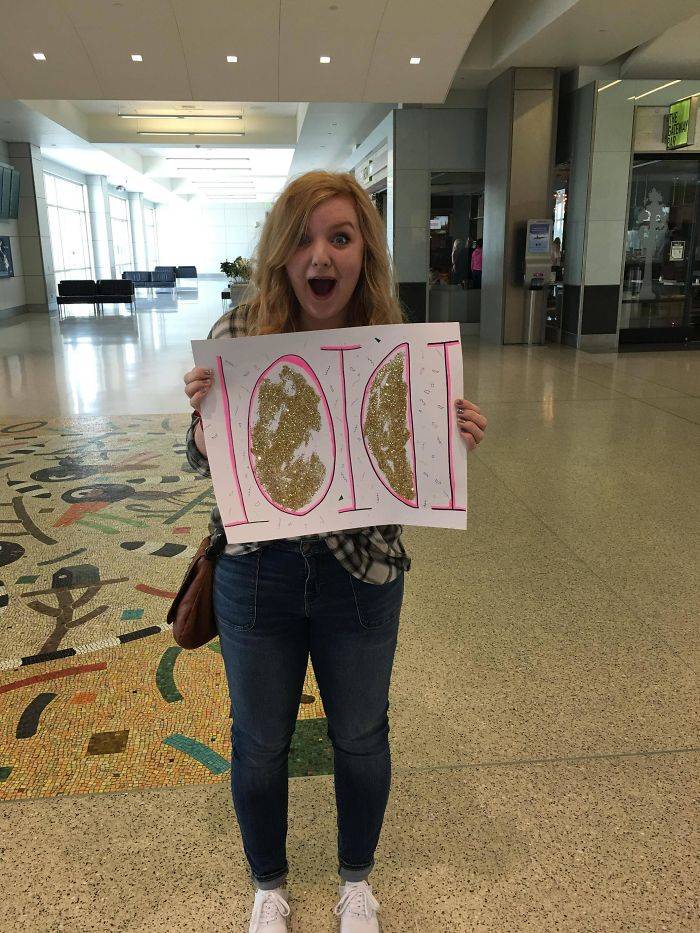 When you look at the sign it looks like she made an effort to make it. But it still says 'IDIOT'. SO we can only guess that she is angry but very excited to see her man who had obviously done something to get upset over.
Let's Not Speak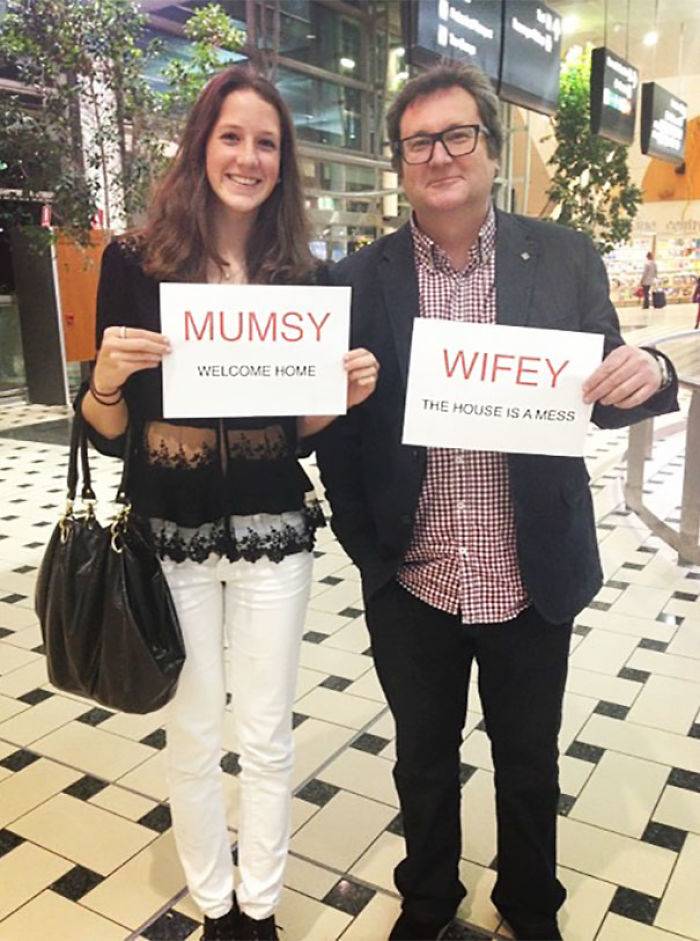 When a father and a daughter is left alone at home by the mom for a few days, what happens? The house does not get cleaned up. This poor woman found out via text and not a conversation at the airport.
Airing out Chris' Dirty Laundry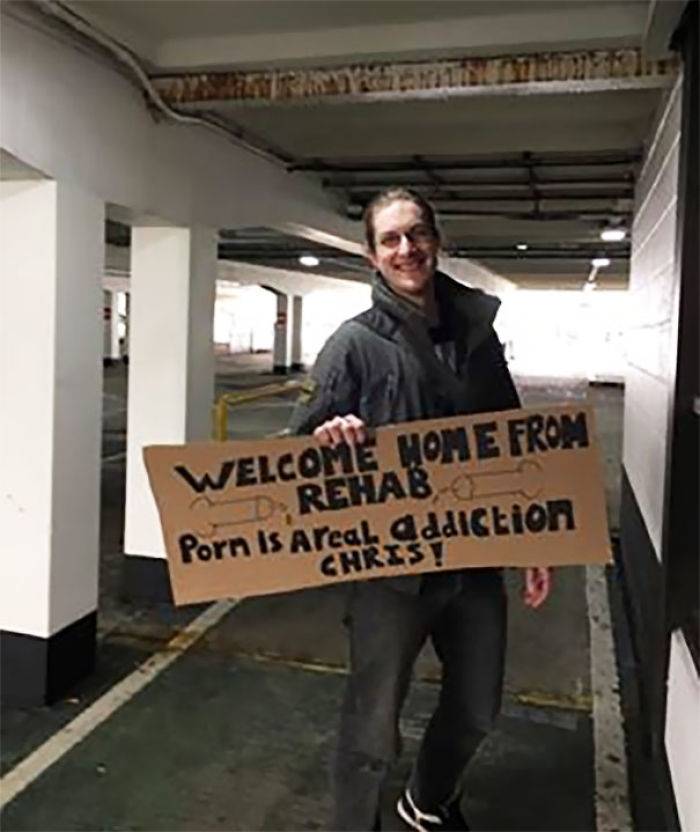 When you have an addiction and you want to get help, you go to a rehab facility. You go there, get better and come back home. If you saw a greeting like this, would you laugh or would you cry?
Happy Balls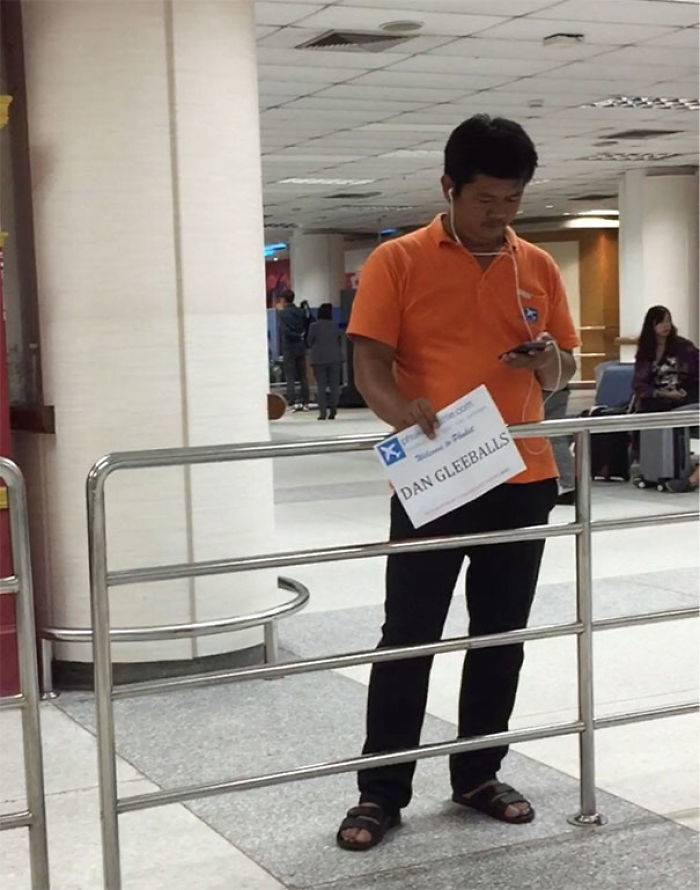 If this is his real name then he cannot be mad about it. However, if this is not a real name, a prank or a typo, then it would surely be an embarrassing pick up the incident. The sign holder seems really unbothered though.
Oh So Formal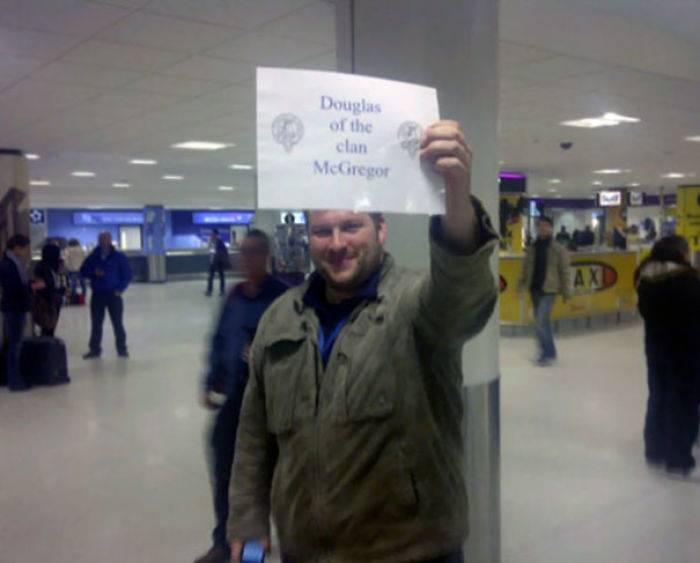 This guy here decided to make a very 'proper' greeting for the person he is about to pick up. To be honest, this kind of lingo is dead and only people who are a zillion years old use it these days.
Don't Mess With Her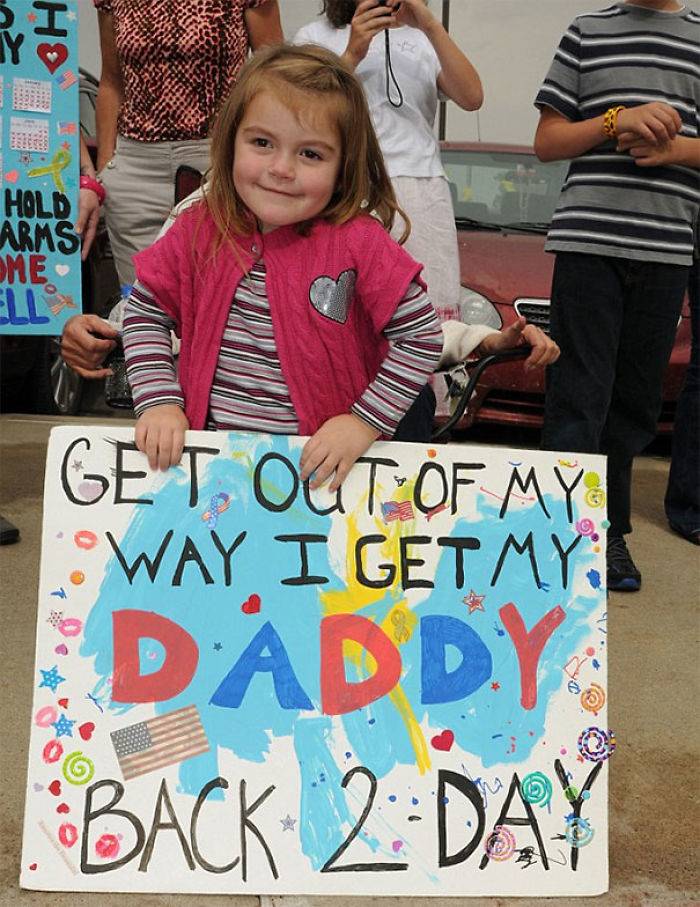 Hope this little girl's dad is in the military because she sounds like she misses him too much. We also hope that no one did not get in the way of her as she met her dad.
New Mom?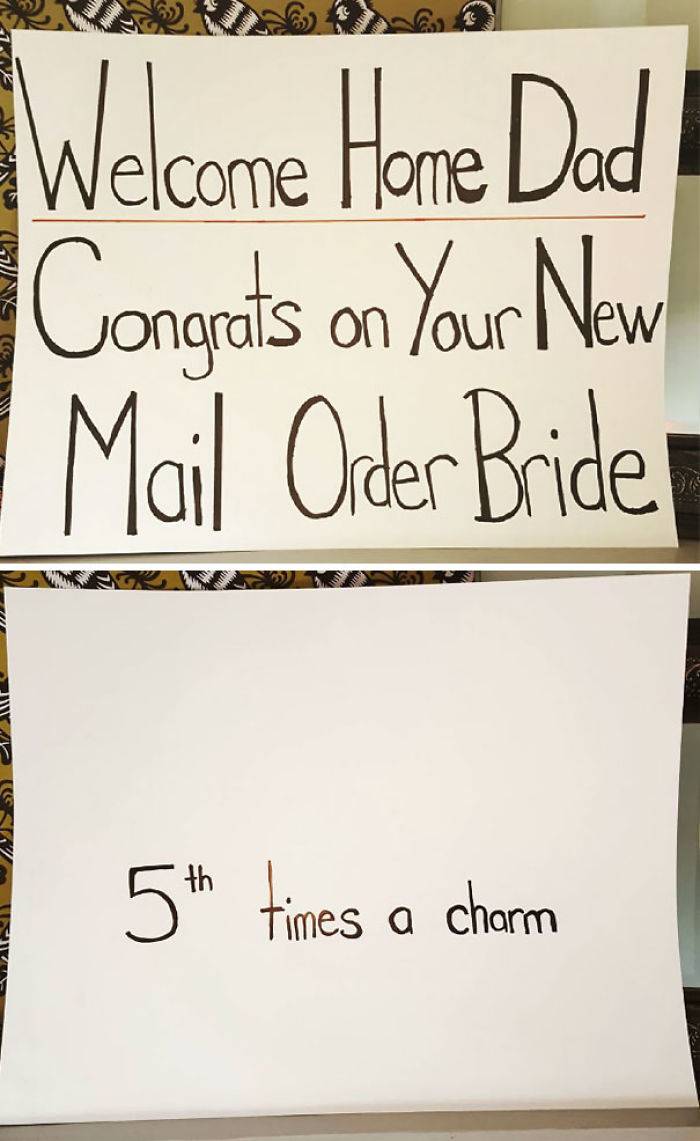 You can straight away tell that his kids are not pleased with his new wife. We hope they cut their father some slack because he is just tying to find love…
Ok, Ames?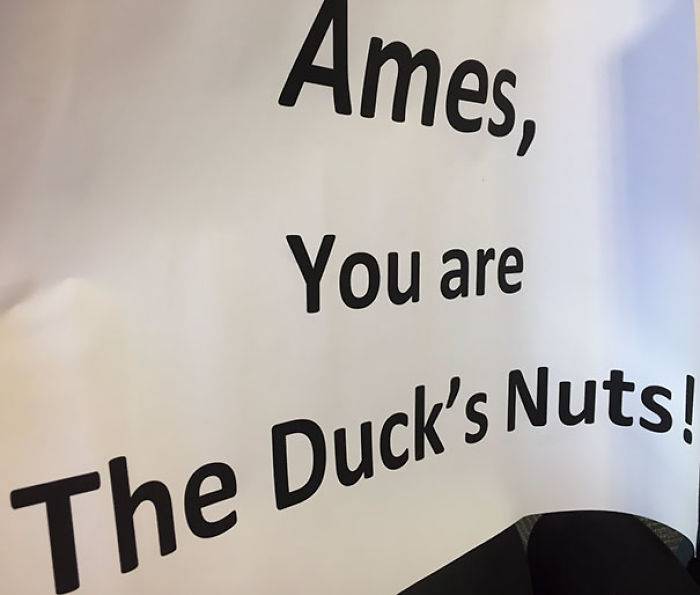 We hope this person named Ames had a good response to this. Is this an insult or a compliment? Also, one quick question, what is a 'duck's nut'?